Veterans' GOODNEWS for Oct. 29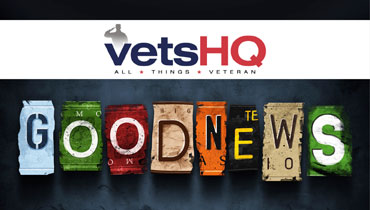 Veterans put experience to use at Air Force's only fabric shop (Air Force Times)
The Air Force taught Bobby Pierce how to sew in 1955. As a parachute rigger, he needed to know not only how to properly pack parachutes but also to mend and maintain them. Nearly six decades later, Pierce continues to put those sewing skills to work in the service of his country. The retired master sergeant is one of 10 civilians — many former military like Pierce — who cut, bind and sew all fabric-related items found on Charleston's more than 50 C-17 Globemasters. There are cockpit seat covers created from genuine sheep skins and heavy curtains made from fire-resistant fabric. There are headrest covers and bunk cushions, netting and straps sturdy enough to support the weight of a Humvee. The work happens inside the 437th Aircrew Flight Equipment fabrication shop, the only one of its kind in the Air Force. Pierce is at the center of it, shop supervisor and mainstay who at 80 has no plans to retire anytime soon. He has spent 30 years in the shop, a decade longer than he spent on active duty.
California veterans fall under WWII memorial's spell (Fresno Bee)
A veteran standing near the World War II Memorial Tuesday pulled a tissue from his pocket to wipe tears from his eyes, and smiled. "It can really get to you, you know?" Vernon Schmidt of Fresno said, looking ahead toward the entrance to the memorial on the National Mall. Schmidt had first been to the memorial a decade ago to see its dedication, along with other members of his 90th Infantry Division. "A very, very emotional time," he said. This time he joined 65 other veterans, including four women, on a return trip as a part of California's Central Valley Honor Flight. Many veterans have never seen the memorial built in their honor, so the Honor Flight Network was designed to get them there. Their journey was free, funded by donations.
Decades later, these Vietnam veterans get their due (NationSwell)
he widespread disdain over the Vietnam War meant that veterans returning home didn't receive a heroes' welcome. For some, this caused a sense of shame that worsened the difficulties that military members often face when transitioning to civilian life. And while the war ended almost 40 years ago, some service members at Joint Base Lewis McCord in Tacoma, Wash. wanted to show their appreciation to those vets that fought in Vietnam. So they threw a big welcome-home party to commemorate the 50th Anniversary of the Vietnam War. (According to a presidential proclamation, the 50th anniversary of this long-running conflict can be observed any time between 2012 and 2025.) More than 2,500 veterans and their families packed the JBLM parade field and retired General Barry McCaffrey spoke to the crowd, which included representatives of all branches of the military. "It is never too late, never too late, to pay tribute to the men and women who served and continue to serve our country," I Corps Commander Lt. Gen. Stephen Lanza tells Adam Ashton of The News Tribune. Veteran Stephen Stribling returned from Vietnam in 1968 and was moved by the long-delayed tribute. "I'm like a baby to something like this. It's so unreal," he says.
Veterans helping veterans is goal of 'dog whisperer's' Shelter to Soldier program (Del Mar Times)
While Shelter to Soldier connects rescue dogs with veterans, its recent goals go beyond that. Through an academy for service dog trainers, the nonprofit will provide vocational job training for veterans (and civilians), with graduates being eligible for job placement within its organization. The goal will have "veterans training service dogs for veterans," said founder Graham Bloem, a professional certified dog trainer. The course, called the National Academy of Professional Dog Trainers, is accredited and is pending approval for G.I. Bill funding, "which we will push for until we get it," said Bloem. It's anticipated that the academy will open next spring, and online interest applications are now being taken. For years, Bloem volunteered his time and skills, honed over a decade ago at the Animal Behavior College, to focus on rescue dogs. He trained nine stray dogs from Iraq; two became the subjects of best-selling books. The therapeutic affection that these combat veterans had for their dogs sparked the idea that Bloem could put his dog-training skills to use to benefit servicemen with post-traumatic stress disorder.
National Veterans Golden Age Games scheduled for Omaha in 2015 (Omaha Public Radio)
Next year, the 29th Annual National Veterans Golden Age Games will be held in Omaha. Veterans 55 and older will compete in about 14 different events, including swimming, horseshoes, cycling, and bowling. The VA has been holding the games since 1985 and it takes place at a different VA each year. The 2014 games were held in Fayetteville, Ark. About 800 veterans will come to Omaha to participate along with their coaches and families.
Veteran gets a new home for himself, daughter (The Norwich Bulletin)
Robert Vardaro had the second best day of his life Tuesday as he was handed the keys to his new home. Vardaro, a Marine veteran of Iraq and Afghanistan, said the best day of his life was winning full custody of his daughter, Nevaeh, 4. The home is a donation, made possible through a partnership of the Military Warriors Support Foundation and Bank of America. "I haven't soaked it all in yet," Vardaro said. "It's so much of a good thing. I'm going to have to let it all sink in." Dean Andrews, senior vice president of Bank of America and Hartford and Rhode Island market manager, said the bank set out to donate 1,000 homes to veterans and has exceeded its goal. More than 1,500 homes have been donated working with the Military Warriors Support Foundation. The homes are mortgage-free. The Vardaros' new home is a three-bedroom, 2.5 bathroom, 1,842 square foot house built in 2001 and set on 1.2 acres. Vardaro, who served as a U.S. Marine Private First Class, said his tour of duty in Iraq came at the end of the war and "was like a summer vacation." Afghanistan was a very different story. Early in his tour, Vardaro's armored vehicle was hit three times in four days by IEDs.
Disabled veteran reunited with her dogs after being forced to give them away (New York Daily News)
For some animal lovers, three months away from their pooches is a doggone long time. Disabled veteran Gloria Montes said it felt like a lifetime when she was reunited Tuesday with her beloved pups Jigga and Cache. "I feel like I have my life back," said an emotional Montes. "These are my babies. They are my children." Montes, 56, was forced to temporarily give up the canines this summer after she was evicted from her Bronx home and had trouble finding a place for all three of them to live. The U.S. Air Force vet, who struggles with emotional and physical disabilities, said her landlord gave her the boot after her brother moved in with his two dogs, and there were too many pets in the apartment. She huddled with her pooches for weeks, living out of her car, before she finally walked into an Animal Care and Control of NYC shelter in tears to get help sheltering the dogs.
Military suicide survivors help each other heal at seminar (Stars & Stripes)
Sitting and sobbing outside the hotel room where her Marine husband had just hanged himself, Kim Ruocco said she was horrified to find that nearly everyone who responded to the scene somehow managed to make her feel worse. First she asked the hotel manager where her husband was staying, and he wordlessly backed into another room, shutting the door to avoid her. A trauma specialist told her to lie to her children about what had happened. And then there was the priest. Addressing the newly widowed woman, just steps away from her Catholic husband's body, he said, "You know what Catholics believe about suicide? It's a sin." That experience in 2005 started Ruocco on what has become a full-time mission to help fellow survivors cope, heal and thrive. That often starts with an annual seminar for and by those who have lost troops and veterans to suicide. Her journey culminated in the creation of the National Military Suicide Survivor Seminar, which recently convened in St. Petersburg, Fla. The program is organized by the Tragedy Assistance Program for Survivors (TAPS), a non-profit group that provides assistance to loved ones of fallen troops. This year's event drew roughly 650 survivors from around the country, all of whom lost a servicemember to suicide.