Veterans GOODNEWS for Oct. 8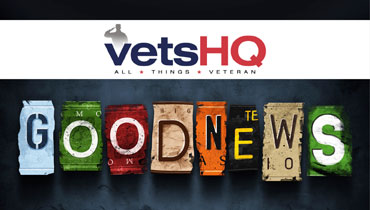 A tribute to the grit of disabled veterans (Wall Street Journal)
Opinion: It may be surprising to hear, but until this week the United States did not have a national memorial for disabled veterans. That changed on Sunday when President Obama dedicated the new American Veterans Disabled for Life Memorial, a two-acre site in view of the Capitol with inspiring quotes etched in glass and granite walls, a black-granite reflecting pool and a star-shaped fountain. At the star's center is a ceremonial flame, honoring all veterans—living and dead—who suffered disabling injuries.
Volunteers help homeless veterans get back on their feet (KREM-TV)
Volunteers are finishing the renovations on a Spokane, Wash., home for homeless war veterans. It is all part of Home Depot's national effort to transform more than a thousand veteran homes across the country. The Rest and Recoup house, also known as R and R, is a home for war veterans without one. R and R is a program that helps veterans get back on their feet. "Home Depot has put in a lot of time and effort into making it even better, even more of a home type environment for the people," Myron Lindberg, a Vietnam veteran, said. "I know that will improve things."
Six veterans honored for volunteer work (Dayton Daily News)
Six southwest Ohio veterans will be inducted into the Ohio Veterans Hall of Fame for the work they did after they put aside uniforms and started serving their communities. They volunteered in veterans courts, mentor youth and and work in veterans hospitals in a spectrum of activities. The six were in a group of 20 veterans selected statewide for induction in the class of 2014 Hall of Fame in a ceremony on Nov. 6. "It would be very easy to just go home and hang up your uniform in the closet," said Mike McKinney, a Department of Veteran Services spokesman. "But these folks didn't do that. They all stood out in different ways."
New endowment fund helps veterans earn a master's degree in social work (USC News)
As a young man in the 1960s, Dwight Tate, saw the devastating effects of the Vietnam War on its veterans. "I've come to realize and understand that the biggest mistake we as a society made was turning our back on veterans. We had every right to condemn the war itself but not the warriors," he said. "I don't want us to make the same mistake again." To ensure veterans are served as well as they possibly can be, Tate and his wife, Kathy Wright, have made a gift of $600,000 to establish the Dwight Tate Endowment Fund to provide scholarships for veterans and military spouses pursuing a Master of Social Work at the USC School of Social Work.
Preserving the voices of America's veterans (Washington Post)
Voices of Freedom, a new mobile recording studio designed to collect wartime oral histories, is ready to roll. The mobile studio was unveiled at the annual open house of the Americans in Wartime Museum near Nokesville, Va., last weekend. Billed as a preview of the future museum, which is under construction in Dale City, the open house also featured living history displays and demonstrations of military vehicles, equipment and tactics. Museum officials said the mobile studio, which records both video and audio, will make it much easier to give veterans the opportunity to share their experiences in wartime.
Injured veterans from U.S., U.K., come together on the course to compete for Simpson Cup (myFOXdc.com)
You have probably heard of the Ryder Cup. But what about the Simpson Cup? It is the D.C. area right now and the players are an inspiration. They are all military veterans who have made an enormous sacrifice. When you look closely as golfer Paul Swain takes a swing, you will notice he plays golf with one arm. Swain says it was golf that saved him. This week, he is playing in the Simpson Cup at Congressional Country Club. The teams are made up of injured veterans from the United States and the United Kingdom.
Michelle Obama poses with women veterans on cover of Redbook (mstarz.com)
Redbook headed to Washington, D.C., in an attempt to make an impact on the first lady regarding what it's like as a military veteran — unemployment and adapting to the civilian world are among the top issues. Obama promoted education because she believes that's what's important to the world's future. Here's what she had to say on veterans' concerns: "Veterans shouldn't have to wait for a job. So one of our biggest challenges is how do you take so many years of on-the-ground experience and compare that with a degree that may have nothing to do with the work?" she said.
Iraq war veterans can claim Ohio Veteran Bonus (thepennews.com)
Veterans who served in Iraq have taken advantage of the Ohio Veterans Bonus in increasing numbers this year, but time is rapidly running out to claim this benefit – the deadline for those who served in Iraq is December 31, 2014. The eligible period of the Ohio Veterans Bonus for service in the country of Iraq is from March 19, 2003 through December 31, 2011. The bonus pays $100 a month to veterans who served in Iraq or Afghanistan, up to a maximum of $1,000. For veterans who served elsewhere, the payment is $50 a month up to a $500 maximum. Veterans medically discharged due to injuries sustained in-country can receive $1,000, plus up to $500 for months of service elsewhere. The bonus is not subject to federal or state taxes, and can be used for any purpose.