VA extends deadline for Camp Lejeune veterans
The VA has announced it will extend the deadline for Camp Lejeune veterans to claim status related to groundwater contamination at Marine Corps Base Camp Lejeune by one year to September 24, 2016.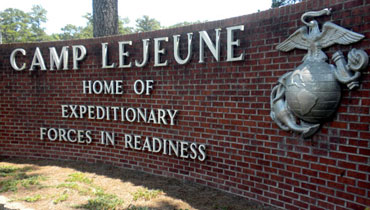 Under the new rules related to the implementation of the Honoring America's Veterans and Caring for Camp Lejeune Act, veterans have an additional year to claim status as a Camp Lejeune veteran, which would make them eligible for retroactive reimbursement of out-of-pocket expenses incurred since August 6, 2012, which is the date that Congress authorized the VA to begin providing benefits to Camp Lejeune veterans.
This change is in addition to the September 24, 2014 publishing of regulations for family members of Camp Lejeune veterans also affected by the toxic groundwater on the base between 1957 and 1987.
New rules will allow the VA to reimburse those family members suffering from at least one of 15 illnesses related to exposure of the toxic water on the base to be reimbursed for out-of-pocket medical expenses dating back to March 26, 2013 — the date Congress provided funding for the new law.
Family members must also apply for status using the Camp Lejeune Family Member Health Care Program Application form. The VA will not provide direct medical care to affected family members, only reimburse out-of-pocket expenses.
The 15 covered diseases or conditions caused by Camp Lejeune toxic water are:
Esophageal cancer

Lung cancer

Breast cancer

Bladder cancer

Kidney cancer

Leukemia

Multiple myeolma

Myleodysplasic syndrome

Renal toxicity

Hepatic steatosis

Female infertility

Miscarriage

Scleroderma

Neurobehavioral effects

Non-Hodgkins lymphoma
These actions relate only to hospital care and medical services.
Federal lawsuits aimed at recovering damages from the government for the decades-long contamination were revived this summer when N.C. Gov. Pat McCrory signed new legislation into law clarifying the state's 1970s product liability law, which contained a "statute of repose", or a time frame in which suits must be filed for civil claims. The U.S. Supreme Court used that state law to effectively refuse Camp Lejeune victims' right to recover damages because their suits were filed outside of the 10-year liability period from the last act of contamination.
As a result of the Supreme Court's action, McCrory signed N.C. Senate Bill 574 into law, which clarified the product liability law was never meant to apply to protect companies or the government from groundwater contamination liability.
Following Congress's passage of the 2012 law, the VA's first regulation was immediate and brought full health care services to veterans who spent at least 30 days on active duty at Camp Lejeune between Jan. 1, 1957 and Dec. 31, 1987. But the VA had told dependents suffering from covered illnesses that they would have to wait to be reimbursed.
Families waiting for action from the VA have been critical, according to the Army Times.
"I realize all of this happened prior to [VA] Secretary [Robert] McDonald's watch … but as CEO of Procter & Gamble, would he have found it unacceptable for his research and development division to have created a new product and his marketing division to take more than two years to sell it?" said retired Marine Master Sgt. Jerome Ensminger, whose 9-year-old daughter died in 1987 of leukemia.
Related stories
VA finally acts for dependents on Camp Lejeune toxic water
Bill: Time should be no obstacle to Lejeune victims
N.C. clarifies law to help Lejeune victims
High court ruling bad news for Lejeune victims
Did You Know? Information
Camp Lejeune water contamination