Veterans GOODNEWS for Nov. 13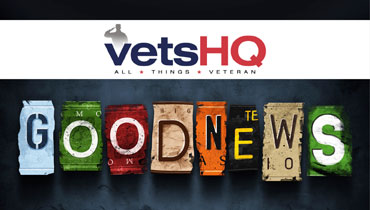 Sharing a meal and a roof with veterans who need gratitude (San Francisco Chronicle)
On Tuesday, Veterans Day, the Gubbio Project had its third annual jazz brunch, definitely not a fundraiser for prospective donors. This is a party for about 100 people, a mix of clients — homeless and other people needing safe shelter — who sleep for as many as nine hours on the pews of St. Boniface Church, and volunteers. Gubbio Executive Director Laura Slattery says it's a Gubbio Gratitude event, "where we just appreciate our guests with a good meal and good music." The latter, by members of Musicians Union Local 6, was so successful that dancing broke out at the brunch. Zendesk, which regularly dispatches volunteers to work with the project, picked up the cost of food above that which was donated, as well as decorations. As is usual at Gubbio, volunteers who served brunch also sat down and shared it with the clients.The event is held on Veterans Day because many of the people who participate in the project are veterans, and because the De Marillac Academy, the middle school next door to the church, is closed that day. This frees up the parish hall, cafeteria and kitchen for the celebration.
'Priceless gift' marks veterans' graves for posterity (Greenville News)
The distance may be long from the Western Front in Europe to Greer, but it could seem a long way from the price that was paid for freedom to life led today – and it's not. Throughout the history of the United States, and still now, the Americans who've served in the armed forces have defended our nation and our way. As celebrated this week, Veterans Day provides pause and reminds of the cause to give thanks. And on this Veterans Day a gift was given to help Greer honor the service of its own. The Joyce Scott Chapter of the Daughters of the American Revolution culminated a years-long project to identify, record and save for posterity a roster of the gravesites of veterans buried in four cemeteries owned by or linked to the city of Greer: Mountain View, Edgewood, Wilson and Needmore. The city owns all but Needmore, which is administered by a community committee. Three-hundred-ninety-nine American veterans are buried in the four cemeteries, 11 whose service dates back to the Civil War.
Ashes of two homeless veterans will be inurned with full honors (New Orleans Times-Picayune)
The cremains of two homeless military veterans from Louisiana will be at the Southeast Louisiana Veterans Cemetery in Slidell. The homeless men, whose names have not been made public, served honorably in the Korean and Vietnam wars. Eugene "Pat" Phillips, chairman of the St. Tammany Parish President's Veteran and Military Affairs Advisory Council, said holding such memorial services for homeless veterans has been a priority for the organization since the cemetery opened in June. "We owe our most sincere gratitude and respect to the 310,000 veterans who call Louisiana home, especially to those who are homeless or family-less," said Phillips, a retired United States Marine Corps major. "The VMAAC will act as their surrogate family and be their advocate during their memorial service."
Lawrence Taylor buys a round of drinks for veterans (New York Post)
Former New York Giants linebacker Lawrence Taylor thanked two Army veterans for their service by serving them drinks at Avenue nightclub in Chelsea on Veterans Day. An hour later, the Hall of Fame gridiron great and a male friend left the club, but as they walked outside, an onlooker tells us, "They ran into two young guys dressed in their Army full dress gear, who said, 'Oh my God, it's LT! We are your biggest fans.'" Taylor happily shook hands and took pictures with them. Then, the star-struck soldiers asked LT if he could help them get into the club. Taylor immediately told the door staff at the velvet rope, "These guys are with me!"
When families are left behind after veteran suicide, this nonprofit helps out (NationSwell)
The staggering tally of 22 veteran suicides a day has impacted communities across the country. In Oklahoma alone, more than 140 veterans kill themselves each year, and these deaths account for about a quarter of all the suicides in the state. One vital Oklahoma nonprofit, Veterans Corner, is working to end this trend and to help the families left behind by it. The families of veterans who commit suicide often need financial assistance, but they can't bear facing the paperwork required to access their benefits. So Shirley Clark-Cowdin, a volunteer with Veterans Corner, personally accompanies widows and widowers to apply for their survivor benefits from the U.S. Department of Veterans Affairs. And when a veteran comes to her in grave need, as did a suicidal female veteran who had been raped while she serving in the military, Clark-Cowdin makes sure they are immediately admitted to a psychiatric facility.
Navy mom surprises daughter at school on Veterans Day (Indianapolis Star)
A mother who returned from deployment surprised her daughter at school Tuesday during a Veterans Day ceremony. Petty Officer 2nd Class Laura Endicott serves in the Navy. She was deployed for five months aboard the U.S.S. Battan. Endicott's father thought it would be a good idea to surprise his granddaughter at school with her mom. Endicott has been a member of the military for almost nine years. She has previously worked for the Air Force, the Marines and the Army. The surprise happened at Hazel Dell Elementary School in Noblesville, Ind. Leah Dunlap, 9, had no idea her mother would be there on for the Veterans Day ceremony. Endicott and Dunlap said they missed each other and were happy to be reunited. "I was nervous and scared and I knew I was going to cry," Endicott said.
Veteran gets his new home on Veterans Day (hometownlife.com)
Sometimes it's the small things in life that are taken for granted. As William Childers Jr. was about to become a homeowner, Habitat for Humanity of Western Wayne County Executive Director Alice Dent asked him what made getting a home most special. "He (Childers) lived in a 400-square-foot apartment in Wayne. He ate his food on his lap – there isn't enough room for a table," said Dent. "He said he was most excited about having a place with room for table. There are things we take for granted." That wasn't the only problem with Childers' former apartment. The U.S. Marine Corps veteran and Ford Motor Company retiree lost a leg to gangrene. The apartment had steps that weren't handicapped accessible and he was unable to shut the shower door due to his wheelchair. On Veterans Day, a crowd of well-wishers gathered outside Childers' new home on Matthew in Westland's Annapolis Park Subdivision as he accepted the deed to the renovated home. "All honor to God. I thank Habitat for Humanity for the opportunity to be a homeowner," said Childers. "This has been a wonderful experience. I thank everyone for coming out. May God bless you."