Veterans GOODNEWS for Nov. 14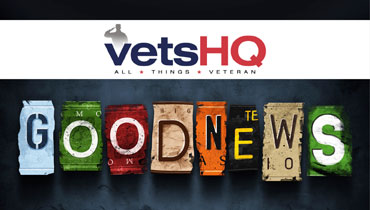 Special prison program focuses on veterans (CNN)
Chelsey Carlson called the police after she said her husband, Staff Sargent Robert Carlson, punched her in the face and fired gun shots at her from the upstairs window of their house. He's now in jail — serving eight years in prison for assault with a deadly weapon. Before this incident in 2012, Carlson served 28 months in Iraq and a year in Afghanistan. Carlson is not alone: As many as nine percent of recent retuning veterans have been arrested, according to a study by the Journal of Consulting and Clinical Psychology. CNN's Jake Tapper was granted exclusive access to the Haynesville Correctional Center in Virginia, which houses a program geared specifically toward veteran support services. Many veterans say they didn't know about the resources provided by the Department of Veterans Affairs to help make their transition back into civilian life easier. The program ay Haynesville is one of the first of its kind — and some veterans say it is providing them the guidance they didn't receive during their time in the military.
WWII veteran, 98, dons uniform for one final salute (Associated Press)
On Veterans Day, Justus Belfield donned his Army uniform one more time, even though he was too weak to leave his bed at an upstate New York nursing home. The 98-year-old World War II veteran died the next day. Belfield had worn his uniform every Veterans Day since he and his wife moved into Baptist Health Nursing and Rehabilitation Center in Glenville, outside Albany, several years ago. On Tuesday, the former master sergeant wasn't able to get out of bed to participate in the facility's Veterans Day festivities, so he had the staff dress him in his uniform. A photograph accompanying a newspaper story published Friday shows Belfield saluting while lying in bed. The nursing home staff said he died early Wednesday morning. Belfield, originally from Utica, spent 16 years in the Army, including a stint in Europe where he fought in the Battle of the Bulge. He also served during the Korean War when he worked as a recruiter in Syracuse. Belfield told the newspaper last year that he never regretted serving in the military. "It was a good thing to do," he said in the interview on Veterans Day last year. "I loved it because it was my country. It's still my country."
Helping veterans heal through water-bound recreational therapy (People)
For the past five years, Branson Rector has taken veterans with post-traumatic stress disorder out onto the water not just to experience the warm Miami breeze – but to heal and rebuild their lives. After retiring from the Army in 2009 as a logistics officer, he saw that veterans dealing with PTSD and other issues were not adjusting well to their lives that awaited them at home. "I thought, why not take them out on the water, and in this beautiful and relaxing setting tell them about the help they can receive," Miami-based Branson, 50, tells PEOPLE.  "We took eight to 10 guys on that first sail, and it was unbelievable," he says. "They all started to relax, and for just a minute they forgot about their problems."  He knew he wanted to do it again. So that year, Branson founded the nonprofit, all-volunteer group Veterans Ocean Adventures, which has now helped more than 1,500 veterans and their families.
4 lessons startups can learn from innovative veterans (Forbes)
While deployed aboard the USS Peleliu in 2007, 1st Lieutenant Captain Tony Hatala had the idea of hosting a half-marathon on the deck of an aircraft carrier – quite a feat, considering that an aircraft carrier deck is only 800 feet long and constantly being used for takeoffs and landings. He enlisted the help of veteran Billy Griffin, then a Navy Surface Warfare Officer, and together they successfully pulled off this seemingly impossible race. The accomplishment sparked a wave of creativity in Hatala even as the last contestant crossed the finish line: he decided that he wanted to develop a mobile app for service members and their families who travel frequently to military bases all over the world for trainings, assignments, and temporary duty missions. Without an online, up-to-date platform that hosts reviews and other relevant insider information specifically about military bases, people like Hatala arrive on station with little information about what to do and where to go for a quick haircut, workout, or dinner. Again, he turned to Griffin for partnership on this new journey. "The idea was brilliant," said Griffin. "It was born from a real problem that we both had experienced first-hand."
VA's equine therapy program is helping Montana veterans (KBZK-Bozeman)
The U.S. Department of Veterans Affairs reports about 99,000 military service veterans call Montana home, and for those veterans who are dealing with the mental and emotional scars of their service the VA offers an equine therapy program. For veterans like Jonathan, the program is working. It takes place in a large riding arena in the Helena Valley. "It's intense therapy," said Jonathan, who gave a reporter permission to attend his therapy session. "You're literally seeing (the therapy) happen right in front of you," said April Brazill, VA Montana Equine Specialist. Carl Cossitt, a VA Montana clinical social worker, said "you've got a connection between something that's live." Jonathan has been under the care of the VA for service-related injuries he received more than 20 years ago. Instead of an office, his psychotherapy takes place with three or four horses. "The horses are mirrors in a lot of ways," said Cossitt. "They pick up on emotions from people."
Hike organized to draw attention to veterans services (Pittsburgh Post-Gazette)
Veterans and military families know all too well that navigating the paths to services and assistance can be an uphill climb. Perhaps a brutal trek through the woods can help. Jared Souder, the founder and executive director of Checkpoint, announced plans for a 70-mile, three-day and two-night extreme hike through the Laurel Mountains in May intended to raise money and awareness for his nonprofit organization, which is working to coordinate and streamline veterans services. Fifty supporters are expected to participate in the venture called "The Crucible." "There are about 190 organizations in the region that provide some sort of service or resource that is aimed at the veteran community," said Mr. Souder, 40, who served in the Iraq War. "They're completely fragmented and disorganized. Checkpoint was designed to make that process easier. It's not creating new resources; it's creating better information and making that transition from 'I have a need' to needs being met as seamless as possible."
Operation Reveille provides housing, services for homeless veterans (Tampa Bay Times)
On Veterans Day, 50 ex-military members got the one thing they never should have had to go without: a home. Hillsborough County, Fla., in collaboration with the Tampa Hillsborough Homeless Initiative and the city of Tampa, launched the rapid rehousing program dubbed Operation Reveille to keep pace with the national goal of ending homelessness among veterans by 2015. A county survey in February identified 250 homeless veterans, including 134 who were living on the streets or in emergency shelters. Operation Reveille dramatically reduced those numbers in one day by following a housing-first model that moves people directly from the streets into their own homes and then provides services to help them retain those homes. "We are not just giving them a key to an apartment. We are providing 12 months of wraparound services to give them the support they need to be self-sufficient," said Julie Watkinson, spokeswoman for the event. Those services include intensive case management, employment services, health care and financial counseling. After a year, veterans may still be eligible for assistance based on their needs. "This is housing-first on steroids," said Antoinette Hayes-Triplett, CEO of the Tampa Hillsborough Homeless Initiative. "Housing people in one day is almost unheard of."