Veterans GOODNEWS for Nov. 20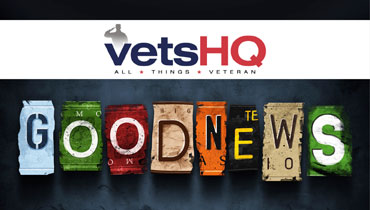 David Petraeus: Veterans are 'precious resources' (The Tennessean)
Retired U.S. Army Gen. David Petraeus was in Nashville on Tuesday to encourage local businesses to hire veterans, who he said were among "our nation's most precious resources." Speaking before a job fair for veterans and their spouses, Petraeus, who also served as CIA director, said a military pedigree made veterans an enviable hire. In particular, Petraeus praised the 2.5 million veterans who have served in the Middle East since 9/11, whom he called "the new Greatest Generation." Petraeus oversaw military action in Iraq and Afghanistan for years after 9/11. He also commanded the 101st Airborne at Fort Campbell from July 2002 to May 2004. "If companies are looking for individuals who have leadership experience, who exemplify selfless service, who understand the importance of teamwork and who know what it takes to achieve results under tough conditions, then American veterans are what those companies need," he said. "Their sense of duty, their courage, their loyalty and their professional experience have not departed when they've taken off that uniform for the last time."
Richard Petty makes an appearance in support of veterans (WCYB-Bristol)
A big name is racing made a pit stop in the Tri-Cities in support of a campaign to help paralyzed veterans. Seven-time NASCAR champion and Paralyzed Veterans of America (PVA) spokesperson Richard Petty appeared at the Food City in Bristol, Va. He was showing his appreciation to Food City customers who contributed to the grocery chain's Mission ABLE campaign to raise funds for PVA. This year Food City presented a $100,000 check to the charity. Petty says he's proud to be part of this effort. "It's sort of my way, our team's way of going back and saying thank you to veterans for what you all have sacrificed so we can come and do what we want to do, which is a lot of racing," said Petty.
Marine delivers food for World War II veteran and his wife (Pittsburgh Post-Gazette)
When Robert Downey served as a combat Marine in the Philippines during World War II, he often had to subsist on K-Rations consisting of cold beans, canned meat, and crackers. Hot, cooked meals were few and far between, but now thanks to Meals on the Wheels, Mr. Downey and his wife Katherine can look forward to three square meals a week. Not only are the meals tasty, but they often are delivered by a fellow Marine. Marine Corporal Tyler McCrum, who has served four years in the Marines including a tour in Afghanistan, delivered stuffed cabbage, peas mixed with carrots and mashed potatoes to Mr. Downey last Friday at his home in Collier. "It's good food. None of it is frozen," said Mr. Downey, who also appreciated the fact Cpl. McCrum, who still serves in the Marine Ready Reserve, presented the meal while wearing his dress blue Marine uniform. "I visit several veterans who appreciate the deliveries. Wearing the dress blues is a way to honor them," said Cpl. McCrum. He decided to wear his dress uniform because of Veteran's Day and the Marine Corps Birthday Party, which both are celebrated this month.
Service dogs help set veterans free from aftermath of war (The Deseret News)
The dog is about 39 pounds, low to the ground and well-muscled, her fur a mottle of patches and spots. At a guess, she's a heeler mix, a shelter refugee, maybe 4 years old. Her name is Liberty, a word that means something different to each person whose life intersects hers. She's a potential service animal, training to help free a war-battered veteran named Caleb Dunham from the anxiety and distress that have nearly shut him down and locked him indoors. He fought for his country in Iraq and Afghanistan; back home he doesn't know how to fight for himself. She's an act of redemption for two incarcerated women who may never be free. They are training her and sending her back into the society from which they have been forcibly removed. In prison, the women teach the dog basic behavioral skills so she will soon be able to help the veteran full-time. Liberty is one of thousands of dogs nationwide being trained for veterans who suffer from post traumatic stress disorder — something the Department of Veterans Affairs reckons includes one-fourth of military personnel returning from Iraq and Afghanistan conflicts, roughly 500,000 veterans so far. Only the best trained of the dogs will be certified as service animals. Others stop short of that to become emotional support animals, psychiatric service dogs or simply great companions.
Strangers hold memorial, pay for veteran's funeral (CBS DFW)
Complete strangers gathered to say good-bye Wednesday at a touching memorial in Dallas for a veteran who left no known relatives. Those in attendance were moved to pay for a burial service including full military honors. They were mostly Patriot Guards and nurses from Methodist Richardson Medical Center who gathered at the DFW National Cemetery to bury a man who never uttered a word to any of them. A man with no known family; adopted in death. "We're a family," said Mark Littell, Ride Captain of the Patriot Guard, referring to the military and the caregivers. "The nurses in the hospital talked about being part of Mr. Davenport's family because his family wasn't there. And we feel the same way." The Mr. Davenport he spoke of was Air Force Sergeant Robert Earn Davenport. A 68-year-old Vietnam veteran sent unconscious to the hospital from a nursing home… who spent his last hours fighting cancer, unaware of the new care surrounding him. We all spent time going in and just being there with him," nurse Linda Bilobran told CBS 11 News. "Because even though somebody can't speak to you doesn't mean they can't hear you. It doesn't mean that they can't feel your touch."
Patriots to honor veterans, active duty military at Sunday game vs. Lions (Patriots.com)
The Kraft family and the New England Patriots will thank the real patriots among us when they honor veterans and active duty military members with a number of game day activities at Gillette Stadium as part of the team's 2014 Salute to Service game against the Detroit Lions on Sunday, Nov. 23. The activities are in recognition of Veterans Day and a part of the NFL's Salute to Service campaign and the Patriots Charitable Foundation's week-long veteran and military volunteerism initiative. In a pregame ceremony, Patriots Cheerleaders and members of the organization will join veterans and active duty military members to unfurl three American flags on the field. The United States Marine Corps out of Fort Devens, Mass., will present the colors, and the Massachusetts Army National Guard Voices of Freedom will perform the national anthem. At the end of the national anthem, two F-15C fighter jets from the 104th Fighter Wing, 131st Fighter Squadron will fly over Gillette Stadium. The fighter jets will take off from Barnes Air National Guard Base in Westfield, Mass. Retiring United States Marine Corps Brigadier General William Thornton and Major Warren Graham will serve as the game's honorary captains and participate in the pregame coin toss.
Recent veterans more likely to be employed than non-veterans (AllGov.com)
Veterans of recent U.S. wars are more likely to be employed than those in the population at large, according to the U.S. Census Bureau. Statistics how veterans of the 1991 Gulf War and the more recent wars in Iraq and Afghanistan enjoy much higher rates of employment than Americans who have not served in the military. In the period from 2011 to 2013, employment among veterans of both genders of the wars was 79%, compared to 70% of nonveterans. Employment among male Gulf War veterans was 84%. Men who served in Iraq and Afghanistan last decade had a lower, though still impressive rate of 78%. Both groups of veterans were better off than nonveteran men, whose employment rate was 75%. Similarly, women who served in both wars have struggled less with unemployment. Female Gulf War veterans had an employment rate of 73%, compared with 69% of Iraq and Afghanistan war women vets and 65.1% of nonveteran women.