Veterans GOODNEWS for Nov. 21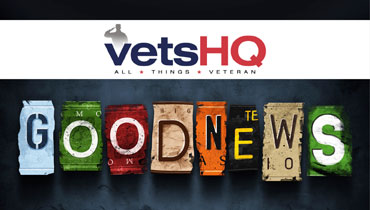 Wounded Army veteran receives a new home in S.C. (The State)
Just more than two months after Allan Holland found out he would receive a mortgage-free house in Port Royal, the retired, wounded U.S. Army sergeant and his family returned Thursday to see their completed home for the first time. And what they saw Thursday in Shadow Moss stunned them. Holland and his family entered their new four-bedroom home to find it ready to live in, with new appliances, televisions and even a dog bed for their golden retriever, Daisy. "An empty house still would have been fantastic," said Holland, who expected to be sleeping on a cot Thursday night. "It's decorated beyond my wildest dreams of what I thought it would look like. God is good. He's taking care of my family." Holland, who was seriously injured in combat in Afghanistan in 2012, found out Sept. 10 he would receive a mortgage-free home in Shadow Moss courtesy of Pulte Group, the neighborhood's developer. Construction took only 59 days, thanks to an army of area contractors who pitched in, construction manager Dow Drury said.
Veteran, 86, finally receives his high school diploma (WLWT-Cincinnati)
It was a special moment at Milford High School that was seven decades overdue. Lou Lasley, 86, received his high school diploma as veterans were recognized Thursday night. Lou, we felt so strongly about your service to the country and realized you left before you got your diploma. In recognition of that we would like to award you a diploma," Milford Board of Education Vice President Gary Knepp said. Lasley left his high school in Tennessee for the Army. He said serving his country was a much bigger priority than school after the Pearl Harbor attack. Lasley ended up serving in the Korean War and said that at times he didn't think he was coming home. "(They) almost shot me right between the eyes. A bullet fell. I was right in a foxhole and the bullet fell right in front of my face," Lasley said. Lasley didn't know he would be receiving his high school diploma as veterans were being honored. "It's amazing. I wasn't expecting this. They set me up pretty good," Lasley said.
Major League pitcher from Tuscaloosa throwing relief to homeless veterans (WBRC-Tuscaloosa)
A number of homeless veterans in Tuscaloosa now have places to finally call home thanks to a major league pitcher who is throwing some much needed relief their way.  New York Yankees relief pitcher and former University of Alabama standout David Robertson, his wife Erin, and their High Socks for Hope Foundation furnished 50 apartments at the Valor Grove apartment complex for homeless veterans at Tuscaloosa's VA Medical Center.  Navy Veteran Deborah Fehner has been waiting a long time for this day.  "Its beautiful," Fehner said as she walked inside her new apartment.  The Robertsons told FOX 6 giving back to veterans is the least they can do.  "For them to go and risk their lives and them come back need just a little help getting right back into the community. We want to be able to help them when we can," Robertson said.
Jay Leno gifts wounded veteran a Dodge Challenger (Auto Evolution)
Jay Leno was at NBC's Today Show the other day to promote his latest meeting with a number of veterans of Iraq and Afghanistan wars. The famous comedian showed a short story he did with one of the gravely wounded soldiers, Cpl. Ethan Laberge. He took the veteran for a ride in a new Dodge Challenger Hellcat and after having a great time Leno gave him the keys. Leno's gesture is meant to be a symbol of appreciation on behalf the country's citizens for all its soldiers. "We took all these wounded warriors and did sort of a lottery and reached in and picked a soldier at random (to) do something for him and hopefully it expresses what we want to do for all the soldiers" Leno tells NBC's hosts. Leno is seen meeting several soldiers and taking pictures with them, always thanking them for their job to keep the country safe. The second part of the clip shows the comedian hanging out with Cpl. Ethan Laberge. The soldier had been on foot patrol in Afghanistan when a suicide bomber drove up and detonated himself, killing his two fellow soldiers standing next to him and severely injuring him. After several surgeries and months of medical treatment Leberge is still struggling with a traumatic brain injury that has been causing memory problems.
Wounded military veteran receives a mortgage-free home (WPBF-West Palm Beach)
William Newton and his service dog, Lola, arrived at a gated community in Port St. Lucie on Thursday to begin a new chapter in their lives. The 22-year-old former U.S. Army specialist was there to receive his slice of American pie in the form a three-bedroom, two-bathroom home. A bank employee holding an oversized cardboard key greeted Newton and said, "We are so grateful for your service and for all that you've done. We're so appreciative today to be able to provide you with a key to your new home." For years, Wells Fargo has worked with the Military Warriors Support Foundation. They gave Newton a foreclosed home that has since been renovated. It's a home that doesn't come with a price tag. The bank gave it to him mortgage-free. "I'm kind of stunned right now," Newton said. "I'm not sure what to say. I'm just stuck."
62 years after death, Medal of Honor recipient laid to rest at Arlington (Stars & Stripes)
A Korean War hero was laid to rest at Arlington National Cemetery on Thursday, eight months after he was awarded the Medal of Honor and more than 60 years after he was killed in action. Army Pvt. Miguel A. Vera was among 24 soldiers from World War II and the Korean and Vietnam wars who received the Medal of Honor in March after being previously overlooked because of their racial or ethnic backgrounds. Vera, who was born in Puerto Rico, was just 17 when he joined the Army. He was serving as an automatic rifleman with Company F, 38th Infantry Regiment, 2d Infantry Division in Chorwon, Korea, when he was killed at the Battle of Old Baldy on Sept. 21, 1952. Even though he was suffering from injuries from a previous battle, Vera voluntarily left the aid station to join his unit in an assault on a well-fortified enemy position on a hill. When he and his men were with 20 yards of the spot, they were suddenly trapped by heavy mortar, artillery and small-arms fire, according to the official citation. The company retreated, but Vera volunteered to stay behind to provide cover fire. When they returned later that morning, they found Vera dead in the same position, facing the enemy. Vera was originally buried in Puerto Rico. His ashes were disinterred so that they could be reburied with full military honors at Arlington — a longtime goal of Vera's nephew, Marine Corps veteran Jose Ramon Rodriguez. "I was never thinking of the Medal of Honor," Rodriguez said in an interview with Stars and Stripes in March. "My main mission was to get him buried at Arlington. As things went on and I did a little research, I found out what a hero he had been."