Veterans' GOODNEWS for Nov. 4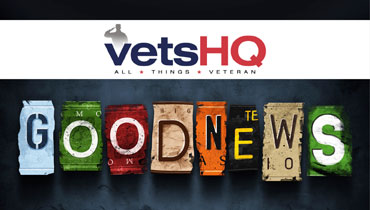 Wounded in combat, troops go back for a proper exit (NPR.org)
Hundreds of service members and civilians from various nations lined the road to the landing zone at NATO headquarters in Kabul. They had gathered to salute the two U.S. Marines and two U.S. Army soldiers participating in Operation Proper Exit. Moments later, two Blackhawk helicopters swooped in, kicking up dust and debris. The four service members disembarked and walk past the cheering audience. One soldier walks with a subtle limp. One Marine has a prosthetic right arm, and the left is missing below the elbow. Operation Proper Exit, a charity program run by Feherty's Troops First Foundation, is for service members who were wounded and flown out of Iraq or Afghanistan. Proper Exit allows them to return to a war zone, visit with troops, fly out on their own terms, and ideally find some closure.
Veterans coming to home ownership (The Hill)
Commentary: Qualifying for a mortgage has become difficult for most borrowers, especially for today's first-time homebuyers. Whatever the reason – low FICO scores, too much student loan debt, low incomes, or short credit histories — the doors to homeownership have all but closed for first time buyers. While the total market share of first time homebuyers has been in steady decline in recent years, the number of first-time homeowners financed by VA-guaranteed loans from loanDepot has increased every year since 2010. In fact, the number of VA loans funded by loanDepot to first time buyers has increased by 27 percent from 2012 to today. Yet there's a special class of new first time homebuyers whose numbers have been growing in recent years thanks to a government program that began 70 years ago and is still going strong: VA loans. VA loans have been financing homes for three generations of service men and women who have earned this benefit through their service to our country.
New Orleans recognized for decreasing veteran homelessness (The Times-Picayune)
New Orleans' success at reducing the number of homeless veterans by 62 percent over the past three years and staying on target to end veteran homelessness by the year's end was recognized Monday (Nov. 3) by the National Alliance to End Homelessness. "It is thanks to cities like New Orleans that have implemented innovative homeless assistance programs for veterans that we have achieved an historic 33 percent decline in veteran homelessness (nationwide)," National Alliance to End Homelessness President and CEO Nan Roman said in a statement. "They are showing what we can accomplish when we have the resources and the determination to change lives for the better."
 In 2011, Mayor Mitch Landrieu announced his "Ten-Year Plan to End Homelessness" and created the New Orleans Interagency Council on Homelessness to implement the plan. The city's efforts focused on providing homeless people with permanent supportive housing and wraparound services that address physical, mental and substance abuse issues as well as prepare them to reenter the workforce.
Wounded vets are baking their way to a Georgetown degree (Streetwise.com)
A new bakery will be joining the upscale Georgetown neighborhood, but the Dog Tag Bakery won't be profiting off of its gooey, mouthwatering brownies and challah that you'll be able to smell all the way down the block. All proceeds will instead go toward supporting nine wounded veterans, who will work at the bakery while earning a Georgetown University degree. The Dog Tag Bakery, which is due to open this fall, will provide these veterans with employment, business experience and a certificate from Georgetown's School of Continuing Studies. The 501(c)(3) is an entrepreneurial program that will allow the men and women bravely serving in our military and their families the chance to smoothly transition back into civilian life with a prestigious university education under their belts. Here's how it works: During the day, veterans will operate the bakery, learning the skills they need from baking to sales and everything in between. At the same time, they will be taking courses that center on small business administration and entrepreneurship so that they can find a job or launch a startup of their own. Dog Tag veterans are paid a $2,200 stipend each month during their six-month program, and the business covers all certificate costs. The goal here is to help wounded veterans and their spouses get an education and set them up for success in the workplace.
What business leaders can learn from the Marines (Huffington Post)
With Veterans Day approaching, it's the perfect time not just to celebrate and honor our U.S. Armed Forces, but also to consider how their example might apply to our daily lives — including how we conduct ourselves in business. We can learn valuable business lessons from, in particular, the Marines. Their website explains the 14 leadership traits — such as justice, judgment, endurance and loyalty — that facilitate their success. Though all 14 of the Marines' leadership traits are important, here are three traits are particularly valuable in the business world: integrity, dependability, enthusiasm.