Veterans' GOODNEWS for Nov. 6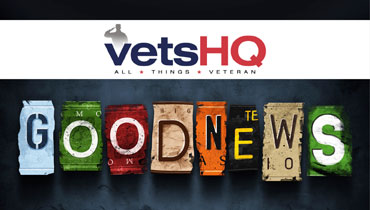 Wells Fargo donates $49 million to support veterans, servicemembers (Marketwatch.com)
Wells Fargo & Company announced its Military Affairs program has surpassed its three-year, $35 million goal by donating more than $49 million in its first two years toward programs to help military servicemembers, veterans and their families achieve and maintain homeownership, attain successful career transitions and succeed financially. Since November 2012, Wells Fargo has: Donated or is in the process of donating to wounded warriors more than 230 Real Estate Owned (REO) properties valued at more than $37 million; hired more than 3,600 veterans and participated in more than 500 military job fairs; launched Hands on Banking for Military® , a financial education program that has been viewed by more than 40,000 people since last year; donated nearly $12 million to military- and veteran-related nonprofits.
Veteran-owned businesses are gaining traction with investors (Forbes)
We all proudly read the news about the work veterans do protecting our country. However, what often doesn't make the news is the impact these heroes have on the business world. Check out these statistics which belie their contributions to the startup ecosystem as the nation celebrates National Veterans Small Business Week and Veteran's Day: 3 million: The number of businesses veterans run in the United States; 5.7 million: The number of  people employed by veterans, which equates to $210 billion in annual payroll and $1.2 trillion in sales. The success of veteran entrepreneurs has not gone unnoticed by angel investors, although more attention is needed. In fact, this week and next angels interested in learning more about "vetrepreneurs" as equity-backable companies can take advantage of multiple free events such as VetsinTech DC Launch of VetCap on November 6 and Angel Capital Association veterans event in Boston on November 12. A growing number of veteran-owned startups are gaining traction with investors, customers and the market.
Pittsburgh veterans record compelling narratives capturing war's many fronts (Pittsburgh Post-Gazette)
If you want to thank veterans this Veterans Day, or any other time of year, Kevin Farkas says ask them to tell you their story. He should know. Mr. Farkas is director of the Veteran Voices of Pittsburgh, a group leading an initiative that has recorded the stories of more than 260 Pittsburgh area military veterans since 2012. And more than 100 veterans are on a waiting list to share their experiences. "Pittsburghers have been in every major historical event in our country's history that you could imagine," he said. "In terms of the wars, whether it was Hiroshima to the Battle of the Bulge to Fallujah, Pittsburghers have been there." For Mr. Farkas, the Veteran Voices of Pittsburgh Oral History Project is not just about the captivating stories of battles past. It's about the human condition, and it helps veterans realize they are important because someone is interested in them. What makes this project different from similar initiatives is that some stories they record are not from war-time veterans. Others were not necessarily soldiers on the front lines; they might have been Jeep mechanics or line cooks. "No one asks those people their stories," Mr. Farkas said. "The media, by and large, they like the sensational war stories, combat stories."
Michelle Obama teams up with 'Penguins of Madagascar' to support veterans (The Today Show)
The "Penguins of Madagascar" were feeling a little left out, so they went straight to the top with their complaints. "We're a little tired of the SEALS getting all the good missions," their leader, Skipper, explained to first lady Michelle Obama. "What about us penguins?" So the first lady promptly put the chatty aquatic birds to work, helping out with her Got Your 6 initiative that encourages American kids to learn about the importance of U.S. military veterans and the many ways in which they can contribute to the nation. In a six-minute video that will be shown in elementary and middle-school classrooms across the nation, the perky penguins learn that "Got Your 6" is military slang for "got your back," or taking care of each other.
Korean veteran seeks to improve the lives of other veterans (St. Louis Post-Dispatch)
Harry Hope, 83, wears his "Chosin Few" shirt proudly, even today, six decades after he fought in the Battle of Chosin Reservoir in the Korean War. Against overwhelming odds in bitter cold late in 1950, U.S. Marines joined allied troops to repel a surge by Chinese communist troops in the decisive battle. The Korean War ended eventually with a ceasefire and the formation of the demilitarized zone separating North and South Korea. For some, though, the war continued in their memories. His vocation now is performing services for other veterans. In 2010, he dedicated the Gateway Chapter of the Chosin Few Memorial in Forest Park, a marble stone with the names of St. Louis veterans who fought in the campaign in 1950 in northern Korea. It has 95 names and stands near the Jewel Box in Forest Park. He says nine of the people named on the memorial are still living. He has received stacks of awards and accolades for his work. Grinning, he says he has two four-star generals "on speed dial." Ribbons from his military honors nearly cover his chest. He's president of the Greater St. Louis Honor Flight Program. He arranges or escorts flights from St. Louis to Washington, where veterans view memorials dedicated to their sacrifices. He either sends them off, escorts them or greets them when they return. "And at the USO, we talk to some of the soldiers who might be down, maybe because their wife doesn't visit them or something." He's also active with the VFW and American Legion.
Baskin-Robbins gets patriotic with new camouflage ice cream celebrating veterans (Fox News)
Baskin-Robbins is going patriotic this month with their latest military-inspired flavor—First Class Camouflage. The cool-colored treat is a swirled combination of chocolate, salty caramel and cake-flavored ice creams, and can be served up in a signature green, brown and tan Camouflage Waffle Cone or Bowl. The sundae version features Oreos, caramel, hot fudge and whipped cream. But the chain isn't just putting on a fancy green face to celebrate Veterans Day on Tuesday, Nov. 11. Baskin Robbins has pledged to donate 10 cents from each "ice cream scoop" sold at all U.S. locations to the United Service Organizations (USO).
Springsteen auctions guitars, lasagna for veterans (New York Post)
How much for a guitar played by Bruce Springsteen, an hour lesson on how to play it, a lasagna dinner at his house and a ride in the side car of his motorcycle? $300,000. Springsteen auctioned off two such packages Wednesday night at Stand Up For Heroes, a mashup of comedy and music involving this week's New York Comedy Festival and the Bob Woodruff Foundation, which helps military service members and their families after they return home. The foundation is named for the ABC news anchor injured while working in Iraq in 2006. Springsteen played a five-song solo acoustic set that included "Growin' Up," "Dancing in the Dark" and "Born in the U.S.A" to a crowd of fans, military leaders, service men and women and corporate executives at the Theater at Madison Square Garden.
Why is there no patron saint of veterans? (U.S. Catholic)
Commentary: The ranks of the saints are filled with men and women who risked their lives in battle. So why don't military veterans have a patron of their own? In the parish church of my youth, my family often sat under a stained glass window that depicted a poor man lying on the ground with his hand out to the Roman officer towering over him. Oddly, the soldier was cutting his own cloak in two. It was a long time before I learned that the Roman was St. Martin of Tours, a patron saint of soldiers. … Throughout Christian history, most patronages have probably emerged as a result of popular devotions, not church dictates. Maybe the real reason is simply that veterans haven't chosen a patron. This may be due to the fact that many veterans find honor in their service, while soldier saints who rejected the military like Martin of Tours likely did not share such pride. Such saints would not be good candidates to be intercessors for veterans. More to the point, perhaps, veterans don't often talk about what they did in the war. My dad, a veteran's veteran, didn't talk much about his experience; instead, he told my brothers and me that he hoped we would never qualify to belong to his veterans group. Like him, many veterans privatize their experiences, willing to talk only to other vets. Maybe the bottom line is that they simply aren't willing to involve a saint who wasn't there.
LeBron James invites deployed troops to join Veterans Day salute (Navy Times)
Serving overseas? The Cleveland Cavaliers want to get you in the house! LeBron, Kyrie, K-Love and the Cavs will honor the troops on Nov. 10, when they take on the New Orleans Pelicans at Quicken Loans Arena in Cleveland. As part of the "Hoops for Troops" salute on the eve of Veterans Day, the Cavs will feature video shout-outs from fans serving in uniform around the globe. If you're serving overseas and want to participate, send your photos via Twitter or Instagram using the #CavsSalute and #HoopsForTroops hashtags. Want to submit a 10- to 15-second video message? Please send directly to webmaster@cavs.com.