Veterans GOODNEWS for Dec. 10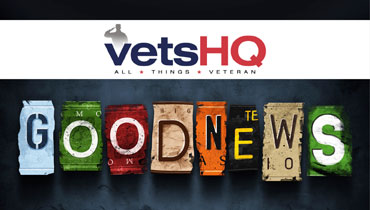 Connecting veterans to opportunities in agriculture (The Washington Post)
With the number of U.S. farms declining and the average age of American farmers now at 58 years, the Department of Agriculture (USDA) has been seeking ways to attract a new generation to the land. Recognizing an opportunity to tackle this problem and simultaneously serve the country's veterans, Al Muñoz created the Returning Veterans to Agriculture Project, a website to help those who have served in the military find the resources and information they need to return to farms in rural communities or to start careers in agriculture. "We have a large number of young people who are coming back from service and no one is encouraging them to go back to work on the family farm. So I started developing a transition guide and then built the website," said Muñoz, a project manager in USDA's Office of the Chief Information Officer. Launched in December 2013, the website includes information on USDA grant and loan programs, real-time agricultural job announcements from USAJOBS.gov and from the private sector, and plug-ins from LinkedIn, Facebook and Twitter. There also is information on starting small farms, on educational and training opportunities and details from the 2014 farm bill that created special incentives for veterans seeking to work in agriculture.
Boston to give boost to veteran-owned businesses (Boston Herald)
Veteran-owned businesses will soon get the same preferential treatment that women- and minority-owned businesses get from the city of Boston. During his speech at the Greater Boston Chamber of Commerce this morning, Mayor Martin J. Walsh is expected to announce a new executive order that will give veteran-owned businesses an advantage when bidding for city contracts. "This really changes the dynamic, to go beyond what is being done at the state level and gives all veterans the opportunities to bid with the city of Boston," said Francisco Urena, Boston's commissioner of veterans services. "This is a chance for veterans to utilize the skills they've learned in the field and in their service to our country, to launch a successful business, and for the city to support their post-service careers in a sustainable way. Boston continues to lead as a veteran-friendly city, and this is another reason why." The city currently gives extra weight to bids from woman- and minority-owned businesses, and will add veteran-owned businesses to that group when the executive order is issued.
Five Mississippi WWII veterans receive Legion of Honor (Hattiesburg American)
On Tuesday, five Mississippi World War II veterans were awarded the Ordre national de la Legion d'honneur — the highest decoration for the Republic of France — for their service during the liberation of France from 1944-45. Otherwise known as the National Order of the Legion of Honor, the award — which was presented during a ceremony at Camp Shelby's All Ranks Club — was established by Napoleon Bonaparte on May 19, 1802, to honor "eminent merit for distinguished military service or civic accomplishments." Tuesday's recipients were Army Pfc. James B. Jones of Laurel; Army Pfc. James H. McBrayer of Brandon; Army Technician fifth grade John L. Balser of McComb; Navy Gunner's Mate third class William M. Amos of Hazlehurst; and Army Technician fourth grade Adelchi A. Pilutti of Ocean Springs. "It is truly an honor to be here today in the presence of these valiant Mississippi World War II veterans," Camp Shelby commander Col. William "Brad" Smith told the crowd of about 200. " 'Thank you' sounds a little trivial, but what else can you say? We thank you for your bravery and your service to our nation and to the great state of Mississippi during a time when our country needed you most."
World War II veterans inspire two nations (Daytona Beach News-Journal)
The news that Charles Diebold would receive the most prestigious French war medal came a week after his death. Diebold, a World War II veteran who fought in the 94th infantry in Normandy, was shot three times as he fought to liberate France from Nazi control on D-Day. On Tuesday his daughter Linda Larkin, received France's Legion of Honor medal in her father's honor during a ceremony at the Thomas C. Kelly Administration Building in DeLand. The Port Orange resident died in July at the age of 93 and was one of 19 area Florida veterans to receive France's Legion of Honor Medal on Tuesday. The ceremony was tearful at times as veterans and their families remembered the sacrifices they made to protect their country. "He didn't know he was going to get the medal," Larkin said. "He was a very proud veteran. He would have been very touched by this." The medal is rarely given to veterans posthumously but Diebold had applied for the honor more than a year before his death, said Claude Berthoin, French consulate representative for Volusia County. The process can take more than a year because the veterans' service must be verified by the U.S. government and signed by the president of France.
Two N.Y. WWII veterans headed to Europe to mark Battle of the Bulge anniversary (Newsday)
Two World War II veterans from the Rochester area are headed to Europe for 70th anniversary commemorations of the bloodiest battle in the history of the U.S. Army. Jack Foy and Peter Du Pre are scheduled to board a plane for events being held to mark the anniversary of the Battle of the Bulge. The German attack launched on Dec. 16, 1944 was Adolf Hitler's last-ditch attempt to halt the Allies' advance on the Western Front. When the battle ended in late January, some 19,000 Americans had been killed and tens of thousands of others were wounded or missing in action.
'Gifts for Yanks' brings holidays to veterans (Grand Island Independent)
Volunteers brought a little bit of home for the holidays to the Grand Island Veterans Home on Tuesday. About 25 members of the American Legion, American Legion Auxiliary and Sons of the American Legion came to donate their time for the annual Gifts for Yanks event. They helped throw parties for veterans home members, complete with festivities, cookies and gifts. The goal, said Jessie Kiser, American Legion Auxiliary chairwoman for the veterans home, was to show members that they aren't forgotten. "To me, it just says thank you for what you did for our country," she said. The event has been going for more than 30 years, Kiser said. Units from across the state donate money, which is then distributed to pay for gifts for those in facilities across the state. In addition to Grand Island, volunteers visit Scottsbluff, Lincoln, Omaha, Norfolk and Hot Springs, S.D. The gifts vary from year to year, but this year, members at the veterans home received cash, Kiser said. Veterans received $20, and non-veterans received $15. That money can then be spent any way the member chooses, whether at the barbershop or canteen in the veterans home or on outings.
'Unclaimed' veterans, with no friends or family, honored with military funeral (Whittier Daily News)
While the final notes of "Taps" lingered in the air, the Semper Fi #1 Memorial Honor Detail saluted the heroes who had died alone. The honor detail is a group of U.S. Marines and Navy veterans who volunteer their time to honor veterans interred at Riverside National Cemetery. Wearing their "dress blues" or "Marine Corps Greens," the detail honors other veterans as its priority. On that Wednesday, 17 unclaimed veterans were given full military honors by the Semper Fi Detail near the back of the cemetery, close to the Medal of Honor Memorial. These were veterans of wars from World War II to Vietnam, buried there within the last month — with no ceremonies, no family, no friends. They are known as "Unclaimed Veterans" or "Unsung Heroes." The Unclaimed Veterans Remembrance Ceremony takes place monthly at the national cemetery, on the third Wednesday of each month, beginning with a list of names read out loud by Vietnam Army veteran Pat Kelly. Each name is followed by the ringing of a bell. Ceremonies include a full color guard, rifle-firing detail, the playing of "Day is Done" (Taps), folding of the American flag and presentation of the flag to the widow of a Pearl Harbor survivor, as well as a talk by a U.S. Army Chaplain whose mission is to "honor the dead and nurture the living."
Military moms make quilts to honor veterans (San Diego Union-Tribune)
A group of women who have children serving in the military, made quilts for area veterans as part of the nationwide Quilts of Valor program. Members of North County Bluestar Mothers presented eight hand-made red, white and blue quilts with patriotic themes to veterans who served in World War II, Korea and Vietnam during a ceremony Nov. 22 at the American Legion Post 149 in Escondido. Cmdr. Tom Lettington, a retired member of the Navy officiated. The North County group has been serving area military and families since the chapter started up in 2005. This was the first year the group made quilts as part of the nonprofit Quilts of Valor, and the effort will be continued next year. The effort began after local Blue Star Mom Marion Talbot went to the San Diego Quilt Show last year and met Sandra McCullough from the North County Chapter of Quilts of Valor. She and her daughter Dawn Regner were so moved by the mission, they came to the Chapter to see what we could do, said Loretta Cook, president of San Diego North County Blue Star Mothers.