Veterans GOODNEWS for Dec. 11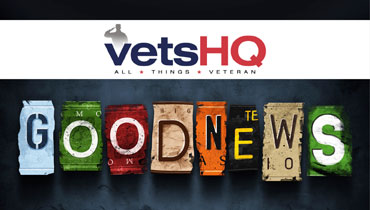 Project captures veterans' memories about Food Hood (Killeen Daily Herald)
Wearing his old green pilot's jacket and holding his helmet on his knee, Otis D. Evans shared stories from his 27-year Army career. He talked about smelling rattlesnakes in the training grounds of Fort Hood and his difficult days as a medevac pilot during the Vietnam War. Chris Buford sat behind the camera, recording each tale of military service as a means to raise funds and awareness for a future museum aiming to tell the story of Fort Hood and mounted warfare. Spearheaded by the National Mounted Warfare Foundation, the "Stepping into the Story" video project is asking veterans to come to the foundation's headquarters to talk about their service. Family members and community members also impacted by the military are invited, too. "It's been a great experience," said Evans, a retired colonel who also serves on the foundation's board. "I enjoy doing what I can do to make this particular project a reality." The goal is to share the stories weekly in the new year through the foundation's website to show the importance of telling these stories in a museum, said Shannan Shipman, the foundation's CFO.
Bakery offers more than muffins; it gives veterans a new career path (NationSwell)
Step inside the new Dog Tag Bakery in the Georgetown neighborhood of Washington, D.C., and your nose might tell you it's just a place to buy some delicious scones, muffins and bread. But while it does sell freshly-baked goods, the bakery's actual mission is to train wounded veterans how run a small business. Ten wounded veterans comprise Dog Tag Bakery's initial class of "fellows," who take classes in baking, business management, marketing, inventory and more; the former soldiers work 15 hours a week in the bakery to gain hands-on business experience. Bakery general manager Justin Ford tells WTOP, "The bakery is a conduit to teach our fellows small business management." Phil Cassidy, board chair of Dog Tag Inc., adds, "At the end of the six month period, ideally, they've learned the skills to get on with their lives." Dog Tag Inc. has partnered with the Georgetown School of Continuing Studies to allow the vets to earn a certificate of business administration through the program.
One of the last: Pearl Harbor vet's story never gets old (Asbury Park Press)
Every year around Dec. 7, the phone in Ralph Jeffers' home rings off the hook. The callers might be offering a speaking engagement, or seeking an interview, or just saying, "Thank you." Bottom line: They remember. "Everybody calls him on Pearl Habor Day," said Claire Jeffers, Ralph's wife of 42 years. The longtime Oakhurst resident was aboard the seaplane tender USS Curtiss on the Day of Infamy. He fired at Japanese planes for two hours and fought fires for several more. Like many in the Greatest Generation, he said little about it after the war ended. "When I came back to the states in '43, nobody cared about Pearl Harbor," Jeffers said. "In the '50s and '60s, nobody cared about Pearl Harbor." At the time, maybe the country wanted to forget. That changed in later years. In the 1970s and '80s, the Pearl Harbor Survivors Association swelled with members and bustled with activity.
World War II-era Civil Air Patrol honored on Capitol Hill (Los Angeles Times)
When Jeri Truesdell took prospective pilots up in the air for the first time, she would tell them to sit back and feel the strength of the engine on takeoff. It was a feeling she always loved, and never forgot. "I wanted to give them the feeling," she said. "Anytime I get in an airplane of any size, I'm absolutely thrilled." Truesdell, of Winnetka, is a World War II veteran who is now 100 years old. On Wednesday, she was among hundreds of living and posthumous recipients of the Congressional Gold Medal, one of the country's highest civilian awards, for service in a World War II-era volunteer air patrol that kept watch over the U.S. during the war. In a Capitol Hill ceremony attended by congressional leaders, lawmakers and military officials praised the Civil Air Patrol, calling it a grass-roots, volunteer-driven squadron of citizens who often did not qualify for military service but who wanted to defend their country. "They were clerks, they were bus drivers, they were doctors," said House Speaker John A. Boehner (R-Ohio). "They flew with unbridled determination, and we were lucky to have them up there." The patrol was founded a week before the Dec. 7, 1941, Japanese attack on Pearl Harbor that drew the United States into the war. Volunteers flew around the country, often in their own planes, and relied on homemade safety equipment, including inner tubes as life rafts, volunteers remembered. Originally, the patrol's assignment was to watch for German submarines that had been harassing merchant ships off the U.S. coasts. Eventually, patrol planes were equipped with bombs and depth charges to attack the subs. They also transported emergency supplies, fought wildfires, and assisted with search and rescue operations.
Florida Iraq War veteran has his Christmas song recorded (Tampa Tribune)
Iraq veteran Mark Goujon just released his peppy new holiday single, "Loud and Proud Christmas," sung by country and Christian recording artist Melodie Crittenden. "Say your season's greetings, have no shame, Hanukkah or Kwanzaa, I'll do the same," say the lyrics. "Merry Christmas, Happy New Year, say it loud and proud for all to hear." The song refers to Santa, the Grinch, Frosty and Rudolph and asks, "Does anyone still recall the most famous birthday of them all?" Goujon adapted "Loud and Proud Christmas" from a poem he wrote. He sang made-up songs as a child and wrote award-winning poetry in high school but started writing songs in earnest in 2011, when he met Sylvia Powell at a Brandon Christian Writers meeting. While deployed to Iraq as a tech sergeant in the Air Force, Goujon lost six comrades. In their honor, he spearheaded the creation of the Iraq Veterans Memorial at the Veterans Memorial Park and Museum in Tampa from 2011 to its dedication on Dec. 14, 2013.