Veterans GOODNEWS for Dec. 17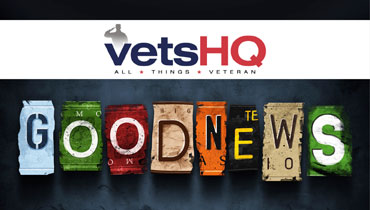 500-strong Army's 11th Armored Cavalry Regiment marches to bring gifts, cheer to vets (San Bernarndino Sun)
There was no sleigh on this Christmas journey. No sir. This trip was on foot. That was the mission. Together, the U.S. Army's 11th Armored Calvary Regiment — and Santa Claus — marched from their base at Fort Irwin National Training Center to the California Department of Veterans Affairs Veterans Home in Barstow. About 500 of them, plus one Santa, began their 38-mile annual march on Monday and reached their destination Tuesday. They hiked through the desert, camped. And then came Tuesday. They brought Christmas cheer and gifts. Smiles, proud vets, some in wheelchairs, greeted them. And the marchers honored the nearly 200 residents of the home. They were treated to a luncheon and swapped stories. It was the regiment's 18th annual Road March.
At the holidays, gifts from vets to vets (Kansas City Star)
Because veterans look out for each other, Mike Katzman has been putting together holiday gift bags for his fellow former servicemen and women for about a dozen years. The veterans who receive the 250 bags Katzman and his group assemble are in difficult circumstances of one kind or another. Some are homeless, while others are stuck in the hospital over the holidays. Many bags go to St. Michael's Veterans Center in Kansas City, which gives a temporary home to veterans who are trying to transition back to normal life. Katzman, a 94-year-old World War II veteran who lives in Overland Park, works with Jewish War Veterans, Post 605, and other veterans from around the area to collect donations, assemble the bags and deliver them to a rehabilitation facility and the VA hospital in Leavenworth, the VA hospital in Kansas City and St. Michael's Veterans Center. Each bag has an assortment of items, including a sweatshirt, T-shirt, two pairs of white socks, a wool cap, a regular cap, a water bottle, a backpack, a box of tissues, a book, various toiletries and more. All the veterans also get teddy bears, and many packages will also carry letters from Overland Park schoolchildren. "Everything that's in there is something I would keep for myself," Katzman said.
USS LST 393 Museum getting a new paint job: D-Day gray (MLive.com)
Muskegon, Michigan's historic USS LST 393 is getting a new look. Actually, it's an old look. The World War II-era, tank-landing vessel is one of two LSTs to survive its original configuration when it landed on Omaha Beach during the D-Day Invasion on June 6, 1944. Its current paint job, however, does not match what it did on that historic and fateful day. Recently, the USS LST 393 Veterans Museum launched a campaign to return the ship to its original "D-Day Gray" color scheme. It's currently painted in "Pacific Jungle Camouflage" and hasn't been repainted in more than seven years. According to museum staff, the vessel is starting to show its age. In an effort to return the LST 393 to its original fighting color, the museum's board of directors has created a fund drive to raise the $30,000 needed to repaint the warship. "It's a huge undertaking to paint a big ship like this," said Ron Morzfeld, museum manager. "She's 330 feet long, 50 feet wide and there's a lot of superstructure to cover. It's all steel, which requires special paint." Museum staff is hopeful the repainting will be completed by the vessel's 71st D-Day anniversary.
Veterans love getting together to enjoy shooting sports (The Washington Times)
Visit a gun range, attend a competitive shoot, take to the field during the hunting season or attend a gun show and you'll run into veterans of the military enjoying their day as recreational shooters, hunters and gun collectors. Those of us who are ourselves vets and have worked with other veterans over the years appreciate more than most just how much our veterans enjoy the shooting sports. Wounded veterans especially seem to truly enjoy various shooting sports programs across the country. The first annual Wounded Veteran Marksmanship Competition was held in 2011, and today this and similar programs and events serve veterans and their families by providing them with a weekend of fun, where they get to experience the camaraderie that many of them miss after they leave the service. Disabled veterans often find themselves surrounded in a civilian world that simply doesn't understand who they are, where they have been and things they are still dealing with stemming from their service. Providing them with a laid-back, comfortable environment surrounded by others who have had similar experiences has a profoundly positive effect.
NFL added to brain injury program for military veterans (Fox Sports)
A brain-injury treatment program originally designed for military veterans injured on the battlefield has been updated to include professional athletes. Representatives with the Eisenhower Center announced Tuesday that it will be the primary facility used by the NFL Players Association for treating brain injuries and other neurological issues through the After the Impact program. The residential neuro-rehabilitation facility is based in Ann Arbor. The program provides intense treatment for soldiers and athletes recovering from concussions, mild traumatic brain injury, post-traumatic stress disorder and other problems. It evolved from the Eisenhower Center's transitional treatment program to help military members deal with brain injuries. The NFL expects 6,000 of nearly 20,000 retired players – or 28 percent – to suffer from Alzheimer's disease or at least moderate dementia someday. Former players have sued.
Iowa veteran receives a mortgage-free home (Des Moines Register)
U.S. Army veteran Eric Johnson knows a little bit about responsibility, but until Tuesday discussing the challenges of homeownership with others in his new southeast Des Moines neighborhood might have been difficult. The former staff sergeant started a new chapter in his life as he received keys to a mortgage-free home thanks to the Military Warriors Support Foundation, which collaborates with Wells Fargo to provide wounded combat veterans and their families assistance as they transition to civilian life. A mentoring component to the program also helps Johnson and others veterans attain financial stability. That's important, because more than 1 million soldiers are expected to leave the military over the next six years, according to a recent U.S. Government Accountability Office report. Providing support and services for transitioning veterans is a key issue facing the country, the agency concluded. Johnson, 32, beamed as he talked about the life awaiting him in the neighborhood near Easter Lake. He's been renting in Linden, a healthy distance from grocery stores, popular restaurants and doctors. "One of the main things I'm excited for is I'm going to go back to group therapy at the VA," Johnson said. "It's awesome. It's amazing."
Trace Atkins surprises veterans with performance, donation to Wounded Warrior Project (The Boot)
In between shows on Trace Adkins' Christmas Show Tour, the singer made a surprise appearance for guests, staff and veterans at Nashville's Country Inn & Suites. Adkins spent time helping out staff during the holidays by checking in guests from behind the front desk and performing a special holiday show. While there, Adkins joined the hotel and the Carlson Family Foundation in presenting a $50,000 check to the Wounded Warrior Project. "It's great to be back in Nashville today working with Country Inns & Suites guests, staff and [the] Wounded Warrior Project," Adkins says. "I'm honored to help present this donation, which will help the Wounded Warrior Project fund efforts to assist heroes in getting back on their feet. It's an admirable thing, and I'm happy to help." The funds will go specifically to the project's Economic Empowerment pillar, to help families with financial training, education and employment services.
California woman helps fellow homeless veterans reclaim their lives (Valley Public Radio)

Many veterans struggle as they return home after serving this country. Among that group are women who may have a hard time making that transition, sometimes ending up on the verge of being homeless. FM89's Diana Aguilera reports on how a woman is determined to make a difference. Anita Pascual always looks forward to Monday nights. It's the time when she gets to sit on a couch and chat with other women. "I made coffee if you guys still want coffee," she says. The group of 10 are sitting in a living room, drinking something warm for this chilly night. With all the laughing that's going on, one would think it's a ladies night but in reality Pascual is on the clock trying to connect these women with jobs. "CarMax is looking for 15 sales consultants, so they're looking to hire people like as soon as possible," she says. Pascual's goal is to help these women who all have two things in common: they were all homeless and veterans. She works for Homefront, a project of the non-profit organization WestCare Foundation. The program gives women veterans in Fresno County a temporary home and a support network so they can get back on their feet. Pascual isn't a stranger to these women. That's because at one point she was in the same situation:
a veteran with no place to call home.