Veterans GOODNEWS for Dec. 2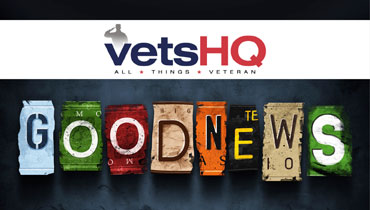 VFW looks to update its image to attract women, younger vets (Military Times)
Veterans of Foreign Wars officials have heard criticism for years that they're not changing fast enough to attract younger members. Now, they're trying to prove they are listening. In coming days, President Obama is expected to sign into law a small but meaningful change in the VFW congressional charter, replacing the word "men" with "veterans" and the word "widow" with "surviving spouses." It's an edit driven by VFW leaders, who over the years have heard complaints that their organization too often overlooks the growing number of female veterans in America. "We didn't change our congressional charter to be politically correct," VFW National Commander John Stroud said in a statement last week. "We changed it because being an eligible service member or veteran is what's important to our great organization, not one's gender, and changing widows to surviving spouses is more representative of today's military."
Colorado Dept. of Transportation looking to hire veterans to fill seasonal jobs (CBS-Denver)
The Colorado Department of Transportation on Monday announced it will hold open houses to hire military veterans to fill seasonal temporary positions for snowplow drivers, heavy equipment mechanics and dispatchers. CDOT will hold three open houses at CDOT Headquarters in December. CDOT is looking to fill 60 positions. "Veterans often finish their military
service with the types of skills we're looking for," CDOT Deputy Executive Director Scot Cuthbertson said in a statement. "We encourage veterans to make appointments and talk to us about our seasonal openings. We think we may have some good matches out there."
Seattle veteran trying to create the next Ice Bucket Challenge (MyNorthwest.com)
A few weeks ago, Andrew Myers, a Seattle veteran, caught a guy trying to break into his home, ended up in a scuffle with him out in the yard, and posted his security camera footage on YouTube for the world to see. The video, titled "Mr Wrong House – Robber Meets Paratrooper" now has nearly 4 million views. When Andrew was asked to monetize the video, he didn't want to. But then he realized he could make money for a charity that he feels strongly about, Paws and Stripes, a non-profit that matches service dogs with veterans who have PTSD. "A lot of people don't realize we lose 22 veterans a day to suicide," he said. Andrew wants to make sure every veteran who needs a dog, gets a dog. So he's started his own sort of ice bucket challenge. There's a meme circulating of Andrew, a still photo taken from his YouTube video where he's facing the camera with his arms spread out wide. "Doing the, 'Come at me bro,' with your arms wide out," he described. Andrew wants people to take the same photo, in his pose, write #mrwronghouse on it and post it online.
Mortgage-free home provides injured veteran stability (Associated Press)
On most days, Christopher Barnett wakes up before dawn in his Greenwood home and goes through the same routine. He checks on his son, Vincent, and the two play reading games and do other educational activities. Barnett tries not to keep the TV on, except to let 15-month-old Vincent watch "Sesame Street." They go to the nearby Greenwood Park Mall to walk or to Craig Park to run around and get exercise. Barnett, a U.S. Army veteran, moved to central Indiana in March. A tremendous gift helped him provide this life for himself and his son. Through a national organization aiding injured veterans, Barnett was given a home in Greenwood, mortgage free. Without the burden of a mortgage, he is earning his college degree online in psychology and raising his son while looking for work. "If we didn't have this house, we wouldn't be able to do that," he said. "We'd be seriously struggling if we weren't afforded this opportunity." The house was given to Barnett through by the Military Warriors Support Foundation. Focused on helping wounded combat veterans, the nonprofit foundation organizes programs, including home donation, employment assistance and recreational activities, such as family getaways, golf outings, hunting and fishing trips.
Pendleton Marine vet finishes cross-country trip on horseback (San Diego Union-Tribune)
A Camp Pendleton Marine veteran finished a cross-country journey on horseback Nov. 30 to raise money for wounded comrades, especially those who suffer from PTSD. Matt Littrell arrived at Camp Pendleton, his former home base, after a seven-month trip across the continent from Camp Lejeune, N.C. Littrell took the 2,700 mile trek, which he called, "The Long Trail Home" to bring awareness to the challenges service members face coming home from war. The effort has raised a little over $87,500 so far for the Semper Fi Fund, a nonprofit that supports injured service members and their families. "I have witnessed too many of my own brothers die long after the shooting stopped, to remain idle any longer. This is my mission, this is our Long Trail Home," Littrell said on his Facebook page on Oct. 6. Littrell, a Colorado native, served as an infantryman with Golf Co., 2nd Battalion, 5th Marine Regiment based out of Camp Pendleton from 2001 to 2005 and was deployed two times to Iraq.