Veterans GOODNEWS for Dec. 3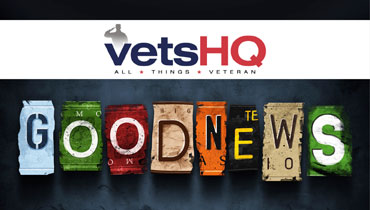 Corrective action: VA whistleblowers are honored (CNBC)
Three Department of Veterans Affairs whistleblowers will be honored on Wednesday for their role in uncovering serious problems with the VA's care for American service members. Katherine Mitchell, Dr. Phyllis Hollenbeck and Dr. Charles Sherwood will receive the Public Servant of the Year award from the U.S. Office of Special Counsel (OSC) for their roles in uncovering problems in patient care at VA medical centers in Phoenix and Jackson, Mississippi. The OSC, an independent watchdog agency funded by Congress, has the task of investigating government whistleblower claims. The agency will get $22.9 million in funding next year. OSC spokesman Nick Schwellenbach told CNBC that since approximately May 2014, the agency has received more than 150 complaints from VA employees who allege retaliation for disclosing threats to patient health or safety.
Trucking industry commits to hiring 100,000 veterans over next two years (JOC.com)
The U.S. military has a problem, and the nation's trucking industry believes it has a solution. Over the next five years, more than a million active military personnel will be discharged and return to the civilian workforce. Trucking wants to put those veterans behind a wheel. On behalf of its member trucking companies, and in partnership with the U.S. Chamber of Commerce, the American Trucking Associations committed the trucking industry to an ambitious mission: hiring 100,000 U.S. military veterans over the next two years. "I think there's no higher calling for an American than to serve in our armed forces, and driving a truck, delivering America's most essential goods safely, is also a high calling," ATA President and CEO Bill Graves said Dec. 2 at ATA headquarters in Arlington, Va. Unfortunately, not enough people are heeding that call. The ATA estimates the trucking industry is currently short 30,000 to 35,000 drivers, a number that carriers say is rising as the economy begins to move at a faster pace, growing 3.9 percent in the third quarter.
Veterans put skills on line at Toyota Texas (San Antonio Express-News)
Albert Escamilla said he entered the military because he sought structure in his life, not just because a couple of family members had joined the armed forces. A San Antonio native, Escamilla spent more than nine years with the U.S. Army Reserves, a time he found rewarding. "I learned about things such as discipline and work ethic," Escamilla said. "You're not given a choice to not be successful." When he left the Army Reserves, Escamilla was excited by the announcement that Toyota Motor Manufacturing would build a pickup assembly plant in San Antonio. He thought it would be an ideal place to start a new civilian career, using what he learned in the Army.The ranks of military veterans keep growing at Toyota Texas. Since 2010, the plant has hired more than 40 veterans to work on its maintenance staff alone. Veterans account for 20 percent of the plant's skilled maintenance force, company officials said.
For struggling veterans, strumming guitars can help with the healing (NationSwell)
In Texas, a group of veterans at the San Antonio Military Medical Center is making beautiful music, thanks to volunteers with the Warrior Cry Music Project. The nonprofit gives instruments — guitars, drums, trumpets and more — to injured service members, then provides them with music lessons. Robert Henne started the organization five years ago because he believes playing instruments helped him recover from injuries he sustained in a car accident. At the time, his wife was working as an Air Force doctor at the Walter Reed Medical Center, and he wondered if the same process could help wounded veterans recover. As the veterans work through the inevitable squawks and stumbles that come along with playing an instrument, they also learn to overcome other challenges. "It's not just learning to play music," Henne tells the San Antonio News-Express. "It helps reprogram what's going on in the head."
Bob Parson keeps doubling down on veterans (Inside Philanthropy)
As a veteran of the Vietnam War and recipient of a Purple Heart, GoDaddy founder Bob Parsons has been a longtime supporter of veterans' organizations, and in particular, the Semper Fi Fund. Now he's upped the ante with his largest contribution to date. Last year after an initial matching donation of $1 million from GoDaddy and the Bob and Renee Parsons Foundation was met, Parsons doubled the size of his gift, challenging supporters to raise an additional million. And when that goal was met before the December 31 deadline, he tacked on an additional $500,000, bringing his total contribution to $2.5 million, and raising a total of $5 million for the organization. This year, Parsons as decided to double down again, putting up a $5 million matching gift. That brings Parsons' total support for the organization to at least $8.5 million, but he may not be done yet. Like last year, Semper Fi is on track to exceed its $5 million goal—it's barely halfway through the challenge, and has already raised well over $3 million. And if the past is any indication, if it can hit $5 milion before the deadline, Parsons is likely to extend his matching gift beyond the $5 million he's already committed.
The military-to-development transition: How 3 Marines found a new purpose (Devex)
Alex Martin wasn't familiar with the concept of global development when he made a satellite phone call from a warship in the Gulf of Aden to Nuru International founder Jake Harriman. He didn't have background knowledge of agriculture, education or health care, and he didn't know how he would put his skills to use in a development context. But he knew he wanted to learn more about the anti-poverty intervention Harriman had started in Africa. What Martin did possess was 11 years of experience in the United States Marine Corps. After three tours in Iraq, he was deployed on a counter-piracy mission off the coast of Somalia. In fact, he was reflecting on the successful mission he and his platoon had just executed — reclaiming a merchant ship and capturing the pirates who had forcefully taken it — right before he called Harriman. "Even when we deployed, the mission had a different feel to it," Martin explained. "It was more: 'What are the causes behind this? Why does this problem exist?'" These were the questions that prompted Martin to reach out to Harriman, himself a Marine who founded Nuru, an effort to fight poverty and promote security through hyperlocal, self-sustaining and holistic development assistance in remote, rural communities. Four years after that call, Martin is living in an austere, challenging environment and working with a small team of dedicated professionals, just as he had done in the Marine Corps. But now, as Nuru International's outgoing team leader in Kenya, he has retired his military uniform and instead identifies and trains local leaders to design and implement solutions to the community's needs.