Veterans GOODNEWS for Dec. 24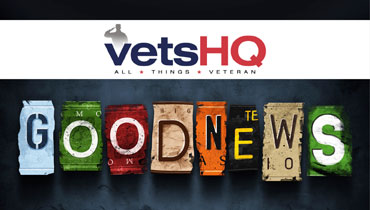 Pilot uses #IAmUnbroken Twitter campaign to help veterans (The Washington Times)
Chris Marvin was a fourth-generation Army combat veteran. Proud of his country and his heritage, the Bloomington, Illinois, native responded to the call of duty, serving in Afghanistan as a Blackhawk pilot and platoon leader. Then, one fateful day in 2004, his helicopter crashed along the Pakistan border. Marvin broke his ankle, both legs, right arm, the right side of his face and experienced permanent damage to both knees, hips and shoulders. Marvin would spend the next four years enduring 10 major surgeries and thousands of hours of physical therapy. During his convalescence — and subsequent retirement from the Army — he saw firsthand how the general public views injured veterans. "Usually they see us as charity cases or a group of people that deserves pity," Marvin said. But being pitied was the last thing on Marvin's mind. He fought back from his injuries, earned his MBA and saw the call to help others like himself after a mysterious check for $500 arrived in his mailbox one day from a veterans nonprofit. He was convinced it was time to give back. Marvin joined a nonprofit called Got Your 6, with the aim of giving his fellow veterans the kind of support that he himself received. Got Your 6 has gotten some recent extra publicity thanks to the Twitter hashtag campaign #IAmUnbroken, so named for the new Angelina Jolie-directed film "Unbroken," which tells the real-life tale of Louis Zamperini, an Olympic runner who served in World War II, was shot down over the Pacific and endured 47 days on a life raft only to be detained and tortured in a Japanese POW camp before finally returning home to his family at the war's end. In civilian life, Zamperini dedicated his life to helping others.
Stephen Colbert raffle raises over $300,000 for veterans, students (SamaritanMag.org)

Stephen Colbert ended
The Colbert Report
with a song and a fundraising tally. The talk show host and political satirist, who will take over the
Late Show
from David Letterman in 2015, announced that the desk and fireplace from his set raised $313,420 (USD) for charity. Good thing, he said, because if he didn't clear out his studio by next Thursday he wouldn't get his security deposit back. "Funds raised will be split 50/50 between two amazing causes: The Yellow Ribbon Fund and DonorsChoose.org," it read on omaze.com. The money will help DonorsChoose.org provide supplies for students in need and Yellow Ribbon Fund support injured veterans at home.
Facebook plea brings strangers to aid of Vietnam veteran (Fayetteville Observer)

Vietnam War veteran Donald Lee wobbled around with a cane as the sound of axes chopping wood and chain saws taking down trees echoed throughout his 5-acre property. He occasionally stopped to pet one of his many rescue dogs or to hug one of the soldiers who arrived to join the others already at work. "This is a Christmas miracle," he said, taking it all in. "In 40 some years, one thing about the military that hasn't changed, brothers and sisters take care of each other." By 10 a.m. Sunday, more than 50 volunteers – mostly soldiers and strangers who had never met Lee – were sprawled across his property clearing trees and debris to build him a new home. Lee, 59, has been living in a dilapidated camper with no heat, water or front door for nearly two years. Eventually, Lee said, he would like to build other cabins across his property for homeless veterans. The grass-roots project started casually. Pavone posted on Facebook that she needed help: "Calling on all vets in the Fayetteville/Sanford/Ft. Bragg/Cameron area. We are needing help clearing a wooded area to prepare to build a home for a disabled Vietnam veteran," she wrote. "Bring your chain saws, trucks, Bobcats, muscles, whatever, just come help."
1st Tank Battalion fulfills Marine's final wish (DVidsHub.net)
On the 1st Tank Battalion ramp, a special moment is being shared. A man walks carefully, but assuredly ascends the ramp. He's moving toward a tank. When he arrives, he is enthusiastically greeted by Marines. Then he stands there for a moment, eyes glistening, no doubt replaying old memories in his mind. Marine veteran Kenneth R. White, native of San Diego, Calif., visited 1st Tanks, Dec. 22, 2014 to fulfill a final wish. White served 17 years as a tanker for 4th Tank battalion. He is nearly 80 years old and suffers from stage 5 kidney failure and other serious medical issues. White's final wish was simply to be able to hug a tank. "He's just like a kid at Christmas," said Carol White, spouse, native of San Diego. "It's just absolutely amazing to see how much life he's put back in himself. He's getting really close to the end of his life but he'll be at peace now." White and his family arrived at the 1st Tanks ramp in the early morning. At the ramp, White was treated to a tour of the M1A1 Abrams and shown some of the newer functionalities. He was also shown the Advance Gunnery Training Simulator and his tour concluded with a visit to a Sherman Tank.
Some Texas disabled veterans have foster families (Associated Press)
Half a dozen Christmas packages lay in front of the fireplace in Eileen Merize's home in Katy. There were some wrapped for her, others for her husband, Rudolph. In the middle lay another, intended for a newer member of their family: 93-year-old Harold Utsler, the World War II veteran who moved in with them two years ago. The Houston Chronicle reports Utsler is one of three veterans who live in her home through the Medical Foster Program, which helps disabled elderly veterans live with "foster families" rather than in large nursing homes. Utsler and many of the other veterans who joined the program in Houston in recent years require nursing-home type care, but they would rather not live in a nursing home. Instead, Utsler spends his days in a private home with Merize, 58, and her husband. He doesn't have many people left in his life – his parents and siblings are dead, and though he was married twice, the unions didn't stick. When a VA official suggested he move into a medical foster home, he was skeptical. But at Merize's home earlier this month, he had a different take. "They treat me like family," he said, lounging on a puffy leather couch. He has his own room, with a photo of a B-24 like the ones he used to crew on the missions he flew from Italy and Romania.
Florida veterans program receives $2 million grant (Pensacola News Journal)
Governor Rick Scott has highlighted the partnership with the Florida Department of Economic Opportunity and Building Homes for Heroes to bring mortgage-free housing to injured veterans. Through a $2 million DEO grant, Building Homes for Heroes is able to build or modify homes in Florida for injured veterans who served in the armed forces during the wars in Iraq and Afghanistan. Building Homes for Heroes is a national nonprofit organization dedicated to making a difference in the lives of wounded American service members and their families. In 2014, the organization gifted a total of 13 mortgage-free homes throughout Florida. In cooperation with DEO, Building Homes for Heroes expects to construct or modify another 20 homes in Florida in 2015. The homes will be modeled to fit the specific needs of the veterans. Most recently, in October 2014, Building Homes for Heroes welcomed US Air Force Master Sergeant Joseph Deslauriers and his family to their new, mortgage-free home in Destin, Florida.
Volunteer brings cheer to hospitalized veterans through music (WMAR-Baltimore)
"If you know the words, sing along. I don't really perform," Tim Scully laughs as he grabs a chair and sits beside Navy veteran, Lorenzo Morgan. Scully likes to think of it as more of a visit. "I got one for you!" He smiles as he begins to strum his guitar. Scully doesn't play in public outside of the VA hospital, he's not a veteran himself, and he works a fulltime job. He says he's just a guy reaching out to bring a little cheer to our nation's veterans. "We'll sit and talk. Because the one thing that's amazing is how few people have visitors here," he said. By simply visiting, he hears stories of war, battles, and memories straight from the men and women who lived them. "Just a couple of weeks ago, I played for a guy in his 90's who just wanted to talk to me about playing flute for President Truman in the white house on his 19th birthday. I mean, they are stories they want to tell," Scully said. "It makes you feel like someone cares," said Army veteran, George Thompson. Thompson was just one of the veterans who sang along with Scully from his hospital bed.