Veterans GOODNEWS for Jan. 26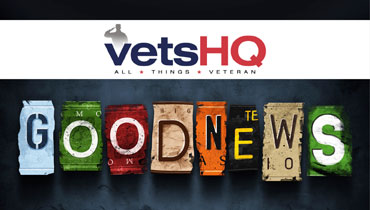 Senators introduce 'Veterans to Paramedics Transition Act' (Oil City)
U.S. Senators Mike Enzi (R-Wyo.) and Amy Klobuchar (D-Minn.) renewed their efforts this week to help increase job opportunities for returning veterans. The senators reintroduced their bipartisan legislation – the Veterans to Paramedics Transition Act – that would streamline civilian paramedic training for returning veterans who already have emergency medical experience as a result of their military service, making it easier for them to secure jobs as paramedics. The bill would also help reduce the shortage of much-needed emergency medical personnel in rural communities across the country. Rural communities have long faced critical shortages in emergency medical personnel, threatening the safety of rural residents. Meanwhile, thousands of men and women in the military receive emergency medical training as part of their duties.  For example, most Army combat medics are currently certified as Emergency Medical Technicians (EMTs) at the basic level.  When these veterans return to civilian life, however, their military-based medical training is often not counted toward training and certification as civilian paramedics. Many existing programs require all students to begin with an entry-level curriculum.  For veterans, this means spending extra time and money for training that, in effect, they have already received.
On his long road back from Iraq, veteran finds healing on comedy stage (The Washington Post)
Don't get him started. Hey, did you hear the one about the soldier who drove over an IED in Iraq? He had a blast. Or, what did the soldier think of the experience as he was transported to the hospital? It was the bomb. And why did the soldier decide, after losing a lower limb in combat, to go into comedy? He'll have a leg up. No, don't get Joe Kashnow started. Not only has he heard them all. At some point, the Army veteran, in moments of vulnerability, has been tempted to tell them all — punning one-liners that exist to disarm you. They are not just ice-breakers. They are his life. More than a decade ago, Sgt. Kashnow drove over a roadside bomb outside Baghdad. Nine years ago, as part of his recovery from the injuries he suffered then, Kashnow had half his right leg amputated at Walter Reed National Military Medical Center. And today, the Baltimore man is trying to make a career out of comedy. He isn't going it alone. Kashnow, 35, is one of five service members who — having survived severe injuries in Iraq or Afghanistan — were chosen to appear in the recent documentary "Comedy Warriors: Healing Through Humor," which spotlights their paths from the battlefield to the stage. The veterans were also mentored by such top comedians as Lewis Black, Zach Galifianakis, B.J. Novak and Bob Saget.
After 45 years of secrecy, Washington State veteran gets Purple Heart (Tacoma News-Tribune)
When the United States Air Force sent Staff Sgt. John Campbell to Laos in 1970, the mission was so classified he wasn't told where he was going. "I had to ask the pilot on the plane," Campbell said. "Technically, we weren't in Laos, so it was all secret." What happened to Campbell, a 23-year-old Californian at the time, followed him home. So did the secrecy. "I've been married 46 years," said Campbell, who now lives in Gig Harbor next door to his son, daughter-in-law and two grandsons. "Until a few years ago, I never told my wife or son what happened in Laos. They didn't even know I'd been wounded …" The military kept that part of the war in Southeast Asia classified, and when Campbell saw his service record nearly 40 years later, it didn't show he'd been there. "I was assigned to a special squadron out of McClellan Air Force in Sacramento," he said. "My training was on aircraft the U.S. gave the Laotian government. I was sent there to repair and modify those planes." Campbell arrived at a small compound with an airstrip in December 1970 and was told not to wear his uniform. Instead, he wore a Laotian pilot jumpsuit. "We took sniper fire most of the day Dec. 31. I was there with a few other Americans, and we only knew one another's first names. We knew it was dangerous, we knew it was secret, so I don't think we wanted to get close," Campbell said. That night, the North Vietnamese Army hit the base and its Hmong fighters hard. When a mortar shell landed in the center of the compound, Campbell felt intense pain on the right side of his face and right arm. He passed out. Campbell was medevaced to Thailand. "I was the only one who made it home," he said. Laos had been so classified, Campbell had never received a Purple Heart. He asked for his medical records, and got a single-typed page — with many details and the location blacked out — describing his treatment for wounds in Thailand. Campbell took his case to Sen. Patty Murphy's office, and reapplied for the Purple Heart. On Sunday, in a ceremony presided by U.S. Rep. Derek Kilmer, Campbell received his medal.
Veteran of Mogadishu's 'Blackhawk Down' battle to retire (Tampa Bay Times)
Chris Faris was wounded in Mogadishu in 1993 as a member of the elite Delta Force during the battle made famous in the book and film Black Hawk Down. And he has spent nearly six years deployed overseas since 2002, often while on secret missions in the world's most-dangerous places. But the work one of the grand marshals of the 2015 Gasparilla celebration wants to be remembered for is his effort to encourage soldiers to seek the help they might need after returning from war. Faris is command sergeant major — the top enlisted leader — of U.S. Special Operations Command at MacDill Air Force Base, and has earned seven Bronze Stars and a Purple Heart in his 31 years in the Army. He will retire at the end of February. That, Faris said, is enough. "As the expression goes, 'Okay, Uncle Sam. You've gotten all the blood out of this turnip. There ain't no more.' It's time for something new," Faris said. Faris, 53, is ending a storied military career after more than three years at SOCom and is opening the civilian chapter of his life with plans to become a motivational speaker. It's a role that isn't much different from the one he played at SOCom working to buttress the morale of the enlisted ranks, often speaking to troops around the nation. In what might be his final official act in the military, Faris is serving as a co-grand marshal of Gasparilla, including the parade in Tampa on Saturday. The other grand marshal is TV host Mario Lopez. Faris said his participation in Gasparilla is one way he can give back to a community that he said supports MacDill and U.S. troops unconditionally. "Tampa Bay's different here than any place I've seen," Faris said. The support for troops "is very genuine and sincere."
University of Maine system to offer in-state tuition to veteran dependents (MaineCampus.com)
The University of Maine System is considering a proposal to reduce tuition for military veterans' dependents living outside the state. The system would offer in-state tuition to all veterans' dependents who qualify for the GI Bill, bringing it in line with new federal requirements for public colleges and universities. If approved Monday, the policy will take effect in the spring semester. System officials said there are currently 30 veterans' dependents paying out-of-state tuition. In-state tuition rates are generally one-third to one-half of rates paid by out-of-state students.
University of Florida fraternity welcomes WWII veterans to brotherhood (The Gainesville Sun)
A secret ceremony followed by stories from decades past cemented a cross-generational brotherhood between two World War II veterans and the men of the Lambda Chi Alpha fraternity at the UF chapter's house on Sunday. Veterans Tom Santarsiero, 89, and Frank Towers, 97, were honored with a formal induction ceremony at the fraternity house Sunday afternoon. Though Towers was unable to attend the event, Santarsiero accepted the honor on behalf of all American veterans. "I want the veterans to get the honor, not me," Santarsiero said. "They are still out there fighting for our country." Brian Joy, a UF senior and at-large member of the fraternity's executive committee, said the decision to honor the veterans with the initiation was unanimous among the voting members of the chapter. "Sometimes age differences can form some kind of schism between generations, but I think having such incredible men here to kind of speak to our members about their experiences really helps to bind us together as a country, as men," Joy said. Lambda Chi Alpha is one of the largest men's fraternities in North America with more than 275,000 members. The UF chapter was founded in 1933 and has about 80 active members, 19 of whom were initiated this semester.
7 criminals who messed with the wrong veterans (WeAreTheMightly.com)
After watching this compilation of crooks-meet-vets, it's easy to see why veterans are the last people you want to mess with. This list of awesome veterans that were caught on camera making short work of criminals leads off with Navy veteran Kendrick Taylor against a purse snatcher:  Taylor was on his way to the gym in Orange County, Fla., when he saw a man attacking an elderly woman and trying to steal her purse. Without thinking twice, Taylor sprung into action. The purse snatcher tried to get away, but Taylor was just too fast and too big. Read more by clicking the headline link.
Scuba diving used to help veterans with disabilities, trauma (ABC-Chicago)
The world can be a tough place to negotiate for a person with severe disabilities. But one group, called Diveheart, is using scuba diving as therapy for people with disabilities and military veterans who have experienced trauma. They say there's something about going under water that helps them reach new heights. "There's no surface distractions under water," said Jim Elliott, founder and president of Diveheart. "It helps you focus and I think the pressure helps as well." Elliott started Downers Grove, Ill.-based Diveheart in 2001. The idea is to help people with disabilities to build confidence, independence and self-esteem through scuba therapy. Greg Rodriguez, 31, is a U.S. Marines veteran who suffered a traumatic brain injury in a car crash shortly before he was to be deployed. He still struggles with speech and mobility but credits Diveheart with giving him a second chance. "I'm living the dream," Rodriguez said.  "We push him a little bit more to get him further and further along," said Andy Ferraro, a volunteer scuba instructor.