Veterans GOODNEWS for Jan. 27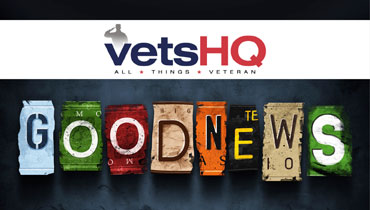 New program prepares veterans for hospitality jobs (Military.com)
While the unemployment rate for all veterans is currently at 5.5%, 11.2% of veterans who returned to civilian life since 9/11 are still unemployed. Both unemployment and, crucially, underemployment remain high among veterans, especially as the economy has begun to heal in the wake of the recent recession. A survey this fall conducted by Harris Poll on behalf of University of Phoenix showed that the majority of past service members aren't being used to their full potential when they do land a job. A majority (61%) who have held civilian jobs say they have previously been or currently are doing work beneath their skill sets; nearly three-quarters (72%) say they accepted a position because they were unemployed and needed a job. To help solve this issue, Hilton Worldwide, Goodwill Industries International and the Apollo Education Group (the parent company of University of Phoenix) have joined forces to provide the educational and workplace foundation to prepare them for careers in the hospitality industry. Hilton will move to the front of the line veterans and military spouses seeking interviews for a paid position in the hospitality industry. Through the Hilton Military Internship Program, participants can earn a certificate in Hospitality Management from University of Phoenix School of Business and experience a separate six-month, paid internship at a Hilton Worldwide property in a select U.S. city. Once the students successfully complete the Hospitality Management program and Hilton internship, they are guaranteed an opportunity to interview with Hilton for full-time positions.
N.Y. man is lone combat veteran returning to scene of WWII battle (Associated Press)
A World War II combat veteran from upstate New York is returning to the scene of a bloody Pacific island battle as an army of one. Don Fida of Syracuse departed Monday morning for the Marshall Islands, where U.S. forces landed on the Japanese-held atoll of Kwajalein on Jan. 31, 1944. Fida was a member of the U.S. Army's 7th Division that helped capture the island after a four-day battle. The handful of 7th Division vets still living were invited back to the island for a ceremony marking the battle's 71st anniversary. But Fida, who turns 91 Wednesday, is the only survivor who can still walk.
Florida governor announces $7.4 million for new veterans homes (Jacksonville.com)
In a county that's still trying to get a commitment from the federal government for a new permanent Department of Veterans Affairs clinic, its state veterans' nursing home was touted as a jewel by state officials. Gov. Rick Scott visited the Clyde E. Lassen State Veterans' Nursing Home on Monday afternoon to announce a proposal for $7.4 million in the next budget for three new state veterans' nursing homes. The St. Johns County facility off Florida 16 is one of six homes run by the Florida Department of Veterans' Affairs. A seventh has been approved by the Florida Cabinet for St. Lucie County. The location for the other two new homes will be considered by the Cabinet upon approval. Scott noted that Florida is No. 3 in total veteran population and must make a serious effort to provide for their needs. "I've had the opportunity to travel the state, and I've visited with the veterans there and they are getting great care," Scott said. "We're going to continue to make sure we have the nursing homes for our veterans. We have a budget that's growing now. We're going to allocate our dollars so our veterans get the best care we can provide them."
Missouri governor outlines plans to help care for state's veterans (OzarksFirst.com)
Governor Jay Nixon said Monday he wants to help Missouri's veterans by reducing the wait list at the state's veterans' homes. "For every veteran receiving quality medical care and services at one of our veterans' homes, there's a veteran who is on the waiting list because there's not enough space," said Nixon. Each home has registered nurses on duty 24 hours a day, provides physician care, therapy, and social services for residents.  The homes also have special care units reserved for veterans suffering from dementia.  Missouri Veterans Commission spokesman Daniel Bell says there are about 2,000 veterans waiting to get into one of the state's seven homes. "Right now, the wait times to get into the homes can run anywhere from six to eighteen months based on the level of care needed." said Bell. The governor outlined his proposal to the Missouri Association of Veterans Organizations.  The plan calls for $14.5 million dollars to repair and renovate four of the existing homes and to build a new one.
Veterans groups in Ohio still cashing in on video raffles (The Columbus Dispatch)
More than a year after state officials temporarily pulled the plug on video raffle machines at veterans posts and fraternal lodges, the wheels are still spinning, and money is flowing. The Ohio Veterans and Fraternal Charitable Coalition said yesterday that video raffles have generated $12 million for a variety of Ohio charities in the past three years. The money has benefited vets groups and other charities, such as Buckeye Boys State, Special Olympics and the Wright-Patterson Airmen & Family Readiness Center, which received $100,000 for emergency financial help, employment and counseling for active-duty military families. While the coalition's machines continue operating, the Ohio Lottery Commission has a piece of the action, too. Last fall, the commission installed about 700 "next generation" electronic lottery machines in about 200 veterans posts and fraternal lodges around the state. Each location can have up to five machines provided by the lottery at no charge. The income from those machines has not yet been reported.
War veteran becomes a farmer, illustrates national trend (Columbia Missourian)
Cody Waters spent more than a year in Iraq. He returned home in 2004 and graduated from MU with a bachelor's degree in civil engineering four years later. In 2011, he was again deployed, this time to Afghanistan as a member of the Missouri National Guard Agribusiness Development Team. He spent another year in Afghanistan, working with farmers there and helping to build an agricultural infrastructure. Six years ago, Waters bought 60 acres in Callaway County to become a farmer himself. He still must work full time to provide for his family, in addition to raising corn, soybeans, wheat and milo. Ultimately, he hopes to get into the cattle business and become a full-time farmer. "It's tough, but I'm trying to build it," he said. "That's the love of my life." A number of recent war veterans like Waters are returning home to take up farming. In the past decade, organizations have been established to help to make the transition easier. The Farmer Veteran Coalition was founded in 2008 under the slogan, "Mobilizing veterans to feed America." Based in California, the organization provides education, access to training programs, mentorships and other resources to veterans who want to farm.