Veterans GOODNEWS for Jan. 9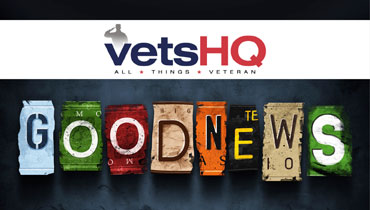 Focus of this talk show? America's heroes (NationSwell)
While most talk shows focus their content on makeovers, celebrity gossip and recipe tips, one special television program in Contra Costa County, Calif., is eschewing these topics and bringing important news to veterans and the families and communities that care about them instead. Veterans' Voices, funded by a $25,000 grant from the California Department of Veterans Affairs, airs once a month and provides a forum for discussion about all issues facing veterans. Marine Corps veteran Nathan Johnson and Kevin Graves, regional outreach specialist for the California V.A. serve as the show's hosts. Graves's son, Spc. Joseph Graves, was killed in 2006 while serving in Iraq. Veterans' Voices tackles topics like coping with post-combat stress, preventing veteran suicide and supporting veterans' caregivers. "We can have an actual dialogue about these issues that is straight from the veterans," Johnson tells the San Jose Mercury News. The show features special guests who are making a difference in vets' lives, such as former combat medic Jason Deitch, whose project War Ink documents how veterans express the stories of their service through tattoos.
VA grants benefits to wife two weeks after husband's death from ALS (KLTV-Tyler, Texas)
Bradley Michels, an Air Force veteran who served in Korea and Germany, died last month due to complications with ALS. His widow, Janie, continued to fight with Veteran Affairs (VA) for benefits after his death. This fight for benefits began in 2010 when Bradley first filed his claim with the VA. Janie contacted KLTV in December, and after the report aired, our newsroom received a call that the Regional Office would be reviewing Ms. Michels' claim. Today Janie got some long-anticipated news. While in the office of Cherokee County Veteran Service Officer David Thomason, she received a phone call from the Veterans Benefits Administration. Larry Meador, Assistant Veterans Service Center Manager, told her that service connection for ALS had been granted retroactively. The VA approved her husband's claim and would be commencing financial benefits that will start coming to her immediately. "Thank you so much. I wish my husband could know that," she said. As a county employee, Thomason helps families like the Michels with the VA. He got involved with the Michels' case in July of 2014. "It's long overdue, obviously" said Thomason. "I'm glad that they have made a decision, finally."
Leading wounded veterans on epic climbs (CBS News)
Tim Medvetz loves a thrill, but a motorcycle wreck in 2001 challenged whether the former "Hells Angel" would walk again. Medvetz set a goal, not only to walk, but to climb one of the world's highest peaks. He said the experience got him off his pain pills and back on his feet. He became convinced he could do the same for injured war veterans, so he created what he calls "The Heroes Project." It's a one-man organization that takes amputees where most able-bodied people wouldn't dare venture — from the frozen tundra of Antarctica to the top of Mount McKinley, the highest peak in North America. Retired Marine Staff Sgt. Mark Zambon was a bomb disposal technician with six combat tours under his belt. In 2011, an IED blast cost him both his legs, but the following year, he climbed Mount Kilimanjaro in Tanzania with Time Medvetz and The Heroes Project. The Heroes Project is launching its new crowdfunding campaign to scale Mount Everest. CBS will have more on this story Sunday on "60 Minutes."
Military museum looking to create archive of Louisiana veterans' service (KATC-Lafayette, La.)
The Louisiana Military Hall of Fame and Museum in Abbeville is on a quest to archive the service of more than 500,000 Louisiana veterans. "The museum was created to honor veterans," said ret. Brig. Gen. Robert LeBlanc. The city of Abbeville and the Vermilion Parish Police Jury both put up the funds to create the online database and so far, the museum has added information for roughly 35,000 service members into the system. "I think this system is a perfect way to honor those veterans," said Maurice Mayor Wayne Theriot. "It allows our future generations to come in here and see what the men and women in uniform did before them." Once in the database, the veteran's family and visitors to the museum will have the opportunity to view the information and learn about veterans from around the state. In order to accomplish this, the museum is asking for help from living veterans and their families. Museum staff can't go out and get a veterans service records, so they're asking family member to send any records, awards, medals, resumes, uniforms, flags, equipment, military photos and any other veteran memorabilia to the museum.
Pep talk from blind U.S. veteran urges you to consider how you live (The Washington Post)
Michael Jernigan was south of Baghdad on Aug. 22, 2004, when a blast from an improvised explosive device threw him from his vehicle and left him with devastating injuries to his head, hand and knee. But just because he lost both eyes in the explosion, it doesn't mean he lost his vision, he says. Jernigan, a medically retired Marine Corps corporal, is the star of a new video released by Honor Courage Commitment Inc., a non-profit organization focused on helping veterans transition into civilian life. Wearing a charcoal three-piece suit, pocket square and purple bow tie, he recalls waking up in a military hospital room in Bethesda, Md., without being able to see, and learning to cope with it. "It's kind of difficult for some people to comprehend, but to me, sight and vision aren't necessarily the same thing," he says in the video. "Sight is what your eyes do, those pictures you see. Vision is much deeper. Vision is that mind's eye, that view that your mind's eye has. When I woke up in that hospital bed, that's when I started to gain my vision. That's when I started to develop my vision." Jernigan says that he realized after he was injured that his life was going to be full of challenges, but that didn't mean he couldn't be happy. He makes light of his injuries, and says he considers them a gift. "I like to say that the bomb pays dividends, and for me it has," he says, cracking a smile.
Veteran receives $1,000 scholarship from anonymous donor (Montgomery Advertiser)
Feeding his fellow soldiers and making sure they have strength and nutrition is not only a job for Army Reservist Sgt. Billy Hockenhull, it's his passion and his career choice was rewarded Tuesday. An anonymous donor from out of state, awarded Hockenhull $1,000 to continue his culinary arts studies at Trenholm State Technical College in Montgomery, Ala. The award, named the Allen Pompey Fund to assist Veterans of the United States, was presented by Burton Ward, President of the Central Alabama Community Foundation on Trenholm's campus in front of dozens of faculty, staff and visitors. This was the first time the Allen Pompey award was presented after the donor contacted Ward to find a suitable recipient. The award is named after the donor's father who grew up in Montgomery, joined the armed forces and pursued a culinary degree after the military. "They called us because their father was a U.S. veteran who was interested in culinary arts and this donor wanted to continue her fathers' legacy by giving back to Montgomery, a place he loved dearly to a veteran who was also interested in culinary arts," Ward said.