Veterans GOOD NEWS for March 19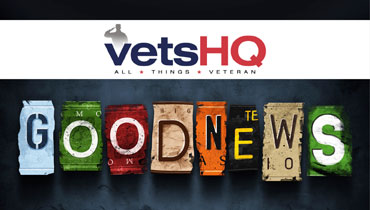 There should be a veteran running for president (Time.com)
The 2012 presidential campaign was the first time since 1944 that neither party fielded a military veteran on its ticket. For those hoping that was a historical outlier, 2016 is set to be another disappointment. None of the most likely candidates for President has any first-hand experience in uniform. One does not have to be a veteran to know that we live in dangerous times. ISIS is burning through the Middle East, making real its apocalyptic vision of Islam. Russia is regressing, with revanchist policies reminiscent of Germany circa 1939. China is asserting dominance over its neighbors, risking a wider conflict. The list of challenges facing America abroad is growing longer, not shorter. Military force, or the threat of it, will inevitably be called upon to deal with some of these issues. That should be reason enough for Americans to give greater weight to military experience when choosing the next President. It is true that some of our best Commanders-in-Chief never served in uniform. But they faced tests of character early in their careers that current generations of politicians do not. They also had a more intimate understanding of military service. Consider FDR and Lincoln, two of our greatest wartime leaders. FDR served as Assistant Secretary of the Navy during World War I, endured and overcame polio, and brought to the oval office the right balance of humility and firmness to lead the nation during World War II. Lincoln served several months with the Illinois militia as a young man, and as President possessed a toughness borne of life on the frontier that carried the nation through the greatest trial it has faced. We do not make them like we used to. Today, there are few paths to political office that truly test a candidate's ability to lead through life-and-death situations.
St. Cloud VA outlines proposal for homeless veterans (SCTimes.com)
A St. Cloud developer brought a proposal to the public Wednesday to build housing for homeless veterans or veterans at risk of homelessness on property owned by the St. Cloud VA Medical Center. Proponents said it would be a place for these veterans to transition to independent living in a location that is close to VA medical services and support. The proposed building will be a homeless-supportive facility of about 37 units. It will be located on about 4 acres of VA land north of Apollo High School and east of the Al Loehr Veterans and Community Studio Apartments. Sand Companies of Waite Park will finance, design, develop and maintain the facility. Project costs are estimated at about $6 million in addition to ongoing operation and maintenance. The VA awarded an enhanced use lease in December 2011 for the property. It is part of an effort to identify and repurpose underutilized VA land and buildings nationwide in support of the VA's goal to end homelessness among veterans. "The need we see today is for veterans about to be homeless or getting out of a chemical dependency program," said Barry Bahl, director of the St. Cloud VA. "We need to find a place for those people to go. … This could give them a housing opportunity." Al Loehr Veterans and Community Studio Apartments, built in 2006, was another project created under the same VA program. The project is part of the national push to end homelessness among veterans. In 2009, then Secretary of Veterans Affairs Eric Shinseki committed to end homelessness among veterans within five years. The plan included expanding housing options and mental health care for veterans, among many other initiatives.
Vietnam veterans to host job fair for younger returning soldiers (New York Daily News)
The Vietnam War veterans are passing the torch to a new generation — patriots who served in Iraq and Afghanistan. On Vietnam Veterans Day, March 28, the veterans of the Southeast Asian conflict will hold a solemn service, including a 21-gun salute, at the New York Vietnam Veterans Memorial at 55 Water St. in Manhattan. "And then we'll be hosting an expo of veterans services organizations, government organizations, private-sector jobs and entrepreneurial services for the younger vets of modern conflicts, including Iraq and Afghanistan," says Vince McGowan, founding president of the United War Veterans Council of New York and a Marine veteran of Vietnam. "I will be turning over the reins of president of UMV to Dan McSweeney, a U.S. Marine who served two tours in Iraq." McGowan remembers how shabbily the returning Vietnam vets were treated. "We were disrespected after that unpopular war," says McGowan. "No one was doing anything for us, so in the 1980s we raised money on our own to erect the Vietnam memorial wall in Washington, D.C., with privately raised money. . . . We founded the UWV and promised that 'Never again would one generation of veterans abandon another.' " The UWV has fought tirelessly over the decades to help steer Vietnam veterans into valuable jobs and careers, utilizing their energy, discipline and military skills.
DC suburbs center serves veterans in their career goals (The Washington Post)
If there's one thing the Washington area has in abundance, it's military veterans. As the last decade's wars wind down, more are likely to arrive or settle in the area, looking for business and career opportunities. A new organization aims to create a place where those vets and their spouses can collaborate, work and find mentoring, business counseling and access to key resources. Capitol Post, housed in offices above Trader Joe's and Starbucks on Washington Street in Old Town Alexandria, wants to be that place. "It's about connecting people," said Val Hawkins, the retiring executive of the Alexandria Economic Development Partnership. That group has set up the location, in partnership with the Alexandria Small Business Development Center and the Bunker, a nonprofit veterans' business incubator from Chicago. "Veteran entrepreneurs, vets looking to change careers — it's a regional effort, not limited to Alexandria." Bob Wood, a retired Army lieutenant general, prefers another theme. "Call it an accelerator," he said last week at the soft launch of the organization. Military people find that when they get out of the service, their existing networks might not be available anymore, because people are scattered all over the globe. "The first-order questions are always about relationships — finding an accountant you trust and a lawyer you believe in." The idea, when the space is fully staffed in June, is that veterans can come in and find the office space and advice they need from both business and military veterans who have traveled this route ahead of them.
WWII veteran gets posthumous Purple Heart (Long Beach Press-Telegram)
Decades after his airplane was shot down over the war-torn skies of Berlin during World War II, and more than a decade after his death, a Los Alamitos Army Air Force veteran received a long-overdue Purple Heart. Maj. Gen. Robert D. McMurry Jr. presented the posthumous award — given to members of the armed forces wounded or killed while serving — to Lorraine Manatt, daughter of Sgt. Rodney A. Williams at a ceremony at Los Alamitos Army Airfield Wednesday morning. The ceremony was held 70 years, to the day after her father's airplane was shot down. Williams served as a waist gunner aboard a Boeing B-17 Flying Fortress that was shot down over Berlin on March 18, 1945. Although wounded, he survived and spent the remainder of the war in a prison camp before being liberated by the Soviet Army and returning home. "I'm really proud to be able to honor my father this way," said his daughter Manatt. "He was so quiet about it all. He went through a lot." Williams was wounded by shrapnel in the buttocks and upper thighs, she said. Her father did not share much about his time as a prisoner of war. After the war, Williams returned to Southern California, raising his family in Los Alamitos in a home located just three blocks from the base, she said. He worked as a machinist in Long Beach. Williams died of natural causes at a hospital in Garden Grove. He was 81-years-old, said Manatt, who now lives near Carson City, Nev. "This is just a great day," McMurry said. "I'm just frankly honored to be a part of it. Rodney Williams was just a standard member of the greatest generation. They did the uncommon commonly. Heroism was a normal business. The fact that he was wounded and imprisoned, and then able to survive through that to a great, long life; I'm sure he would say it was fortunate. For us we would say it was honorable."