40 years Later: A Vietnam News Update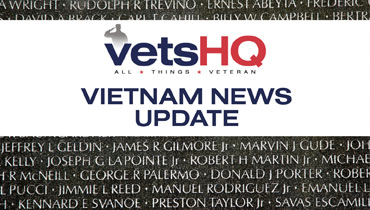 Vietnam Veterans' Memorial Founder: The names on the wall draw us together (NPR)
On a perfect spring morning, Jan Scruggs walks along the site overlooking the wall of the Vietnam Veterans' Memorial in Washington, D.C. Contrasting the bright colors of blooming trees and flowers, is the black granite carved with the names of more than 58,000 Americans who served during the war. Scruggs, a veteran himself, is credited with getting the memorial built. He's now preparing to retire. Morning Edition met Scruggs to learn the story of how the memorial was built, honoring the dead from a war that ended in 1975, 40 years ago on April 30. "This is absolutely the perfect day to do this because you can see the even flow of human traffic here," he says. "What kinds of people? There are 14-year-old people, 15-year-old people." Scruggs' own story involves getting wounded in Vietnam just after high school. At that time, he was only 19, barely older than the teens who were visiting the memorial that day. He says pieces of shrapnel remain in his body still. When he returned home Scruggs got to thinking of wounds not of the body, but of the mind. His brooding on that subject, and his academic study, led to one of Washington's most distinctive memorials. "I had a theory that we could put all the names on the wall. This is based on the thought of Carl Jung, a student of Freud. [He] writes about collective psychological states, and how we're all sort of drawn together," he says. "Certain things hold us together. People who die in wars for a country, this is something we all agree on, you can't forget them."
How the last two U.S. servicemembers killed in Vietnam finally made it home (WBUR-Public Radio)
Forty years ago today, on April 29, 1975, two Marines stationed in Boston came to the door of Charlie McMahon's childhood home in Woburn. They were there to deliver devastating news to the Marine's parents, Charles and Edna: Their 21-year-old son had been killed in Vietnam.McMahon was one of the last two U.S. service members to die on the ground during the Vietnam War, killed in a rocket attack by North Vietnamese troops on an airbase in Saigon while on a security detail. What McMahon's parent didn't know at that point was that in the chaos of the U.S. evacuation of Saigon, Charlie's remains, and those of the second Marine killed, Darwin Judge, were left behind. The family turned to Sen. Edward Kennedy for help, and Kennedy quickly responded. "I think that was something that came to him almost innately," longtime Kennedy aide Paul Kirk said in an interview. "By that time in his life, his three older brothers had lost their lives in service to this country and there'd be a natural kind of empathy for those who wore our uniform half a world away and suffered or even paid the ultimate sacrifice." Kennedy, who had contacts in South and North Vietnam through his work on a Senate subcommittee on refugees, had focused on helping people fleeing the region in the wake of the fighting. "He sent immediately a communication in May to Madame Binh, who was the foreign minister of the Provisional Revolutionary Government of South Vietnam, and he sent later communications to the North Vietnamese," recalled Dale DeHann, one of Kennedy's chief aides on the committee. Kennedy also spoke to others, like the Vietnamese ambassador to France, and several officials at the United Nations. DeHaan says getting the bodies back became almost an obsession for the senator. But months went by. Then at the end of 1975, officials in Vietnam informed Kennedy that the remains had been located. Weeks later, DeHaan took an Air France charter to Vietnam to collect the bodies. There were two wooden boxes, the remains inside, and two sets of dog tags. It was February 22, 1976 — by chance, Ted Kennedy's birthday. The remains of Darwin Judge and Charlie McMahon were finally being repatriated.
Vietnam lesson endures, 40 years later (Los Angeles Times)
Another Vietnam. Those two words have become a cautionary mantra over the 40 years since the fall of Saigon indelibly etched images of U.S. foreign policy failure in memories and history books. The post-Sept. 11 invasion of Afghanistan and the trillions of dollars spent in vain to rid that country of Taliban and Al Qaeda militants was another Vietnam, many argued then and now. The occupation of Iraq in pursuit of its purported weapons of mass destruction was another Vietnam, having wrecked much of the Middle East country and sown resentment that still fuels Islamic extremism three years after the U.S. withdrawal. "All-in" U.S. intervention has been averted in conflicts racking Syria, Libya, Somalia, Sudan and Ukraine, at least partly in recognition that wars fought on behalf of people who don't share American values are destined to be lost. Historians continue to disagree about reasons for the defeat of democratic aspirations in South Vietnam at the hands of the communist North Vietnam and the Viet Cong. Some argue that a moral obligation was inherited by the Western victors of World War II to press the struggle for freedom for "captive nations," including those of Eastern Europe, that were dominated by the Soviet Union. Others contend that American forces had no strategic interests in Southeast Asia, or that the war was lost because the Vietnamese were sidelined as the superpowers fought a proxy war on their territory. Lewis Sorley, a preeminent chronicler of the war that has become synonymous in the minds of many with misguided U.S. military ventures, laid the blame for the defeat in Vietnam on a failure of political conviction at a key moment when a changed command strategy was turning the war's tide.
Saigon's Fall still echoes today (The Wall Street Journal)
Commentary by Robert F. Turner: "Four decades ago this week, in what was then Saigon, I was trying to facilitate the evacuation of orphans as North Vietnam's armed forces approached the city. I had left the U.S. Army after two tours in Vietnam and had returned to do what I could to help as America fled a war—a fight for freedom—that it had shamefully chosen to forfeit. As the nation marks the 40th anniversary of the fall of Saigon on April 30, we would do well to clear away the myths that still adhere to that bloody conflict and understand why America got involved, what went wrong and what the consequences were. We went to war because by ratifying the United Nations Charter in 1945 and the Southeast Asia Treaty Organization (Seato) treaty a decade later, the U.S. pledged to oppose armed international aggression. Critics have long claimed that the State Department lied when it said the U.S. was responding to North Vietnamese aggression. That charge is baseless. After the war, Hanoi repeatedly acknowledged—including in its official history, "Victory in Vietnam"—its decision in May 1959 to open the Ho Chi Minh Trail and send vast numbers of troops, weapons and supplies to overthrow its neighbor by armed force. That was every bit as illegal as when North Korea invaded its southern neighbor in June 1950. The U.S. made mistakes, but the two most decisive factors in the outcome of the war were incompetent micromanagement by President Lyndon Johnson and Defense Secretary Robert McNamara, and Hanoi's brilliant propaganda campaign, which fueled a gullible—and often disingenuous—global peace movement. Protesters, as angry as they were misinformed, ultimately persuaded Congress in May 1973 to prohibit spending on further U.S. combat operations in Indochina.  Following North Vietnam's "liberation" of South Vietnam and Cambodia, millions of people lost their lives and tens of millions lost any chance at freedom. Yale University's Cambodia Genocide Project concluded that the Communist Khmer Rouge killed 1.7 million Cambodians, more than 20% of that country's population—the worst per capita, per annum, genocide of the 20th century. Hundreds of thousands in South Vietnam died as "boat people" desperately searching for freedom. Countless others died by execution or in "re-education camps" and "new economic zones" operated by their new rulers. This was not a military inevitability. As Yale University's John Lewis Gaddis wrote in Foreign Affairs in 2005, "Historians now acknowledge that American counterinsurgency operations in Vietnam were succeeding during the final years of that conflict; the problem was that support for the war had long since crumbled at home."
40 years after Vietnam, veteran fights one last battle: discharge status (Minneapolis Star Tribune)
Forty years after the fall of Saigon, the Vietnam War may finally be ending for Larry Stigen. It took more than three decades after a bloody fire fight near the Cambodian border before Stigen was diagnosed with post-traumatic stress disorder, a condition that includes flashbacks, nightmares and severe anxiety. It took several years after that, a host of appeals, and a team of lawyers working on his case for free before the U.S. Department of Veterans Affairs relented and granted him disability benefits for the trauma he suffered. At 65, Stigen, of Ramsey, Minn., remains a fragile man, a reluctant participant still wrestling with what happened in May of 1969. "It haunts me to this day and now that paper says it's honorable," he said. Saigon fell to the North Vietnamese and Viet Cong on April 30, 1975, marking the end of the Vietnam War. Four decades later, hundreds of thousands of Vietnam veterans like Stigen are filing claims for disability benefits. Compensation for claims more than doubled between 2003 and 2012 to $19.7 billion, VA statistics show. Since 1993 more than 185,000 Vietnam veterans have received disability benefits for PTSD, which has only been recognized as a mental disorder since 1980. Of those, almost a third were added after 2010 when the VA stopped requiring veterans to document specific traumatic events. No one ever doubted what Stigen experienced. It's what he did afterward that kept coming back to punish him.
The continuing curse of Agent Orange (The Hill)
April 30 marks the 40th anniversary of the departure of the last U.S. personnel from Vietnam and the end of the long war.  There has been a recent attempt by Pentagon to whitewash the history of the war and the impact on U.S. soldiers and the Vietnamese people.  But veterans and peace activists have countered this false narrative in an effort to provide full disclosure about the war. One of the areas in which the U.S. government needs to provide additional transparency and be held accountable is its use of Agent Orange. Agent Orange is a chemical defoliant that the U.S. government sprayed over the people and lands of Vietnam to destroy crops and rid the land of foliage. It contains elevated levels of dioxin, the most toxic chemical known to science. Through their exposure to the dioxin, Vietnamese citizens, American veterans, and Vietnamese-Americans (many of whom fought as U.S. allies) suffer from a variety of cancers, diabetes, heart disease, Parkinson's disease, and birth defects. Those directly exposed to Agent Orange now have children and grandchildren suffering from life threatening birth defects. The Vietnamese eco-system has also been damaged by the dumping of Agent Orange in a number of "hot spots" in central and south Vietnam where it remains in the land and water, poisoning people, the fish, and the wildlife. After strong grassroots pressure from veterans, the government now grants disability for service-connected illness to veterans who served in Vietnam and have one of fifteen diseases.
Vietnam veterans share brotherhood, experience (Jacksonville Daily News)
Forty years ago the city of Saigon fell marking the end of the Vietnam War. For the band of brothers who served in America's longest conflict, that war rages on in a different way. Boyce Floyd Sr. came to Onslow County as a third grade student in 1949. Years later, he followed in his father's footsteps and joined the Marine Corps – serving 21 years. The Hubert man, who deployed to Vietnam twice, said that his mind often goes back to the atrocities he witnessed. "It's very emotional. It's been all of these years, but in a second you can go back and recount it," Floyd said. "On the back of my vest I wear 13 names that I served with. The ones I went there with. The ones who never came back." Floyd describes seeing his platoon sergeant with his limbs blown off. "Whoolery, the name at the top of my vest, went back into a minefield to get Marines out. He went in and got hurt. My sergeant major sent me in to bring him blood, and I got there and he was missing his arm and leg," Floyd said. "He had about 25 days until he was supposed to come home." Staff Sgt. Tracey Lee Whoolery died on Nov. 2, 1967, as a result of those injuries. Paul Crowell was a hospital corpsman serving in the Navy during Vietnam. He was stationed in Boston, where many of the ill and injured were sent to recover from their injuries. By the age of 20, the Jacksonville man received deployment orders to the same war where the injured he was treating came from. "I was scared," Crowell said. John Matson deployed to Vietnam in 1967-68 during the Tet offensive. "I got a welcome that no service member should ever get. I had to go through California airport; unfortunately we all were in uniform. We got called baby killers, we were spat at," Matson said. "It's kind of hard to stomach that."
Veterans recall pain, hardships of Vietnam War (The Orlando Sentinel)
On the 40th anniversary of the fall of Saigon, Warren Hudson will remember, as he does most days, the lost lives of Davy Merrill and Fred Turner. Merrill, a sailor from South Bend, and Turner, a gung-ho Marine from Ohio, died under his command in America's most unpopular war. "The hurt and suffering, you cannot put it out of your mind," said Hudson, now 70 and president of Lake Highland Preparatory School in Orlando where he has taught a critical-thinking class on Controversies in U.S. History, including the one that still weighs on his conscience. "To remember war is to remember loss." Thursday will be celebrated as "Reunification Day" in Vietnam, a remembrance of April 30, 1975, when communist troops poured into Saigon and the U.S.-backed government in South Vietnam gave up. The surrender ended decades of war that cost an estimated 3.8 million Vietnamese lives, both military and civilian. In Florida, home to nearly 500,000 Vietnam-era U.S. veterans, the anniversary figures to pass more somberly. Like Hudson, some will pause to remember friends whose names are among the 58,303 etched on the Vietnam Veterans Memorial Wall in Washington. Others may recall the final day when America helicopters left, abandoning South Vietnamese allies on the roof of a Saigon apartment building. "The more I look back now, we wasted a whole lot of young people in that war," said Jack McDonald, 67, a retired Lake County detective. "Why?" McDonald, who enlisted in 1966 after graduating from Mount Dora High School, flew helicopter gunships in Vietnam with a unit known as "Devils and Demons," the Army's 134th Assault Helicopter Company. The choppers provided air cover for U.S. troops in jungles. He was good at his job, killing Vietnamese. "It bothers me. We were the invaders," he said.
Fall of Saigon a time of turmoil, despair (CBS News)
Commentary by Bill Plante, CBS: "In late 1964, when I'd been with CBS News a little more than four months, I went to Vietnam for the first time. There were 23,000 American troops there, acting as advisers to the South Vietnamese. In two more assignments over the next eight years, I saw American troops go from being advisers to doing most of the fighting. The troop commitment grew to half a million. The military measured progress in body counts, but no matter how many bodies they counted, the North Vietnamese and the Viet Cong stayed on the offensive. Fifty-eight thousand Americans died, as did an estimated 5 million Vietnamese. As the American public tired of the sacrifice of lives and treasure, U.S. troop numbers in Vietnam declined to almost nothing. Then, 40 years ago this month, I went back for the fourth time. The North Vietnamese were advancing on Saigon, the capital city of the South. The U.S. was out of Vietnam, but the thousands of South Vietnamese whose lives were touched by the U.S. presence were not. They lined up in front of the U.S. Embassy, desperate to get out before the communists came – as everyone knew they would. It was a time of turmoil and despair."
Remember Vietnam vets (Omaha World-Herald)
Editorial: "The war marked a divisive time in the nation's history. Huge numbers took to the streets in protest of both the war and the draft that conscripted young men to fight. Even supporters wondered when the nation would reach that "light at the end of the tunnel" leaders kept promising. The war played a key role in Lyndon B. Johnson's decision not to seek re-election in 1968. … Today, we honor our service personnel, welcome them home, thank them for their service in Iraq, Afghanistan and elsewhere. And we should. That's a key lesson from Vietnam, where returning vets received few, if any, accolades and too often were the objects of scorn. At best, it seemed, their homecomings were simply ignored. But their sacrifices were extraordinary, as are those made by the current generation. The 58,220 who were killed included 396 Nebraskans and 851 Iowans. More than 153,000 were hospitalized with wounds. By one estimate, 800,000 returned with a form of post-traumatic stress disorder. … In recent years, steps have been taken to give them the recognition they earned. The Vietnam Veterans Memorial in Washington, the "wall that heals," draws thousands of visitors. Replica walls travel the country and spark discussions of the war and its meaning. Belated parades have been held. Hands are being shaken. Despite presidential reservations, Pentagon doubts and public derision, those who went to Vietnam served as bravely, sacrificed as greatly and answered their country's call as strongly as those of any other era. That's worth remembering today, too."
U.S. vets come to Vietnam to confront past, find a home (Fort Wayne News-Sentinel)
When Richard Parker left Vietnam in 1970, he planned to leave his memories of napalm attacks firmly in the past. Instead, as time marched on, they haunted him. "We were the bad guys," Parker, now 65, said of the American war effort in Vietnam. "I had some ghosts I had to face down." In 2011, Parker flew from Illinois to Danang, a central Vietnamese city where he had worked for 22 months as a builder in the Navy. First he visited nearby places he still remembered, including a mountain pass where he had seen shooting. On the same trip, a Vietnamese man who once worked for the Marines introduced Parker to some American veterans who lived in Danang full time. Parker enjoyed meeting them and seeing the country in a new light — so much so that he moved to Danang a few months later. The presence of American war veterans in today's Vietnam — and the warm welcome they usually receive — is yet another sign of how much the U.S.-Vietnamese relationship has evolved since the countries normalized relations in 1995.
45 years later, a Vietnam vets remains return to his Missouri hometown (WIBW-Topeka)
Missing for decades, the remains of a soldier killed in Cambodia during the Vietnam War have come home to Missouri. U.S. Army Sgt. Rodney Lynn Griffin was Missing In Action for 45 years. This week, his remains were brought back to his hometown of Centralia. "We're very happy that he was found, him and his two other soldier buddies," said Darryl Griffin, Rodney's brother. "They were all found together, so it's been 45 years next week, May 2nd, that they was ambushed and the helicopter went down." A Patriot Guard motorcycle procession lead the way from the Lambert St. Louis International Airport to the Arnold Funeral Home in Mexico. More than a hundred motorcycles participated in the procession. "It was a wonderful time to see the people and their expressions and best wishes to finally get our brother home," Darryl said. "It's been a long time, 45 years, but we can't express how good we feel that he's finally home." Sgt. Griffin was Killed in Action at the age of 21 in Cambodia. A street is named after him in Centralia. "It's great to have him home finally. Hopefully, if the family hadn't got closure, hopefully now they will finally get it," said Edward Torreyson, one of Griffin's classmates. "It's just great to have him home. He is another one of our brothers." "He was a good man and I'm glad he's home. He was my brother, a soldier, and now my guardian angel. You know he'll look out for me. I think he had all these years."
MIA: Family still searching 40 years after Vietnam War's end (Las Vegas Review-Journal)
Some Vietnam War veterans say the United States never lost the war because they didn't surrender. Others insist they were winning when they left Vietnam years before Saigon fell to communist forces, ending the war 40 years ago, April 30, 1975. But for Zak Farrell of Las Vegas and the families of 1,625 other U.S. military personnel — and seven from Nevada — who are still unaccounted for, the conflict over political ideals that eclipsed three decades and cost the lives of more than 58,000 American soldiers, sailors, Marines and airmen continues today. "It's not over yet. I feel like it's still doing damage," Farrell, 34, said, wearing a steel Missing-in-Action bracelet inscripted with the name of his uncle, 1st Lt. San D. Francisco, and a T-shirt that shows a black-and-white photo of the Air Force pilot above the words "MIA/KIA 11/25/68 Bring Him Home!!" "It will probably never be over because too many people lost too much during it and you'll never ever be able to get that back," he said. The biggest loss for him is never having the chance to know his uncle, a smart, athletic role model. His uncle grew up in Burbank, Wash., played football with a scholarship at Central Washington State College, earned his Air Force officer commission through the ROTC program in 1966, and served his country at a time when anti-war protests had divided it. "It was a war that when he came home, he wouldn't have been honored," Zak's mother, Terri Francisco-Farrell, said Tuesday after she flew from Pasco, Wash., to Las Vegas to be with her son to mark today's 40th anniversary of the war's end and promote her nonprofit "San D. Francisco Awareness Campaign."
Rocky Bleier recalls Vietnam War, 40 years after it ended (Fox Sports)
Forty years ago Thursday, the Vietnam War ended with the fall of Saigon to the North Vietnamese, and for countless veterans across the United States, the date represents a time for reflection upon one of the most divisive conflicts in the country's history. For former Pittsburgh Steelers running back Rocky Bleier, specifically, April 30 is a reminder of one of the most terrifying and trying days of his life –€" and all the good that ultimately came out of it. The date was Aug. 20, 1969, and Bleier, a national champion at Notre Dame and a 16th-round pick of the Steelers in the 1968 NFL Draft, was in his fourth month in Vietnam after being drafted into the Army on Dec. 4, 1968. Bleier, who like many others had been assigned 1-A classification after he graduated from college, received the news with two games remaining in a rookie season that saw him appear in 10 contests and gain 107 total yards. "I fell through the cracks," Bleier told FOX Sports on Wednesday, noting that many athletes who were drafted at that time were put in the reserves. "You wonder how that happens, but it was a different time at that point, and I got drafted. There were a handful of players who had been drafted in their career, and I got drafted in the latter part of the year. Next thing I knew I was in basic training and my world had kind of been turned upside down. Then eventually I found myself in Vietnam (in May 1969), like all replacement soldiers at the time –€" shipped over because they needed bodies."