Veterans Good News Update for April 30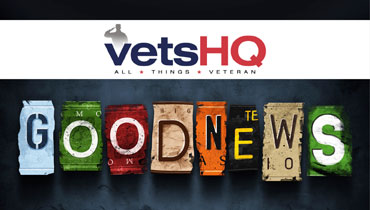 Not all veterans struggle when coming home, new study shows (The Washington Post)
The first-ever examination of civic involvement of veterans, being released Thursday, shows results that debunk stereotypes of the wounded former service members struggling to adjust to civilian life. The study, which looked at recent census data, found that nearly 60 percent of veterans under 50 vote in local elections, compared to 48.7 percent of non-veterans under 50. It also found that  veterans serve an average of 160 hours annually as volunteers, about four full workweeks. Non-veteran volunteers serve about 25 percent fewer hours annually. Over the past eight years, the report says, veterans have consistently earned more than their non-veteran counterparts and had slightly lower unemployment rates in 2014: 6.13 percent for non-veterans compared to 5.65 percent for veterans, according to Bureau of Labor statistics. The study – called the Veteran Civic Health Index – was initiated by the non-profit Got Your Six campaign, and conducted by and produced in partnership with the National Conference on Citizenship. "It's important for all of us to provide counterpoints to the misconceptions we have been told for years and years," said Army veteran Chris Marvin, who is managing director of Got Your Six, originally a fighter pilot term that means "I've got your back." "We want people to know that we are not a population that requires services. But a population that has services to offer."
Grandson of "Old Blood and Guts" makes film, not war (PRI)
Imagine growing up as the son of a famous general, the grandson of an even more famous one, with seven generations of West Point graduates on both sides of your family. The answer to "What should I do with my life?" seems like a foregone conclusion. "I initially interpreted it as my father being disappointed if I didn't go in the military," says Benjamin Patton. Yes, that Patton. His father was George S. Patton IV, a decorated Vietnam War general. His grandfather you know from World War II and movie fame. "But I think it was more that history was pressuring me," he says. "I ultimately chose a different path." That path involved spending a year working as a blacksmith and farmer at a Benedictine abbey and working as producer for public television. He also taught teenagers how to make their own films, an experience that unexpectedly led him back to the military world three years ago. That's when Patton founded "I Was There," a non-profit that teaches veterans how to make films — together. "You have a lot of veterans that feel very isolated — from their families, from their battle buddies, from their therapists — from anyone they interact with, and that sort of feeds on itself," he says. Some are struggling with post-traumatic stress after seeing combat in Iraq, Afghanistan, Vietnam or Korea; others are dealing with the normal anxieties of re-entering civilian life, whether professional, financial, marital or otherwise; but all of them are figuring out how to tell their own stories, and Patton figured filmmaking could serve as a form of therapy — without calling it that. "[The veterans] just think it's not cool," he says. "It's not macho, it's not tough to go and cry in front of your therapist or talk about something that happened to you."
Helping corpsmen, medics land civilian health jobs (Military Times)
April 8, 2009, could not have been more wretched for Philip Martini: The date marked the third anniversary of his son's death in Fallujah, Iraq, and a steady, cold rain fell on Lincoln National Cemetery in Elwood, Illinois, where his child, Marine Lance Cpl. Philip Martini, lay buried. As he emerged into the dampness from his warm car, Martini noted both the solitude of the burial ground and the absence of visitors, except for two who appeared to be standing near his son's grave. On closer look, the couple were at Philip's grave. Martini did not recognize them but he was about to meet a man who would give his life renewed purpose – the sailor who treated Philip during his last dying moments. "This was the corpsman who tried to save my son's life, this was the corpsman who was over my son's body [in the photos I'd seen of my son's death]," Martini told an audience recently in Washington, D.C. According to Martini, the men talked, and he learned that the former sailor, whom he only referred to as Woody, was having difficulties getting a job as an emergency medical technician. He had not received any offers, despite his extensive military experience. "I thought 'No problem.' I'll call the chief, cut through red tape, get him in. That's when I found out about the impediments corpsmen and medics face when they get home" Martini said. The Gold Star father went on to establish the nonprofit "Heroes to Healthcare" to help military medical personnel get jobs in civilian health care positions. The problem mainly facing the roughly 8,000 medics and corpsmen who served in Iraq and Afghanistan, according to Martini and others who spoke at the American Legion's National Credentialing Summit on Wednesday, is that state-based credentialing and licensing requirements are inconsistent and don't necessarily take the troops' vast experience into account.
Vets tech startups offered a home in Florida (Military Times)
Fort Walton Beach in Florida is hoping to become the veterans' version of Silicon Valley. The city government last week announced plans to team with the entrepreneur consulting firm Venture Hive on a veteran-focused business accelerator program, designed to attract some of the best and brightest tech startups in the nation to the Florida panhandle. Officials have set aside $500,000 for the project and office space in town, not far from Eglin Air Force Base and a nearby Air Force Research Lab. Companies selected for the program will receive a $25,000 nonequity grant, working space for a year and mentoring as they meet potential investors. The Veterans Affairs Department and other federal agencies in recent years have highlighted entrepreneurship as a potential path for separating service members, noting that the challenge and freedom of starting a new business links well with military skills and experience. But Susan Amat, founder of Venture Hive, said few programs exist to move veteran startup companies to the next level. The goal in Fort Walton Beach is to use the region's ample talent — the area boasts one of the highest rates of doctoral degrees and veterans per capita — to entice entrepreneurs with a "global vision" to create a community of growing veteran business leaders. "People tend to think of Boston, Austin and Silicon Valley in California when you talk about technology startups," she said. "So we see a lot of brain-drain problems, people moving across the country because they think they have to. "But with all of the veterans here, we know they have the local talent." Amat said the 12-week accelerator course will lean more heavily on business development skills, an area where many veterans have less experience than their civilian peers, and less on leadership development, an area that military service already largely covers. The effort also includes a 12-week "pre-accelerator" program for veterans and military spouses looking to move small-business ideas into the startup stage.
Volunteers come together to help Afghanistan war vet, family (Chattanooga Times Free Press)
Jason Smith doesn't like the spotlight. In fact, if the 29-year-old war veteran had his way, he'd fade into the background. He doesn't talk much about his service or his sacrifice, and when he does, he refers to his time as an infantryman in the U.S. Army as "his job" and downplays the fact that he was blown apart by an IED in southern Afghanistan. "People say, 'You're a hero,'" Smith said. "I'm not. I just had a bad day at work." For most people, a bad day at work means tolerating an annoying co-worker or feeling undervalued by your superiors. Smith's bad day — July 25, 2012 — cost him both of his legs, two knuckles and the use of most of his right hand. … Jason and his family were chosen to be the recipients of the philanthropic efforts of two forces — Steps 2 Hope, a Chattanooga-based nonprofit started by local businessman Mark Wilson; and Mike Fitzpatrick, a Desert Storm veteran and retired firefighter from Lawrenceburg, Ky. Jason's house will be the second build for Steps 2 Hope. In 2013, the organization built a home for Andrew Smith (no relation to Jason) and his wife, Tori. Andrew Smith, a graduate of Chattanooga Christian School and Lee University, lost his legs after triggering explosives while on foot patrol in Afghanistan in 2012. Wilson and his son, David, started Steps 2 Hope after David lost the use of his legs for a year after his college was hit by a tornado in 2008. "We're grateful," Wilson said. "The Lord healed David far beyond what we imagined, so we want to help other people who have lost mobility."
Veteran travels across the nation offering free hugs (KFVS-Missouri)
One veteran is traveling across the country, offering a different type of healing to veterans who suffer from PTSD. Ian Michael made his way to the Marion, Ill., VA today with open arms. The marine veteran along with two other vets, are traveling across the U.S. to give free hugs to veterans at VA hospitals and people in the community.  With signs of "free hugs" and "hug a vet," Michael says just a simple hug speaks volumes. "It allows us to welcome people in our circle that we've protected for so long and accept them unconditionally with no barriers," Michael said. "And we have to accept ourselves unconditionally with no barriers to do that and there's a little spark of love that happens in a hug." They've already been to Nashville, Tennessee. Marion, Illinois was their second stop and are heading to St. Louis next. "Human Project: Hugs" is apart Michael's mission  hoping to make a large enough impact that it will catch on everywhere.
Spouses to be eligible for Microsoft IT training (Military Times)
Microsoft plans to expand its IT training program to military spouses, an official said. The Microsoft Software and Systems Academy is a 16-week, accelerated learning program that provides job skills education on IT technologies that can help active-duty service members transition into competitive IT careers. Classes now are held on three military installations — Fort Hood, Texas; Joint Base Lewis-McChord, Washington; and Camp Pendleton, California. Microsoft works with those installations' command, education and training centers, along with authorized academic partners, to provide the training. A Microsoft announcement on expansion of the program is expected to come in June or July, said Thomas Dawkins, a senior business manager for Microsoft. In six to 12 months, the company plans to make the training available to spouses as well, Dawkins said. The training may be on a campus near an installation or on the installation itself, he said. "We do a lot of work to mold the program to support the needs of the base," Dawkins said. The program can support about 50 students at Hood and Lewis-McChord, and about 30 at Camp Pendleton, for each 16-week cycle, Dawkins said. Those who complete the course with passing scores are guaranteed a job interview for a full-time job at Microsoft or one of its participating Microsoft Certified partners.