April 26 Veterans News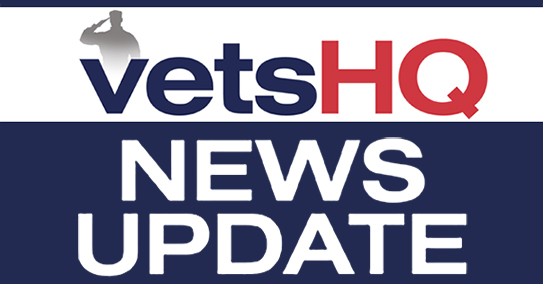 Sen. Klobuchar wants center to study military burn pits' effect on vets (Star Tribune)
Thousands of military personnel who served in Iraq and Afghanistan were exposed to a variety of potentially harmful substances, including the smoke produced by the burning of waste on military bases. Now U.S. Sen. Amy Klobuchar is sponsoring legislation that would create a national center to study the effects of burn pits on veterans and members of the military. The issue will take on increased importance as more veterans of recent wars show increased rates of cancer, asthma, emphysema, and even rare lung disorders. Exposure to dust and burn pits also has been shown to cause insomnia and high blood pressure. Klobuchar, a Minnesota Democrat, and U.S. Sen. Thom Tillis, R-N.C., have introduced the Helping Veterans Exposed to Burn Pits Act. It would create a center within the U.S. Department of Veterans Affairs for the prevention, diagnosis, mitigation, treatment, and rehabilitation of health conditions relating to exposure to burn pits. During the Mideast wars, the military disposed of item such as plastics, aerosol cans, electronic equipment, human waste, metal containers, tires, and batteries by throwing them into open pits, sometimes dousing them with jet fuel, and setting them ablaze. It was common for smoke from these open-air burn pits to waft through the entire base and into living areas. The VA already has established a burn-pit registry to get a handle on the scope of the potential problem. The registry allows eligible veterans and service members to document their exposures and report health concerns through an online questionnaire. Those eligible must have served in Operation Enduring Freedom/Operation Iraqi Freedom/Operation New Dawn; in Djibouti, Africa, on or after Sept. 11, 2001; in Operations Desert Shield or Desert Storm; or in southwest Asia on or after Aug. 2, 1990. As of three weeks ago, 65,320 veterans and service members had completed and submitted the registry questionnaire. In an interview Monday, Klobuchar said the VA and the Pentagon seemed to have learned a lesson from the illnesses that arose from exposure to Agent Orange defoliant in the Vietnam era, when vets who complained of being sick were dismissed for a long time before the problem was finally acknowledged. … An initial study on the health impacts of burn pits was inconclusive. But last year, the federal chief watchdog for Afghanistan reconstruction issued a report saying that the Pentagon had put the health of U.S. troops at risk by not following regulations on solid waste disposal, along with burning prohibited items in Afghanistan. Once established, the center would conduct research on such things as clusters of illnesses for various burn pits, and would share best practices with doctors on how to diagnose and treat the illnesses.
Opinion: Wait time is up for VA fix (The Washington Post)
Cathy McMorris Rodgers, House Republican Conference Chair: Imagine a veterans' hospital with no waiting list to see a doctor. One where veterans can book their appointments online 24 hours a day, seven days a week. Where the red carpet is rolled out for our heroes to receive world-class care for their world-class service the very next day — before it's too late. And where the men and women who accepted the call of duty can choose to continue seeing the doctor they've seen their entire lives. This is what a common sense, 21st century veterans' health care system should look like. After all, we're talking about the men and women who lay their lives on the line and sacrifice so that we may live free. To think they could be trapped in a broken system simply because of their service, and not have the same access to quality services available to private citizens, is outrageous. Unbelievably, as we approach two years since the scandal broke out at the VA with secret wait lists, patients dying waiting for appointments, and an overwhelming feeling of hopelessness, we're finding that our veterans still aren't even coming close to that vision for 21st century care. In fact, according to recent reports, the situation is even worse. An audit released last week by the Government Accountability Office (GAO) found that the VA still hasn't fixed the wait times that plagued the system two years ago; schedulers at half the reviewed centers had falsified wait times, and scheduling was done improperly a quarter of the time. An earlier report revealed that as of January, more than 30,000 veterans were waiting longer than one month for health care than they were the year before. This doesn't mean a 21st century VA isn't possible, but it will require a comprehensive overhaul of the agency we know today, starting with the way health centers schedule appointments, and continuing until the culture and focus of the agency's bureaucrats places veterans before themselves. The VA is centered on the status quo and the problems at the agency are deeply rooted at every level of this obsolete government model built for the previous century. And it's failing our veterans. … Delivering timely, quality care for these brave men and women has to be more than just lip service—it has to be a priority. This means taking seriously the long wait times, insufficient care, and unresponsive management. It is estimated that 18 percent of VA appointments are wasted due to last-minute cancellations and no-shows. In these instances, VA personnel failed to refill the cancelled appointments. In June of last year, an internal audit found more than 120,000 veterans waited at least 90 days for appointments for medical care, or they didn't receive appointments at all. These slots could be filled by the countless other veterans stuck on the wait-list using real-time updates available through existing technology. The VA recently told Congress that it is putting on hold its overhaul of its scheduling system that was supposed to fix the problem, meaning the agency is still relying on archaic technology systems and phone calls to get the job done. We can do better. I believe we should open up the scheduling process to the same technologies being used in doctors' offices by private citizens across the country, which is why I've introduced legislation with Rep. Seth Moulton (D-Mass.) that incorporates self-scheduling so veterans can schedule and confirm medical appointments online and immediately. But the scheduling system is not enough. Across the board, whether it's how appointments are scheduled, or the quality of health services provided, our veterans should have access to the same technology and services as private patients across the country. If we don't clean house at the VA and overhaul its culture, we're just biding time until another — potentially worse– scandal surfaces. Over the coming months, we will focus on legislation that demonstrates to the VA how innovative ideas already being used in the private sector can also work for them to cut back on red tape, stay within budget, and, most importantly, get our veterans the care they earned and need. The time has run out for the VA to address its issues on its own. If this administration cannot follow through on the fundamental duty and solemn obligation to serve our veterans with the VA as-is, then it's time to try something different. No more waiting. No more sitting by the phone hoping that someone follows up. Self-scheduling is only one example of the endless possibilities for a 21st century VA — one that treats our veterans with dignity and respect, and ensures our heroes' sacrifices don't continue after their tours end. It just takes the imagination and willpower to make it happen.
Shulkin: Million Veterans Program a boon to Precision Medicine, Moonshot initiatives (FierceHealthIT)
Health technology and information pulled from individuals involved in the Million Veterans Program (MVP) will help to propel both President Barack Obama's Precision Medicine Initiative and Vice President Joe Biden's National Cancer Moonshot Initiative, according to David Shulkin, of the Department of Veterans Affairs. Shulkin, the agency's under secretary for health, writes in a post this week at Bloomberg Government that MVP is working with both the Department of Defense and the National Institutes of Health to share information. Currently, about 472,000 veterans are enrolled in MVP, and Shulkin anticipates that number will hit 500,000 this fall. The VA's electronic health record and its Genomic Information System for Integrated Science (GenISIS), a data warehouse, will help to "yield new knowledge about which genes put people at risk for certain diseases, and which ones affect how people respond to treatment," he says. The information, Shulkin adds, is de-identified and coded to ensure privacy and security. Last summer, the VA announced the launch of several studies within MVP focusing on heart disease, kidney disease and substance use. For one of the studies, at the Atlanta VA Medical Center, researchers will examine the genes that influence the impact obesity and lipid levels have on heart disease. Another will focus on using data to uncover the genetic risk factors for chronic use of alcohol, tobacco and other substances. Shulkin says about 32 percent of the veterans participating in MVP have reported a cancer diagnosis and calls the data a "potentially rich resource" for researchers. "Today, if you have cancer, your oncologist might recommend a treatment for you based on clinical studies that could involve several hundred or even thousands of patients," he says. "It's a good bet that most of those patients aren't like you–they may differ in age, race, gender, lifestyle or genetic makeup."
Toxic exposure haunts North Jersey veterans (NorthJersey.com)
Rep. Bill Pascrell Jr., D-Paterson, came to the Garfield VFW Post 2867 Monday morning to lay out the initiatives for veterans he is pursuing in Congress, from research into Post Traumatic Stress Disorder and Traumatic Brain Injury to increasing funding for health and other benefits. One item, the Toxic Research Exposure Act, drew the most comments and questions from the more than 60 veterans in attendance. The bill, first introduced in a different form three years ago, aims to establish a national research center for diagnosis and treatment of the children of veterans who've been exposed to toxic substances during their service. Pascrell co-sponsored the bill, which most recently was recommended for further review in House Armed Services and House Veterans Affairs committees. Sen. Cory Booker co-sponsored a Senate version of the bill this month. As of Monday, Congress had not yet received a report on the potential costs of the bill, according to its website. After explaining the bill's purpose, the first question from a veteran in the audience was pretty simple – when will it pass? Pascrell's answer was equally simple. "The chances of us getting this bill right now, I'm going to be straight with you, are not very good," he said. The congressman explained that most bills of this type are passed early either in a new Presidential term or a new Congressional term. But despite the likelihood that the bill will have to wait until next year, Congressional leaders still needed to hear from constituents. Passaic County Veterans Service Officer and Vietnam veteran John Harris told the crowd how he is certain his exposure to Agent Orange directly contributed to a rare form of cancer that killed his 9-year-old daughter Carla in 1987. … Others are haunted by the unknown. Willis Outlaw Jr. recalled clear-sky days while on foot patrol in the jungles of Vietnam. He and his platoon mates would stop to open their cans of field rations to eat, then he'd hear a buzz overhead and feel liquid rain down. It was likely Agent Orange, a chemical defoliant used to destroy vegetation during the war later linked to various cancers and other medical conditions. … It wasn't until a decade later, in 1978, when he first started hearing about the chemical that he went to the Department of Veterans Affairs to find out if the exposure might cause him any health problems. … In 2007, his 24-year-old daughter was diagnosed with an aggressive form of breast cancer that would take her life four years later. … He said he is now in the process of filing a claim to connect his service with exposure to the toxin. Other veterans asked if the proposed toxic research center would investigate health problems of those who'd suffered from Persian Gulf War Syndrome and Marines who'd used contaminated water between the 1950s and 1980s while stationed at Camp Lejeune, N.C. Absolutely, Pascrell responded. "We had better know whether or not what happened in your situation had any effect," on your families, Pascrell said.
Commentary: VA steps up outreach on mental health issues (The Buffalo News)
Wendy Tenhula, Ph.D., National Mental Health Director, Veterans Affairs/Department of Defense Integrated Mental Health: The National Institute of Mental Health estimates that there were 43.6 million adults in the United States with a mental illness in the past year. This number represents about 18 percent of Americans age 18 or older. Despite this, many people remain hesitant to talk openly about mental health and only about half of those who are affected receive treatment. Because of the stigma around mental illness, as well as the misperceptions about what is treatable, many individuals will unfortunately go a lifetime without even knowing that there are resources that could improve their lives. For instance, if your spouse breaks an arm, you go to the hospital so the arm can be placed in a cast or sling. However, many Americans – including veterans and their families – still view mental health conditions as something that they should be able to deal with on their own rather than something to get treatment and support for. This belief, in addition to negative perceptions surrounding mental health issues and the very real fear of how loved ones, friends or colleagues will perceive them, keeps many people from seeking treatment. At the U.S. Department of Veterans Affairs (VA), we believe it's time to talk about mental health just as readily as we talk about physical health. VA's Make the Connection campaign was created to change the conversation about mental health by featuring personal stories of recovery from real veterans. In many of the veterans' videos, they say they felt they did not need or deserve care because they didn't have physical injuries, but later realized that emotional trauma and mental illness can be just as important to treat. It's important to note that most of our nation's 23.1 million veterans never experience a mental health issue – and are able to transition from military service to civilian life without major bumps or roadblocks. For those veterans who find they are having difficulty readjusting or struggling with mental health issues, there are a number of effective treatments. The number of veterans receiving high-quality mental health treatment from the VA has risen over the past few years from approximately 900,000 to more than 1.6 million in 2015. This means that veterans across the country are realizing that there is help available, and are reaching out. There is much more work to be done. Remind veterans in your community that their mental health is as important as their physical well-being and encourage veterans who may be going through a tough time to get the help they need, because every step forward is another step closer to living a healthier, more satisfying life.
Programs help vets move into farming (NPR)
Tor Peery grew up in a farming community in upstate New York, baling hay in the summers. He never thought he'd want to go back to that life. Three deployments with the U.S. Marine Corps — including a tough tour in Helmand, Afghanistan — changed his mind. "So many years I've been in the world of destruction," he says. "Being infantry and in the Marine Corps, I've destroyed so many things. I just want to create now." Now Peery is learning the craft and business of farming at the Arcadia Center For Sustainable Food And Agriculture. He's a "reservist," which means he shows up one weekend a month, plus two weeks during the growing season. Arcadia also has one full-time, year-long fellowship. This spring, Arcadia volunteers, along with vets from the group The Mission Continues, built a 60-foot hoop-house in one day, barn-raising style. Arcadia, like dozens of organizations across the country, is training veterans to be farmers. And farming seems to be a good fit for vets, says Pam Hess, who directs Arcadia, judging by how fast the new greenhouse went up. "Thirty-five, 40 people who have never worked together before managed to put together a greenhouse — [something which] none had ever done before," she says. And the thing is, the country could really use a few good farmers. At the moment, there are enough farmers to feed the nation. They're getting older, though: The average age for American farmers is 58, according to the U.S. Department of Agriculture. So as thousands of younger Americans leave the military — which has been downsizing lately — the USDA would like them to consider carrying the torch as older farmers start to retire. The department even has a military veterans liaison, Lanon Baccam. "A disproportionate amount of military vets come from rural America and serve," notes Baccam, himself an Afghanistan vet. In fact — while only 17 percent of Americans live in rural areas, people from rural communities make up 40 percent of the military. "Many want to go back to those communities, and we want to help them when they get there," Baccam says. The USDA has put a half-billion dollars into loans and other help for veteran farmers to buy land and equipment since 2009. "We'd like to help them start their own operations, and get on these farms that may be ready to turn over," Baccam says. "And there are benefits to farming or ranching that we know exist that you can't see — the therapeutic benefits of working the land." At Arcadia, Pam Hess says the best therapy is to stay connected with other veterans, and find a successful career post-military. "So many [vets] are looking for really meaningful work, where effort in equals success out," she notes. But she agrees that a lot of vets can't get that in an office. "Especially the combat folks, they're outdoor cats now. They don't want to be in a tie, in a cubicle taking orders from someone," she says. Indeed, being outdoors was the biggest things that Laron Murrell — this year's full-time fellow at Arcadia — missed after leaving the Army. After two tours to Iraq, he tried a desk job. "It just wasn't fulfilling," he says. "When I leave [the farm] it's like – whew! I'm excited again. It's put the excitement back in my life." After he completes his fellowship, Murrell is hoping to revive a 50-acre family farm back in North Carolina. He knows that's going to be a lot of hard work: rough conditions, back-breaking labor, bad weather, long hours. But he figures it can't really top his Iraq deployments. "I made it through that," Murrell says. "What kinds of conditions can you really put me in?"
Angry veterans want changes from VA (KKTV)
Wait times at VA clinics and hospitals are way too long. It's well documented, and the problem still hasn't been fixed, at least here in Southern Colorado. According to the Department of Veterans Affairs' most recent report, the wait times for the Colorado Springs clinic were the highest in the state for the number of veterans they treat. More than 27 percent of patients were forced to wait more than 30 days for their appointments. In Pueblo, about 20 percent were forced to wait more than a month. It's these reoccurring problems that have veterans and lawmakers fed up and fired up. Monday, U.S. Reps. Doug Lamborn and Mike Coffman met with vets in Colorado Springs. Lamborn had harsh words for the VA administration, and said there needs to be more accountability to help make things right. "They are dropping the ball," Lamborn said. In February, we reported major issues at the Colorado Springs clinic. An internal investigation showed employees delayed care and even falsified records. "It's got to be easier to discipline people when there is a problem," Lamborn added. During the discussion, several veterans talked about the struggle of being forced to wait weeks and jump through bureaucratic hoops to be seen and get help. "I think that every single service member in this country, if they were asked right now, would say, 'Yes, we want an immediate change in the VA,' and I would say that too," veteran David Gambrell told us. Gambrell said he believes their voices were heard by the congressmen, but now is the time to do something. "I think it's a matter of action now, it's a call to action, it's a matter of us having a common voice," Gambrell said. Lamborn said they've already passed some bills in the legislature, but are now stuck and lagging behind in the Senate.
Man who scammed VA out of $35 million goes to court (Task & Purpose)
A Harrisburg, Pennsylvania man was charged on April 21 for defrauding the Post-9/11 GI Bill in a $35 million scam. David Alvey, 49, reportedly tricked veterans using the Post-9/11 GI Bill into thinking they had enrolled in accredited classes at New Jersey's Caldwell University, when they instead were taking unapproved online courses. Alvey was charged with one count of conspiracy to commit wire fraud, which carries a maximum penalty of 20 years in prison and a $250,000 fine, or twice the gross gain or loss from the offense, the U.S. Department of Justice reported in a press release. According to  U.S. Attorney Paul J. Fishman, "Alvey and others allegedly sought to pillage those well-earned benefits as part of a complex $35 million scam that targeted veterans and enrolled them in unapproved online courses without their knowledge." The criminal complaint reads, "From November 2009 through August 2013, Alvey and others engaged in a conspiracy to defraud the United States by obtaining tuition assistance and other education-related benefits under the Post 9/11 Education Assistance Act, more commonly known as the Post 9/11 GI Bill." Alvey set up a company called ED4MIL, a for-profit firm that marketed and sold educational materials to members of the military, through which Alvey was able to pitch the idea to Caldwell University in 2007 as a money-making scheme. The university employees have since been named as conspirators. Alvey and ED4MIL employees pretended to enroll the veterans at Caldwell while actually enrolling them in unapproved online correspondence courses. According to the criminal complaint, a handful of veterans enrolled in the online courses found the link to a correspondence school, and then reported it to the VA. According to the criminal complaint filed by Jenny Walenta, a special agent for the Department of Veterans Affairs Office of Inspector General, the university charged between approximately $5,000 and $26,000 per course — between 10 and 30 times the prices of the online classes that were actually being taken.