May 2 Veterans News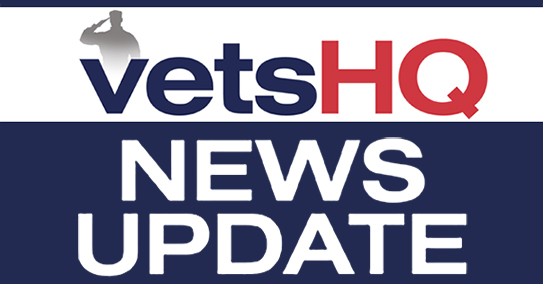 The new military retirement system has major flaw, financial experts warn (MilitaryTimes)
Top financial experts are worried about a key piece of the military's new blended retirement system and are urging the Pentagon not to shortchange career troops — especially enlisted service members. Specifically, the American Academy of Actuaries is scrutinizing the new system's lump-sum payout option and precisely how the the Pentagon will calculate it for those who elect to cash such a large portion of their pension. Military retirement reform became law last year and takes effect in 2018, giving future retirees the option of taking traditional monthly pension checks or accepting smaller monthly pay along with a lump-sum cash payment at the time of separation. The lump sum would total either 50 percent or 25 percent of a service member's promised pension benefits. It's similar to the military's longstanding "REDUX" retirement option, which offers cash up front in exchange for smaller monthly checks. But unlike REDUX, which offers a flat $30,000 cash payment, the new lump-sum option will offer cash payments that will vary for individual troops based on the value of their personal retirement package as defined by pay grade and years of service. Determining the amount of that lump-sum check is more complicated than simply totaling future monthly pension checks. Rather, the calculations will rest upon a "discount rate," a device that financial professionals use to measure the current value of future payments. Discount rates assume money today is more valuable than money tomorrow. Akin to reverse interest rates, the process shaves money from the current value of a future benefit. So higher discount rates yield smaller lump-sum payments. Therein lies the actuaries' concern. During the debate over military retirement reform, estimates varied dramatically for the total value of a service member's retirement benefit. An independent commission, for example, said last year that a senior enlisted service member in the E-7 pay grade could expect retirement benefits worth $201,282. By contrast, the Defense Department suggested that same E-7 could expect $1.1 million in "lifetime retirement income." The difference hinged on the discount rate. As it evaluated the consequences of reform, the independent Military Compensation and Retirement Modernization Commission assumed a rate of 8 percent for officers and 12 percent for enlisted service members. In today's financial markets, discount rates typically hover between 2 and 4 percent. "This higher rate would result in settlement amounts … that are, in some cases, less than half the amount that the same benefit would be settled for in a corporate pension plan, as part of a domestic relations action, or in the broader financial markets," William Hallmark, chairman of the American Academy of Actuaries' pension practice council, wrote to the Defense Department this month. Such a steep discount rate would be a bad deal for troops, Hallmark warned, appealing primarily to those who don't understand what they risk losing or who face such financial hardship they simply don't have another choice. He also questioned the military compensation commission's suggestion that different discount rates should apply to officers and enlisted troops, resulting in enlisted troops receiving far less money. The commission based that recommendation on studies suggesting enlisted troops would be more eager to take the cash up front and therefore won't require much convincing to take an option that, ultimately, would saves the government money. Veterans advocates have criticized the disparity, likening it to a payday loan — one that exploits people with less financial education and fewer options for a traditional bank loan. The American Academy of Actuaries said the Pentagon should set a fair and across-the-board discount rate similar to those applied by large corporations. … The Pentagon has never explicitly supported the use of "personal discount rates." Instead, a Defense Department spokesman noted that applying the rate is required by the retirement reform law passed by Congress. "The department has made no decisions on personal discount rates and is working with outside experts on this issue," said Air Force Maj. Ben Sakrisson. The lump-sum payout would replace pension checks only luntil the recipient reaches age 60. After age 60, military retirees would receive full retirement checks regardless of whether they opted for the lump-sum payout. When the new retirement system takes effect in 2018, all current troops will have the choice to remain under the current system or opt into the new one. Future recruits joining the military in 2018 and beyond will have no choice other than the new system. The new plan also would provide some retirement benefits, via a new 401(k)-style investment account, to almost all troops who serve at least two years. Career troops would receive the same 401(k)-style benefits, plus a traditional pension that is 20 percent smaller than the current one.
Editorial: Clear the air for vets on threat posed by Iraq, Afghanistan burn pits (Star Tribune)
Star Tribune Editorial Board: The burn pits where the U.S. military disposed of everything from electronics to human waste to scrap metal in its Iraq and Afghanistan theater of operations ranged up to 2 acres in size. By necessity, the pits, which sometimes relied on jet fuel for incineration, were located inside military bases' boundaries. Locating them outside the base in hostile territory would have made the workaday task of waste disposal too risky. But as veterans have returned home, questions have simmered about the airborne health hazards that may have been created by the pits. Veterans such as Melissa Gillett, who served in the Minnesota National Guard, report that it was nearly impossible to avoid steadily breathing in the pits' foul-smelling fumes. She is one of a growing number of veterans who believe their respiratory ailments are linked to this exposure and are demanding greater recognition of their concerns. That makes U.S. Sen. Amy Klobuchar's recent involvement in this issue both timely and welcome. Minnesota's senior senator, along with North Carolina Republican Sen. Thom Tillis, has introduced legislation directing the U.S. Department of Veterans Affairs (VA) to create a "center of excellence" within the agency to better understand the health threats posed by burn pits and other common pollutants in Iraq and Afghanistan — such as sand and dust. Among other things, the legislation calls for ramping up research on these risks and developing best practices for treatment that may be needed. The bill's cosponsors include Minnesota Democratic Sen. Al Franken, South Dakota Republican Sen. Mike Rounds, New York Democrat Kirsten Gillibrand and Arizona Republican Sen. John McCain. Regrettably, the House version of the bill does not have any cosponsors from Minnesota's delegation. Given the thousands of Minnesotans who have served in Iraq and Afghanistan, this legislation merits their support. The legislation also merits the public's support. While research conducted so far has not established a definitive connection between the burn pits and human health problems, the highest-profile review was done in 2011. The report, which is from the respected Institute of Medicine and was done at the VA's request, did not find a conclusive link. It said "insufficient evidence prevented the IOM committee from developing firm conclusions about what long-term health effects might be seen in service members exposed to burn pits.'' In the meantime, thousands of veterans have made their concerns known by signing up for the Airborne Hazards and Open Burn Pits Registry that Congress ordered the VA to establish. About 65,000 veterans have registered. In addition, grass-roots groups such as Burn Pit 360 and others have sprung up to advocate for veterans who are concerned about the chemicals, heavy metals and carcinogens. Dr. Dave Hamlar acknowledges concerns that science has not proven the burn pits' risk. Nevertheless, he said, "It is something worth investigating.'' Hamlar is an assistant professor in the University of Minnesota's Department of Otolaryngology, Head and Neck Surgery and a Minnesota Air National Guard brigadier general. Along with Gillett, he has advocated for the "Center of Excellence" bill. Klobuchar, a Democrat, has an increasingly high profile in Congress. Advocating for this important veterans' health issue is an appropriate use of her growing clout. It will also push the VA — which was shamefully slow to respond to concerns about appointment wait times — to take these veterans' concerns seriously and act on them.
Benefits for veterans exposed to toxic water at Camp Lejeune at center of bipartisan Senate bill (Greensboro.com)
Republican U.S. Sens. Richard Burr and Thom Tillis of North Carolina introduced legislation Friday along with U.S. Sen. Bill Nelson, D-Fla., that would put more pressure on the U.S. Department of Veterans Affairs to extend benefits to veterans exposed to water contamination at Camp Lejeune. Nearly one million U.S. Marines, sailors, civilian employees and relatives drank, cooked with or bathed in toxic tap water between 1953 and 1987. Industrial dumping on the base and runoff from a dry cleaners off base contributed to the contamination. The VA's response, according to veteran advocacy groups, has been too slow. Randal Noller, a VA spokesman, said the department is still working on developing regulations that will ultimately allow the department to provide benefits to veterans who have one of the diseases that has been classified as a "presumptive" illness of the toxic water. As things stand, the VA cannot grant any benefit claims based on proposed "presumption of service" in connection with conditions related to toxic water exposure until it issues final regulations, he said. The VA "encourages veterans who have a record of service at Camp Lejeune between Aug. 1, 1953, and Dec. 31, 1987, and who have developed a condition that they believe is related to exposure to the drinking water at the base, to file a disability compensation claim with VA," he said in an email.
Where are the veterans in office? Path from combat to Congress fading (Military.com)
Decades ago, serving in political office was a natural next step for those who served in the military. Today, the veteran-turned-politician is a far rarer breed, at least at the national level. Stats show a steady decline in the number of veterans elected to Congress, raising concerns an important perspective increasingly is missing from the halls of Capitol Hill. It's an alarm former Defense Secretary Chuck Hagel, a Vietnam veteran, rang at a networking event for vets on Capitol Hill last month. "At a time when everything is hair-triggered, everything is nitroglycerin, and miscalculations can lead to a lot of trouble, we need veterans' input," he said, referring not only to the veteran void in Congress, but also the Executive Branch and beyond. The 2012 election marked the first time in 80 years that neither major party presidential nominee had served in the military. Two years later, the 114th Congress was sworn in with the smallest proportion of veterans on record. According to an October 2015 Congressional Research Service report, the high point was reached in the 92nd Congress (1971-72) when 73 percent of Congress had served in the military. Today, veterans make up 20 percent of the Senate and just 18 percent of the House of Representatives.Part of the reason is simply that, in the era of the all-volunteer force, far fewer Americans are veterans than during the post-World War II period. "There are simply fewer veterans among the general population. Today, veterans only comprise about 9 percent of the adult population and after Vietnam, fewer members of the political elite looked to military service as a career path," said the American Enterprise Institute's Rebecca Burgess, co-author of a report examining veterans in public office. Still, with Americans consistently ranking the military highly in public opinion polls, both political parties recognize the advantage a veteran candidate can bring. And there are exceptions to the trend-lines. In 2012, solid victories by Arkansas' Tom Cotton, and Iowa's Joni Ernst, both veterans, helped the Republican takeover of the Senate. This year, Democrats heavily recruited Illinois Rep. Tammy Duckworth, a veteran, to challenge incumbent Sen. Mark Kirk. Representatives from the Republican and Democratic congressional campaign committees would not specifically comment on their particular vet outreach efforts. But Sadie Weiner, spokeswoman for the Democratic Senatorial Campaign Committee (DSCC), said: "It is definitely something we encourage and I think regardless of which political party, Americans recognize the qualities and leadership skills of those who served. Those are qualities which can translate into public office." According to Andrea Bozeck of the National Republican Senatorial Committee, there are eight veterans running in open contests this year, including Nevada Senate candidate Rep. Joe Heck, an Iraq War veteran. In Colorado, Navy veteran Ryan Frazier, retired U.S. Air Force officer Darryl Glenn and Iraq War veteran Jon Keyser are battling each other for the opportunity to challenge Democratic Sen. Michael Bennet. Veterans weighing a run do have resources at their disposal, like the nonpartisan Veterans Campaign, which gives training for veterans considering a campaign. It offers workshops focused on issues like how to "bulletproof" your service record and how to avoid being characterized as just a "veteran candidate." Jon Soltz, an Iraq War veteran and chairman of Votevets.org, a veterans group that supports progressive candidates for office, said part of the problem is military service is often not conducive to running in the modern political landscape. Soltz said long deployments often prevent servicemembers from establishing a presence in a community or district, which is critical in terms of fundraising and developing a public profile with voters. … AEI's Burgess believes state legislatures reflect a more complete picture of veterans in public service and can serve as a useful pipeline for future members of Congress.Veterans serve in the state legislatures of every state, and of 7,383 state legislators, 1,040 have military experience — 260 state senators compared with 780 state representatives, according to AEI. As veterans of Vietnam and World War II retire, veterans of the wars in Iraq and Afghanistan are slowly becoming more influential on Capitol Hill. Although only one half of one percent of the U.S. population have been on active duty since those wars began, eight House members and two senators are serving in the Reserves, and six House Members and one senator are serving in the National Guard, according to the Veterans Campaign. On Capitol Hill, veterans are even underrepresented among congressional staffs. Justin Brown, the founder of HillVets, told FoxNews.com vets account for approximately 3 percent of congressional staff members, a figure that reflects the high barrier they face.
VA officials urging people to get involved with Operation SAVE to prevent vet suicide (Finger Lake Times)
More than 100 Americans commit suicide each day. About 20 are veterans. With those numbers in mind, officials at the Canandaigua VA Medical Center are urging people to get involved in Operation SAVE. The acronym stands for "Signs of suicidal thinking; Ask the question; Validate the veteran's experience; and Encourage treatment and Expedite getting help." "One suicide is too many. We want to be at zero," said Dr. Wil Pigeon, director of the VA VISN 2 Center of Excellence for Suicide Prevention. … The Center of Excellence, headquartered at the Canandaigua VA, was founded eight years ago to be the primary research and education center for VA hospitals across the country. Its focus is developing suicide prevention strategies. "We are a national program charged with the broad mission of doing whatever we can to reduce suicide among veterans, both within the Department of Veterans Affairs as well as outside," said Pigeon, noting about two-thirds of veterans do not get services through the VA. "That number has always amazed me, especially given the millions of veterans served by the VA." Although it is a separate organization, the Center of Excellence works with the Veterans Crisis Line/Military Crisis Line at the Canandaigua VA, formerly known as the National Veterans Suicide Prevention Line. Pigeon also works with Kelly Mohrman, suicide prevention coordinator at the local VA hospital. Mohrman follows up on crisis line consults from the Canandaigua and Rochester areas. She is one of about 300 employees from VA hospitals across the nation that do such work, concentrating on high-risk callers. … Veterans flagged in the high-risk group are referred to psychologists or mental health professionals. Part of Mohrman's job is making sure they keep appointments and stay safe. "I get a printout every morning of all our high-risk veterans who have appointments and call them that day for a reminder. I also get a report of veterans who have not showed the day prior for an appointment," she said. "If a high-risk veteran is a no-show, we contact them to ensure they are safe. We get in touch with them, a loved one or even police to do a welfare check." While there are some obvious issues that make veterans contemplate suicide, including family trouble, unemployment and financial woes, others are combat experience, chronic pain and substance abuse. Mohrman said for some, the political season is depressing. … As part of Operation SAVE, Mohrman and Pigeon are trying to educate people outside the VA system on suicide prevention. That can include primary care providers. … Khamkay "Kai" Chitaphong, national director of the Veterans Integration to Academic Leadership program, which is headquartered at the Canandaigua VA, is also on the board of directors for the American Foundation for Suicide Prevention. He said suicide is a problem about which everyone can help raise awareness. "As Kelly and Dr. Pigeon said, it's difficult to talk about. It's almost a taboo word," he said. "At VA, I know sometimes we get a lot of negative press, but we're leading the nation in some of this research and Dr. Pigeon works with UR and other entities outside VA to deliver the best practices in suicide prevention." Specifically, Pigeon said the Center of Excellence is developing Web-based training programs for suicide prevention that can be accessed outside VA. While suicide rates across the country have increased over the last five years or so, it has remained flat among veterans. Pigeon and Chitaphong also alluded to a recent report that said calls to the hotline from distressed veterans were going to voicemail and veterans contemplating suicide were not getting immediate assistance. That report was addressed earlier this year by Sloan Gibson, Deputy Secretary for Veterans Affairs, during a recent trip to Canandaigua. … The crisis line provides around-the-clock assistance to veterans across the country. Callers dial 1-800-273-TALK (8255) and choose option 1 to reach a crisis line responder.
Vets more likely to delay seeking health care–possible link to long wait times for VA care (EurekAlert)
Military veterans are more likely to report delays in seeking necessary healthcare, compared to the US general population, reports a study in the Journal of Public Health Management and Practice. The journal is published by Wolters Kluwer. Such self-reported care delays may be related to having Veterans Administration (VA) health coverage–and to long waiting times in the VA system, according to the study by Doohee Lee, PhD, of Marshall University, South Charleston, W.V., and Charles Begley, PhD, of the University of Texas School of Public Health, Houston. "Access problems within the VA system may be creating disparities in care for this vulnerable and deserving population that need to be mitigated," the researchers write. Drs. Lee and Begley performed a secondary analysis of data from a nationally representative survey, performed in 2010-11, to assess delays in seeking healthcare, in the US population overall and among military veterans in particular. About 11,000 Americans were asked if they had "put off or postponed getting medical care they thought they needed" anytime in the past year. The results were compared for groups with different types of insurance coverage. Most respondents had private health insurance; just under two percent (1.72 percent) were covered by veterans' insurance. "Those in veterans' care were more likely than the rest of the surveyed population to report care delay," the researchers write. Nearly 29 percent of veterans reported they had delayed seeking needed medical care, compared to the national rate of 17 percent. Reasons for care delays differed between insurance groups. The veterans reported difficulties in making appointments by phone and in getting transportation to the doctor's office (as did Medicare and Medicaid beneficiaries). After controlling for personal factors and region of the country, veterans were 1.76 times more likely to delay needed medical care, compared to privately-insured individuals. "Such delays may have an effect on veterans' propensity to seek healthcare as well, which could be detrimental to their health," according to Drs. Lee and Begley. The findings are consistent with recently reported problems accessing care within the VA system. Prompted by reports of lengthy wait times in veterans diagnosed with health problems, investigation found manipulation of waiting times and inappropriate scheduling practices at some VA medical centers. Delays in seeking care are an important issue in the US healthcare system, working against efforts to improve high-quality, effective healthcare. Previous studies–mainly comparing patients with public (Medicare and Medicaid) with private insurance–have reported that type of health insurance coverage affects delays in receiving care. The new study finds that delays in seeking health care are common in the US population, and that the problem is most pronounced for veterans. Nearly three out of ten veterans report delays in seeking care over the past year, and there may be a "causal link" with the VA access problems. Drs. Lee and Begley believe their study has important implications for policies related to reducing care delays–especially among veterans. They conclude, "More studies are needed to expand our understanding on the magnitude and current status of care delay and offer specific steps to rectify related issues on delayed care if reported in military health care."
VA funds massive lung cancer treatment study (The Roanoke Times)
A new study may make the invasive surgeries required to treat lung cancer a thing of the past. Dr. Drew Moghanaki of McGuire Veterans Affairs Medical Center is co-chairing a $25.2 million clinical trial that will help determine whether surgery or a stereotactic radiation treatment is the most efficient way to treat lung cancer. Lung cancer is the leading cancerous cause of death for both men and women in the country, according to the American Lung Association, and death caused by the cancer has increased by about 3.5 percent between 1999 and 2012. Stereotactic radiation treatment evolved about 15 years ago, Moghanaki said. It involves using new imaging technology to target tumors with far greater precision than other types of radiation. Previously, the area around a tumor, in addition to the tumor itself, was targeted with radiation to ensure that none of the cancer was missed. Yet the precision of stereotactic radiation negates that necessity, so the radiation level can be increased and the treatment completed in just three outpatient sessions, while conventional radiation requires 30 treatments. This type of treatment has numerous positive benefits that surgery lacks, including a less invasive procedure and shorter recovery time, Moghanaki said. "So it has been begging the question," he said, "if outpatient treatments that a patient could get potentially on their lunch break might be just as good as surgery, why are we still routinely recommending surgery?" The research began about 15 years ago, Moghanaki said, and since then the results have been reproduced all over the world. But a study of this magnitude, he added, is necessary to definitively prove that the radiation is a better and safer option than surgery. The study is sponsored by the U.S. Department of Veterans Affairs' Cooperative Studies Program, which approved the idea after Moghanaki and his team worked on it for more than three years. The study's other chairman, along with Moghanaki, is Dr. Tomer Karas, a surgeon with a VA medical center in Miami. It could be about nine years before the results become clear, Moghanaki said. While the study will begin this fall, it will likely take four years to enroll patients, who will be followed through their treatments for another five years. Moghanaki, who also is an assistant professor with Virginia Commonwealth University's Massey Cancer Center, will help conduct the study in which he and health care providers from 16 other VA medical centers around the country follow 670 patients through their respective treatments to measure which produces the most efficient, safest results. "The study may show that surgery is in fact the preferred treatment, and that's a good reason to preserve it," Moghanaki said. "Or it might show that radiation is just as good and maybe safer." About 40 patients from McGuire will be enrolled in the study, he added, and will be randomly split between radiation and surgical treatments. Surgery to remove a lung cancer tumor has been the standard of care for decades, Moghanaki said. For those with stage 1 lung cancer, the survival rate can be upward of 70 percent. "So that's the benchmark that radiation has to be able to reach if it's going to be considered an acceptable alternative," he said. The U.S. Preventive Services Task Force, an independent panel of national experts in prevention and evidence-based medicine, recommends screening for lung cancer in adults ages 55 to 80 who currently smoke or have quit within the past 15 years in an effort to catch the cancer as early as possible. Smoking contributes to 80 percent of cases of lung cancer in women and 90 percent in men. Stereotactic radiation already is used in elderly patients who cannot tolerate surgery. … The study will likely be able to determine if radiation is the safest route for all patients.
Hiring Our Heroes event in Pittsburgh aims to give veterans a hand, and a job (Pittsburgh Post-Gazette)
The tough-minded training that goes into making someone a member of the military can have a downside when veterans need a hand. "It's just not in a veteran's personality to ask for help," said Mark Scheimer, a National Guard Reserve veteran and director of PAServes: Greater Pittsburgh. "We're trained to be self-sufficient, be able to handle things on our own. We don't want a handout." But with far too many veterans unemployed, giving them a hand — not a handout — is exactly what PAServes and more than 70 companies and veteran service organizations will try to do Tuesday at the latest Hiring Our Heroes event at PNC Park, beginning at 9 a.m. Sponsored by the U.S. Chamber of Commerce for the past five years, Hiring Our Heroes events like this gather together local and national employers to collect resumes and do on-site interviews with veterans looking for jobs, as well as to provide access to veterans services. The chamber expects about 300 veterans to take advantage of the gathering Tuesday — at least 160 have signed up so far and walk-ins are welcome — and maybe even more if only to take advantage of another perk: Each participant gets two free tickets to that night's Pirates baseball game against the Chicago Cubs. "We know some people will come just for the chance of the free Pirate tickets," said Tim Barry, director of sports partnerships with Hiring Our Heroes. "But it is not just a job-fair cattle call. We try to put meat on the bones at these events." The companies that will be there — ranging from Duquesne Light to Starbucks to PNC — will have real jobs available for veterans who match their needs. Mr. Barry said that over the past five years about 1,000 similar Hiring Our Heroes events have been held around the country and internationally, resulting in about 28,000 confirmed veteran hires. This is the second such event in Pittsburgh in the past year — although it looks as if it will grow beyond that event. Last September, a similar event at PNC Park by Hiring Our Heroes drew about 200 veterans who were able to talk with 52 employers. A total of 40 job offers were made the day of the event, according to the chamber. PNC is a named sponsor of the event and is credited by the chamber with lining up the partnership with the Pirates. PNC will be one of those in attendance hoping to hire veterans in "any and all jobs available," said Chris Phillips, a diversity specialist officer in charge of the military and disability initiative at PNC. With an estimated 1.3 million veterans leaving the military over the next three years, "I know the next great wave of talent will be coming out of the military and into a suit," said Ms. Phillips, herself a Marine veteran. This year, at least 63 companies will be on site to offer jobs. In addition, eight local veteran service organizations, including PAServes, will be there to help fill in any gaps that may make it harder for a veteran to get a job. Other groups there that offer veterans services will include Pittsburgh Mercy, the Pittsburgh Vets Center at the Department of Veterans Affairs and PA CareerLink Pittsburgh/​Allegheny County. … The event begins with registration at 9 a.m. inside PNC Park, followed by two workshops — one for employers and another for veterans. The job fair runs from 11 a.m.-2 p.m. There will be some free parking available for participants in the Stage AE lot along General Robinson Street near Heinz Field, as well as some free spaces in the Gold and Red lots.
First tiny home for Kansas based Veterans Community Project ready to be dedicated (KSHB)
The first home of many is now planted at the Veterans Community Project in Kansas City. It started on Veterans Day in 2015 when founders Chris Stout, who served in the Army, and Kevin Jamison, who served in the Marines, met with Mayor Sly James. The nonprofit bought four acres of land on 89th and Troost with the goal of ending veteran homelessness. Their idea was to create a village of 52 tiny homes to give those who need a place something to call their own. On April 21, the first home was delivered to the village. "I think a lot of people thought, 'They're going to fizzle out, they're not going to get traction,'" Stout told 41 Action News. Now, it seems the group is gaining more ground than ever at a rapid pace. "I'm ready to get somebody in it," Stout said. "I want to see it work." The nonprofit was created to serve veterans who fall through the cracks or who can't qualify for Veterans Affairs benefits. Stout has worked with retired military for years and sees firsthand the challenges they face. For the VCP, it all starts with having a home. "It's going to be a home for them until they get squared away, and then they get their own place," Stout said. "That's dignity in itself. That key is like Superman's cape. It's like Captain America's shield." This village concept was inspired by an Army veteran called White Hawk. He's almost 70 years old and has lived on the street since the '90s. People like him are the ones the VCP wants to reach. White Hawk was the veteran who got to see the first tiny home. … Stout told White Hawk, "We know that you may not be ready to come into a place like this today, or if you come in, you might not be ready to come out tomorrow." "I'm not quite sure if I want to jump into something like this yet," White Hawk said. For him, living on the streets means a certain amount of freedom. White Hawk may not be ready now, but he's leaving the door open for the future. … Rep. Emanuel Cleaver II and Sly James will attend a dedication ceremony and ribbon cutting for the first tiny house on May 2. The VCP will host a community day on May 7 to get input from the community on its plans for the village, and everyone in the area is invited and encouraged to attend. "The good news is, veteran homelessness is declining thanks to programs like this one," said Cleaver in a news release. "The Veterans Community Project not only creates homes for our veterans who have already given so much, but it creates hope and a new beginning."