April 28 Veterans News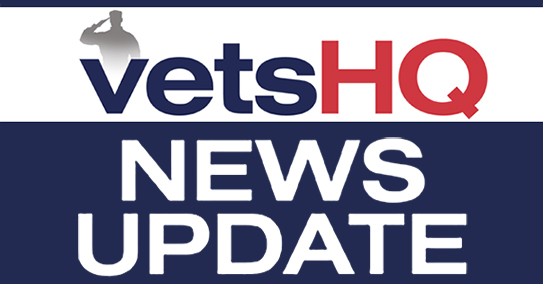 Large veterans reform bill promises 'a new VA' (MilitaryTimes)
Senate leaders unveiled a massive veterans reform package Thursday that includes sweeping new accountability rules for Department of Veterans Affairs employees, a dramatic expansion of the veterans caregiver program, and promises of changing the agency to a more veteran-friendly culture. Despite bipartisan support in the Senate, the measure faces an uncertain future with the House and White House, which have already raised questions about how effective the new firing rules will be and the unclear cost of the omnibus. But Senate Veterans' Affairs Committee Chairman Johnny Isakson, R-Ga., said he is confident the proposal will be transformative legislation for veterans health care and benefits, and can become law later this year. … The legislation comes less than two years after the last major veterans omnibus passed by lawmakers in the wake of the wait times scandal that forced multiple VA leaders to resign. At that time, lawmakers passed language to more quickly fire senior executives for incompetence or malfeasance. But the change has resulted in few new firings, in part because of VA officials' complaints about the cumbersome new rules that were meant to simplify the process. The new omnibus — dubbed the Veterans First Act — would go along with VA leaders' request to be able to more easily hire and fire department senior executives, changing the employment policies to rules closer to private-sector contracts. But it also goes further, limiting the amount of time any VA employee can be placed on administrative leave, blocking bonuses for some workers, and allowing any VA employee to be fired for misconduct with more limited appeals and a quicker timeline. House Democrats have objected to similar proposals, and the White House has warned it will not support proposals that too deeply erode federal workers' rights. The Senate omnibus also includes a new office charged with protecting whistleblowers, with more oversight and reporting to Congress on that recurring issue. On health care, the bill includes a massive expansion of VA's program for caregivers of seriously injured veterans, which provides financial support, health benefits and other services for family members offering care. Under the plan, financial stipends would be extended to caregivers of veterans injured or wounded on active duty on or before May 7, 1975. Currently, that benefit is only available to veterans who served after Sept. 11, 2001. The benefit would begin as soon as VA can establish the technology infrastructure needed to support the additional caregivers. Two years after that, it would be extended to all caregivers of veterans, regardless of the era they served. The Congressional Budget Office in 2014 estimated that expansion of the caregiver program to all eligible veterans would cost VA $9.5 billion over four years. Isakson could not say the exact cost of his proposal, but said the slower roll-out and other savings would cover the expense. And unlike a separate, pending House proposal, the legislation does not include cuts to future GI Bill benefits to pay for the program expansions. Several veterans groups, led by Iraq and Afghanistan Veterans of America, have railed against that idea as a betrayal of promises made to veterans. Isakson said that none of the proposals in the omnibus pull money from one veterans program to pay for another. Committee Ranking Member Richard Blumenthal, D-Conn., called that a crucial provision to bring bipartisan support for the measure. But it also has raised additional questions about the exact cost of the proposal and whether the funding mechanisms are realistic. The bill also contains language that will help VA streamline the Veterans Choice program and the department's other initiatives that allow veterans to get care outside a VA facility. It does not include a consolidation of the various VA outside care programs that department leaders have asked for, nor does it include reforms for the disability claims appeals process that VA Secretary Bob McDonald has made his top congressional priority. Isakson has said he hopes to get to that issue later this year. Both committee leaders said they hope for a quick Senate vote on the issue, and indicated leadership support to take up the issue in coming weeks. Whether House leaders will similarly embrace the measure remains to be seen.
All veterans would be eligible for Choice, under proposed bill (MilitaryTimes)
Eight Republican senators have introduced a bill that would make the Veterans Choice Program permanent and expand its eligibility to all veterans enrolled in VA care. The Care Veterans Deserve bill, drafted by Sen. John McCain of Arizona and others, aims to address issues at the Veterans Affairs Department with appointment wait times and access to care. Under the bill, any veteran who uses VA health services would be able to use Veterans Choice, a program introduced last year that allows veterans to seek treatment at private health facilities if they live more than 40 miles from a VA facility or have to wait more than a month for an appointment. VA also would be required to expand pharmacy hours to include nights and weekends, and veterans would be allowed to get treatment at walk-in clinics without preauthorization or a co-payment, according to the draft legislation. The bill is similar to one introduced last year by McCain, who has sought to find "short- and long-term solutions to problems at VA." … The proposal comes as Congress and members of a congressional commission debate the future of Veterans Affairs health care. Some veterans groups have raised concerns that Choice expansion is another step toward privatizing veterans health care. Last year, a task force formed by the advocacy group Concerned Veterans For America released a report calling for placing VA medical facilities under a nonprofit government organization dedicated to treating service-connected conditions. The remainder of veterans care would shift to private health insurance programs, according to the report. More recently, the panel studying the future of VA care, called the Commission on Care, entertained a report that proposed closing underperforming VA facilities and moving veterans to private care. Commissioners said that report, called a "strawman," was meant to spark discussion on VA health care options, but veterans groups like the American Legion, Disabled American Veterans and Veterans of Foreign Wars, said they were alarmed by the report, which they said was dismissive of veterans' desire that the VA health care system be improved and possibly expanded. The Care Veterans Deserve bill would allow 9 million veterans enrolled in VA care to seek treatment at private and nonprofit facilities. It also would open up VA facilities to volunteer community providers to treat veterans during off hours and let VA use health professionals registered or licensed in one state to treat veterans in other states through telemedicine. … VA has asked Congress this year for legislation that would consolidate the Veterans Affairs Department's various private health care programs and give it more budget flexibility. VA Secretary Bob McDonald told Commission on Care members April 18 that VA reforms are underway. … The Care Veterans Deserve bill is sponsored by John Cornyn, Ted Cruz, Kelly Ayotte, Jeff Flake, Lindsey Graham and Thom Tillis, in addition to McCain and Ernst.
Vets hit VA with federal lawsuit over Camp Lejeune water poisoning (Fox News)
The quest for answers for thousands of veterans sickened — in some cases terminally — by contaminated water at Camp Lejuene has been stymied by a federal agency that refuses to hand over key documents, attorneys from Yale Law School charged Wednesday. The Veterans Legal Services Clinic at Yale Law School filed a Freedom of Information Act (FOIA) lawsuit in federal court Wednesday against the Department of Veterans Affairs for allegedly withholding information on a group of "experts" denying claims for scores of veterans exposed to cancer-causing chemicals at the North Carolina base. The suit, which represents two veterans groups, seeks to compel the VA to respond to a December 2015 FOIA request about the SME program — an anonymous group of "subject matter experts" who render medical opinions on the veterans exposed to toxic water at Camp Lejuene  between 1953 and 1987. Since the program's launch three years ago, the rate of Camp Lejeune toxic water disability claims being approved has dropped from approximately 25 percent to 8 percent, according to VA statistics. Advocates for veterans want to know who the purported experts passing judgment on the claims are, and how they arrive at their conclusions. "The VA has yet to provide an official response to the request or even to provide a single responsive record," Rory Minnis, a former Marine and second-year Yale law student, told reporters Wednesday. "For several years now, Camp Lejeune advocates, individual veterans, and the media have repeatedly requested informationon the SMEs' credentials, training, methodology, and programmechanics. Yet, the SME program remains a black box," said Minnis. "The VA's failure to respond to our clients' FOIA request is just the latest instance in a long pattern of foot-dragging and misdirection in response to inquiries about the SME program." Between 1953 and 1987, nearly 1 million veterans, their families and civilian employees at Camp Lejeune were exposed to drinking and bathing water contaminated with dry cleaning chemicals, degreasers and a host of other toxins. Many base residents developed illnesses — including rare cancers — and disabilities in the aftermath. According to the Agency for Toxic Substances and Disease Registry, "past exposures from the 1950s through February 1985 to trichloroethylene (TCE), tetrachloroethylene (PCE), vinyl chloride, and other contaminants in the drinking water at the Camp Lejeune likely increased the risk of cancers (kidney, multiple myeloma, leukemias, and others), adverse birth outcomes, and other adverse health effects of residents (including infants and children), civilian workers, Marines and Naval personnel at Camp Lejeune." Victims claim the U.S. Marine Corps hid knowledge of the problem for years and did not warn people their health might be at risk. One SME report used to deny a Camp Lejeune veteran's claim featured language cut and pasted from Wikipedia, Minnis said Wednesday. Another rejected the judgment of the veteran's treating VA doctor amd a third falsely claimed – against well-established medical consensus – that there was no causal link between trichloroethylene, a known carcinogen, and kidney cancer, according to the legal team at Yale. The goal of the lawsuit — which represents The Few, The Proud, The Forgotten and Vietnam Veterans of America — is to seek records on how the SME program is structured, staffed, and operated. The VA told FoxNews.com in December that it established the SME program in 2012 to "complete Camp Lejeune medical opinions based on scientific studies and to bring additional occupational exposure science into the claims review process." … The VA's response — or lack thereof — has sparked lawmakers, like Sen. Richard Blumenthal, D-Conn., to press for greater transparency on the credentials and conclusions reached by the unidentified group of clinicians. "The VA's lack of response to these brave men and woman is utterly irreposnable and unacceptable," Blumenthal, D-Conn., said on a conference call Wednesday with reporters.
Study: Family retreat can help vets manage PTSD — and relationships (Pyschcentral)
Military veterans returning from combat situations face a substantial risk of developing posttraumatic stress disorder (PTSD). Previous studies have also shown a significant association between PTSD and intimate relationship problems. To address these issues, family studies researchers at the University of Illinois developed an intensive retreat model for veterans and their romantic partners. The retreat includes therapeutic group and couple counseling, as well as relaxation activities. A pilot of the model was successful in helping to reduce symptoms and distress for the participants. Kale Monk, a graduate research assistant in the Department of Human Development and Family Studies at the University of Illinois and lead author of the study, said many veterans with PTSD may not seek help because of the stigma associated with mental illness. "After veterans complete their service, they may be reluctant to report some of these symptoms because they feel a sense of shame or that others would think less of them if they sought therapy," he said. "Many service members fear that seeking treatment will have negative consequences for their career or that their security clearance will even be revoked." He said another important reason veterans may not seek treatment is that they don't want to take time away from their families for long-term counseling and most services don't incorporate the partner or family. … Monk says this has prompted service providers to seek out brief workshops or retreats for veterans that also include their support systems. In the recent study, Monk and colleagues assessed what they call the Veteran Couples Integrative Retreat (VCIIR) model; seeking to evaluate a specific, inclusive treatment for those who had served and may still suffer from trauma, and their partners. The model uses a holistic treatment approach including traditional therapeutic couple sessions and group psychoeducation, as well as yoga, massage, hiking, equine-assisted therapy, and other recreational wellness activities to promote relaxation. For the current study, veterans must have had a diagnosis of PTSD or be experiencing PTSD symptoms, as well as a referral from a physician or VA clinic staff member in order to participate in the retreat. During the weeklong retreat, participants engage in general psychoeducation, where they are given information about trauma, how it manifests, and what it looks like. Facilitators also share coping strategies for the veteran and the partner, such as how to handle stressors or identify triggers. … The model intentionally includes veterans from a variety of generations or combat eras to allow for interaction between older and younger veterans. For the study, researchers used data collected from the National Veterans Wellness and Healing Center, as a total of 149 veteran couples (298 individuals) completed assessments before and immediately after the retreat. They also were assessed after six months to determine the effectiveness of the model. Assessments included military and civilian versions of the PTSD checklist. The results showed a significant reduction in trauma symptoms for veterans and a significant decrease in distress for partners after the retreat. "Obviously we wanted trauma symptoms to decline for veterans, but what's additionally encouraging is that we also saw a reduction in distress for partners," Monk said. "Many times you see an initial boost or benefit from a treatment and then people go back to where they started at baseline. "But this was really encouraging because at six months out, we noticed that these benefits seemed to be maintained for both couple members. That's one of the strengths of this retreat." Monk stressed that not all veterans returning from combat experience PTSD symptoms and not all veteran couples experience relational difficulties. However, in the United States, the lifetime risk for all people of experiencing PTSD is 8.7 percent. Scholars estimate that the risk for veterans is 18 to 54 percent for Vietnam veterans and 16 to 30 percent for veterans of the recent conflicts in Iraq and Afghanistan, which illustrates that a significant proportion struggle even if most are doing well. Sometimes partners may notice changes right away, but not all changes are indicators of PTSD. … Because of the model's potential success, the researchers are now replicating the study as four-day retreats. "We are still finding similar outcomes as we did in the weeklong retreat study," Monk says. "In the new project we are also assessing relationship functioning in those that attend. Looking at the preliminary data, we're finding that the retreats may also improve relationship quality." The retreats are currently free to veterans through grant funding and the contributions of communities where the retreats are held.
Report: VA office in Wichita manipulated data on appeals (The Wichita Eagle)
A Veterans Affairs regional office in Wichita listed erroneous medical conditions for three dozen patients who were appealing rejected claims – an apparent effort to speed up the review process that might have had the opposite effect, government investigators found. In a report released this week, the VA's inspector general's office said managers instructed staff at the Wichita facility to enter the same "placeholder" diagnostic code for a specific bone infection on 36 appeal claims. None of the 36 patients actually had the listed condition. Investigators concluded the erroneous records likely stemmed from efforts in 2014 to resolve a backlog of mail at the facility, one of 56 regional offices across the nation. Because claims assistants weren't able to accurately diagnose patient conditions, they entered the same incorrect code on all similar appeals, figuring they would be corrected later. However, some of the claims weren't fixed as they advanced through the appeals process, the report found. The VA did not immediately return phone messages seeking comment. But the inspector general's report noted managers at the Wichita office agreed with the findings and planned to implement recommendations to correct the 36 inaccurate records and install a better review process. Concerned Veterans for America, a veterans' advocacy group, said Wednesday that manipulation of data in VA facilities across the country is nothing new in the aftermath of the national scandal that erupted at a Phoenix veterans' hospital two years ago over secret waiting lists and unnecessary deaths. … The agency's investigation into the Wichita regional office began after it received an allegation of data manipulation in April 2015 in the Veterans Benefits Administration's electronic records system used to track and manage its appeals workload. Investigators from the inspector general's office arrived in Wichita in June 2015 for an unannounced review during which they interviewed staff and identified 36 pending appeals claims with the same medical diagnosis code. It found all of those 36 claims had the same inaccurate diagnosis for the same bone infection known as osteomyelitis. Not only did none of those veterans actually have that medical condition, but the review also found 28 of those cases did not comply with policy for processing the claims and some contained multiple errors.
Whistleblower: Cockroaches served in food at Chicago-area VA hospital (Fox News)
A vermin infestation has overrun the kitchen of a suburban Chicago Veteran Affairs hospital and is reportedly so severe that cockroaches routinely crawl across countertops as cooks prepare meals. The insects have even found their way into patients' food, employees say. The bug invasion has attracted the attention of a U.S. senator who is demanding to know how the VA is fixing the problem. It's just the latest scandal at an agency rocked by allegations of abuse, incompetence and the needless deaths of veterans who wait years for medical appointments. "The workers try to brush the cockroaches off the counters, but the bugs get in the food," said Germaine Clarno, a social worker at the Edward Hines, Jr. VA Hospital in the Chicago suburb of Hines, Ill. Clarno is the local AFGE union president and has been working with the U.S. Office of Special Counsel as a whistleblower exposing secret appointment wait lists. Clarno said she witnessed the problem firsthand three years ago when she saw roaches crawling on a dinner plate brought to a patient's room. She recalled sending the food back before the veteran had a chance to see it and paying for a pizza delivery from an outside restaurant. "It's been like this for years, ever since anyone can remember," Clarno said. Dietetic technician Kelvin Gilkey has been a VA employee for 33 years. He recounted how PTSD-traumatized veterans in the mental health unit were served cockroaches on food trays on three different occasions last year. One veteran, in his 20s, became enraged and started swearing in disbelief, demanding to be discharged.
Lawyer pans VA's explanation for not firing convicted employee (Military.com)
An attorney and expert in federal employment law panned the claim by the Veterans Affairs Department that it could not fire a San Juan VA hospital employee following her arrest in connection with an armed robbery. Cheri Cannon, a partner in the Washington, D.C., office of Tully Rinckey LLC, said the VA could easily have made the legal argument necessary to fire Elizabeth Rivera. Rivera pleaded guilty in 2015 to a misdemeanor after initially being arrested in connection with — though not charged with — armed robbery. "They have to show that whatever [the crime] was, that it has a nexus to the efficacy or relationship to the job," Cannon told Military.com on Wednesday. "Any good lawyer for the VA could have made the case that the VA's reputation and ability to do its job and services are harmed when you have known criminals working in the department." "Any judge would have bought that argument," Cannon said. The VA has not said to what Rivera, a clerk at the hospital, pleaded guilty. Rivera was in a car with a man identified as Rolando Rios Febus when Febus allegedly stepped out of the vehicle armed with a gun to rob a couple, according to a June 16, 2015, online report on the San Juan news site Metro. After police spotted the robbery in progress, Febus fled on foot, leaving Rivera in the car. VA Under Secretary for Health Dr. David Shulkin told lawmakers that Rivera ultimately was not charged with armed robbery, but pleaded guilty to a misdemeanor and was given probation. After first being let go from her job, Rivera was reinstated, angering members of the House Veterans Affairs Committee. In testimony April 19, Shulkin provided lawmakers with an update — saying he believed that Rivera had been fired. He later issued a statement saying he was wrong, that she remains employed at the hospital, but that the VA can act only within the scope of the law and federal authority when it comes to discipline. "As is true in private-sector employment, a federal employee generally cannot be terminated for off-duty misconduct unless there is a clear connection between the misconduct and the individual's employment," Shulkin said. Rep. Jeff Miller, R-Florida, who chairs the House veterans' panel, called Shulkin's explanation "more proof that the federal government's dysfunctional civil service system makes it almost impossible for VA to adequately discipline most employees, including those involved in serious crimes." Until the VA gets serious about holding its people accountable, he said, it "will never shake its well-deserved reputation as an agency that coddles and protects corrupt and incompetent employees for wrongdoing." Cannon said that, as a matter of record, an arrest such as Rivera's would usually end up with the employee fired. "Unless there are extenuating circumstances, like she didn't have a clue what was going to happen, and maybe someone bought that story," Cannon said. "Maybe an administrative judge sided with her and put her back to work."
Detroit overhauls old apartment building to create homes for homeless vets (WXYZ Detroit)
In a new cozy apartment, Donald Anderson is able to work in a warm, safe place. For the painter, who sells much of his art work in Greektown, just months ago his life was much different. It was very rough not knowing which way to go, which way to turn," said Anderson. He was one of a number of homeless veterans in Detroit, until a major overhaul happened at what was once called Charlotte Apartments in Midtown Detroit. The building had been a hot bed for illegal activity in 2003, when then Wayne County Prosecutor Mike Duggan shut it down. Now as mayor of Detroit, he joined the Detroit Central City to rehab the building into 27 units just for homeless vets. "When I got out of the military and came home, this place was like Beirut. I could have stayed overseas," said Charles Montague, a veteran of the Air Force. "It's great to know the city is taking care of us veterans because before they wasn't and now they are doing everything they can possible at the moment." Montague is bi-polar and suffers from Post Tramatic Stress Disorder. He has been in his new apartment for a month. The home came fully furnished by Humble Design, a local company. "It's great to know the city is taking care of us veterans because before they wasn't and now they are doing everything they can possible at the moment," said Montague. Tuesday, Mayor Duggan toured the new building and met some of the heroes, like Anderson. "Extremely happy," said Anderson.  "I mean, it's still surrealistic like this is my home. I thank God. It's still unbelievable." "It meant so much to me that they are finally doing this for the vets," said veteran Kevin Fulgenzi. All of the units are completely leased out.  Most of the veterans are already living in their new homes. A few residents are expected to move in next week.
Historic bridge needs to be reopened for emergency access to Minneapolis vets home (Star Tribune)
When inspectors judged the Minnesota Veterans Home truss bridge in Minneapolis critically deficient and ordered it closed, it meant more than the loss of a spot to view fall colors or a route for visitors pedaling surreys around Minnehaha Falls. The bridge, built in 1908, represents a major artery for paramedics, firefighters and other emergency workers to reach the elderly and infirm residents of the Veterans Home. Now the Minnesota Department of Veterans Affairs is asking the Legislature for $7.8 million to redesign and renovate the bridge, restoring its vital access to the vets' home. The request comes as the state VA is planning significant construction at the vets' home. With the bridge barricaded and unsafe, the only way in or out of the sprawling campus for the last two years has been on E. 46th Street at Minnehaha Parkway, a roadway often blocked for hours by events and races like the Twin Cities Marathon. The state VA prefers better access for trucks and cranes than the narrow, winding and heavily trafficked road leading past the Wabun picnic area and the Frisbee golf course. "That is our driving factor," said Mike Jandro, facilities director for the Minnesota VA, which operates the home. "That road wasn't meant for the type of traffic it's seeing now. Only one entrance and exit is difficult, especially if we have an emergency." There have only been close calls so far. But city and state officials openly worry about the day an ambulance is delayed in reaching a stricken resident. If bridge funding is approved, construction could begin in November 2017 and is expected to take nine months. The proposal, backed by Gov. Mark Dayton, has faced no opposition as it has made its way through the Legislature.
Kentucky veterans' cemetery near Fort Knox filling up (Courier-Journal)
The Kentucky Veterans Cemetery Central near Fort Knox is filling up. On Wednesday Air Force and Korean War veteran Airman 2nd Class Jerry Warren O'Bryant of Louisville became the 4,500th person interred at cemetery since it opened in June 2007. O'Bryant joins 3,683 veterans and 817 dependents interred at the site.  The number includes 12 active-duty service members, five of whom were killed in action. KVCC has interred veterans spanning conflicts from the Civil War to the most recent conflicts in Iraq and Afghanistan. "We are deeply honored that A2C O'Bryant's family chose a Kentucky state veterans cemetery for their final resting place," said Brig. Gen. Norman Arflack, commissioner of the Kentucky Department of Veterans Affairs, adding that the cemetery "has maintained the highest level of service in providing our veterans and families with a sacred place of honor and dignity." Kentucky Veterans Cemetery Central mainly serves veterans and family members from a 75-mile radius of the cemetery.  The cemetery is located on 98 acres on Highway 31W near Fort Knox.