May 4 Veterans News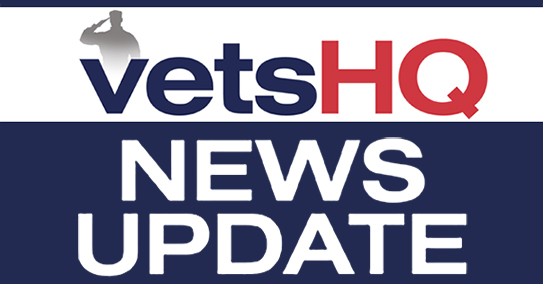 VA still hopes for appeals reform, but lawmakers looking elsewhere (MilitaryTimes)
Veterans Affairs officials are still pushing for benefits appeals reform this year, even if Congress appears to have their sights focused elsewhere. On Wednesday, during a speech at the Center for Strategic and International Studies, VA Secretary Bob McDonald warned that "our window of opportunity won't be open indefinitely" to deal with the appeals issue. "We simply cannot serve veterans well unless we can come together and make big changes in the appeals process," he said. "It's a heavy lift." Since January, McDonald and top department leaders have been pushing the issue as a top priority before the change of administration next year. More than 440,000 veterans have appeals cases pending in the benefits system, a caseload that has risen steadily in recent years as the number of benefits claims has skyrocketed. Today, the average completion time for appeals cases decided by the Veterans Benefits Administration is three years, the average for cases decided by the Board of Veterans Appeals is five years. VA leaders have floated a plan to get that process down to under a year and a half for most cases, but they need congressional intervention to rework filing timelines and evidence submission rules. Last month, officials from the major veterans organizations wrote to key congressional lawmakers supporting the changes, calling the plan a chance to "achieve real progress for the men and women who served." And last week, Rep. Dina Titus, R-Nev — ranking member of the House Veterans Affairs Subcommittee on Disability Assistance — introduced legislation mirroring that plan, calling it an overdue reform that lawmakers must act on immediately. So far, Republicans in Congress have offered words of support for the idea but no action. House Veterans Affairs Committee leaders recently postponed a hearing on the issue, promising to deal with it in coming weeks. The comprehensive veterans omnibus legislation introduced in the Senate last week contains a pilot program to test an expedited appeals process, but not the broader reforms VA has requested. Supporters say that's not enough, and worry that real changes to the system could take years if lawmakers can't act in coming months. Senate Veterans Affairs Committee chairman Johnny Isakson, R-Ga., said in recent weeks that the appeals proposal was too complicated to include fully in the omnibus measure, which does include massive changes to VA employee accountability, caregiver support and various health care issues. But he also vowed that lawmakers will deal with the issue this year. The congressional schedule appears to be working against that. The Senate is only in session for 42 more days before Congress breaks it's pre-election summer recess, and the House only has 32 days of work scheduled. Lawmakers already have both the omnibus and the chambers' separate VA appropriations bills on their schedule during that stretch, taking focus and time away from the appeals issue. McDonald vowed to "continue to press in the weeks ahead" on the issue. "This Congress with today's VA's leadership team can enable all these transformational changes and more for veterans," he said. "Then, we can look back on this year as the year we turned the corner for veterans."
'#22KILL' pushup videos are part of the fight against veteran suicide (MilitaryTimes)
Army paratrooper Sgt. Gabe Gonzalez felt like he had to do something. But he didn't know what. Several buddies from his first combat deployment had already killed themselves over the past few years. And then the Fort Bragg, North Carolina-based infantryman got word recently that one of his best friends had killed himself. "I felt so bad. I wish there had been something I could have done," he says. Then on April 18, Gonzalez found something that he could do. It wouldn't bring his friends back, but it might just help in a small way to turn the tide of what some experts call an epidemic of veteran suicides. Gonzalez posted a simple video of himself doing 22 pushups on Instagram accompanied by the hashtag "#22KILL." He challenged a friend to do likewise. The next day, Gonzalez posted another video, and then another the next — each day tagging more friends, and each day challenging them to do the same. All with the #22KILL hashtag. It's part of a social media campaign launched by a group of veterans who shared a similar frustration as Gonzalez's — just wanting to do something, anything, about veteran suicides. A study published in 2012 suggested that an average of 22 veterans kill themselves every day. While that conclusion is controversial — some say it's probably lower, while others argue it's actually much higher — everyone agrees that whatever it is, it's too many. "This is something that's actually happening," Gonzalez says. "I know it's real." So does Marine veteran Jimmy Mac, program manager for the nonprofit 22Kill that introduced the hashtag. "We'd been using the hashtag since 2013 to help raise awareness, but we're not even sure who actually started the pushup challenge. All we know is that it was sometime late last year," Mac says. "I wish we knew who that first person was because I'd like to buy them dinner and give them a big hug." Like the ALS Ice Bucket Challenge before it, the #22KILL campaign started slowly and then exploded. In recent weeks, when several other veterans groups started promoting it, the challenge hit a tipping point, growing into doing 22 pushups for 22 days. Using an algorithm that tracks social media posts, the nonprofit estimates that some 4.5 million pushups had been completed since the campaign launched late last year. That's up from 300,000 just a few months ago. The goal is to reach 22 million pushups. Going beyond just raising awareness, Mac says the 22Kill nonprofit is channeling all donated funds to sponsor veterans in programs designed to help manage depression, brain injuries, post-traumatic stress and other wounds. Since Jan. 1, the group has raised nearly $300,000. The charity is also organizing a Battle Buddies program. "This isn't another crisis hotline. We're just trying to help connect veterans with another veteran in their area — someone to talk to or vent with," Mac says. Mac says he wishes there had been a program like that back in 2002 when he tried to take his own life. He'd been forced out of the Marine Corps because of a sudden onset of epilepsy. It took 22 stitches, a number not lost on him now, to bind the wound. "I should have bled out," he says. "I'm not super religious, but I felt like there was some higher purpose going on," he says. "Life is worth living. We just have to get the word out." Gonzalez says he's going to keep getting the word out. "I'm going beyond 22 days," he says. "I'm going to keep going, every day. Because this is real."
Vets groups rally behind bill to let VA provide in vitro fertilization (Military.com)
A dozen veterans groups and support organizations are rallying behind legislation that would enable the Veterans Affairs Department to offer in vitro fertilization services to veterans with wounds and injuries prevent them from fathering children. The measure, which has been championed for years by Sen. Patty Murray, a Democrat from Washington, was approved by the Senate Appropriations Committee last month and is now part of the omnibus veterans and military construction bill working its way through the full Senate. Backers want to make sure the legislation passes. … The coalition includes the Disabled American Veterans, Iraq and Afghanistan Veterans of America, Blue Star Families, Military Officers Association of America, National Military Family Association, Paralyzed Veterans of America, The Veterans Health Council, Vietnam Veterans of America, Wounded Warrior Project, Bob Woodruff Foundation, Elizabeth Dole Foundation and the Quality of Life Foundation. In their letter, members note that numerous veterans have experienced pelvic, abdominal, urogenital and spinal cord injuries that left them unable to have children after being attacked by roadside bombs and improvised explosive devices in countries such as Iraq and Afghanistan. Between 2005 and 2010, the Joint Theatre Trauma Registry recorded 1,525 genitourinary injuries, which can impair the physical, reproductive and mental health of the wounded. In 2010, the letter states, 12.7 percent of all battlefield injuries were recorded as relating to the GU system. "This is tragic for many reasons, but especially because, for so many wounded warriors, families are what drives reintegration into civilian life," the groups say. Murray's amendment to the massive Military Construction and Veterans Affairs bill would provide for $88 million — $18 in fiscal 2017 and $70 million in 2018 — for fertility treatments for veterans and their spouses if the veteran has a service-connected condition making it impossible to have children without the use of the treatment. Murray, who has been advocating for IVF and other family services for veterans since at least 2012, said last month she was proud that her amendment came out of the committee with strong bipartisan support. The vote was 23-7 in favor of the amendment. … In previous bills, including one from February 2015 that remains in committee, Murray also pushed for authorization and funding for veterans and families to be assisted with adoption services, third-party donor and surrogacy as options. Murray pulled it from the floor after some Republican lawmakers threatened to insert into it several so-called poison-pill amendments that would doom the entire package when it came to a vote. An official with one veterans group backing the current legislation said the pared down amendment offered by Murray last month is the kind of assistance that most lawmakers can agree on. The veteran's advocate, who spoke on background, said there is always a concern that the other types of assistance would catch strong opposition from more conservative lawmakers, not only in the Senate but in the House when the bill reached there. Some of these same groups that sent the recent letter to senators previously announced support for Murray's provision last month, along with other organizations. These include the Veterans of Foreign Wars, The American Legion, AMVETS, the Service Women's Action Network, American Society for Reproductive Medicine, and RESOLVE — The National Infertility Association. In testimony last year on Murray's original bill, VFW Senior Legislative Associate Carlos Fuentes said the group supported the broad range of options available to veterans and service members in creating their families after a trauma that makes natural conception not possible. Both the Defense Department and the VA, he said, "must have the authority to provide veterans the fertility treatment options that are best suited for their particular circumstances."
How shelter dogs are helping U.S. veterans battle PTSD (Yahoo)
They're called man's (or woman's) best friend, and for good reason. Dogs seem to have the natural ability to feed off human emotions and reciprocate. Through a mutual understanding of things like happiness, fear and empathy, dogs and their caretakers are able to form a bond the way one would with a family member or friend. Clarissa Black has devoted her career to understanding the minds of animals. As an animal trainer with a master's in anthrozoology — the study of interactions between humans and other animals — Black spent years working with elephants and dolphins. But it was a trip to the local Veterans Affairs Hospital with her dog that sparked the idea that would become her passion. Watching how the veterans lit up and responded to her dog, named Bear, Black was inspired to use her skills and resources to start training rescue dogs as a means of therapy for America's veterans, particularly those struggling with post-traumatic stress disorder (PTSD), traumatic brain injury, anxiety and depression. "You could almost feel this weight being lifted off of them, that sort of sigh and that breath, and you could see their smiles," said Black. She started the nonprofit organization Pets for Vets, whose mission was to not only help struggling veterans, but also to give a second chance to shelter dogs around the country, many of whom are destined for an unhappy ending. It's a win-win for people like Casey, a young Navy veteran struggling with PTSD, who has turned his life around thanks to Jazzy, one of the many rescue dogs released to Pets for Vets from an animal shelter. "Without Jazzy, before her, my life was pretty sketchy. But now, I'm pretty social.  I'm not afraid of that many things anymore. The dog did it," said Casey. "It makes me feel better about myself that I'm able to take care of her." Through an extensive matchmaking process, a Pets for Vets team member interviews each veteran to evaluate which animal would be the right fit based on personality and lifestyle. Once the pet is selected, the animal is trained to be obedient and learns skills that will benefit its new owner's condition. With chapters around the country, Pets for Vets is not only helping shelter dogs find the love they deserve, but also it's a way to say thank you to our country's veterans for their service and dedication.
Kerry addresses treatment of veterans during summit (Fort Hood Herald)
After giving the keynote address on April 27 at the University of Texas Vietnam War Summit in Austin, Secretary of State John Kerry sat down with documentary filmmaker Ken Burns to discuss lessons learned in the Vietnam War. Kerry was not only a veteran of the war, but also an outspoken critic of it — even testifying before the Senate in 1971 against America's engagement in the conflict. The three-day Vietnam War Summit, hosted by the LBJ Presidential Library, featured dozens of speakers and panelists with involvement in the Vietnam War, including anti-war activists, musicians, political leaders and veterans. During the summit, Burns asked Kerry what lessons he believes America can glean from the war. Burns is currently working on an 18-hour documentary series about the war, which will air in fall 2017. Kerry spoke candidly during his keynote address, and to Burns, about the foremost lesson from the war being the treatment of returning veterans. "Don't ever confuse the war with the warriors," Kerry said. Kerry has been heavily involved over the years in the process of finding unaccounted veterans of the war, and said in many ways the American people have come a long way in welcoming home their service men and women from wars since Vietnam. However, Kerry said a warm reception is not enough. "We have lots of ways in which we have built into our daily lives a recognition for service … But there are more meaningful things to veterans coming home from war," Kerry said. More support for military families, reduced wait times at Veteran Affairs hospitals and an increase in mental health resources are some of the areas Kerry said need improvement when it comes to the ways veterans are treated and cared for today. Kerry added that he fears the all-volunteer status of our military today has caused a "dangerous separation" in which the population appreciates the service of military members, but perhaps is not willing to sacrifice themselves. "I have deep reservations about just an all-volunteer military," he said. "I think every American ought to find a way to serve, somehow. It doesn't have to be in the military. There are plenty of other things to do, but I rather like the idea that everybody ought to give back something." The second lesson Kerry said came out of the Vietnam War is the need in communication between the government and the people to ensure the "flow of information is as open and free as it ought to be." And lastly, Kerry said Vietnam taught Americans the need to "define our exceptionalism" and broaden perspectives regarding foreign relationships. "So many fundamental assumptions were incorrect in Vietnam because we could only see it through one certain lens," he said.
Vets cautioned to get authorization for Veterans Choice (WXPR)
Ministry Health Care, part of the nationwide Ascension health provider network, announced last month that it is now part of the Veterans' Choice Program where eligible veterans can obtain care from providers that are not part of the Department of Veterans Affairs health care system. "As part of the largest nonprofit health system in the country, we saw an opportunity to help America's veterans gain better access to health care," Dr. Shishir Sheth, regional vice president of Ministry Medical Group said in a March news release. … Area Ministry hospitals participating in the program are: Ministry Saint Mary's Hospital, Rhinelander; Ministry Sacred Heart Hospital, Tomahawk; Ministry Eagle River Memorial Hospital, Eagle River and Howard Young Medical Center, Woodruff. Ministry Medical Group clinics include: Crandon, Eagle River, Laona, Rhinelander and Tomahawk. While the addition of the 27-hospital Ministry/ Ascension statewide health care system presents increased health care opportunities, area veteran service officers and VA officials are reminding veterans that there are several steps that need to be completed before signing into a non-VA facility. "I'm happy to hear Ministry is now an approved facility for the Choice Program but some of the veterans I serve are confused," said Jason Dailey, Oneida County Assistant Veteran Service Officer. Veterans see the commercials and newspaper advertisements and assume that they can make their own appointments, receive treatment and Veterans Affairs pays the bills, he explained. "While nothing being advertised is incorrect," Dailey said. "Our office has been receiving a large number of calls about the advertisements." Dailey said the requirements and process for the Veterans' Choice program or other non-VA health care providers have been established for several years. "Nothing has changed," Dailey said. "If you don't go through the proper channels you will end up with the bill, and you will be responsible for it." "The VA does count the Rhinelander Community-based Outpatient Clinic (CBOC) as a medical location," said Forest County Veteran Service Officer Robb Koplien. "They (veterans) still need to go through the proper channels to get outside care."  Veterans should work with their VA primary care provider first, he recommended. If necessary care cannot be provided locally or if there is more than a 30-day waiting period, the choice program may be an option. "It's up to the VA," Koplien said. "The veteran will get stuck with the bill if he or she goes to a non-VA facility without approval." If the veteran's local VA provider cannot provide the care, VA will send an authorization to HealthNet, a nationwide managed care organization that administers health benefits for veterans and other recipients of government-based health care programs, who will then contact the Veteran to set up an appointment. "We recommend that veterans talk to their VA primary care provider before anyone else because this is going to be the first step in getting setup to use the Choice Program," Koplien said. Even with the addition of the Ministry health care system into the Choice Program, veterans must still meet eligibility requirements, explained Brad Nelson, Oscar G. Johnson Medical Center public affairs officer. There have been no changes to policies set by the Veterans Access, Choice and Accountability Act of 2014. Veterans and their families can learn more about the Veterans Choice program by talking with their VA health care provider, calling the program at 866-606-8198, visiting the website, www.va.gov/opa/choiceact/.
OIG finds information security issues with VA audit logs (HealthIT Security)
According to a recent VA Office of Inspector General (OIG) report, the Veterans Benefits Administration neglected to implement appropriate audit logs that would identify information security violations in the Veterans Benefits Management System (VBMS). Last month, OIG was notified by an anonymous entity that the Veterans Benefits Administration had not integrated proper audit logs in the VBMS, a claims processing system. Upon investigation, OIG found officials at the Veterans Benefits Administration failed to establish satisfactory system requirements in the VBMS that would ensure that accurate audit logs were created. Without accurate audit logs, Information Security Officers could not effectively identify, report, and react to data security issues in the VBMS, OIG pointed out. The organization also could not detect if an employee improperly processed a claim. OIG discovered that the VBMS was not compliant with audit log procedures and regulations after testing the functionality at two facilities in Texas and one in Washington. Seventeen VA Regional Office employees were tasked with inappropriately accessing the same-station veteran employee compensation claims in VBMS and Information Security Officers were asked to review the audit logs. "The audit logs available to ISOs after our testing did not show that the security violations occurred within VBMS," explained OIG. "The audit logs identified security violations for 15 of the 17 employees who accessed same-station veteran employee claims through VBMS. However, the audit logs indicated that the violations occurred in Share or an unknown system." In addition, the audit logs did not track the actions of two out of the 17 employees. … OIG disclosed that the security vulnerability occurred because the Office of Business Process Integration did not create system requirements in VBMS to assure audit logs could accurately pinpoint security violations. It assumed that audit log functionality was already built into the VBMS as it was for legacy claims processing systems. However, the Veterans Benefits Administration is required by several regulations to ensure audit logs are functional and accurate. … The VA has already stated that it needs to improve its healthcare data security measures, so having accurate audit logs will likely only help further that goal.
Veteran says Ecstasy helped him combat PTSD (Fox News)
The triggers for post-traumatic stress disorder (PTSD) can appear in unexpected places. For James, 24, who asked that we withhold his last name for his family's privacy, fireworks make him visualize grizzly images of mangled bodies.. James served as a combat medic in Afghanistan from March 2011-2012 with the 710th Combat Support Battalion, 3rd Brigade Combat Team, 10th Mountain Division. James said that during his deployment he had to sever the connection between his heart and head in order to be able to process images of soldiers' and children's bodies blown mangled by explosions. "When I came back, I couldn't reestablish that connection," James told FoxNews.com. He described himself as "emotionally numb." He knew that he loved his wife and his parents but he couldn't feel it anymore. He became unpredictable and was unable to control his emotions. … James tried both traditional and non-traditional forms of therapy offered by the U.S. Department of Veterans Affairs (VA). He tried medications, psychotherapy and an intensive form of group therapy that lasted for seven hours per day, five days per week for three months. He also tried hypnosis, electrotherapy and prolonged exposure therapy but nothing alleviated his symptoms. It wasn't until he moved to Colorado for school did he learn about an experimental study using MDMA, commonly known as Ecstasy or Molly, as a psychotherapy tool. The well-known club drug had been used in psychotherapy before it was deemed a Class 1 drug in 1985. Class 1 drugs are illegal because they have high abuse potential, no medical use and severe safety concerns. Also listed as Class 1 drugs are Heroin, cocaine and marijuana. Some of the effects MDMA can have on a person include euphoria and a feeling of overwhelming love. Dr. Elizabeth Drew, a board-certified family physician who specializes in addiction medicine and is the medical director of Summit Behavior Health, told FoxNews.com that if a trained therapist can harness these emotions correctly, they can help the patient navigate through the trauma that causes their PTSD. … James compared MDMA to a light in a dark cave when fighting PTSD. "It gives you euphoria and love. You can go into the darkness and not be afraid," he said, referring to addressing the trauma of war. James said that the drug made it possible for him to confront the demons that were in the recesses of his brain. His relationships with his family and their dog evolved and improved. However, MDMA is a controversial approach in treating PTSD, as it does have the potential to be deadly. In February, a Los Angeles County coroner determined that an Ecstasy overdose caused the death of an 18-year-old UCLA student at a rave. The teen, identified as Tracy Nguyen by the Los Angeles Times, isn't the first overdose victim and likely won't be the last. "The way they are used in clubs is not safe," Lewis Nelson, a toxicology specialist at NYU Langone, told FoxNews.com. He said that the dangers posed from MDMA are twofold; one is the harm caused from chronic use of the drug, and the other is the immediate threats to your health. If used chronically, Nelson said that studies have shown that it can lead to neurotoxicity in animals. The National Institute on Drug Abuse said that studies on monkeys show that long-term use of Ecstasy can alter brain chemistry, specifically serotonin levels and its metabolites are diminished. The immediate danger of MDMA, according to Dr. Nelson, is that the sudden increase of serotonin levels can raise the body temperature and cause muscle rigidity. When people use the drug in a club setting, they can overheat and potentially die from hyperthermia. But what about taking it on the couch of a medical professional? Nelson said the health risks are low, but there should be trials to see if the benefits of the drug outweigh the risks. James said that he wants to help take the stigma out of the drug so that is can be explored as a useful psychotherapy tool. If officials are able to find that MDMA does have health benefits, it could become a Class 2 drug like methadone and Percocet.
Veteran overdoses, dies at Milwaukee VA Medical Center (WISN)
A Wisconsin Army Ranger becomes the casualty of another kind of war — the state's heroin crisis. He overdosed in the rehab center at the Milwaukee VA Medical Center. Army Ranger Cole Schuler was a resident at the Milwaukee VA's domiciliary last fall. He was getting treatment for addiction when his roommate found him dead in his room. "He was a go-getter. He excelled in almost everything that he did," Schuler's sister, Adrea Allgeyer said. Schuler, 26, rose to the ranks of the Army Rangers. He went to the VA Medical Center in Milwaukee to fight his personal war with heroin. His family never expected he would overdose there. "'How could this happen?" What are you talking about?' I thought he was at the VA, and we thought he was in a safe place," Cole's mother, Robin Schuler, said. The medical examiner's report said Schuler got the heroin from a fellow patient. "They failed him. The system failed him," Robin Schuler said. The Schulers demanded answers. The VA called his death a tragic accident but said because its addiction treatment program is voluntary, it can't police patients. "It would be impossible to pat down everybody and to do a body cavity search. It would be an invasion of their privacy," said Gary Kunich of Zablocki VA. The VA has stepped up security measures, instituting daily medication and contraband checks, increasing patrols and ID checks and bringing in a drug-sniffing dog. "It destroys me inside," veteran Richard Herek said. Schuler's death hit home at Dryhootch, the veterans organization across from the VA. "If they're in a place, such as a domiciliary, and they're still able to gain access to these things, it puts a black spot on the health care system as a whole," Herek said. Veteran Will Davis is in the same opioid treatment program and has seen the changes since Schuler's death. "They actually come in the rooms, and they check up on you three to four times a day now just to physically see you to make sure you're alive breathing," Davis said. But Davis doesn't blame the VA, he blames the addiction. "If they want it, there's nothing that's going to stop them from getting it, ever," Davis said. Schuler's death prompted a federal investigation. His family contacted U.S. Sen. Tammy Baldwin who said she received complaints about VA residential treatment facilities around the country for up to a year before Schuler's death, pushing investigators to take a look for themselves. "After the investigative team itself was able to enter the facility without being stopped or questioned about who they were, that was obviously, I think pretty shocking to the investigative team themselves," U.S. Sen. Tammy Baldwin said. Baldwin had come under fire last year for not acting fast enough after her office received complaints about the overprescribing of opiates at the Tomah VA.
VA inspector's report: Thousands of dermatology appointments canceled at Fayetteville VA (FayObserver)
The Fayetteville VA canceled nearly 2,000 dermatology appointments and more than 3,000 consults during a two-year span ending in 2012. The cancellations are the subject of an investigation released Tuesday by the Department of Veterans Affairs Office of Inspector General. The OIG report reviewed allegations that the appointments and consults were improperly canceled at the direction of Fayetteville VA leaders. While confirming the cancellations took place, and that some patients received long delays in care, investigators did not substantiate the claims against local VA leadership. "While we found lapses in documentation and follow-up in some cases, it did not appear to us that facility leadership played a substantive role in the events discussed in this report," the OIG concluded. The investigation was spurred by an anonymous complaint, alleging nearly 1,400 dermatology appointments were destroyed and called in 2011 and 2012, without regard for whether patients required care. Investigators found that 1,993 such appointments were actually canceled, according to the report. A review of nearly 350 randomly selected patient records found most of the patients were seen at a later date. "However, more than 30 percent of the rescheduled patients waited more than three months to be seen by dermatology providers, and some waited more than one year," according to the report. There is no evidence that 45 patients received any dermatological care after their cancellations. Investigators also found that 3,272 dermatology consults were canceled in the same time period. A review of 299 randomly selected patient records found that 65 percent of the 253 patients who still required appointments, but that those who did had an average wait of about 13 months. Investigators said there was no evidence that 89 patients received a dermatologic evaluation or care after their consults were canceled. The report found no evidence the cancellations negatively impacted diagnoses or treatment plans, but investigators recommended that Fayetteville leaders follow up on the 143 patients who records indicate did not receive care after their appointments were canceled. In response to the investigation, Fayetteville VA Director Elizabeth Goolsby said that clinical reviews were completed by nurses on all cancelled appointments and consults. "If there was a question about a patient situation, a physician was available for consultation," Goolsby wrote. She said officials will re-review each case. As part of the OIG investigation, officials examined more recent medical records. "We found that processes had improved," the report states. According to the OIG report, the long delays between 2011 and 2012 were caused by a shortage of dermatologists in the Fayetteville VA system, which provides care to more than 200,000 veterans in 21 counties in North and South Carolina. From 2010 to 2013, the Fayetteville VA provided dermatology care through a contractual arrangement with the University of North Carolina and a tele-dermatology agreement with the Durham VA. The report notes "challenges in attracting dermatologists to the Fayetteville area," and said officials currently "rely heavily on tele-dermatology through VA medical centers located in Richmond, Virginia, and the Bronx, New York."
Service awards for Guam veterans to be reviewed (Pacific Daily News)
Seven soldiers from Guam were declared war heroes for their actions during the Vietnam War, earning the Distinguished Service Cross — the Army's second highest award — for their bravery. Among them are Joseph Perez, who threw himself on a hand grenade, absorbing the explosion to spare nearby soldiers. Tomas Reyes received the medal posthumously. He was killed while charging through hails of bullets to rescue a fallen soldier and destroy enemy bunkers. Some of those Guam soldiers should have received the Medal of Honor, but were victims of racial discrimination, according to supporters of a measure by Guam Delegate Madeleine Bordallo, which would require the military to review the medals awarded to Asian-American and Pacific Island service members. A provision was recently added to the National Defense Authorization Act that directs the Department of Defense to review the cases of Asian-Americans and Pacific Islanders who earned the Distinguished Service Cross, Air Force Cross and Navy Cross during the Korean and Vietnam Wars to determine if their heroic acts merit an upgrade. Bordallo said while there are no guarantees the individual awards will be upgraded to Medals of Honor, the push for a review is "an important step for ensuring Asian-Americans and Pacific Islanders are appropriately recognized for their service." The House Armed Services Committee last week passed the Act for Fiscal Year 2017. The provision had full bipartisan support of the committee, according to Bordallo's office. The House of Representatives is expected to consider the full bill before the end of May. The provision, if approved, requires the Secretary of the Army to review the cases within one year of the legislation's enactment. Col. Joaquin Danny Santos, a veteran advocate and retired marine who has been working closely with Bordallo on the issue, said racial discrimination prevented the Guam veterans from receiving the nation's highest honor. "What these seven Chamorros did in Vietnam… they shed their blood. They're no different from the blood of others," he said. "We protect and defend the Constitution. We should be treated equally, not selectively." Five of the seven Vietnam veterans whose cases could be reviewed are now deceased, including one who received his award posthumously during the war. The remaining two veterans — Martin Manglona, director of the Guam Veterans Affairs Office, and Sgt. Maj. Juan Blaz — attended a press conference held at Bordallo's office Wednesday to discuss the issue. Blaz said being awarded the Medal of Honor would reverse the discrimination he feels is at the core of the issue. He said the award would ensure that justice is served.
Kayla Williams joins VA as Women Veterans Center Director (ExecutiveGov)
Kayla Williams, formerly project associate at nonprofit public policy think tank Rand Corp., has been named director of the center for women veterans at the Department of Veterans Affairs. VA said Tuesday Williams will serve as primary adviser to VA Secretary Robert McDonald on programs, policies and legislation that concern female veterans. Congress formed the center in 1994 in an effort to coordinate and manage the delivery of healthcare benefits and other services that VA offers to retired servicewomen. "Kayla embodies everything it means to be a true advocate for women veterans and I am proud to welcome her to VA in this leadership role," said McDonald. "This is an important time for VA as we prepare for the growing number of women we expect to take advantage of the VA services they have earned." Williams spent eight years at Rand Corp., where she conducted research on health, benefits, intelligence policy and international security that affect veterans and uniformed personnel. She is a recipient of the 2015 Lincoln Award and a member of the Army education advisory committee. Williams, who authored two books, previously served as an Arabic linguist at the Army and McNeil Technologies.