June 9 Veterans News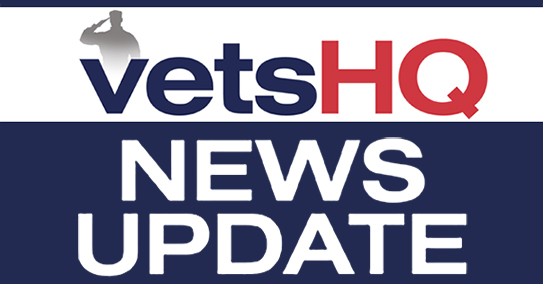 Isakson, Blumenthal introduce bill to increase benefits to veterans (veterans.senate.gov)
U.S. Senators Johnny Isakson, R-Ga., and Richard Blumenthal, D-Conn., chairman and ranking member of the Senate Committee on Veterans' Affairs, respectively, today introduced the Veterans' Compensation Cost-of-Living Adjustment Act of 2016 (S.3032), bipartisan legislation to increase veterans' disability benefits from the Department of Veterans Affairs (VA). "Our veterans put their lives on the line for our country, and our job is to make sure they get the benefits they earned and deserve," said Isakson.  "As chairman of the Senate Committee on Veterans' Affairs, I'm proud to introduce this bill to increase veterans' benefits in keeping with rising costs of living." "This critical legislation keeps faith with our men and women in uniform who were injured during their service to our country," said Blumenthal. "Escalating living expenses are painfully squeezing veterans who rely on disability payments, and this bill would ensure their compensation keeps pace with rising costs. It is our duty to provide veterans and their families the support they need to live with the dignity they deserve." The bill, which was co-sponsored by every member of the Senate VA committee, would increase the rates of VA disability compensation, dependency compensation for surviving children and spouses, and the clothing allowance for veterans based on rising costs of living. This cost-of-living adjustment, which is equal to the amount of the adjustment given to Social Security recipients, is determined by the Bureau of Labor Statistics' Consumer Price Index on a yearly basis. The cost-of-living adjustment for veterans would go into effect on December 1, 2016. The original co-sponsors of the Veterans' Compensation Cost-of-Living Adjustment Act of 2016 are Sens. Jerry Moran, R-Kan., John Boozman, R-Ark., Dean Heller, R-Nev., Bill Cassidy, R-La., Mike Rounds, R-S.D., Thom Tillis, R-N.C., Dan Sullivan, R-Alaska, Patty Murray, D-Wash., Bernie Sanders, I-Vt., Sherrod Brown, D-Ohio, Jon Tester, D-Mont., Mazie Hirono, D-Hawaii, and Joe Manchin, D-W.V.
Senate accepts Gary Peters' plan to help traumatized vets (MilitaryTimes)
A proposal by Sen. Gary Peters, D-Mich., to help make sure traumatized troops retain their veterans benefits passed the Senate on a voice vote Tuesday. Peters, along with several other senators, had requested the measure as an addition to the annual National Defense Authorization Act. If it is part of the final law at passage, it would write into law a policy that Discharge Review Boards consider petitions to change the discharge status of service members if they suffer from post-traumatic stress disorder or other mental trauma linked to their military service. "This amendment will help ensure veterans are treated fairly when petitioning their discharge status, and in turn, upholds America's commitment to our men and women in uniform, who answered the call of duty in defense of our nation," said Peters, a former lieutenant commander in the Navy Reserve. Other senators proposing the amendment were Steve Daines, R-Mont.; Kirsten Gillibrand, D-N.Y.; and Thom Tillis, R-N.C. The measure now will be considered as part of the overall defense authorization act, which still has to be passed by the Senate before differences are hammered out between its version and that passed by the House. Peters also proposed the measure last year as a way to make sure traumatized veterans who were dishonorably discharged for minor infractions can effectively petition the military to change their status and keep their veterans benefits. Being dishonorably discharged can cost service members benefits such as being eligible for Department of Veterans Affairs home loans. Former Defense Secretary Chuck Hagel in 2014 issued a memo to military records boards to provide for a consistent manner of dealing with veterans' discharge upgrade requests related to PTSD. This change from Peters and the others would effectively codify that memo.
DoD signals support for online shopping benefit for veterans (MilitaryTimes)
Defense officials appear to support expanding online exchange shopping benefits to all honorably discharged veterans, according to a report recently sent to Congress. "A new source of revenue that could increase contributions to [Morale, Welfare and Recreation] and other quality of life programs is the expansion of the online shopping benefit to honorably discharged veterans," stated the report, which detailed ways to reduce the amount of taxpayer dollars used to support the entire defense resale system. The benefit would apply only to online shopping, not to the stores operated on bases. DoD has considered the idea for two years, and its future was unclear. But the report indicates a clearly favored approach. The three exchange systems are developing the Veterans Online Shopping Benefit initiative, according to the report. "This initiative is being spearheaded by [the Defense Resale Business Optimization Board] and requires a policy change with respect to the Departments' patronage tables," the report stated. The change doesn't require a change in law. "Expansion of the online benefit is a low-risk, low-cost opportunity that requires no [taxpayer funding] from the exchange system and can generate meaningful incremental sales and earnings for the entire military community," officials stated. A DoD spokesman said in late May that officials identified some extra information needed for the proposal, and declined to comment on "pre-decisional" recommendations. The DoD report to Congress was required by law last year, to look for ways to save money in the operation of commissaries and exchanges while preserving the quality of life benefits — savings, services, convenience and dividends to morale, welfare and recreation programs. Army & Air Force Exchange Service CEO Tom Shull proposed the idea two years ago to Defense Department officials to expand the online shopping benefit, noting that it would provide a modest benefit to those who had served but left the military short of retirement, losing their exchange shopping benefits. DoD officials now appear to agree with Shull's proposal. "By extending this privilege to the nearly 18 million living veterans who have contributed to the defense of our nation, the exchange systems will continue to honor their service while enhancing the quality of life benefits of our current service members and their families," the DoD report noted. "Revenues from online sales would contribute to the earnings that go directly toward supporting MWR programs in support of the greater military community. "Even with only modest adoption by the veteran community, the exchange system could realize meaningful additional annual dividend contributions," according to the report. Meanwhile, AAFES officials have been upgrading their ShopMyExchange.com shopping site, and are scaling up their distribution centers to handle the increased volume if more veterans are allowed to shop.
Workshop helps female veterans transition into civilian careers (Fay Observer)
In the coming months, these female soldiers at Fort Bragg will leave behind their uniforms to take on new jobs in the civilian world. "It's bittersweet," said Meghan Lyon, who has been a military police officer for the past seven years. "It's overwhelming and exciting." She was among about 50 women from Fort Bragg who participated Wednesday in Operation Reinvent, a nonprofit organization specializing in helping female veterans transition into civilian careers. The workshop helps women gain confidence, polish their resumes and learn to dress professionally. This year, the workshop was held over a webcast so a group from Fort Campbell, Kentucky, also could participate. Another workshop will be held at the Soldier Support Center on Fort Bragg today. The workshop connected the women directly to experts in human resources, workforce initiatives and job interviewing. Lyon, whose job is dominated by males, said she appreciated the workshop was targeted for women. "To be in a room full of women going through the same experience, it's awesome," she said. Lyon joined the military after she graduated from high school in Virginia. All she's ever known has been working as a military police officer, she said. The workshop eased her fears that she would be embarking on a career without vast experience. "Everyone starts somewhere," she said. "These women gave me a whole new outlook." Before Lyon jumps into a civilian law enforcement career, she said she wants to explore other fields. "There's so many opportunities," she said. "This is all I've done since I came out of high school. I want to have other experiences." Julie Lewit-Nirenberg, founder of Operation Reinvent, said the U.S. Department of Labor found female veterans have a higher unemployment rate than male veterans. The workshop helps women prepare as they transition out of the military, she said. "The transition process is fraught with uncertainty, elation, joy and scariness," Lewit-Nirenberg said. "So what we are providing is the tool box. It's up to the women to take the tools and use them."
Golf course designed by Jack Nicklaus for wounded and disabled veterans (Seattle Times)
The coolest golf course in the Pacific Northwest isn't Chambers Bay or the Home Course. It won't host a major or become a "must play" for bucket-listers, either. It does, however, offer one of the most incredible sights in golf, and we're not talking about an ocean view. No, we're talking about the people. Welcome to American Lake Veterans Golf Course in Tacoma — the only golf course in the nation designed specifically for the rehabilitation of wounded and disabled veterans. Nowhere else in the U.S. will you find 18 holes set up for those who lost arms, legs, or whatever else fighting for their country. The course, which opened in 1957, has helped countless vets find sanctuary while inspiring hundreds of volunteers. Among those giving their time? Jack Nicklaus, the best to ever play the game. You see, 15 years ago, Nicklaus' friend Ken Still — a three-time PGA Tour winner from Tacoma — joined the board at American Lake. He said that the instant he saw the golfers playing he knew he wanted to be a part of it. And one night during a meeting, the board concluded that it should add nine holes to the nine-hole course, which would require a designer. "Does anybody have a way to get in touch with Nicklaus?" a board member asked. Well, whaddyaknow — Still had his number. "Jack never answers his private number, but he did this time," Still said. "I said 'Jack, I need you involved.' And within about 10 seconds he said, 'Count me in.' " What Still pitched in those 10 seconds was for Nicklaus to design nine holes pro bono. And without hesitation, the Golden Bear signed on, offering about $500,000 worth of services for free. Since then, Nicklaus has visited American Lake several times to check on its progress. And Saturday, it became the 400th Nicklaus-designed course to open worldwide. Jack couldn't be there for the ribbon-cutting because he is hosting the Memorial Tournament in Ohio. Had he been, though, he would have seen the commencement of what may be his most noble work to date. Still, who hit the opening tee shot in his place, admits he never thought he'd live to see the day American Lake became an 18-hole course. Now, he wants as many wounded veterans as possible to enjoy it. "They dedicated their lives to save us, so why can't we give something back to them?" Still said. "When I brought Jack aboard, something like this was in my dreams, and now here it is." JoAnn Tatum Hattner had 18 holes in her dreams, too. Her father, Joe Tatum, was the principal player in setting up the nine-hole course 60 years ago, and Hattner is assured he would have been proud of what's transpired since. Holding back tears, Hattner spoke to the cathartic value American Lake can have for the golfers who use it — a value that may have doubled with these extra nine holes. "It's therapy that is indescribable until you're actually involved in it," Hattner said. "Like my dad said, sometimes that (golf) is what you use to break through and start to begin therapy." Part of the American Lake magic is that it is entirely-volunteer run. Whether it's the starter or the 18-time major title winner, none of the 160 people involved is on the payroll. There isn't a golf operation quite like this — but hopefully there will be soon. Since Still already saw one dream come to fruition, maybe there's time for him to see another one. If he had it his way, American Lake will inspire courses like it to pop up all over the country. In two separate interviews, Still mentioned the high suicide rate among veterans, then emphasized how warmly they are received out there on the course. "I'm telling you, anyone who comes out here will think they're in heaven," Still said. Yeah, what makes American Lake the coolest golf course around is because there nothing else quite like it. Would be a whole lot cooler if there were.
Reno VA Medical Center offers free Hep. C blood tests for veterans (KOLO8)
Hepatitis C has been called the silent killer. Most patients don't know they have the virus for decades until the disease starts doing major damage to the liver. Those most at risk had a blood transfusion before 1992 or were born between 1945 and 1965. The Veterans Medical Center in Reno is showing great results with treatment and soon will be offering free blood tests for Veterans to see if they have Hepatitis C. "Take it from me, the old treatments are terrible, the new treatments are extremely good," says George Dilger, a veteran living in northern Nevada. That was his reaction to the Hepatitis C treatment he received at the Veteran's Hospital in Reno. Easy because he had undergone, unsuccessfully, interferon treatments for his Hepatitis–which he contracted in Viet Nam after a mortar shell injury where he required a blood transfusion. "The treatment was 12 weeks, and again I still look back at that and think how lucky I was to have been put into the treatment," says Dilger. "They are ecstatic, everyone. It's just a feeling for gratitude, they feel like a weight has been lifted off their chest. It is just amazing to tell someone you are cured of a deadly disease," says Kim Jacques, a VA Clinical Pharmacy Specialist who works with infectious disease patients, including those treated for Hepatitis C. The program uses medications that eliminate the virus from the body completely in most cases. "It is amazing to cure a person of a deadly disease with a simple pill. There is nothing like it in medicine," says Dr. Charles Krasner, an infectious disease specialist with the VA Medical Center in Reno. The VA Medical System is the largest treatment provider of Hepatitis C in the country. The system has been involved in the testing of effective Hepatitis C medications for several years. And now with additional financing and competition, they can treat six patients for what it costs to treat four. An initial blood test is needed to see if you have the disease–more blood work may be needed to confirm the diagnosis. However, if the test is positive, veterans can qualify for treatment that so far in Reno has cured 167 patients. Veterans can get a free blood test to detect Hepatitis C every Friday this summer at the VA Medical Center in Reno, beginning June 10, from 9:00-11:00 am in the primary care area of the hospital. Technicians will draw blood which will determine if the patient has Hepatitis C. Those initial results will be available in 20 minutes.
Homeless women veterans getting a house in Cleveland, OH, neighborhood (Cleveland.com)
Kristi Copez can appreciate what it means to be a homeless veteran, after spending some time in Cleveland area shelters and "couch-surfacing" with friends and relatives after her discharge from the Navy in 1982. She also can appreciate the kind of opportunity offered in a new transitional home for homeless women vets that was recently completed and will open in September in Garfield Heights. The four-bedroom refurbished house is a combined project of Women of Hope, Inc., a local nonprofit support group for homeless women vets (of which Copez is a board member), and the Cuyahoga Land Bank. The house will provide a home for six women, for a maximum of two years, where they will receive counseling, mentoring, job search and education support services, and life-skills training. "It's a way to get healing on such a practical level," Copez said. Women of Hope is a nonprofit group created five years ago by Sheila Locatelli to provide safe, supportive housing for homeless women vets, and help them achieve economic self-sufficiency. The group has been offering a program, "Strengthening the Inner Me," for women served by the domiciliary at the Louis Stokes Cleveland Veterans Affairs (VA) Medical Center's Wade Park Campus, which offers educational and employment/vocational programs, medical services, housing assistance and behavioral therapy to about 50 homeless women vets that it serves each year. Some 15 of the 122 domiciliary's beds are used by homeless women veterans — a demographic representing an estimated 10 percent of homeless veterans nationally. The Cleveland VA treated 8,713 female veterans in 2015. Locatelli said residents for the house will be drawn from the domiciliary and other area shelters housing women veterans. She noted that the house is "a step closer to being independent, being on your own. There's more of a community going on here than at the domiciliary." The project started when a foreclosed and abandoned house was sold to the group by the Cuyahoga Land Bank for $1. Renovations by a group of more than 33 volunteers started just over a year ago.