July 11 Veterans News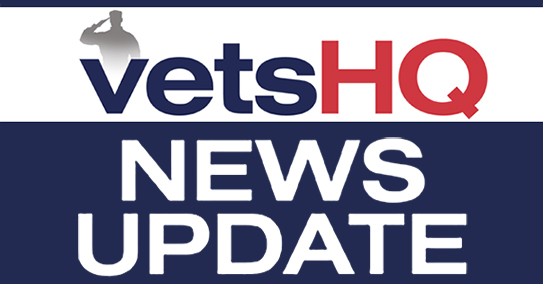 VA disability backlog tops 70,000 — 7 months after it was supposed to be zero (MilitaryTimes)
More than 70,000 veterans disability claims are currently backlogged in Veterans Affairs processing centers, seven months after department officials missed their public goal of getting the number down to zero. VA Acting Under Secretary for Benefits Thomas Murphy said that figure includes a substantial number of claims left open longer than four months intentionally to ensure veterans are receiving all of the payouts they deserve. But he acknowledged his agency needs to drive that number down further. "This is still a continuous improvement process for us," he said. "We are not satisfied with the number now, and we won't be satisfied until we are much closer to zero." Roughly one in five benefits claims submitted to the Veterans Benefits Administration ends up taking longer than four months to process, the department's long-held promise for processing the cases. That does not include appeals cases, which follow a different process and often take years to resolve. That ratio and the total number of backlogged cases have remained steady since last fall, when department officials announced they would not reach the goal of zeroing out the backlog by the end of 2015. The goal of eliminating the backlog was announced by President Barack Obama and VA leaders in 2009, part of an ambitious push for service improvements. As recently as three years ago, the backlog total topped 610,000 cases, causing an outcry from veterans and lawmakers frustrated with waits in some instances topping a year. New electronic records systems and mandatory overtime for claims processors drew down the backlog by almost 90 percent over two years, but pulling it down even further has proven difficult. Murphy said three years of mandatory overtime for processors ended in December, although voluntary overtime hours are still being used to keep daily workloads at between 4,500 and 5,200 cases a day. The department also recently launched a new national work queue which allows employees across the country to help regional offices seeing spikes in filings, electronically moving that extra work across state lines to more quickly process the case load. But department officials expect another record-breaking year for case filings in fiscal 2016, adding to the workload despite the processing improvements. "That's the new norm for us," Murphy said. "We're dealing with a volume and complexity of cases that's growing every year." In the late 1990s, most veterans applying for claims received a disability rating around 30 percent. Today that number is close to 50 percent, reflecting the expanding list of illnesses and injuries eligible for compensation. The number of veterans receiving some form of disability compensation from VA rose from 2.3 million in 2001 to around 4.2 million last year. At least part of the remaining backlog is attributable to cases where veterans update their claim late in the process with new medical information or conditions, requiring extra processing time. Murphy could not give a specific breakdown, but said he believes a substantial amount of the roughly 70,000 remaining cases fall into that category of veterans who need more than 125 days to have their cases properly handled. Still, he said, "our challenge is to identify why some other [cases] do not finish in 125 days, and how do we address that."
Opinion: The VA's strained relationship with the truth (The Denver Post)
Rep. Jeff Miller, R-Florida: The Department of Veterans Affairs has had a lot to say in recent years regarding its failed attempts at building VA hospitals. But the key question is whether VA officials' construction-related pronouncements are to be believed. When it comes to the VA's long and troubled history with major construction projects, American veterans and taxpayers deserve the truth, which it seems VA leaders are not providing. During a recent visit to the site of the VA hospital in Aurora — the biggest construction failure in VA history — Deputy Secretary Sloan Gibson claimed he had planned to fire one VA employee for bungling the project, which is more than $1 billion over budget. According to Gibson, however, the employee in question retired before the firing commenced. It's quite odd that this seemingly crucial detail is only surfacing now — nearly a year and a half after the project imploded in December 2014. So the House Committee on Veterans' Affairs has asked the VA to provide the proof backing up Gibson's claim, which — given the department's history of misleading statements regarding a range of construction issues — is entirely warranted. After all, it wasn't that long ago when VA Secretary Bob McDonald, speaking at an April event in Colorado, attempted to take credit for reforms to the VA's construction process in the wake of the Aurora construction debacle. In reality, the changes were actually forced on VA by Congress after years of claims from department officials that the project was on track and on budget. But these sorts of bizarre claims are par for the course at the VA, such as when, in the aftermath of the Aurora project's implosion, Gibson called VA's construction management process "pretty good." It was one of the most out-of-touch statements from any VA leader in recent memory, but it was one of many. For instance, VA officials have often touted the "lessons learned" from construction of the department's embattled facility in Orlando, Fla., as key to avoiding similar problems with other projects. "The lessons learned from Orlando and past major construction projects are guiding us in our management of the Denver and New Orleans replacement hospitals," former VA Construction Chief Glenn Haggstrom said in May of 2013. But, contrary to Haggstrom's claim, the only thing VA appears to have learned from Orlando is how to generate hundreds of millions in cost overruns at VA hospitals in Aurora and New Orleans, a facility whose $1 billion-plus cost makes it the second-most expensive hospital in VA history. The Orlando facility was originally slated to cost around $276 million, but the hospital's price tag had grown to roughly $665 million when it opened in May of 2015. To make matters worse, the VA is still learning painful lessons in Orlando its leaders never told the public about. Last year, just months after the hospital had opened, the VA quietly agreed to a series of settlement payments totaling nearly $213 million to the contractor it had hired to build the facility — the same contractor it had previously blamed for many of the project's problems. Instead of telling Congress and the public about the payments, however, the VA tried to keep them a secret. And if not for a New York Daily News investigation, they would have stayed that way. The payments brought the Orlando facility's price tag, which VA officials had led the public to believe was around $665 million, to a whopping $878 million. And so it goes at the VA, where dishonesty among employees is routinely tolerated, and veterans and taxpayers are forced to deal with the consequences. Whether it's construction, patient wait-times, health care enrollment and eligibility or any number of other areas, the VA has a long history of misleading the public regarding its mismanagement of important programs. The only way to fix these problems once and for all is for department leaders to be honest about the challenges the VA faces and what is needed to overcome them. But how can we expect that to happen when the VA's leaders have such a strained relationship with the truth?
Trump focuses on changes in programs for military veterans (PBS)
Republican Donald Trump will deliver a speech on veterans' issues Monday, his latest in a series of prepared remarks aimed at articulating his policy agenda and convincing still-reticent Republicans that he has the discipline and control to mount a credible general election bid against likely rival Hillary Clinton. Trump's 10-point plan, aimed at improving veterans' care, will include allowing veterans to seek government-funded private medical care. "We made a promise to these heroes. You defend America, and America will defend you," Trump is expected to say in the speech, according to excerpts provided by his campaign. Trump also is expected, for the first time since he released a scripted video on Friday, to address the killing of five police officers in Dallas during a protest against a pair of recent police shootings. "America's police and law enforcement personnel are what separates civilization from total chaos — and the destruction of our country as we know it," he said in prepared remarks. "It is time for the hostility against our police, and against all members of law enforcement, to end – and to end right now." But he is also expected to discuss the two black men killed by police in Louisiana and Minnesota, making the case that more work needs to be done "to ensure every American feels that their safety is protected." Helping veterans has long been a staple of Trump's campaign. He is also expected to hammer the Obama administration for the 2014 Veterans Affairs scandal over long wait times for veterans seeking medical care and falsified records by VA employees to cover up the delays. "The VA scandals that have occurred on this administration's watch are widespread and inexcusable," he is expected to say. "Fixing this corruption will be one of my highest priorities." The presumptive GOP nominee will be speaking in Virginia Beach, Virginia, not far from the USS Wisconsin in Norfolk, where he first unveiled his plan to reform the Department of Veterans Affairs last October. Then he promised to modernize the system, minimize wait times for patients and improve care. "The current state of the Department of Veterans Affairs is absolutely unacceptable," read the plan that Trump unveiled last fall. "The guiding principle of the Trump plan is ensuring veterans have convenient access to the best quality care." Under the plan he unveiled then, eligible veterans would be able to bring their veterans' identification cards to any private doctor or facility that accepts Medicare and be able to receive immediate treatment. The change, he argued, would help improve wait times and services by adding competition. The proposal sounded similar to the Veterans Choice program, a centerpiece of the 2014 VA overhaul, which provides veterans access to federally-paid medical care from local, non-VA doctors — but only if they've waited at least 30 days for a VA appointment or live at least 40 miles away from a VA medical center. A congressional commission report released last week recommended replacing the program with a new, nationwide community care network that would be open to all veterans, regardless of how long they have waited for care or where they live. Trump is expected to continue making the case for veterans to use any doctor they choose, including those outside VA centers. "Veterans should be guaranteed the right to choose their doctor and clinics, whether at a VA facility or at a private medical center," he is expected to say. He will also continue to push for improved mental health services and new efforts to help veterans find jobs when they return home. His 10 steps will include overhauling current visa programs "to ensure American Veterans are in the front, not back, of the line." He will also pledge to discipline federal workers who abuse the system and appoint a commission to investigate the VA and present its findings to Congress. It is unclear how that commission would be different from the one that unveiled its findings last week. Trump has been working to repair his relationship with veterans since he suggested early in his campaign that Sen. John McCain was not a war hero because he was captured during the Vietnam war. Trump also raised eyebrows earlier this year when he failed to immediately disclose which veterans' charities he'd given money to following a fundraiser he'd held in place of a GOP debate. In the plan announced last fall, Trump had broken with some Republicans who'd called for privatizing the VA in the wake of the 2014 scandal. "Some candidates want to get rid of it, but our veterans need the VA to be there for them and their families," Trump said then.
Congresswoman forced to vacate key veterans affairs post amid scandal (MilitaryTimes)
The top Democrat on the House Veterans Affairs Committee stepped down from that post on Friday, just a day after being indicted in an alleged charity fraud scheme. Rep. Corrine Brown, D-Fla., said in a statement late Friday that the move is temporary while she works to "vigorously defend myself in court against these politically motivated allegations." House rules require any committee chairman or ranking member to temporarily step aside from leadership posts if they are indicted in connection with alleged crimes. Brown and her chief of staff pleaded not guilty earlier in the day to multiple fraud charges. Brown, who took over the veterans committee leadership role in 2014, said she is innocent. Federal prosecutors have accused her of using an alleged fake charity, One Door for Education Foundation Inc., as a personal slush fund for herself and friends instead of providing scholarships to low-income students. The 69-year-old lawmaker, whose district includes military facilities in Jacksonville, has been a controversial figure on the committee since taking over the leadership role. Veterans groups lobbied for other candidates for the post in late 2013, but members of the Congressional Black Caucus bristled when colleagues suggested passing over the senior Democrat. In a statement earlier in the day, House Minority Leader Nancy Pelosi, D-Calif., called the charges against Brown disappointing but praised her as a "champion for America's veterans" during her time in the chamber. A status hearing on the charges is set for July 26. Congress is scheduled to leave town for a nearly two-month summer recess starting July 15, meaning the temporary move should have little immediate impact on committee work.
VA working to make female veterans more welcome, visible (89.3 KPCC)
Maggie Castillotorres says it's easy to feel invisible in society as a woman veteran, but she wasn't expecting to have that experience when she walked into a Veterans Affairs hospital in San Diego. "They said, 'are you here with your spouse? Are you the spouse of a veteran?,'" she says. "It happened several times." Castillotorres, who served in the U.S. Navy for eight years, is one of the growing population of women service members leaving the military and finding themselves in a veterans system that's not quite ready for them. "The V.A. was built for men," says Dr. Patty Hayes, the chief consultant for women veterans' health at the U.S. Department of Veterans Affairs. "And we've been working hard to build in all the things women need." Hayes' job is to help the V.A. accommodate the influx of women leaving the services. V.A. officials say while women made up about 2 percent of the active duty military during World War 2, that's risen to about 15 percent today. And the number of women getting their health care through the Department of Veterans Affairs has nearly tripled since September 11, 2001 to 675,000. Hayes says the V.A. has moved steadily, if slowly, towards providing the gender-specific services health care providers should have. When Dr. Hayes started working for the VA in the mid-1980s, she says many V.A. facilities didn't even have restrooms for women. "There were very small numbers of women that were being seen at the V.A. medical centers," Hayes says. "The care wasn't really very good." But now about 90 percent of the 800 V.A.-run health care facilities nationwide have at least one specially trained "primary care women's provider" on staff. That can be a doctor, a nurse practitioner, or a physician's assistant. And some facilities across the country, like the V.A.'s largest hospital in Westwood, have women-only clinics. The Westwood women's clinic has gone from operating half a day, twice a week a decade ago to a full-time enterprise with a staff of 30 and about 10,000 patients. Dr. Fatma Batuman runs the clinic, which she calls a "one stop shop." Female vets can come in to Batuman's clinic and be seen for mental health care, primary care, and gender-specific care all in one place. They recently added a staff pharmacist as well. Dr. Batuman says all of her providers are women as well. The clinic is so popular, Batuman says they're hoping to double their space in the coming years. The women-only space is what attracted Castillotorres back to the V.A., after going elsewhere for care for years. On a recent Wednesday afternoon, the space filled with veterans waiting to see their doctors. Among them, Ramona Yates, and her one-month-old daughter. Yates says people are often shocked when she tells them she served in the Marine Corps. "It's weird to me that people don't think, or even let it into their head, that females go into the military and serve their country as well as men do," Yates said. "It's interesting and bothersome at the same time." The V.A. hospital doesn't have a maternity ward, so she delivered nearby at UCLA's hospital. Yates says if the women's clinic didn't exist, she probably wouldn't even use V.A. health care at all. "I don't like going over to the other side [of the hospital]," Yates says. The problem? "We feel invisible." When asked what can be done about that, Yates shakes her head. "I'm still trying to work that out."
Hopeful sign for combat veterans with nightmares, insomnia (MilitaryTimes)
Sleep disturbances are some of the most commonly reported psychiatric complaints by combat veterans. Hundreds of thousands struggle regularly with insomnia, both falling and staying asleep, and nightmares. A variety of treatments are available to address these problems. Cognitive-behavioral therapy for insomnia is effective for those who have a difficult time falling asleep.  The high blood pressure medication prazosin has shown in numerous research studies that it can eliminate nightmares. And different versions of a talk therapy that teaches the person to change the content of their nightmares in order to make them less distressing are effective for many. Unfortunately, the treatment of insomnia and nightmares has historically required multiple treatments, often from multiple providers. The treatments effective for insomnia were not necessarily effective for nightmares. And the treatments effective for nightmares were not necessarily effective for insomnia. That is, until now. A relatively new therapy called Exposure, Relaxation, and Rescription Therapy is proving to be effective for these sleep problems. ERRT has almost exclusively been studied in civilian groups. The results have been strong. Recognizing the need for effective treatments in veterans, researchers modified the treatment specifically for this group. Results from this modified version of ERRT with veterans are promising. For four weeks, 19 veterans were provided once weekly sessions. The sessions included a mix of education about insomnia and nightmares, techniques for learning to sleep better, intentional exposure to content of the nightmare, and "rewriting" and rehearsing the new dream. After only one week, some veterans saw a reduction in the number of nightmares they experienced as well as the intensity of their dreams. They also saw an increase in overall sleep quality and a drop in the severity of their insomnia. Surprisingly, those who were depressed saw improvement in mood. This may be related to the fact that poor sleep and nightmares are directly tied to depression. The good news is that the results were not temporary. Improvements continued up to two months after treatment ended. There are some limitations of this initial study, and it's too early to declare victory against nightmares and insomnia. Approximately half of the veterans continued to have significant sleep difficulties. Plus, the study only looked at 19 veterans over a short period of time. It also didn't include a control group. Without comparing a group that got the treatment versus one that didn't, it's impossible to know if the actual treatment led to the improvements or was due to some other unknown factors. Regardless of the limitations, this study is a great first step in the battle against sleep problems in combat veterans. Hopefully other researchers will pick up where this group left off.
VA center aims to gain vets' trust amid misconduct investigation (Santa Fe New Mexican)
The director of the veterans medical center in Albuquerque said Friday he will hold accountable any employees who may have manipulated scheduling records to create a false appearance of good service. During the same news conference, director Andrew Welch also said the center had made strides in lessening long waits for patients and is working to get veterans "to trust us." His comments follow a report that the U.S. Department of Veterans Affairs' Office of the Inspector General released in late June that said managers and staff at the center rigged scheduling data to make the center look good. One former manager was quoted in the federal report as saying that practices were put in place at times to make it look like there was a "zero-day wait time." Welch said he could not comment extensively on the report because his office is awaiting more details. But, he said, "We didn't wait for the response to start improving services." The report covers May 2014 to January 2015, following a Veterans Affairs investigation that revealed deficiencies in the department's 730-plus hospitals and outpatient clinics. Michael Nacincik, spokesman for the department, said in an email Friday that the "purpose of OIG's investigation was to substantiate or not substantiate allegations." That 2014 national investigation said that at least 57,000 veterans, or 90 percent of all new enrollees, waited more than three months for their first medical appointments. Another 64,000 never saw a doctor at all after being enrolled in the system for a decade, despite repeated requests. And more than three-quarters of all hospitals and clinics had manipulated data at least once, some creating "dummy" lists to make the wait times look more favorable. That report said in New Mexico more than 1,000 veterans had waited three or more months for initial medical appointments. And more than 3,000 veterans were assigned to doctors who never saw them at the Veterans Affairs hospital in Albuquerque. Another VA audit from that year said 21 veterans died while on the waiting list. Welch, who came on board in December 2014, said his department has been working on its own internal audit to review practices and has begun a number of initiatives to serve veterans. They include expanding weekday and weekend service hours, opening a same-day clinic, hiring additional staff and increasing "telemedicine," in which doctors and patients use electronic equipment to exchange information. "We're trying to make things better," Welch said. "Sometimes they are small [steps] but important." Welch said at this time he does not believe any of the center's employees are manipulating data. Asked if the center had yet fired anyone for such offenses, he said, "Off the top of my head, no." He said that, if the center punishes or fires any staff members involved, personnel policies would probably prevent their names from being made public. At least one manager cited in the report for misdeeds was transferred to another position in the hospital, Welch said. He said he did not know the manager was under investigation when she was transferred. On a national level, earlier this week, a Congressional Committee on Care report said the Department of Veterans Affairs has "profound deficiencies" in providing health care to veterans. Though care is sometimes of high quality, it is inconsistent from place to place and access problems remain an issue. Welch and Chris Norton, regional director for the Veterans Benefits Administration, said during Friday's news conference that there is increased scrutiny over veterans' treatment around the country. "I don't know if anybody is getting beaten up in the media more than the VA," Norton said. "We should be under more scrutiny because we are taking care of our veterans," Welsh added.
ASU army vet researching concussions in student veterans (KTAR)
A Gulf War veteran studying at Arizona State University has made it her mission to help other veterans make a successful leap from military life to campus life. She also wants to know how brain injuries like concussions affect student veterans making that transition. Doctoral student and ASU associate professor Karen Gallagher was a paratrooper, serving in Operation Desert Storm in the early 1990s. She was in Saudi Arabia and served near the Kuwait border. After she returned to the United States to go to college, it was tough. "My world experience was so different than these 18-year-olds," Gallagher said. "I felt like I couldn't connect and that I was somewhat isolated." Things got better for Gallagher, but she said for other veterans trying to go from the military to college, it can be stressful. With some vets suffering brain injuries during their time in the military, her research is focused on how those injuries might affect a veteran's ability to learn in a classroom or how they deal with stress. Gallagher recently received a Pat Tillman scholarship to further her research in this field. She said studying how those injuries affect vets can be complex because there are many layers. "It isn't mild traumatic brain injury, it isn't PTSD, it isn't a cultural transitional issue. It's probably a mixed bag of all of those things," Gallagher said. Her goal is to set the standard for how veterans are transitioned into college programs, enabling them to be successful.