July 12 Veterans News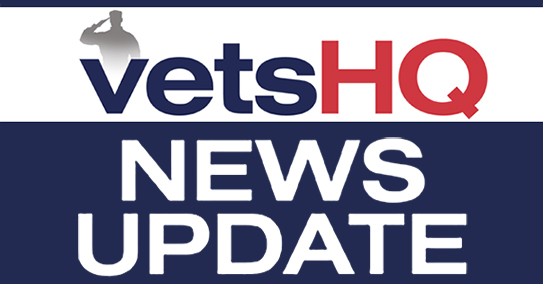 Pitching VA reform, Trump lands endorsement by retiring Congressman (Military.com)
The presumptive Republican presidential nominee Donald Trump on Monday offered a plan for reforming the Department of Veterans Affairs that would seem to give veterans the option of getting medical care outside the VA — including at private hospitals — with the government paying the bills. "Every veteran will get timely access to top quality medical care – every veteran," Trump said during a campaign event in Virginia Beach. "Veterans should be guaranteed the right to choose their doctor and clinics, whether at a VA facility or at a private medical center," he said. "We must extend this right to all veterans, not just those who can't get an appointment within 30 days or who live more than 40 miles from a VA hospital, which is, unfortunately, the current and wrong policy." Reiterating that promise later in his remarks, Trump said he will "make sure that every veteran in America has the choice to seek care at the veterans administration or private medical care paid for by our government." Trump's comments were enthusiastically received by his supporters at Virginia Beach, where he was introduced by Rep. Jeff Miller, a Republican from Florida and chairman of the House Veterans Affairs Committee. Miller helped draft the 10-point reform plan the Trump is pushing. Miller, who is retiring from Congress this year, took the opportunity to endorse Trump and also slam presumptive Democratic nominee Hillary Clinton as someone "painfully out of touch with the veterans' community" for believing the wait-time scandal that broke two years ago was overly exaggerated. "America needs a commander-in-chief who understands veterans of today, committed to solving the problems. You won't get that from a career bureaucrat like Hillary Clinton," the congressman said. Trump's apparent commitment to opening up more of private sector healthcare to veterans is one of the ideas advocated by the Commission on Care, which released its report on VA health last week. That recommendation is widely backed by Miller and other conservative lawmakers. VA officials led by Secretary Bob McDonald and many Democratic lawmakers are leery of allowing veterans to go into the community for their care. What they may gain in convenience could have consequences to their long-term treatment as well as the viability of a veteran-specific health care system. McDonald at numerous venues has said what is lost by broad and unrestricted use of private health care is the continuity of care that VA now provides, with every visit, diagnosis and treatment recorded and coordinated. It also risks losing the VA the ability to conduct the kinds of medical research that might be valuable to veterans but not be viewed as important or profitable enough to be pursued by outside researchers. Most of the 10 proposals Trump pitched on Monday deal with lowering the boom on VA officials. He promised to appoint a VA secretary whose job would be "to clean up" the department; use every authority to remove and discipline managers who fail veterans or breach the public trust; ask Congress for legislation to give a new secretary authority to remove any employee who risks the health, safety or well-being of any veteran; and appoint a commission to investigate wrongdoing at the VA and use the findings as the basis for legislative reform. He also pledged to protect "honest, dedicated" agency employees from retribution and see they are in line for promotion as a reward for good work; set up a "private White House hotline" for complaints, which he will personally address if the department leadership cannot; prevent bad employees and managers from receiving bonuses, reform the visa program for foreign workers and give veterans top priority in employment; and increase the number of mental health care facilities and care workers for veterans.
Why Trump's plan for private doctors for veterans is controversial (The Christian Science Monitor)
As he moves toward the general election, Donald Trump is reiterating a focus on veterans' issues, wading into what has often been a fraught debate about how best to reform the healthcare provided to veterans through the Department of Veterans Affairs. "We made a promise to these heroes. You defend America, and America will defend you," Mr. Trump, the presumptive Republican nominee, said in a speech on Monday in Virginia Beach, Va., the Associated Press reports. Trump's 10-point plan calls for veterans to be allowed to seek government-funded private medical care, while also criticizing the Obama administration for the 2014 VA scandal where many veterans faced long wait times for care. The speech could also serve a broader public relations function for Trump, who has faced a slew of controversies around his statements involving veterans – including criticizing Arizona's Republican Sen. John McCain, who was a prisoner of war in Vietnam; comments that seemed to equate Trump's own experience at a military boarding school with military service itself; and questions about his donations to veterans' charities. Under the plan he unveiled last fall, eligible veterans would be able to bring a veterans' identification card to any private doctor or facility that accepts Medicare and receive immediate treatment. "The guiding principle of the Trump plan is ensuring veterans have convenient access to the best quality care," the plan says. But for some veterans' groups, that guarantee sounds uncertain. "We do not agree with the go-anywhere card. Just because you have a go-anywhere card doesn't necessary mean the private doctors have space for you," says Joe Davis, the public affairs director at the Veterans of Foreign Wars. The group instead supports combining care offered by the department with private care in particular situations, such as to fill in for a doctor who works in an unusual specialty at a particular hospital who is unavailable at the time of care. "The thing about the VA, it's family. Once [veterans] get into the VA, they want to see the VA, you're surrounded by veterans in the waiting room, and you're seeing a doctor that understands the issues that veterans face," he tells The Christian Science Monitor. Trump's plan shares some similarities with existing efforts, including the Choice Plan created by Congress in 2014 in response to the wait-time scandal. The plan allowed veterans to see a private doctor if they lived more than 40 miles from a veterans' hospital or faced wait times of more than 30 days. Last week, a congressional commission with members from healthcare providers and veterans organizations recommended creating a new, nationwide network that would include doctors from the VA, military hospitals, and private doctors who have been approved by the Department. But the report has prompted a controversy of its own, with three commissioners refusing to sign it and penning letters of dissent. Stewart Hickey, former director of the lobbying and service group AMVETS, and Darin Selnick, of the Concerned Veterans for America, describe the commission's final report as "deeply compromised, disjointed and incomplete." They had supported turning the veterans' healthcare system into a nonprofit public corporation. Michael Blecker, executive director of the veterans group Swords to Plowshares, offered blunter criticism of the commission's proposed care system, saying it "will result in the degradation or atrophy of important health services that the VA provides." The system relies too much on privatization, he wrote, and comes with "alarming" proposals, such as paying for the increased costs of the system by reducing the number of veterans eligible for VA health care. On Monday, Trump continued his push to allow veterans to use any doctor they choose, including outside local VA hospitals. "Veterans should be guaranteed the right to choose their doctor and clinics, whether at a VA facility or at a private medical center," he said. His plan also includes proposals for improved mental health services, increased funding for job training, and placement programs for veterans. Reports that many of Trump's donations to veterans' organizations only came in recent weeks have sparked controversy. Some reports suggest that Trump donated to many of the groups he had already claimed to have paid only after a Washington Post investigation raised doubts about the funds, as well as his claims to have donated to charity throughout his career. Nevertheless, some polls suggest that he continues to enjoy support of many veterans over Democratic rival Hillary Clinton. A May poll by Morning Consult of veterans and active duty troops showed Trump beating Mrs. Clinton by 9 percentage points, while a Military Times poll of active duty troops showed his lead to be as much as 2 to 1. One key factor, especially when it comes to efforts to reform the VA, is Trump's status as a political outsider, some say. "The perceived outsider status of Trump and [Democrat Sen. Bernie] Sanders has brought new people into the political process and fired up the base of both major parties," wrote Michael McPhearson, executive director for Veterans for Peace, in an essay for BillMoyers.com. "Trump has masterfully used the media and large crowds to create a spectacle to build support. He has featured veterans in his stage show, using them as props to gain credibility, and making us more visible in the process." But Mr. McPhearson, and many online commenters, some of whom also said they were military veterans, distanced themselves from Trump's other stances, including his ban on Muslims entering the United States. "Veterans should watch Trump making fun of the disabled," wrote commenter Gwenn Murry, referring to his mocking of a New York Times reporter with a physical disability. There are nearly 4 million disabled veterans in the US today, she noted. Mr. Davis, of the VFW, which doesn't issue endorsements, says many of Trump's proposals looked familiar. "Fixing the VA is on every candidate's platform, because its a story, veterans vote, their spouses vote, their voting age children vote," he says. "Taking care of America's veterans, service members and their families is a national responsibility, and no one running for president can ignore that responsibility."
Veterans Health Administration is slow to pay non-VA providers (JAMA)
The Department of Veterans Affairs (VA) needs to modernize the Veterans Health Administration's system for paying non-VA providers such as hospitals, physicians, and mental health professionals, according to a recent report by the Government Accountability Office (GAO). The VA purchases care in the community for 3 main reasons: wait times for appointments at VA medical facilities are too long; specialty services, such as cardiology or orthopedics, are not available at a VA medical facility; or a veteran would have to travel too far for care at a VA medical facility, the GAO said in the report, addressed to the chairmen and ranking members of the Senate Veterans' Affairs Committee and the House Veterans' Affairs Committee. According to the GAO report, the VA's Veterans Health Administration (VHA) has purchased care from non-VA health care providers since 1945. The VHA's data show that in fiscal year 2015, it processed about two-thirds of claims from them within the agency's required time frame of 30 days or less. "However, VHA's data likely overstate its performance because they do not account for delays in scanning paper claims, which officials say account for approximately 60% of claims," the report said. In an analysis of 156 claims from 4 VHA claims processing sites, the GAO found that it took an average of 2 weeks for staff to scan paper claims into the agency's processing system. While the VHA has implemented interim measures to speed claims processing, such as eliminating certain documentation requirements, it lacks the capacity to automatically adjudicate claims, according to the GAO, which recommended that the VA develop a written plan for modernizing its claims processing system.
Another allegation of sexual misconduct made against former worker at VA facility (The Kansas City Star)
A former U.S. Army sergeant injured in combat is the latest veteran to raise allegations of sexual impropriety involving a worker at the Veterans Affairs Medical Center in Leavenworth. The lawsuit filed Monday in federal court is at least the eighth filed this year over the alleged actions of Mark E. Wisner, a former physician assistant at the medical center. The suit also mentions that Wisner may have committed inappropriate acts with patients at the VA medical center in Topeka, although no suits have been filed involving Topeka patients. Wisner, 65, who resigned his job and has surrendered his license to practice after VA officials began investigating complaints against him, is also facing criminal charges in Leavenworth County District Court. According to Monday's lawsuit, the veteran suffers from a traumatic brain injury, post-traumatic stress disorder, depression and anxiety. He was treated by Wisner from 2011 to 2014 at the Leavenworth facility and was subjected to numerous instances of being inappropriately touched, according to the suit. While performing exams of his genitals, Wisner would allegedly make statements such as, "things are looking good down there." Wisner also asked questions about the patient's sex life and his ability to perform sexually. He told the man that he was his "battle buddy" and that he should trust him. The men who have previously filed suits have made similar allegations about Wisner.
Seattle VA hospital's healing garden a growing refuge (Post-Bulletin)
Long before he became a professor of landscape architecture and a designer of healing gardens around the world, Daniel Winterbottom had a seed planted in his very own heart. It came from his mother, Miriam, who was diagnosed with ovarian cancer 30 years ago. The hospital environment where she received treatment was "humiliating and degrading," Winterbottom said recently. The only public meeting place was a room at the end of the hall. Sticky vinyl chairs. Fluorescent lighting. So his mother found solace in the sight of a lone white pine tree that stood outside the window of her hospital room. "One tree gave her a way to focus away from the chemo, the nausea," Winterbottom said. It was also, he would later learn, a "soft fascination" — an escape from the difficult thoughts around medical decisions, wills and all the worries that a prolonged hospital stay can ignite. "You freak out, you panic," said Winterbottom, who is 60. "The human capacity to deal with these issues is limited. And nature revitalizes you." With that — and his mother — in mind, Winterbottom and a group of his University of Washington students transformed a space of concrete and crushed rock at the Veterans Affairs hospital on Seattle's Beacon Hill into a lush, light-filled sanctuary called a healing garden. The design includes a lot of herbs, which not only have a scent, but are tactile, Winterbottom said. There are beds of native plants, a fountain with the soothing sound of water, and vines where birds can find refuge. And there are mahogany benches, where family members can sit out long medical appointments. "It all makes you feel part of a system larger than yourself," he said. Doorways, paths and tables accommodate wheelchairs and gurneys. Chairs tilt back "so your mind can escape," Winterbottom said. "In a hospital, there is not a lot of beauty," he said. … "It really helps recovery, especially with combat veterans," said Jeremy Watson, an affiliate assistant professor in Winterbottom's department who helped with the design. Watson's contribution was critical, for he has seen things. He did two tours in Vietnam as a combat medic and receives treatment at the VA for PTSD. "There's no other respite from the sterility of the wards and the hospital itself," Watson said, seated on one of the garden's mahogany benches. "Until now, the closest green was at the Jefferson Golf Course next door. If you could make it that far." (There is also a healing garden at the adjacent Fisher House, located on the VA campus.) Many combat veterans relate to nature and animals better than other human beings, Winterbottom said. He remembered neighbors in his native New Jersey who returned from the Vietnam War, then moved to faraway places like Idaho and Alaska. "They wanted to be with nature and wildlife," he said. Meanwhile, the hospitals where veterans are treated are becoming increasingly dense and urbanized. So there is more and more interest in healing gardens to settle veterans' minds. And research proves gardens help reduce cortisol levels and aggressive behavior, and increase empathy and endorphins.
Veterans waiting on VA hospital wait times to improve (TWC News)
Improving veterans' access to health care has been the main focus for the Department of Veteran's Affairs this year. Long wait times and secret lists have plagued the headlines for the Veteran Affairs hospitals across the country. "The recent years has been a great wakeup call for us to go back to our basics, our foundation, what makes us great, and that is focusing on taking care of the veteran, listening to the veteran, participating with the veteran, listening to our staff, participating with our staff," said Brian Stiller, the WNY VA Medical Center Director. At the VA Western New York Health Care System, administrators have hired more doctors and support staff, to decrease wait times. "We have a lot more medical support assistants, so a lot of face-to-face administrative staff to help veterans when they're coming in, when they're checking in. We've been very, very aggressive hiring providers, specialty providers to build robust systems. We've also engaged the University in working with the residency programs to bring over more providers and staff to care for our veterans," said Kim Kwietniewski, WNY VA Geriatrics and Extended Care Rehab Medicine Manager. According to National VA data on wait times, more than 95 percent of visits at the Western New York VA in May were within less than 30 days. That's a decrease from more than 98 percent last August. However, local officials say that's because of an increase in patients using their services. "It is a big issue," Kwietniewski said. "We find in Western New York, we talk about it every day. We have a leadership meeting every morning. We have an operations meeting once a week where all of the specialty clinics, all of the primary care clinics are put up on a board and we look at the access to make sure we're meeting the 30 day access. In primary care, we're looking at 14 day access." It's all part of the new initiative federally to offer same-day primary care and mental health care appointments at every VA by the end of the year. "It is feasible. It is an ambitious goal," Kwietniewski said. "We do have slots that we carve out for our primary care providers, so we give them a certain amount of time each day to see walk-ins on a day when they come in. Same with mental health, they have have same day access for mental health." In February, The WNY VA created a special care call center, in addition to their primary care call center, to allow patients immediate access to someone to address any questions or concerns.