July 22 Veterans News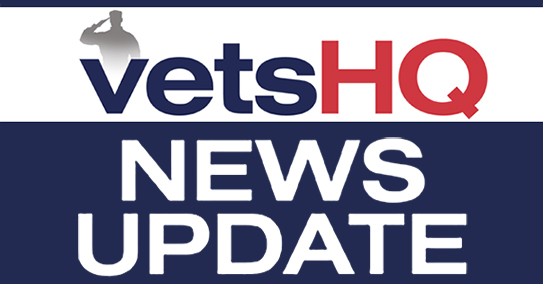 Trump and Clinton to discuss VA reform at VFW convention (MilitaryTimes)
In between political conventions, both major party presidential candidates will appear at the Veterans of Foreign Wars convention next week to discuss their campaigns and priorities for Veterans Affairs reform if they become commander in chief. The event, to be held in Charlotte, North Carolina, is expected to bring together almost 12,000 veteran leaders of the group from around the country. Democratic presidential nominee Hillary Clinton is scheduled to speak Monday morning, while Republican nominee Donald Trump will speak on Tuesday. In a statement, VFW National Commander John Biedrzycki Jr. called the appearances a chance to advance the national political conversation on military and veterans issues. "What we hope to hear from both candidates is how they will fight our enemies while keeping America safe through strong national defense and homeland security programs," he said. "We also want to know how they will create, enhance and protect veteran and military health care programs and quality-of-life initiatives, such as educational benefits, job training and employment programs, as well as hear a renewed commitment to return our fallen from their battlefields." The VFW convention has become a regular stop for presidential candidates during their national campaigns. In 2012, both President Obama and Republican nominee Mitt Romney visited the event, with Obama discussing his administration's veterans outreach programs and Romney focusing largely on national security issues. Veterans have become a major friction point for Trump and Clinton in this year's race, with both sides arguing over patient access to non-VA medical care. Republicans have pushed for a massive expansion of those choices, while Democrats have accused them of trying to privatize the VA system. Trump mentioned his veterans proposals during his acceptance speech at the Republican convention in Cleveland on Thursday. The Democratic convention begins in Philadelphia on Monday, with Clinton expected to deliver her acceptance speech Thursday.
VA Secretary says problems at Veterans Hospitals improving (WLBZ2)
The country was shocked two years ago by major problems and delays at veterans hospitals. Studies showed that patients were often waiting months for appointments and that a few even died before they could even see a physician. On Thursday, the Secretary of Veterans Affairs came to Maine to say those problems have gotten a lot better, but there are still improvements to be made. VA Secretary Robert McDonald told the Maine Military and Community Network in Augusta that he is committed to making the Veterans Administration have "the best customer service in the federal government." He said the changes made in the past two years have made a big difference in quality and availability of service at  the hospitals. "Not long ago," said McDonald, "we had a backlog of 600,000 disability claims more than 125 days old. We added staff adjusted some policies and we designed and implemented an automated digital claims system. And today the backlog is just a fraction of what it was. It is down almost 90 percent." Members of Maine's Congressional delegation agreed things had improved, but said the VA's problems are not all fixed yet. "Progress definitely has been made, but I think we have a long ways to go," said Sen. Susan Collins. The senator cited problems hiring enough staff, and a lack of medical specialists among the shortcomings at the VA hospitals. Collins did praise the VA for making progress on the issue of homeless veterans. Sen. Angus King said he is encouraged by the progress the VA has made, and pointed to the use of new technology as a positive sign. However, King also said it was going to take more time to resolve all the issues.
'Listening to Our Veterans' survey shows displeasure (The San Diego Union-Tribune)
San Diego veterans are dissatisfied with wait times and the new congressionally mandated Choice program, which was intended to reduce the wait at U.S. Veterans Affairs Department hospitals. That's according to a recent, innovative survey called Listen to Our Veterans, based on "listening" software developed by Del Mar's HundredX Inc. More than 1,000 people responded to a 30-second survey conducted online between Memorial Day weekend and the Fourth of July. The survey indicates that the thing people care most about is medical care – and that veterans are having both strongly positive and strongly negative experiences with it. While the survey didn't specifically ask about the VA, the federal agency's services dominated the chatter. The word most prominent in the comments was "VA." Others that got top mention were "care," "help," "medical," "service," "time" and "wait." Overall, the "good" rating for veterans program was 52 percent. That doesn't compare too favorably with other major San Diego County health care systems. For example, the University of California San Diego system and parts of the Scripps and Sharp Rees-Stealy networks get 4-star "excellent" ratings in a current state report card by the Office of the Patient Advocate. Scripps Physicians Medical Group was the only system to get two out of four stars on the state report card. The VA isn't rated by this state office. This survey, which looks at the San Diego landscape for veterans, contrasts with a recent national study by RAND Corp. The RAND study, released July 18, analyzed a decade of research on the VA health care system. RAND's finding was that the VA generally delivered care that was better or equal in quality to other hospital networks. San Diego veterans appear to regard the wait for appointments as a problem, coming in highest on the "not so good" list and low on the "good" list. The national Choice program is supposed to ease wait times, by providing private-sector care for veterans who can't get prompt VA appointments. But one veteran experiencing back pain in March ended up in the emergency room in April because of the wait to get physical therapy through the Choice program, and then lost paperwork when applying for additional appointments. "My next step will be to opt out of VA care and try Medicare and pay a higher co-pay," the veteran wrote in survey comments. "If my experience is typical of vets trying to use the first Choice program, it's a total screwed up mess." In response to the local Listen To Our Veterans survey, the medical director of the VA's San Diego health care system said veterans may be dissatisfied for reasons that aren't related to medical care. Dr. Robert Smith said customer service – the people who answer phones and schedule appointments – is something the San Diego VA is working on. "A huge focus for us locally has been trying to improve the service at our call center," Smith said during a July 14 press conference. "Frankly, it's been a challenge for us. We've had a lot of staff turnover in the call center. It tends to be an entry-level position. … The turnover doesn't lend itself to the high performance that really we expect." The San Diego VA is reporting that the average wait time for completed appointments is roughly a week or less: three days for primary care visits, five days for mental health and not quite eight days for specialty care. Smith said a sticking point continues to be the wait time for certain kinds of psychotherapy, which can take up to 90 days to become available. He blamed the continuing wait on a shortage of trained therapists.
Obama to address Disabled American Veterans convention (MilitaryTimes)
President Obama will discuss issues facing veterans as well as their future opportunities in an address before disabled veterans Aug. 1 in Atlanta. White House officials announced Thursday that the speech, at the national conference of the Disabled American Veterans, is designed to underscore the country's "sacred obligation" to honor service members. "The President … looks forward to discussing how we can ensure our veterans receive the benefits they have earned as well as continue expanding opportunities for our service members, veterans and their families," according to a White House statement. The appearance comes as the Obama administration prepares for the presidential turnover, including the Joining Forces initiative established in 2011 by first lady Michelle Obama and Dr. Jill Biden to raise awareness of military personnel, families and veterans and provide them employment, education and wellness opportunities. The country's largest veterans groups, including DAV, are gearing up for their annual conference season: the Veterans of Foreign Wars meets July 23-27 in Charlotte, North Carolina; AMVETS gathers Aug. 7–14 in Sparks, Nevada; American Legion members rally Aug. 26-28 in Cincinnati; and the Paralyzed Veterans of America will host a summit Aug. 30-Sept. 1 in Orlando, Florida.
VA still unclear about long-term path for records approach (Health Data Management)
The Department of Veterans Affairs will continue to modernize its legacy electronic health record system through fiscal year 2018. But, beyond that, the VA's plans for its long-time records system are still in flux. However, some of those familiar with the VA and its EHR say that long delays in modernizing the records system have caused it to become outdated, and that the program faces long-standing risks and technical issues that have not been surmounted in past efforts. The VA is on track to complete the next step in updating its Veterans Health Information Systems and Technology Architecture (VistA) system, said LaVerne Council, VA's CIO and assistant secretary for IT, at a hearing last week before the Senate Appropriations Subcommittee on Military Construction and Veterans Affairs. At the hearing, to review the status of the VA's VistA system, Council told the committee the agency will achieve the next iteration of the VistA Evolution Program—VistA 4—in fiscal year 2018, resulting in improvements in efficiency and interoperability. "VA takes seriously its responsibility as a steward of taxpayer money," Council testified. "Our investments in VistA Evolution continue to make our veterans' EHR system more capable and agile." VA has designated approximately $510 million in IT development funds to build critical capabilities into VistA since Fiscal Year 2014, when Congress first provided specific funding for the VistA Evolution program. In addition, VA has spent $151 million in IT sustainment funds and $110 million in VHA funds for VistA Evolution. Council tried to reassure lawmakers that these investments will "deliver value for veterans and VA providers regardless of whether our path forward is to continue with VistA, a shift to a commercial EHR platform as DoD is doing, or some combination of both." Despite the fact that the VA plans to complete VistA 4 in Fiscal 2018, the department is currently assessing how best to meet its future EHR needs. Among the options it is considering is following the lead of the Department of Defense, which last year awarded a $4.3 billion contract to Leidos to procure a commercial EHR system from Cerner. "We're obviously very interested in the direction VA is heading in terms of modernizing VistA," said Sen. Jon Tester (D-Mont.), ranking member of the subcommittee. "Whether we're talking about going to a commercial off-the-shelf system or developing a hybrid of the two, whatever decision is made we will have not only long-range ramifications for the VA and veterans but also for the American taxpayer who will have to foot this bill." That's exactly what concerns Valerie Melvin, director of information management and technology resources issues at the Government Accountability Office. "VA's electronic health record system, VistA, is essential to the healthcare of veterans, and the department has been taking steps over many years toward modernizing the system," testified Melvin. "However, while the department has made progress in these efforts, significant IT challenges have contributed to our designating VA's healthcare as high-risk." According to Melvin, a recent independent assessment of health IT at VA reported that lengthy delays in modernizing VistA had resulted in the system becoming outdated. In addition, she said the study questioned whether VistA's modernization program can overcome a variety of risks and technical issues that have plagued prior VA initiatives of similar size and complexity. Just as challenging an undertaking are joint efforts by VA and DoD to share EHRs, an initiative that Melvin contends has been hindered by their inability to identify "outcome-oriented goals and metrics to clearly define what they aim to achieve" through interoperability. "We have not seen clear planning across VA and DoD," she said. Nonetheless, according to Council, the VA in April certified its interoperability with DoD in accordance with the National Defense Authorization Act, "well ahead of the December 2016 deadline." While VA has been working with DoD to advance EHR interoperability between their respective systems for almost two decades, GAO's Melvin testified that a modernized VA EHR system that is fully interoperable with the military is still years away—a timeline that does not sit well with lawmakers. … According to Kirk, DoD and VA should be using open source tools—including analytical data—to bring these EHR systems to the "next level" to better treat veterans. "Using these analytics, we could reach a new 21st Century level of care for veterans," he concluded. "I want to make sure analytics are a deep part of this electronic health record revolution." Tester added that "we live in the 21st Century and our IT systems should reflect that."
Opinion: Vets deserve better than the VA's proposed change for anesthesia (The Hill)
Daniel J. Cole, M.D., President, American Society of Anesthesiologists: The quality of care provided by the Department of Veterans Affairs (VA) has been the subject of news headlines across the country for more than two years now.  Unfortunately, the VA is currently considering a health care proposal that would fundamentally lower the quality and safety of anesthesia care for our nation's Veterans by removing physician anesthesiologists from oversight of anesthetic care. The proposed policy, which was published for public comment in the Federal Register, would change how advance practice registered nurses (APRNs) deliver care at the VA and it's getting America's attention. With only a few days remaining until the close of the comment period, more than 95,000 people have posted comments and observers have called this federal regulatory issue one of the hottest topics in Washington. The Federal Register is full of proposals that may seem more exciting or controversial, but I believe this issue has caught the public's attention because people sincerely care about our nation's Veterans and believe their health care should not be compromised. Americans understand that it would be wrong to lower the standard of care provided to these men and women who have so bravely served our country. Here's the issue. The proposed policy is one way the VA is trying to improve access to care for patients. The new policy would expand the role of advanced practice registered nurses so they can act like physicians. The advanced practice nurses include nurse anesthetists, who currently work as part of a team with physician anesthesiologists. Under the new rule, physician anesthesiologists would be removed from the team and the operating room, leaving nurses to administer anesthesia and make life or death decisions that frequently occur during anesthesia. But Veterans aren't waiting for surgery because a physician anesthesiologist isn't available. There is no shortage of physician anesthesiologists in the VA and the change is not needed to improve access to anesthesia care in surgery. In fact, the Undersecretary for Health at the VA, David Shulkin, M.D., has said in several public forums that there is no VA access problem in anesthesia. This change would abandon a proven model of quality health care where physician anesthesiologists and nurse anesthetists work together as a team to ensure our Veterans get high-quality, Veteran-centered care – the standard of care throughout the country. Is it fair to accept a lower standard of care for those who have served our nation in uniform and are at greater risk for complications any time they go into surgery because they are sicker and have multiple medical conditions? Research does not support a safe way to implement this policy change for anesthesia care. The VA's own internal review (VA's Quality Enhancement Research Initiative) could not discern "whether more complex surgeries can be safely managed by nurse anesthetists" and concluded that "policy relating to extension of autonomous APRN practice cannot be based solely on the evidence reviewed here." Would anyone want the U.S. Food and Drug Administration to put new drugs on the market before they are proven safe? If not, why should we risk the health and lives of our nation's Veterans with a proposal that is not supported by VA's independent assessment of the data? As written, the current proposal is not only a solution in search of a problem, it is a solution that will create problems. Those who have risked their lives in combat overseas deserve better than having their lives needlessly put at risk here at home in VA operating rooms. Although nurse anesthetists are competent and valued members of the anesthesia care team, the education and training of a physician anesthesiologist and a nurse anesthetist just do not compare. A nurse cannot replace a doctor, especially in surgery where complications can happen in seconds and those extra years of education and training can mean the difference between life and death. We take seriously a recent statement by Undersecretary Shulkin that "A well-run VA health system is essential to the nation and to U.S. medicine." We sincerely hope that Secretary McDonald and Undersecretary Shulkin will speak and act with clarity in their commitment to high-quality, Veteran-centered care and, in the final rule, remove the proposal to eliminate physician anesthesiologists from the life and death decisions that occur during anesthesia care in a surgical setting. Our nation's Veterans have not only earned it, they deserve it.
VA taps NASA IT exec as new CISO (CSO)
Roopangi Kadakia, who most recently served as web services executive in NASA's Office of the CIO, has been appointed CISO at the Department of Veterans Affairs. She will start in the new role on July 24. Kadakia replaces Brian Burns, who left in June for another public sector job. "She will be the fifth permanent or acting CISO at VA over the last 12 months," writes Eric White for Federal News Radio. In an email to staff announcing Kadakia's appointment, VA CIO LaVerne Council referred to the department's "transformation goals," including plans to move some systems to the cloud, an area where Kadakia has significant experience, having moved 160 applications to the cloud during her time at NASA. Prior to her IT roles at NASA, Kadakia was CISO at International Finance Corporation, a member of the World Bank Group. She also held security roles at the Department of Homeland Security and the General Services Administration. Kadakia also spent 4 years as an IT specialist with the Peace Corps. Kadakia has a master's degree in Social Work from The University of Texas at Arlington and a bachelor's in Psychology from Trinity University.