July 27 Veterans News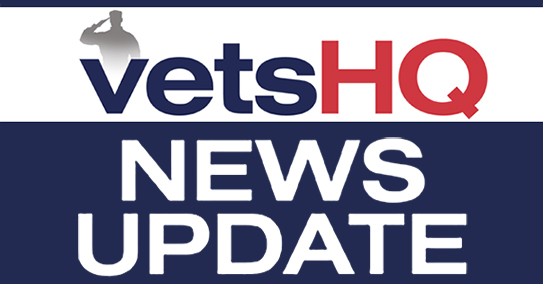 Democratic platform promises more resources for vets, no privatization of VA (MilitaryTimes)
Veterans would see more resources to end homelessness, more education benefits and job training, and a pledge to fight privatization of the Department of Veterans Affairs under the Democratic platform approved in Philadelphia this week. "We reject attempts by Republicans to sell out the needs of veterans by privatizing the VA," the document states. "We believe that the VA must be fully resourced so that every veteran gets the care that he or she has earned and deserves, including those suffering from sexual assault, mental illness and other injuries or ailments." Like the GOP platform approved in Cleveland last week, the Democratic platform is not a specific plan for party nominee Hillary Clinton to win the presidential election in November. Instead, the document is a general outline of party priorities, goals and promises for the next four years. It criticizes "systemic problems plaguing the Department of Veterans Affairs" that have largely emerged during President Barack Obama's second term, and vows to "fight for every veteran to have timely access to high-quality health care and timely processing of claims and appeals." But platform authors say that reform doesn't mean replacing VA services with voucher programs, or outsourcing most health care to private physicians. Both parties have sparred in recent months over those points, with prominent conservatives backing a massive expansion of care options outside the VA and top Democrats calling that a dangerous step toward shutting down department services. The platform also promises to improve VA services for women, boost mental health programs and "expand the post-9/11 veterans caregiver program to include all veterans." It calls those services "a sacred, moral responsibility to keep faith with all our veterans" and promises to overhaul nonhealth programs expanded as well. "We must take care of those who have put their lives on the line to defend us," the platform states. "That is why we will push for more educational benefits and job training, end chronic homelessness and combat suicide, and protect and preserve the post-9/11 GI Bill for future generations." Democrats also included immigration in their veterans priorities, opposing deportations any of immigrants who served in the armed forces and planning "a faster path for such veterans to citizenship." The platform also calls for an easier path for troops discharged under the "don't ask, don't tell" policy to upgrade their discharge records, possibly making them eligible for additional VA programs. And party leaders call for reservists and Guard members to be "treated fairly when it comes to employment, health, education benefits, deployment, and reintegration."
Women veterans take key roles at the party conventions (MilitaryTimes)
Women veterans have become a key talking point at both political conventions this month, but community leaders say that attention alone won't be enough to address the challenges facing their population. "I think that the core problem we need to address is that when people think of veterans, they don't think of women," said Allison Jaslow, chief of staff at Iraq and Afghanistan Veterans of America. "Until we break through that wall, we're still going to have a challenge." Both Republicans and Democrats highlight women serving in the ranks in their party platforms, and both GOP presidential nominee Donald Trump and Democratic nominee Hillary Clinton promised in speeches this week to improve health care options for female veterans. Democrats also held a party forum on Monday at their convention in Philadelphia to further discuss how women veterans still feel overlooked or ignored. In the event's first two nights, three women who served in the ranks were among the featured speakers. New York delegate Na'ilah Amaru drew loud cheers from the crowd when she talked about path from an immigrant to a soldier to an activist for the Democratic party. "I joined the Army as an ammunition specialist and gave the best of myself to a country that had given me so much," she said during Tuesday's speeches. "I returned from Iraq deeply committed to restoring the faith of America's promise for everyone." Republican Iowa Sen. Joni Ernst drew similar cheers a week earlier at her party's convention, speaking about her time deployed in Iraq as with the National Guard and the importance of strong leadership for the military. Few of the speakers have focused on their role as women in the ranks, instead simply focusing the same themes of service and sacrifice as male veteran attendees. That's an important image for the country, women veterans said. Once more Americans see the role women are playing, they'll be more receptive to the need for additional policies and resources to uncomplicate that service. "The good news is that we're talking about it, and it's a conversation," said Verna Jones, executive director of the American legion. "The more we talk about it, the more people are going to become aware." "Women veterans are the fastest growing population coming out of the military, but our resources pale in comparison to those of our male counterparts." According to VA statistics, women make up about 10 percent of the U.S. veterans population. But women at the Democratic event said too often their peers view their service as unusual or different, a problem that can't be changed through legislative action. "The first step is putting women veterans on stage and shining a spotlight on their service," said Kate Hoit, director of communications for Got Your 6. "As a country, we need to see the faces of the women who have served in our military. But cultural changes won't happen "if we can't even recognize the women who have worn the uniform," Hoit said. "At times we are ignored, our issues pushed to the side, because we don't fit the mold for what a 'veteran' looks like. It's time we're recognized." She said seeing women veterans showcased at the national stage of both conventions is a significant step forward. Jaslow agreed, saying without the visibility, none of the underlying problems can change. But both said they hope it's just the first of many steps. Jones said she doesn't think the problem as one of malice but instead ignorance. "For so long, women were seen only as spouses of the military. And there are always going to be people who have that mindset," she said. "But the vast majority of people understand the value that women bring to the military and to this country. "Are we over the hump yet? Maybe not. But we're standing dead on top of it."
VA to vets: Tell us what works for you (Federal News Radio)
What works for one patient may not work for the next. Now a small group from the Department of Veterans Affairs will explore alternative treatment options for veterans when traditional methods fall short. The Center for Compassionate Innovation will focus on finding new approaches to health and physical wellness; it's not to be confused with the VA Center for Innovation (VACI), which is heavily focused on improving technology and support services. Much of the new center's work will focus on mental health. "We have to be flexible and innovative in our approach by offering emerging therapies that are safe, compassionate and ethical after traditional treatments have not been successful," said Veterans Affairs' (VA) Under Secretary for Health Dr. David Shulkin. Shulkin has called suicide prevention VA's top priority. The department projects 20 veterans a day committed suicide in 2014. VA has already hired additional doctors, therapists and Veterans Crisis Line employees. The center is another way to fight the deadly trend. He announced the center's launch at the Brain Trust Pathway to Innovation in April. "VA should be the epicenter of innovation for Veterans," said Shulkin. VA takes an evidence-based approach to medicine, which means clinicians rely heavily on research and clinical expertise to minimize risk to the patient. The center is looking for emerging therapies to enhance veterans' physical and mental well-being. "There is a small segment of veterans who have tried our evidence-based treatments and have not had success, particularly around mental health, and we hear that loud and clear," Lelia Jackson, director of the Center for Compassionate Innovation. "We want to be open to providing the care that might help that small segment of veterans." The center has a small staff but a broad reach of experts. Jackson emphasized mental health but said the center is open to all ideas. "We will be carefully reviewing and vetting every single proposal that we receive," Jackson said. "If there is something new or emerging taking place that we don't know about, we want to know about it." Right now, the center is still in its infancy. Jackson said they are standing up the office and ensuring good algorithms are in place. The first challenge is to get the word out. "If there is a therapy out there that is safe and ethical that has not reached the bar that we've traditionally looked at under evidence based treatments but is safe and ethical and does help a large number of veterans," said Jackson, "we want that." The Center for Compassionate Innovation doesn't have a website yet, but can be reached by email at: vhacenterforcompassionateinnovation@va.gov. "[The] ultimate goal is to increase veterans' health and well-being at no risk to the veteran," said Jackson. "Our fundamental principal is to do no harm."
VA Secretary uses nurse as example of department's improving quality (Salisbury Post)
Department of Veterans Affairs Secretary Bob McDonald on Tuesday noted the efforts of a local nurse when he told the 117th National VFW Convention about ongoing improvements to his agency. In November 2014, Salisbury VA Medical Center Nurse Chuck Maulden literally gave the shoes on his feet to a veteran he suspected might be homeless. At the time, Maulden said the veteran had large blisters on his feet. The veteran had on dirty compression stockings that were stuck to his feet because of liquid seeping from the blisters.The veteran had on tattered shoes. Maulden's shoe size happened to work for the veteran. So, after tending to the patient, Maulden took of his shoes and gave them to the man. Maulden finished his shift in medical shoe covers and went home in his socks. When McDonald spoke in Charlotte to the VFW, he praised Maulden's actions as a symbol of VA hospitals. Why did Maulden give the veteran his own shoes, McDonald asked the crowd. "Because they fit," McDonald said. "Because he cared. Because that's what we're about. Our employees are good people. I'm proud of them." In a speech where he addressed a scandal over patient wait times, McDonald said it's a "gross misrepresentation" to classify all VA employees as "bad" just because of the actions of a few. "Some people think everything will be fine if we fire more people more quickly," he said. "That's not true. We can't fire our way to excellence. Over my 33 years in the private sector, I've never encountered an organization where firing people was a measure of leadership." Despite criticism from various elected officials, McDonald says the VA has made noteworthy improvements. For example, 97 percent of appointments are completed within 30 days of a veteran's preferred date, 86 percent in seven days and 22 percent on the same day. "You should know that more veterans are coming into the VA and waiting less time," he said. "You should know that last year, veterans had nearly 5 million more appointments than the previous year. Almost 57 million were in VA facilities. Over 21 million were under VA care in the communities." While going through the parade of health care statistics, McDonald announced that by December veterans at VA facilities will be able to receive same-day access to primary care and same-day access to mental health care. Although it was a significant announcement, attendees only gave it a polite applause. "By the way, VA is the only health care system that publicly reports on wait times as a measure of access," McDonald said. "Ninety percent of veterans we surveyed are satisfied or completely satisfied with the timeliness of their care. Now, we won't be satisfied until that 90 percent becomes 100 percent. So, we're making important progress." Despite improvements that have already occurred, McDonald has his eyes on more. Some will require help from Congress and other elected leaders, he said. President Barack Obama's 2017 budget, for example, contains more than 100 legislative proposals for veterans, according to McDonald. He said that only Congress can "clear the way" for the VA system to streamline "care in the community system," which allows veterans to receive services at private clinics. McDonald concluded his speech by stressing the importance of the VFW in improving health care and quality of life for veterans. "You're the ones who can keep veterans in control of how, when and where they wish to be served," he said. "That's … what this transformation is all about."
Mobile service provider drops troops and veterans (MilitaryTimes)
An unknown number of troops and veterans have been locked out of phone service as the result of the financial troubles of a mobile phone service company that caters to the military. "We praised you as the best service ever, and then you swipe our service, our number and our money from under our noses," wrote one customer on Facebook complaining about the company, Defense Mobile. An Army reservist said the company had disabled phone numbers and refused to answer messages from its support website page, email or Facebook. "The service was great until with little warning (24 hours) the company completely dropped their service to ALL their customers (June 30/July 1)," the reservist wrote in an email to Military Times. The company is in the process of restructuring, said its chief executive officer, Anthony Montoya, who recently took the helm. "The company wasn't doing well. I'm trying to get it on the right track," he said. He declined to specify how many veterans and service members have been affected. Montoya said the company lost coverage with some of its carriers. The company has been providing refunds, and those are being processed through PayPal in generally three to five days, he said. "And our team has been working with folks to switch to new carriers" to port their phone numbers, he said. "We're working with them every day." Montoya said the best way for customers to get a response is to submit a request online through the company's secure site. On the home page, www.defensemobile.com, click "Support" or "Contact Us" and submit a ticket online. However, on Wednesday, the "Support" page announced, "Note: We are unable to process payments at this time and are working to resolve this issue ASAP." Defense Mobile has provided refunds to a number of people who bought phones and couldn't activate them, he said. But generally there won't be a lot of refunds for monthly service, he said, because the company had given many people some free months of service. When it launched a year ago, Defense Mobile billed itself as "the nation's first 4G LTE wireless company focused exclusively on current and former members of the U.S. military and their families, describing "a mission to connect and improve the lives of those who have served." The company is not selling mobile phone service as the company goes through the transition, Montoya said. "We hope to be back in the market as soon as possible," he said, but there is no timeline. "It's a challenge," he said. "I too am a veteran. I'm doing everything I can to keep this going in the right direction, to get us back in the market, and live up to our promises. "It's painful to me we've had to go through this process. I don't want to leave any service member behind."
New cases of Legionnaires' disease found at veterans home (WQAD)
Two new cases of Legionnaires' disease have turned up among residents of the Illinois Veterans Home in the Mississippi River city of Quincy. The Quincy Herald-Whig reports the cases disclosed Tuesday by the Illinois Department of Veterans Affairs comes less than a month after a nearly $5 million state-of-the-art water treatment plant and delivery system was unveiled at the facility. Last year, Legionnaires' disease sickened 53 people and led to 12 deaths at the home. The Centers for Disease Control determined the bacteria that causes a severe form of pneumonia was likely spread by an aging water system at the 129-year-old facility. Veterans Affairs spokesman Dave MacDonna would not disclose the condition of the two residents who recently contracted the disease, citing health privacy laws. However, he said there have been no deaths.
Head of Wisconsin VA says agency will study service changes for vets (Madison.com)
Wisconsin Department of Veterans Affairs Secretary John Scocos has reiterated his agency's commitment to reevaluating how it delivers services to veterans statewide, an effort which could lead to regionalizing County Veterans Service Officers. During a Board of Veterans Affairs meeting last week, Scocos said the changing veterans population means the agency must look toward the future and come up with a plan to better serve all veterans, regardless of where they live in the state. "There's going to be tweaks for the future, whether we do it in this budget or five years from now, but I think we need to have a hard look at the future," he told the Board of Veterans Affairs at a meeting at the Wisconsin Veterans Home at King near Waupaca. "We want to make sure that our northern state veterans receive the same benefits as our southern Wisconsin vets, (the) same quality across the board." No one on the board responded publicly to Scocos' comments, but regionalizing CVSOs has been a controversial issue among county governments across the state and among veterans advocates. Wisconsin law requires each county to employ at least one designated County Veterans Service Officer, who must be a veteran. That mandate is critical, say CVSOs and counties, in making sure there is a local person stationed in every veterans community to offer support and help them apply for federal and state benefits. An Assembly bill that would have allowed the agency to consolidate some County Veterans Service Officer positions — which could combine some county veterans offices and leave some counties without a designated CVSO — died in the Legislature last year following an outcry from CVSOs. At last week's meeting, Columbia County CVSO Rich Hasse asked the agency to provide evidence for reevaluating services and CVSOs. "What is WDVA utilizing as factual bases for their decision-making and for their legislative proposals regarding the CVSO Consortium concept?" he said. Hasse cited federal Census data and said that although the veterans population has decreased overall, those veterans with a disability rating has increased. CVSOs, he said, are an incredible return on investment for counties across the state. "CVSO budgets are such a small portion of any one county's total budget and expenditures that it renders the subject of CVSO office affordability to a virtual statistical insignificance," he said. Other veterans groups, including the American Legion and Military Order of the Purple Heart, have said a study examining service delivery is needed. Scocos also said the agency will again explore a statutory change that would allow the agency to unilaterally fundraise and solicit money from the public. That proposal was part of the same failed Assembly bill that included CVSO regionalization. The bill would have given any state public official who is employed by the agency discretion to "solicit, receive, and retain on behalf of the state anything of value for the purpose of supporting veterans homes and members and veterans programs, benefits, and services." That bill would have also further stripped the Board of Veterans Affairs of its powers, consolidating it within the agency. Under current law, the board can create policies and make decisions about how money is spent, loans are made and the acquisition and conveyance of buildings and property, according to the Legislative Reference Bureau. The Board of Veterans Affairs is a nine-member, part-time board of citizens from each U.S. Congressional District in the state. Board members are appointed by the Governor for four year terms. At the board's meeting, Scocos lauded his agency and presented awards to the commandant and his deputy at the King veterans home, along with John Gaedke, chairman of the board. Scocos said Wisconsin is unmatched when it comes to its veterans programs. "I don't think there's any other state looking at benefits and services like we are," he said.
VA medical center parking in NYC remains closed nearly four years after Hurricane Sandy (NY Daily News)
Nearly four years after Hurricane Sandy, a large swath of parking for veterans outside the group's hospital in Manhattan remains closed off as bumbling bureaucrats struggle to designate alternative spots. The city's Department of Transportation had set aside parking for patients of the VA New York Harbor Healthcare System on the west side of Asser Levy Place between E. 23rd and E. 25th streets. But the area was closed off after the hurricane hit and flooded the 17-story facility's basement and ground floor. The block with dozens of parking spots was then converted into a park buttressed by a $22 million flood wall. That has left veterans scrambling for parking. "There are veterans who are double amputees and really mobility impaired," fumed veteran James O'Connell. "It's just terrible that no one has thought about mitigating this problem. It is causing some suffering for people who have fought for this country." O'Connell, who served in the Middle East, reached out to the city's DOT, Veterans Affairs officials and a rep in Sen. Charles Schumer's office. They all acknowledge the problem but have no concrete plan in place to help. "We continue to assess ways to lessen that impact, especially safety and access," said VA spokeswoman Claudie Benjamin, noting there are still 10 spaces on E. 23rd St. in front of the main building. The city DOT plans to "look to see if any additional parking can be made available," a department spokesman said. That was little consolation to O'Connell. "Forget about common sense," he said. "It is just common decency. We are not asking anyone to build a mountain for us. Just for parking."
Centerstone receives $6M grant for veterans (The Tennessean)
Centerstone, a national leader in behavioral healthcare, is set to receive its sixth renewal grant, worth more than $6 million from the U.S. Department of Veterans Affairs. Announced on Monday, the center will receive $6,060,000 over the next three years to help fund the not-for-profit's Supportive Services for Veteran Families. The program aids low-income veterans and their families when they transition to permanent housing. "Since its inception, Centerstone's SSVF team has worked diligently to not only connect thousands of veterans and their families to housing permanency, but also provide means to help them and their families achieve financial stability," said Centerstone SSVF Project Director Phyllis Viltz in a statement. Centerstone has helped over 3,000 veterans and their families in 40 counties in Middle Tennessee and Southern Kentucky. In the past nine months, Centerstone has helped 579 veteran families secure permanent housing. With the new funds from the federal government, the not-for-profit looks to expand their outreach. "With the new funding, we look forward to continuing our mission in helping thousands of veterans throughout the region transition to a place they can call home," Viltz said.