July 28 Veterans News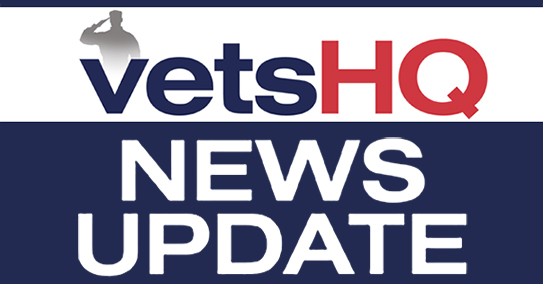 Better DoD, VA collaboration at center of Clinton's veterans policy (Federal News Radio)
The debate over the future of the Veterans Affairs Department has pivoted to the presidential campaign. Democratic presidential candidate Hillary Clinton and Republican nominee Donald Trump have widely different ideas for changing the VA, which mimic the same divides among the current administration, members of Congress, the veterans community and federal employee unions and groups. Clinton's plan puts a heavy emphasis on greater integration between VA and the Defense Department. Her policy plan mentions joint work between the two departments on several occasions. First, Clinton would "personally convene the secretaries of veterans affairs and defense regularly in the Oval Office and direct them to develop, execute and report on an effort that integrates their health care operations to create a more efficient and a sustainable system." She wants to streamline the DoD and VA health care footprint, as well as procurement and IT activities between the two departments, the policy plan said. Clinton also came out strongly against measures to move VA health care to a more privatized system, though she suggested she isn't opposed to purchasing some private, specialized care in cases when veterans can't access health care quickly enough. "She will oppose privatization of the VA system, which would undermine our veterans' ability to get the unique care that only the VA can provide while leaving them vulnerable to a health care market poorly suited to their needs," her policy plan said. Trump, however, wants to expand the VA Choice Act and offer eligible veterans the opportunity to find treatment from an outside care provider, echoing suggestions from the VA Commission on Care and a proposal from Sen. John McCain (R-Ariz.). Clinton's thoughts on private sector involvement in VA health care seem to echo those of the current administration, which is now actively dismissing the Commission's recommendation. … Clinton would establish a VHA Strategic Oversight and Governance Board made up of health care and management professionals, which would "provide oversight of VHA management processes, monitor accountability, promulgate best practices and ensure the VHA remains true to its mission of putting veterans first," the plan said. Her suggestion isn't far off from one included in the VA Commission on Care's recent report to Congress, which recommended VA develop a board with similar responsibilities. She suggested reorganizing and restructuring the Veterans Health Administration to focus on its role as a "health care provider, partner and payer" for veterans and suggested VHA look to partner more with existing programs, such as Medicare, TRICARE, the Indian Health Service and other private insurance options. Clinton also wants DoD and VA to look collectively at their respective health care programs and find ways where they can coordinate and combine them. The ultimate goal, the plan said, is to end years of delays that both departments have experienced in developing an interoperable electronic health record. The plan mentions DoD-VA collaboration yet again as part of Clinton's recommendation for closing the veterans disability claims and appeals backlog. In addition to adding more overtime work to address the backlog, Clinton suggested both departments work together to anticipate and prepare for upcoming waves of veterans claims and adjust resources accordingly. She also recommended DoD and VA integrate their medical evaluations and use "'fully developed claims' from private providers, allowing rules-based automatic adjudication for the simplest of applications and by ensuring veterans have an effective appeals process to make sure the VA gets it right." On the issue of accountability, Clinton's policy plan does not contain as many details. "From the top leadership to mid-level managers to entry-level employees, everyone at the VA must embody the highest workplace standards," the plan said. "Supervisors must be empowered to suspend or remove underperforming employees in accordance with due process." Clinton also suggested overhauling the performance evaluation and improving whistleblower protections. Trump, however, was more vocal on the issue of accountability in his plan, calling for methods to make it easier for the agency to fire its employees more quickly.
Bill would prevent delayed VA reimbursements from damaging vets' credit scores (The Ripon Advance)
Bipartisan legislation recently introduced by U.S. Sen. Mike Rounds (R-SD) would prevent delayed Department of Veterans Affairs (VA) payments from damaging veterans' credit histories. The Protecting Veterans Credit Act, S. 3258, introduced with U.S. Sen. Joe Donnelly (D-IN), would establish a one-year delay for medical debt being reported to credit agencies for veterans enrolled in the VA Choice Program or similar VA community care programs to prevent an adverse impact on their credit ratings. "No veteran should have to worry about a lower credit rating and all the costs associated with it because of delays in payment and processing from the VA," Rounds said. "Our legislation makes certain that veterans do not suffer financial hardship – through no fault of their own – when they choose to use a private health provider through the Choice program. Our veterans should be focused on proper treatment and recovery; not whether receiving care will affect their credit rating." Veterans who have been inappropriately billed for services due to the VA failing to reimburse community medical providers in time face financial hardships and damage to their credit ratings. "… veterans and their credit ratings can be harmed as a result of delays by the VA, which can make it harder to buy a house, rent an apartment, buy a car, or even get a job," Donnelly said. "This bipartisan bill would provide relief directly to the men and women who served our country with honor and distinction. They deserve access to quality and timely health care services and the benefits they have earned, without worrying it will lead to financial ruin."
VA offers alternative to opioid pain management (Pittsburgh Post-Gazette)
After four years of opioid treatments, Jim Pershing had had enough. Mr. Pershing served three tours of duty in Vietnam as a Radioman for the navy. There, he became exposed to Agent Orange, which caused him to develop lymphoma decades after he left the service. Chemotherapy treatments left him in severe pain, and doctors prescribed Oxycotin, and then Tramadol. Even with the drugs, they told him that his joints might never stop aching. "I was never one to live off opiates," Mr. Pershing said. He had seen other vets become addicted to their prescription drugs. "I wanted to find an alternative answer — something different." Mr. Pershing found that something different at the Veteran Affairs Pittsburgh Healthcare System, which offers an alternative pain treatment program for veterans suffering from chronic pain. Over the course of 12 weeks, participants in the Interdisciplinary Pain Rehabilitation Program (IPRP) learn mindfulness techniques, physical exercises, Tai Chi movements, and other skills designed to help them manage their pain. Though the course might not eliminate pain entirely, it offers a way to maintain a more active lifestyle without relying on drugs. Veterans, especially, have suffered in the nationwide addiction epidemic. According to the U.S. Department of Veteran Affairs, more than 50 percent of male VA patients in primary care report chronic pain— a rate that has spiked with the U.S. wars in Afghanistan and Iraq. Doctors prescribe higher doses of opioids to veterans diagnosed with post-traumatic stress disorder, despite the fact that psychological distress places individuals at greater risk of addiction. Veterans are also twice as likely to die from accidental overdose as non-veterans. The VA has sought to address this problem through a nationwide opioid safety initiative, which offers prescribing guidelines and a patient-information database to doctors. It has also encouraged doctors to offer alternative treatments for veterans with chronic pain. VA Pittsburgh has offered a pain management clinic for 20 years. Internist Edward Lee, who spearheaded the practice of acupuncture and chiropractic manipulation at VA Pittsburgh, and psychologist Cynthia Kirsch, who leads pain management classes, had observed both an influx of patients with chronic pain and an influx of patients suffering from opioid dependency. (VA Pittsburgh treats about 2,500 inpatients and outpatients for chronic pain every year). Their research and clinical practice had convinced them that a holistic approach worked the best for long-term pain management. They launched IPRP in 2012, and the program received accreditation from the non-profit Commission on Accreditation of Rehabilitation Facilities (CARF) in 2014. "The idea is that they'll have skills and tools to cope with pain," Dr. Lee said. "[Opiates] are absolutely crucial for acute problems but we can't translate that into long-term care." He educates would-be users about both the limitations and dangers of opioid use. Ms. Kirsch, who serves as the program's director, sees the psychological aspect of pain as an important one to address: For her, that doesn't mean that patients imagine their pain, but rather, that anxiety and despair amplify the sensation of pain. … At a recent weekly pain management session, Ms. Kirsch asked her patients to name the source of their pain. The six men and women seated around the table, who had suffered a variety of injuries, all shouted "your brain!" Then, Ms. Kirsch asked the patients to share how they had managed their pain throughout the week. One man said that traffic had made for a frustrating commute that morning, and he had used deep breathing to reduce his tension. Another man, a retired police officer, said that the recent shootings in Dallas and Baton Rouge had made his anxiety — and his pain — shoot through the roof. "Our brains are attached to our body," Ms. Kirsch said. "If you're upset, your pain is perceived as more severe." The patients had just come from a Tai Chi martial arts session, and would head to occupational and physical therapy next. Since 2012, 83 veterans have completed the program. In the past year, 73 percent of the program's participants reported reduction in their pain. Mr. Pershing weened himself off drugs after starting the program. Now, he works nine hours a week at L.J. Aviation, restocking consumables and sealants. The job allows him to work in a environment he loves — Mr. Pershing used to fly planes — without over-straining himself. When his pain gets bad, the veteran, who still gets acupuncture treatments at the Pittsburgh VA, might employ one of the skills he learned in IPRP. "They call [the various pain-management skills] your tool bag," he said. "They show you exercises, and what works for you, you use."
A growing number of state programs benefit veteran entrepreneurs (Military.com)
A growing number of states are encouraging entrepreneurship among veterans by either waiving or steeply discounting fees for new business incorporation and annual report filing — a move that can save veterans hundreds of dollars or more. According to the U.S. Small Business Administration (SBA), veterans make up 1 out of every 10 small business owners across the country. Along with having put their lives on the line to protect our country, these military heroes are responsible for providing jobs to nearly 6 million Americans. Additionally, not only are veterans more likely to run more than one business, veteran-owned businesses tend to last longer, thus making significant contributions to the American economy. Because of veterans' business success rate, an increasing number of states are recognizing that it pays to support veteran entrepreneurs. For example:
West Virginia recently implemented a policy that allows veterans to save as much as $200 through the Boots to Business program, which exempts veterans from paying the registration fee for a new business and the annual report filing fee for the first four years.
The Washington State Veteran Linked Deposit Program decreases interest rates on small businesses, improving access to capital for certified business enterprises owned by veterans and service members.
The New York Business Development Corporation's Veterans' Loan Program offers term loans at a below market fixed rate to current or former members of the armed forces.
The Business License, Tax, and Fee Waiver benefit in California waives municipal, county and state business license fees, taxes and other fees for veterans.
Michigan, Texas and Georgia also clear veterans from some business formation fees if they meet specific guidelines outlined by each state.
… Veterans are at the core of America's small business community. By encouraging veteran entrepreneurs and offering incentives to make it easier to run and grow their businesses, states and other government entities are not only benefiting the veterans themselves, but the American economy as a whole.
Governor of Illinois says state is doing all it can on Legionnaire's cases (Fox News)
Illinois Gov. Bruce Rauner said Wednesday that the state is doing everything it can to prevent the spread of Legionnaires' disease at a veterans home where an outbreak last year sickened 53 people, including 12 who died. Rauner visited the Illinois Veterans Home in Quincy on Wednesday, a day after officials announced that two more residents of the home were sickened and less than a month after a nearly $5 million water treatment plant and delivery system was unveiled at the facility. The home has stopped admitting new residents. In a news release, Rauner's office said further water restrictions may be put in place until the source of the new cases can be identified. It cautioned, though, that the source may never be identified due to the nature of the bacteria that cause the disease, which can be inhaled in water vapor. "Upon learning about the potential of Legionnaires' at Quincy this week, I instructed all of our state agencies to take the utmost caution to protect our residents and staff at the home," Rauner said. "We continue to do everything possible to further mitigate any further contamination." Dr. Nirav Shah, the state's public health director, said both of the recently sickened residents were treated at a hospital and released. "The Illinois Department of Public Health is working with local public health officials, the veterans' home and the CDC to monitor residents for respiratory illness and make sure they receive care immediately," Shah said, referring to the Centers for Disease Control and Prevention. Federal officials have said the bacteria that caused the outbreak last year were likely spread by an aging water system at the 129-year-old facility. "We are terribly disappointed and hurt that the problem came back," Dave MacDonna, a spokesman for the Illinois Department of Veterans Affairs, told The Quincy Herald-Whig. "We've worked so hard and spent so much money in trying to solve this problem. We are very distraught about the entire situation. This is not what we wanted at all."
Korean War veterans honored at 63rd anniversary ceremony (BakersfieldNow.com)
The Korean War Veterans Association and the Korean American Association of Bakersfield held a memorial ceremony Wednesday night on the 63rd anniversary of the Korean War cease-fire. Leon Thomas, a Korean War veteran and Purple Heart recipient told his story at the podium, recounting a time his platoon was ambushed. He managed to escape the gunfire, but was injured by shrapnel from a grenade. As the only medic, however, he rushed to help the other 12 soldiers who were wounded. "I was wounded but I kept working because there wasn't anyone else to bandage those guys," he recounted. But his biggest wound he said, was not encountered on the battlefield, but when he came home. "For about 45 years, no one knew I was in the service," he admitted. Even his sister, whom he regretted hiding his experiences from. "I told her it was difficult for me. I just didn't think what we did was too important," he said, tearing up. Thomas said he became more comfortable talking about the war after he reconnected with several men from his platoon decades later. He now speaks at schools, sharing stories from his service. Though, he said the children tend to focus on one thing. "They love touching the medals," he laughed. Humberto Marquez was also in attendance. He served in Korea as a squad leader in the Marines. His picture is enshrined on the Bakersfield Korean War Memorial in Jastro Park. "We took care of each other," he said, before trailing off and humming along to the Veterans band playing a march.
Oregon to launch veteran's rental assistance program (KTVL)
The Oregon Health Authority (OHA) has partnered with the Oregon Department of Veterans' Affairs (ODVA) to launch a program that will provide transitional housing to military veterans. The new program will accommodate 147 veterans with mental illness, are homeless or at risk for becoming homeless. The transitional housing will provide a stable but temporary arrangement for those who do not have permanent homes in Jackson, Clackamas, Marion, Columbia and Yamhill counties "We know from our efforts supporting crisis services, including mobile crisis interventions, that veterans in Oregon are experiencing behavioral health challenges that are unique to their circumstances and we have been looking for ways to help," Karen Wheeler, integrated health programs director for OHA's Health Systems Division said. While the OHA program was launched for people with mental illness in 2013, this new program specifically targeted for veterans will launch in October 2016.