August 1 Veterans News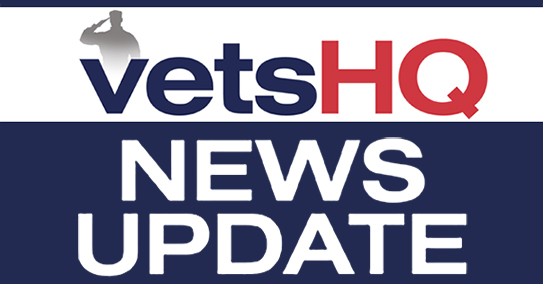 Obama to cite progress on veterans' issues in speech (The New York Times)
In a valedictory address to veterans during a presidential campaign in which their issues have been front and center, President Barack Obama will argue that getting ex-military members the health care and benefits they've earned is a national promise that "can't be broken." He'll also tout administration progress on reducing homelessness among veterans. Obama will also announce that the administration is halfway toward building a massive database on veterans' health when he addresses the annual convention of the Disabled American Veterans service organization Monday in Atlanta, the White House said. The president, who leaves office January, plans to use the appearance to recap how he has tried to help former military members, moving beyond headline-grabbing scandals over lengthy wait-times for veterans seeking medical care. Outrage over those delays cost Obama's first Veterans Affairs secretary, retired Army Gen. Eric Shinseki, his job. Care for America's veterans is a top issue in the presidential campaign, with the nearly 21 million veterans in the U.S. making up a critical voting bloc that Democrat Hillary Clinton and Republican Donald Trump are vying for in November's election. Both Trump and Clinton spoke at the recent Veterans of Foreign Wars convention. Trump has repeatedly blasted the VA under Obama; Clinton has been less harsh. Both promise to overhaul the department, including its health care delivery. Trump has proposed allowing veterans eligible for VA health care to take their ID cards to any doctor or facility that accepts Medicare to get immediate care. Clinton would make changes to the existing system. Despite the problems and bad publicity, demand for VA health care continues to grow, increasing 13 percent in the past year, said DAV Executive Director Garry Augustine. "We know that even though the access is a problem, health care in the VA is very good," Augustine said in an interview. But he said the health care side "remains to be fixed" and noted the recent conclusion by a congressionally mandated commission that the department continues to have "profound deficiencies" in delivering health care to millions of veterans. VA already has been making changes in line with the commission's recommendations. Augustine said he'd like veterans to be allowed to seek outside care from an approved system of private doctors who know how to treat veterans. Augustine also expressed concern, shared by the White House, over a backlog of appeals. While a backlog of disability claims that neared 610,000 in 2013 has been whittled to below 80,000, more than 450,000 appeals are pending. Veterans wait an average of three years for a decision, which the White House called "unacceptable." "We want to get them both down," Augustine said, referring to both backlogs. Overall, though, Augustine said veterans appreciate the support they have received from Obama. He cited increased spending on veterans, expanded and better health care for female veterans, tax credits for hiring veterans and strides toward reducing veterans' homelessness, among other issues. "We feel the president's been very supportive during his administration and we appreciate that," he said. At the convention, Obama will announce that overall veteran homelessness has been cut nearly in half, by 47 percent. That's still short of his long-held goal of getting it to zero by 2015. The White House also gives credit to first lady Michelle Obama and Vice President Joe Biden's wife, Jill, for using their initiative on military families to challenge mayors and county officials nationwide to end veterans' homelessness. Obama will also announce that half a million veterans have voluntarily given blood samples and health data for a long-term government research program. The goal is to enroll 1 million veterans as part of the president's initiative to make "precision medicine," or tailored treatment, a reality. VA Secretary Bob McDonald, an Army veteran and former president and CEO of Procter & Gamble who succeeded Shinseki, told The Associated Press in an interview that "the president's got a lot to be proud of." He cited the increased spending and demand for VA health care, progress toward cutting unemployment and homelessness, and efforts to streamline claims and appeals. McDonald argued against privatizing the VA. "When all of us signed up, we signed up with the belief and an obligation that we were going to put our lives on the line, and in exchange for that the country was going to help support us," he said. "I see that from this president. He is going to make it clear … that this commitment is a national responsibility and a promise that can't be broken."
Families of fallen veterans slam Trump as "offensive, and frankly anti-American" (CBS News)
Donald Trump's ongoing feud with the family of a fallen veteran over their appearance at the Democratic National Convention has drawn the ire of others that have lost loved ones to war. In an open letter, several Gold Star families, a reference to families who have had a loved one die in service to the nation, called on the Republican presidential nominee to stop his attacks on the family of U.S. Army Capt. Humayun Khan, who was killed in Iraq in 2004 and posthumously awarded a Bronze Star for his actions. The soldier's father, Khizr Khan, gave a blistering denunciation of Donald Trump at last week's Democratic national convention. The Gold Star father said Trump new nothing about sacrifice, which the candidate then insisted he did. Trump then questioned his wife Ghazala Khan's non-speaking role at the convention and suggested that it was because their Muslim faith prevented her from talking. Ghazala Khan fired back, saying in a op-ed: "I cannot walk into a room with pictures of Humayun. Walking onto the convention stage, with a huge picture of my son behind me, I could hardly control myself. Does [Trump] really need to wonder why I did not speak?" The letter from Gold Star families said Trump's response to all that has been hurtful. "Your recent comments regarding the Khan family were repugnant, and personally offensive to us," reads the letter, which was put together Karen Meredith, a Gold Star mother who serves as Military Families Coordinator for VoteVets.org. "When you question a mother's pain, by implying that her religion, not her grief, kept her from addressing an arena of people, you are attacking us. When you say your job building buildings is akin to our sacrifice, you are attacking our sacrifice." Trump broke a political taboo by going after the Khan family, and the outcry against it has been swift in reply. However, the Trump campaign has offered a vigorous defense of the candidate's attacks on the Khans, and this is not the first time he has attacked a war veteran's character. Last July, Trump said that Sen. John McCain was only considered a war hero because he was captured – and seemed to mock him for that fact. There was widespread condemnation of his comments, and he never fully apologized for them, yet he went on to win the GOP nomination.
There are fewer homeless vets, but goal of reaching zero is far off (MilitaryTimes)
The number of homeless veterans nationwide dropped dramatically last year, but advocates say the U.S. remains far from the White House's stated goal of completely ending the problem. According to estimates announced by federal officials Monday, fewer than 40,000 homeless veterans remained on the streets at the start of this year, down about 8,000 individuals from the same time in 2015. That's a 17 percent drop in just one year and a reduction in the homeless veterans ranks of about 50 percent since the administration announced a new focus on the issue in 2010. President Obama is expected to highlight the progress in a speech later Monday at the annual Disabled American Veterans convention in Atlanta. But the lower figure still leaves tens of thousands of veterans without reliable, permanent housing, despite an intense six-year interagency push to solve the problem. "I don't know when we'll get to zero," Veterans Affairs Secretary Bob McDonald told reporters Monday. "We'll keep working as hard as we can. "But I've spent a lot of time talking to veterans on the streets. I've spent a lot of time in shelters with veterans. Any one life we save is a worthy goal. Any one life we get into a home, eliminate their substance abuse, I consider it a success." Housing and Urban Development Secretary Julián Castro called the work thus far "an unqualified success" even if more work remains. Both McDonald and Castro said the goal of ending veterans homelessness by 2016 didn't take into account legal and logistical challenges, which required several years to unravel. But both men said they are encouraged by the rapid progress and the prospects for reaching the zero goal in coming years. At least two states — Virginia and Connecticut — have ended chronic veterans homelessness, providing enough resources and temporary shelters to quickly house any veteran who falls into financial distress. Major cities like Houston, New Orleans, Salt Lake City and Phoenix have also announced reaching the milestone of effectively ending homelessness, with numerous others saying they could reach that status soon. HUD and VA officials said that new housing and health care assistance programs unveiled by their departments in recent years helped more than 157,000 individuals in fiscal 2015 alone, and that more than 360,000 veterans and their relatives have been permanently housed or prevented from losing their homes through the initiatives. Since 2008, more than 85,000 vouchers have been awarded through the department's Supportive Housing voucher program. McDonald said the focus on ending homelessness among veterans has also led to a host of new partnerships among federal, state and civilian groups, all of which will be criticial in building on the progress thus far.
WWII veterans seek presidential honor — with help from Iraq vets (Stars and Stripes)
More than 70 years after North Carolina National Guard members returned from World War II, surviving veterans are hoping their unit can still get a presidential honor for its heroism and sacrifices. The 30th Infantry Division, known as "Old Hickory," included National Guardsmen from North Carolina and several other states. It was among eight divisions recommended in 1946 for the Presidential Unit Citation. But the citation was never awarded, thanks to what's been described as a "paperwork logjam." Now the veterans are trying once more, with help from a much younger generation: Iraq War veterans who now lead the 30th Infantry Division Association, which held its 70th annual reunion this weekend in Raleigh. Only President Barack Obama has the power to issue the long-delayed honor, so the association has started a petition on the White House website. The Obama administration provides a formal review and response to any petition request that garners 100,000 signatures. "The 30th captured more than 6,200 prisoners, destroyed at least 191 pillbox positions, destroyed numerous German tanks and set the conditions for the capture of the town of Aachen," the petition says. "Please help us gain the PUC for our WWII heroes within their lifetimes." As of Saturday, the petition had 1,225 signatures. And time is running out for the World War II veterans, only 10 of whom were able to attend the reunion this weekend. Most of the surviving members of the unit from that conflict are now in their 90s. The National WWII Museum estimates that only 698,000 of the 16 million Americans who served in the war are still living. Hank Stairs, 92, now relies on a wheelchair to get around. He said he was determined to attend the reunion "to see my friends – it sounds cliche, but to remember our friends and their sacrifices." Stairs is among the vets who still have sharp memories of the 30th Infantry's involvement in conflicts like the Battle of Mortain, a key part of the invasion of Normandy on the French coast. … Reunions like the one this weekend are chances for World War II and Iraq veterans to swap war stories, and the younger association members have been working to preserve their older counterparts' memories of the war. The group raised $35,000 to help finance a documentary about the history of the "Old Hickory," which takes its name from President Andrew Jackson. And the group is collecting World War II artifacts, some of which were on display in a makeshift museum inside a hotel room at Saturday's reunion. "They want to know just as much about our experiences in Iraq as we want to know about their experiences in World War II," said Wes Morrison, an Iraq veteran who serves as president of the association. "The Army as a culture doesn't change that much. … What surprised me is how they treated me as an equal." As the number of living World War II veterans shrank, the association welcomed its first Iraq War vets about a decade ago. The younger veterans served in the 30th Armored Brigade Combat Team, which was formed from the 30th Infantry. There are no Vietnam War veterans in the group because the 30th wasn't involved in the conflict. … The Iraq vets say they've benefited from getting to know the men of World War II. Shortly before the Guard deployed to Iraq again in 2009, one of the older association members approached Morrison. "When you see a shadow behind you, it's us marching with you," the World War II veteran told Morrison. That camaraderie is part of the reason the Iraq vets wanted to lobby once more for the Presidential Unit Citation. They've armed themselves with statistics to make their case: The 30th spent 282 days in almost constant combat. It had 3,435 soldiers killed in action and 12,960 wounded. Soldiers won six Medals of Honor, 65 Distinguished Service Crosses, 1,718 Silver Stars, 6,319 Bronze Stars and 20,000 Purple Hearts. Army records indicate that then-Gen. Dwight Eisenhower, who later became president, took the 30th Infantry Division off the list recommended for the unit citation in 1946. Army leaders stopped reviewing applications in 1951 "because too much time had passed," according to a 2014 letter from the Army to one of the association members. That's why the group has pinned its hopes on Obama. And even if the effort falls short, the younger veterans plan to continue getting together every year to honor the legacy of the 30th Infantry. "Someday we'll be celebrating the 100th" reunion, Morrison said.
Hiring Our Heroes: Connecting vets with careers (Montgomery Advetiser)
Retired Marine Ernie Lombardi remembers a time when he was forced to live out of his car. He had finished his military service only to find he was unemployed. Since then, Lombardi has found his passion in helping veterans like himself find careers through the Hiring Our Heroes career fair. He's been with the grass-roots campaign since 2012 and has taken the lead on organizing several events in Montgomery, including one held Tuesday at the Garrett Coliseum. It's his way of giving back. "I wouldn't have these guys go through what I did," Lombardi said. "This job is something I really believe in and I see a difference in veterans all the time who visit our fairs." Since it began in 2011, Hiring Our Heroes has helped more than 30,000 veterans go back to work. Lombardi said about 150 guests pre-registered to participate in Tuesday's event, along with about 40 employers from across the nation, state and River Region. Gulf War veterans Bruce Faison and Mary Greene came together to find careers better suited for their callings. Greene, a Navy veteran, has a master's degree in counseling and wants to find more fulfilling work in her field. Faison, on the other hand, who served as a chef in the Army and Marines, came to the fair unemployed and hoped to get connected with work that would allow him help fellow veterans. "Veterans would come in the mess hall all the time and told me everything they had experienced," Faison said. "That's what I want to do. I want to listen to them, let them know that there is someone there for them and help them transition into whatever they want to do." The event, organized each year by the U.S. Chamber of Commerce Foundation, is for veterans, service members and their spouses and features an employment workshop along with the hiring fair. The workshop Tuesday was led by Richard Plaskett, director for defense technology development for the Montgomery Area Chamber of Commerce. He was available for visitors to build their resumes, network and polish their interviews and job "elevator" pitches.
New Jersey veterans will get priority for affordable housing (The Daily Progress)
Veterans in New Jersey will now receive priority status for affordable public housing. Republican Gov. Chris Christie on Monday signed legislation into law that requires the state division of housing and community resources to consult with the state department of military and veterans affairs and provide preferential status to vets who quality for public housing assistance. Democratic Assemblywoman Pamela Lampitt says that the new law can help get homeless veterans off the street. The measure was unanimously approved by both houses of the state Legislature.