August 17 Veterans News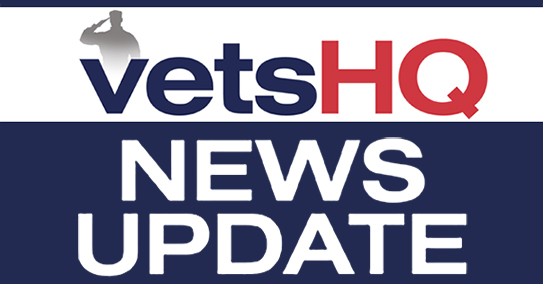 Commentary: New Suicide prevention initiative for veterans can be model for nationwide effort (MilitaryTimes)
Sen. John McCain: Recently, the Department of Veterans Affairs released a sobering reminder of an epidemic that plagues our veterans: the suicide rate among military veterans has increased nearly 32 percent since 2001. Our youngest veterans (ages 18-29) have been hit the hardest and are nearly twice as likely to take their own lives than any other age group. The rate of suicide among veterans from the wars in Iraq and Afghanistan is approximately 50 percent higher than the rate among the general public, and on average, we lose more than 20 military veterans to suicide each day. These numbers are unacceptable. That's why in 2014, I worked to help veterans at risk of suicide due to combat-related psychological trauma by championing legislation named in the honor of Clay Hunt. That bill was signed into law in 2015. But simply passing legislation is not enough. In order to fulfill the goals of the bill, I have organized a group of mental health experts from the local, state and national levels to implement the "Arizona Clay Hunt Mental Health Pilot Program." This pilot program authorizes coordination with the VA, state agencies tasked by Arizona Gov. Doug Ducey and key veterans service organizations (VSOs) like the Arizona Coalition for Military Families and La Frontera. While these individual organizations are already serving our veterans, our pilot program will combine the best of VA's capabilities and VSOs community outreach to reach more veterans and their families. Arizona will be the first state in the country to organize this level of collaboration and training so that the VA and the community are working together to combat suicide among veterans. Many of us know Clay Hunt's story. As a Marine veteran, he served honorably in Iraq and Afghanistan. After he returned home, Clay suffered for many years with post-traumatic stress disorder and struggled with inadequate care from his local VA hospital. Clay took his own life at the age of 28, a tragedy for his family and our nation. Sadly, this is a story we hear far too often. Of the almost two dozen military veterans who commit suicide each day on average, two-thirds of them will never have walked through the doors of a VA facility to receive the care they need. In Arizona alone, the VA cannot find or offer any treatment to roughly 450,000 veterans living throughout the state. That is why the Clay Hunt Suicide Prevention for American Veterans Act and the Arizona Clay Hunt Mental Health Pilot Program are so important and can serve as a model for the rest of the country. This pilot program puts into action the legislation's intended collaborative partnership between the local VA and the surrounding community to ensure that effective mental health care resources are made available to at-risk veterans wherever they live and work. A hallmark of this endeavor will be proven, high-quality training for all "Peer Support Specialists" in Arizona. These veterans will receive training to support fellow veterans in their communities in order to help serve their mental health care needs. For the first time in Arizona, everyone working to fight veteran suicides will have compatible high-quality training whether they are a VA employee, a veteran seeking to help a fellow veteran, or a mental health care provider in our community. Although we have had our differences, Deborah Amdur, the Director of the Phoenix VA, deserves recognition for her leadership in bringing this pilot program to Arizona. Her willingness to leverage existing community resources to help reach every veteran is a welcome change from previous VA leadership. By working with the Tucson and Prescott VA Medical Centers, for example, we can ensure that veterans across the state, including in rural areas, have access to mental health resources. All of us involved in launching and supporting this initiative strongly believe that the Arizona Clay Hunt Mental Health Pilot Program has the potential to become a national model for combating veterans suicides. This effort, which has received the backing of the VSO community, represents a creative, effective solution that empowers both veterans and civilians to be able to help prevent tragic loss of life. For far too long, our sons and daughters who selflessly served the nation in wartime have ended their lives prematurely after they returned home. Through the combined and coordinated suicide prevention efforts of VA hospitals, veterans, and mental health providers, Arizona – and hopefully other states across the country – can work together to bring an end to the tragedy of veteran suicides.
Celebs, Olympians participate in 22-Pushup Challenge to raise awareness of veteran suicide (Fox News)
In what may be the biggest online sensation since the ALS Ice Bucket Challenge, movie stars and U.S. Olympians alike have taken to the internet to film themselves doing 22 pushups— an effort to honor the 22 veterans thought to commit suicide every day. Like the Ice Bucket Challenge, participants perform the task, nominate another person, and then post the video to social media where the next participant goes on to do the same. But, different from the Ice Bucket Challenge, which called for donations to the ALS Association, the 22-Pushup Challenge does not ask for donations but rather simple participation to raise awareness of veteran suicide. The awareness group #22KILL launched the initiative. For a video completed with his wife, actress Anna Faris, actor Chris Pratt wrote on Instagram: "Please know there are people out there thinking about you, praying for you and who appreciate your sacrifice." The "Jurassic World" star nominated fellow actor John Krasinski, who did the pushups alongside his pup, Finn, to whom he jokingly talked throughout. Other celebrities like comedian Kevin Hart, actors Chris Evans and Kevin Bacon, rapper Ludacris and professional-wrestler-turned-actor Dwayne "The Rock" Johnson are among the other celebrities who've taken part in the challenge and used the hashtag #22PushupChallenge to raise awareness of post-traumatic stress disorder (PTSD) and veteran suicide. The Rock nominated U.S. Olympic gold medalist swimmers Simone Manuel and Ryan Murphy to complete the challenge. On Instagram, Manuel wrote: "Thank you to our service men and women for protecting our country! Your hard work, bravery, and sacrifice do not go unnoticed." The number 22 comes from a 2012 Department of Veterans Affairs (VA) report on suicide data that analyzed death certificates in 21 sample states from 1999 to 2011. While researchers reported their calculations were statistically significant, they cautioned against using the number to represent annual suicides by veterans because their study contained limitations like "existing evidence of uncertainty in veteran identifiers on U.S. death certificates." In July, the VA released an updated report that estimated the daily number of veteran suicides is 20. According to the report, veterans are 21 percent more likely to commit suicide than their civilian counterparts, and in 2014 some 7,400 veterans took their own lives. "One veteran suicide is one too many," David Shulkin, the VA's undersecretary for health, said in a statement.
VA employees pitch ideas for improving health services in "Shark Tank" style scrum (MilitaryTimes)
Enterprising Veterans Affairs employees took to a podium Monday in Washington, D.C. to pitch projects for improving VA health care, hoping their novel ideas would win support — and funding – for implementation across the department. Taking a cue from the ABC show Shark Tank, the VA Innovation Demo Day brought these employee-entrepreneurs before a panel of VA leaders, including VA Undersecretary for Health Dr. David Shulkin, who said the goal of the event was to highlight programs that could work for the system at large. … Since he was appointed to his position a year ago, Shulkin has sought to promote entrepreneurship within the ranks. Earlier this year, VA established a new Center for Innovation that oversees an "innovators network" to provide training, support and funding for problem solving. The initiatives showcased at the D.C. event addressed several widely recognized issues at VA, from problems with access to care to suicide prevention, mental health services and technology. The 33 projects pitched at the event included: Fitbits for aging patients and Apple watches for veterans in rural regions to monitor physical activity; using nurses to triage same-day appointment requests to ensure immediate care for those who it; and increasing access to complimentary activities like yoga, art and writing to improve wellness. All were funded by one of three VA programs, including "Spark" grants that give $5,000 to $10,000 to get an idea rolling, "Seed" grants of less than $50,000 that can be obtained once an idea has demonstrated the project will work and "Spread" grants between $100,000 and $500,000 to expand the projects to other VA facilities. VA Boston Healthcare System gastroenterologist Dr. Navin Kumar used a Spark grant to develop a smartphone app that would help patients prep properly for a colonoscopy. Hooking his audience with slides of improperly prepped colons and unsettling statistics, Kumar said doctors miss pre-cancerous growths in about a third of patients who didn't follow the required bowel cleansing protocol before their procedure. His app, developed with the help of a Massachusetts Institute of Technology student, guides patients through the proper diet, fluid intake and bowel prep the week before their colonoscopy. Following Kumar's presentation, an audience member asked to speak with him about patenting the design. "This is great," Kumar said after meeting with several administrators and doctors interested in his creation. "When I walked in this room, I was like, where am I? It's so modern, which is not usually what people think of when they hear 'VA.'" Shulkin said the employees selected to present at the D.C. event had to demonstrate that their projects were attractive to VA facilities beyond their own, and the presentations were streamed to major VA facilities, where staff members were watching.  "These are clearly ideas that not only can help VA but can help private health facilities around the country," he said.  Shulkin said he thinks the value of the demonstration day lies in the ideas that eventually will be adopted and those that have yet to be conceived. "The VA had become a place that was so criticized that people didn't feel they were allowed to enjoy what they are doing. But when you combine the passion people have for caring for veterans with the ability to use their brains and implement ideas, it brings joy back to work," he said. "It's exciting."
Wisconsin WWII veteran, 90, receives high school diploma (ArmyTimes)
Graduation season has ended for the 17- and 18-year-old class of 2016, but one man experienced the yearly tradition of holding a diploma and wearing a graduation cap at the age of 90 on Tuesday afternoon. After 73 years, Don Meneau finally received his high school diploma, the Herald Times Reporter reported. The Two Rivers native had felt a need to serve his country during World War II rather than stick around for another year of schooling at the former Washington High School. Receiving his high school diploma has always been something he had wanted. He admitted that, like any student, he procrastinated in doing so. However, now that the time came, he is very proud. "This has been a long time coming," Don said to a gathering of his family at the Two Rivers Family Restaurant, where Two Rivers High School Principal Larry Schlosser presented the diploma. He and his wife Judy are planning on placing their diplomas next to one another on their bookshelf. Meneau voluntarily joined the Army in 1943 and spent time in France and Germany as a member of the 326th Glider Infantry Regiment of the 13th and 82nd airborne divisions. After leaving Europe and joining the reserves, Meneau came home to work and provide for his new wife instead of worrying about his last year of school. Two weeks ago, the Meneau's only son, Mike, who lives out of state, called Schlosser to see if it was possible for them to coordinate getting Don his diploma. "We were very excited he had come forward," Schlosser said. "We are hoping that other veterans will do the same." After checking state statute stipulations to awarding veterans diplomas and getting approval from the Two Rivers Board of Education, Schlosser did some research and was able to recreate a diploma as it would have looked in the 1940s. They were even able to use a Washington High School diploma case to place the document in. Schlosser said he could not recall doing this for any other veterans in the last 20 years he has been with the Two Rivers district. Not having a diploma never stopped Meneau from performing his duties for country or family over the years. After his return from Europe, he took a G.I. home study course and got a machinist apprenticeship, eventually becoming an aluminum welder at Mirro. Later, he worked his way into the Two Rivers Water and Light Department to be a lineman. Meneau then worked for the Meter Department with the city and spent 27 of 37 years with the city as the electric distribution superintendent. "It was never a problem, not having my diploma, I just had to convince them I was smart enough," Meneau said with a laugh. In addition to his home studies, he took a number of college-level electrician short courses at the University of Wisconsin-Milwaukee. "When I learned my son was organizing this, it was a surprise," Meneau said. "Finding a whole group of my family members here for the reception was an even bigger surprise." Eight family members, including his sister, came to Two Rivers from as far as Laona to join him for brunch at the restaurant. His wife, Judy, who did receive her diploma in 1945 — like Don should have — beamed with pride for her husband when Schlosser presented the belated diploma to him. "It is great, this is something he has always wanted," Judy said. The couple has been together since the age of 16 and last Dec. 26, they celebrated 70 years of marriage. Considering Mike was in Michigan during this presentation, Schlosser made a video call to Mike so he could watch his dad become a graduate. On the Michigan end, they recorded the whole video, so they could save the memory for years to come. "Yesterday was so fun, the whole family really appreciates what the Two Rivers district did for us," Mike said.
Man arrested for driving his car over dozens of veterans' graves (CBS SFBayArea)
A 29-year-old Berkeley man has been arrested after he allegedly drove his car into the closed Golden Gate National Cemetery in San Bruno, driving over dozens of gravesites. Around 9:20 p.m., officers received a report of a crash at the cemetery located at 1300 Sneath Lane, according to police. Upon arrival, officers located a man inside a vehicle that was badly damaged, police said. Investigators concluded the driver had intentionally driven his vehicle through the cemetery's closed gates, then drove up a grass hill and attempted to drive up a series of granite stairs before his car became disabled, according to police. Officers identified the man as Berkeley resident Pierce Jagger, who was arrested on suspicion of driving while under the influence of drugs and driving with a suspended license, police said.