August 3 Veterans News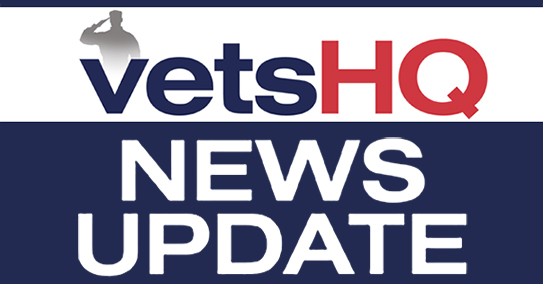 'Careless' Purple Heart remarks put Trump in hot water with veterans (Conservative Review)
Republican nominee for president Donald Trump has upset several United States military veterans with comments he made Tuesday, seemingly joking about earning a Purple Heart. Speaking at a rally in Virginia, Mr. Trump announced that a veteran had given him his Purple Heart as a gift. Trump said "I always wanted to get the Purple Heart. This was much easier." The Purple Heart is a United States military decoration awarded in the name of the president to those wounded or killed while serving with the U.S. military. Trump's comments, which seem to make light of the sacrifice involved in earning that decoration, have upset several veterans who did not take kindly to Mr. Trump's remarks. One veteran took special offense at the fact that Mr. Trump had the opportunity to join the armed forces repeatedly and yet deferred the draft five times. "Obviously he didn't 'always want a purple heart' or he wouldn't have deferred his draft multiple times over and over rather than heading into the service when his country needed him," Mohammed M. Shaker, told Conservative Review in reference to Trump's comments. Shaker is the chairman of the Republican Liberty Caucus of Tampa Bay and a veteran of OIF 09-10 with the 82nd Airborne Division. He served as a specialist, combat medic. "Here's the thing," Shaker said. "It isn't fun getting a purple heart. Nobody wants a purple heart. Purple hearts are awarded posthumously and awarded to servicemen whom have lost life, limb, or eye sight. Even mental capacity." "Sure it's easy some dude gave him a purple heart and I can respect that but that doesn't mean other veterans and their families see his comments as a matter of being funny," Shaker continued. "If he wanted one that badly they cost about $35 at Amazon or any Army Navy store." Conservative writer and one-time speculative independent candidate for president David French, who is also an Iraq War veteran and Bronze Star recipient, had a more cynical take on Trump's comments. He suggested that Mr. Trump was not aware of what it meant to earn the Purple Heart. Trump's comments about the Purple Heart follow a controversy that emerged over the weekend in which Mr. Trump criticized the Muslim parents of a decorated American soldier that was killed in Iraq after they spoke at the Democratic National Convention and condemned Mr. Trump's negative rhetoric concerning Muslim-Americans. For a candidate who repeatedly assures voters that he'll take care of veterans and who brags about all the money he's raised for veterans' groups, comments like those made Tuesday run the risk of alienating veterans and voters who strongly support them.
Loss of VA health-care providers worsens as demand for care goes up (Denver Post)
Two trend lines in veterans' health care are not encouraging. Demand for Department of Veterans Affairs services is going up, but so are losses among the agency's health-care providers. Annual VA outpatient medical appointments rose by 20 percent, or 17.1 million visits from fiscal 2011 through 2015, according to a new Government Accountability Office report. But also increasing during that period was the number of staffers in five critical occupations who left the agency. In 2011, 5,897 physicians, registered nurses, physician assistants, psychologists and physical therapists said goodbye. By 2015, that number had grown to 7,734. The rate of loss rose from 7.3 percent to 8.2 percent. The GAO said similar problems affect other health-care organizations because of national shortages and increased competition for clinical employees. "These staffing shortages directly impact patient care and makes the work of these dedicated employees even more difficult," said J. David Cox Sr., president of the American Federation of Government Employees, which represents VA staffers. Outpatient visits also continue to rise in the VA Eastern Colorado Health Care System, which covers Denver and much of the eastern part of the state. In fiscal-year-to-date numbers through June, the visits totaled 659,765 in 2014 and spiked to 742,259 this year — a jump of 12.5 percent. Throughout fiscal 2015, the VA hospital and 13 clinics serving the region counted 931,771 outpatient visits and this year could pass 1 million. No statistics were immediately available on staffing. VA, however, released a flurry statistics to show service is good. Among them, in May, 96.7 percent of appointments were within one month "of the clinically indicated or Veteran's preferred date," 85.6 percent were within one week and 21.6 percent were the same-day. "Improving VHA's (Veterans Health Administration) ability to forecast, recruit, and retain a workforce continues to be a priority," the department wrote in a response included in the GAO report. VA is trying to improve staffing levels with various initiatives. Among other things, it has increased pay for certain health professionals "to close the pay gap with the private sector and to make VA an employer of choice," according to an agency statement. "With more competitive salaries, VA will be better positioned to retain and hire more health-care providers to care for veterans." Breaking down the numbers, GAO found that 28 percent linked their departures to issues involving advancement and 21 percent to dissatisfaction with aspects of the work. "Voluntary resignations and retirements accounted for 84 percent of VHA's losses from the 10 occupations with the highest loss rates annually from fiscal year 2011 through fiscal year 2015," according to the report. The good news is that nearly two-thirds were generally satisfied with their jobs. Paralyzed Veterans of America's (PVA) Executive Director Sherman Gillums Jr. said the report echoes what his organization has been saying, particularly about nursing shortages. PVA and VA have worked on a new staffing formula that calculates staff needed for patients with severe disabilities. "We hope to see it implemented sooner rather than later," Gillums added.
Legislation ensuring veterans have access to dental coverage signed into law (The Ripon Advance)
Bipartisan legislation introduced by U.S. Sen. Richard Burr (R-NC) to ensure that veterans continue to have access to dental insurance was signed into law by President Barack Obama on Friday. The Dental Insurance Reauthorization Act, S. 3055, which was introduced by Burr and U.S. Sen. Jon Tester (D-MT), extends a veterans' dental insurance pilot program that was created through legislation authored by Burr in 2010. "We owe a great debt to our service men and women for the great sacrifices they make to keep our country safe," Burr said. "I'm proud that my legislation to bring dental benefits to veterans is now law and that many of our service members will now be able to have this important health care benefit. This program has been successful, and opening it up to more veterans will improve overall health care. I thank my colleagues who supported this bipartisan effort." The dental insurance pilot program has provided coverage to veterans and their families since 2014. The program was scheduled to sunset in 2017, which would have resulted in tens of thousands of beneficiaries losing coverage. Previously, the Department of Veterans Affairs (VA) only offered dental insurance to veterans who were 100 percent disabled, were prisoners of war or had a service-connected disability. The dental insurance pilot program, which is operated through contracts with Delta Dental and MetLife, enables veterans to pay lower premiums for coverage. The premium for a single veteran who chooses a standard plan in North Carolina, for example, is $13.88 per month. The Dental Insurance Reauthorization Act made it a statutory program to ensure that veterans, survivors and dependents can continue to receive affordable dental coverage.
With 500,000 participants, VA says it has world's top genomic database (Health Data Management)
With 500,000 participants, the Department of Veterans Affairs' Million Veteran Program now has the distinction of being the largest genomic database in the world. The VA announced the milestone on August 1, when an Army veteran from Montgomery, Ala., became the 500,000th volunteer to enroll in the research database program, which is designed to link genetic, clinical, lifestyle and military-exposure information in partnership with the Obama administration's Precision Medicine Initiative. "We are now at a point that puts us ahead of the UK Biobank, which previously had been the world's largest genomic database," says David Atkins, MD, the VA's acting chief research officer. Launched in 2011, the Million Veteran Program operates at 52 VA sites nationwide, enrolling volunteers with the ultimate goal of securing 1 million participants to better understand how genes affect health and illness. "Many of our veterans have saved lives on the battlefield, and because of their participation in the Million Veteran Program, their participation has the potential to save countless lives—now and for generations to come," said VA Secretary Robert McDonald in a written statement. Atkins, who oversees the VA's nationwide research enterprise, credits its electronic health record system with providing the research program with a big advantage. "All the patients in the Million Veteran Program are getting care in the VA healthcare system, so we have EHRs that go back decades in the case of older veterans," he says. "We arguably have clinical data as good as any comparable databases." Participants donate blood from which DNA is extracted, as well as give permission to researchers to access their EHRs. Both the samples and data are coded to protect the identification and privacy of volunteers. In addition, participants agree to take a baseline and periodic follow-up surveys to track their military experiences, health and lifestyles. "Stuff that may not be captured as accurately in the medical record," adds Atkins. "We're pretty good at capturing whether people smoke or not, but we don't necessarily capture how many pack or years they've smoked or reliably how much they exercise or diet they follow." Researchers hope the information contained in the Million Veteran Program database will help to develop better prevention and treatment of mental illness as well as heart and kidney diseases. According to the VA, the program already has rich data on various health conditions that are common in veterans. For instance, about 62 percent of participants report a current or past diagnosis of high blood pressure and about a third report tinnitus. Also, 32 percent of veterans present with a history or current diagnosis of cancer. At the same time, Atkins argues that the main value of having a large population of subjects is "it also allows you to look at health conditions that may not be as common.
Arkansas VA, nurses settle lunch-break suit; agency agrees to pay $850,000 (Arkansas Online)
A $252,568 payment to 288 nurses and assistants who sued the Arkansas Department of Veterans Affairs will end a 4-year-old lawsuit over the agency's policy of docking the workers for lunch breaks whether or not they took time off. Pulaski County Circuit Judge Cathi Compton signed the settlement terms Monday that require Veterans Affairs to pay $850,000, including $551,566 in legal fees and expenses, to the nurses' attorneys, John Holleman, Timothy Steadman and Matthew Ford of Holleman & Associates law firm of Little Rock. The payments to the individual plaintiffs will range from $75 to $6,964.18, using a base damage award of $75 plus compensation for those counted as having two unpaid lunch breaks per week for up to five years, court filings show. "The settlement is fair, reasonable, and adequate. It compensates each class member for two missed meal breaks per week and avoids the expense and risk of a two-week-long trial and inevitable appeals," plaintiff and defense attorneys stated in a joint motion seeking approval of the arrangement. … The plaintiffs — nurses and nursing assistants who work at the two state-run veterans nursing homes — sued in June 2012, complaining that Veterans Affairs' practice of automatically deducting a 30-minute lunch break from their daily pay, whether or not they actually took a break, violated the state's Minimum Wage Act. The deduction effectively denied them the full overtime pay they had earned, according to the lawsuit. The $252,568 for the plaintiffs is "likely more than what class members could reasonably expect at trial," the parties stated in a motion to the judge to approve the settlement. The minimum wage law is untested by the courts, and the plaintiffs could find themselves in the position of winning a jury trial but then having the jurors decline to award them any compensation, according to the settlement motion. … All nurses and certified assistants who worked at the veterans homes in North Little Rock and Fayetteville between June 12, 2010, and Aug. 15, 2015, will automatically receive a check. Accepting the money means accepting the settlement and giving up the right to sue over the matter in the future. The group members have three months to cash the checks or they're considered to have exempted themselves from the settlement. The case was supposed to go to trial last month, but mediation about a week before the trial led to the settlement agreement, which was endorsed by Okeke, the lead plaintiff, and agency director Matt Snead, court filings show. The Veterans Affairs Department was represented by Assistant Attorney General Amber Schubert. A second suit over the automatic lunch-break deductions, filed about eight months later on behalf of a group of cooks, janitors and security guards who also worked at the nursing homes, has not moved forward since the Arkansas Supreme Court overturned its class-action status in November. The high court, in a 4-3 decision, ruled that Pulaski County Circuit Judge Wendell Griffen was wrong to group their claims into a single suit. The plaintiffs in this suit, with 20 different job titles, were too varied with working conditions that were too different for them to join in a single lawsuit, the justices decided.
Oklahoma joins hiring program for Army personnel, veterans (MilitaryTimes)
The Oklahoma Department of Corrections became the first state agency Tuesday to join a hiring program for U.S. Army active duty personnel and veterans. But Corrections Director Joe Allbaugh said it's uncertain how effective the agency's low starting salaries will be in recruiting soldiers to help fill a shortage of correctional officers in state prisons. "That's going to be a real challenge," Allbaugh told The Associated Press following a formal ceremony at the state Capitol to introduce the program known as the Partnership for Youth Access. Allbaugh said correctional officers in the state start as cadets at $12.78 per hour — lower than other states in the region. "It's pretty pitiful. It's a big issue," Allbaugh said. He said many other employers offer comparable wages for jobs that do not involve the risks that correctional workers face. "During an eight-hour shift their life is not on the line," he said. Allbaugh said increasing the salaries of Oklahoma's correctional and probation workers will be a top legislative priority for his agency in the 2017 Oklahoma Legislature that convenes in February. The PaYS hiring program provides soldiers, recruits and members of the Reserve Officers' Training Corps a guaranteed interview for potential employment during their time in the Army and after discharging. Although 47 private-sector Oklahoma businesses are program partners, the Corrections Department is the first state agency to use it. Allbaugh said soldiers are taught leadership and discipline during their service, qualities correctional officers need "to adapt to adverse situations at a moment's notice." "We're underemployed in correctional officers. We're underemployed in probational officers. Getting more and more of these individuals into those classifications will be critical to ensure our state's safety," Allbaugh said. A total of 29,000 inmates are currently incarcerated in state-operated and private prisons in Oklahoma, and another 31,000 people are on probation or parole, he said. Gov. Mary Fallin said 30 percent of Oklahoma's correctional officer positions are vacant and that having an opportunity to employ military personnel will be a way of getting more correctional officers into state prisons. "We want to make sure that our Department of Corrections employees are safe, that our public is safe," Fallin said. "We also have an obligation to keep our inmates safe. "We want to do everything we can to help our veterans be very successful," the governor said. Lt. Col. Jim Hill, commander of the Army recruiting command in Oklahoma City, said the program will strengthen the Army's relationship with the state. "Being part of the PaYS program will allow this agency to become stronger with the quality and the qualified individuals who come out of the U.S. Army," Hill said.
Florida VA appoints permanent executive director (WJHG)
Col. Glenn Sutphin, 67, became the permanent executive director of the Florida Department of Veterans Affairs. The Army veteran received unanimous approval from the Governor and his cabinet Tuesday morning. Sutphin has been acting director since the previous director left earlier this year to run for Citrus County Sheriff. He said his top goal is to build more nursing homes for veterans. "First of all is to build nursing homes," he said. "Florida is a state in critical need. We are supposed to have four thousand beds. We have eight hundred and ten beds. So my goal is to build those homes as quickly as possible and to man them properly and keep our turnover down." Florida has $58 million in federal money available to build nursing homes. The state will share 35 percent of the cost, but Sutphin says one of his first jobs is to try and get a better split with the federal government.