October 10 Veterans News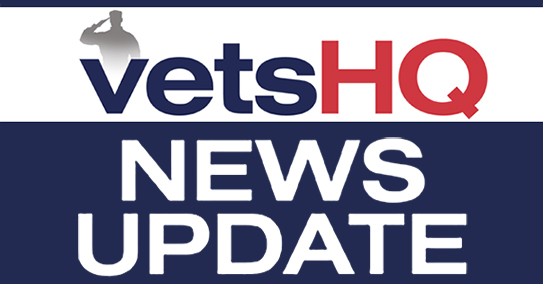 Veterans' records found in ex-state employee's storage unit (The Washington Times)
Virginia Attorney General Mark Herring is seeking a criminal investigation after applications for veterans' benefits were found in a storage unit belonging to a former state employee who was fired last year for mishandling records, officials said Friday. Between 20 and 30 boxes of documents were recovered from the unit belonging to the ex-employee for the Virginia Department of Veterans Services, who helped veterans apply for benefits with the U.S. Department of Veterans Affairs, said Tom Herthel, director of benefits for the Virginia department. The storage unit contained applications for VA benefits – which include medical and personnel records – and Herthel said it appears that at least some of the applications were never actually filed. "I am deeply concerned about the veterans whose records have been mishandled, and I have directed my team to use all available resources to identify these men and women and ensure that they receive the benefits and care that they are due," Virginia Secretary of Veterans and Defense Affairs John Harvey said in a statement. Herthel said he could not release the name of the former employee, who worked for the agency's veterans benefits office at the Richmond's McGuire VA Medical Center. She was fired after working nearly four years in the department when unfiled claims were found in her office in 2015, Herthel said. Officials say they're still trying to determine how many veterans may have been affected. The Virginia Department of Veterans Services has since moved to an electronic claims filing system, which means they can track all records to ensure they are actually filed. Michael Kelly, a spokesman for the attorney general, said Herring has asked Virginia State Police to open a criminal investigation into the matter. Corrinne Geller, a state police spokeswoman, said Friday that they are reviewing the request. The documents were found when the former employee's storage unit was seized for nonpayment. The stuff in the storage unit was auctioned off and the person who bought it found the records and immediately notified law enforcement, Herthel said. In 2014, scandals over long wait times at the VA led to the ouster of VA Secretary Eric Shinseki and a $16 billion law overhauling the labyrinthine veterans health care system and making it easier to fire VA employees accused of wrongdoing. Officials found workers at a Phoenix VA hospital falsified waiting lists while their supervisors looked the other way or even directed it, resulting in chronic delays for veterans seeking care. Similar problems were soon discovered nationwide.
Commentary: Collaboration is the key to getting effective PTSD treatments to veterans (MilitaryTimes)
Bret A. Moore, Psy.D., veteran: Finding effective treatments for veterans with post-traumatic stress disorder has been a challenge for the mental health community. Outside of a handful of medications and a few talk therapies, treatment choices for veterans are limited. And that's if they can tolerate them. Many veterans who are prescribed medication quit because of the side effects. As you might expect, reduced sex drive and the inability to achieve an orgasm — common side effects of approved PTSD medications — can be quite troubling for a service member in the prime of life. And we're gaining more insight about the inability of many troops to tolerate the intensity of trauma-focused talk therapies such as exposure therapy. The availability and tolerability issues associated with traditional PTSD treatments have spawned considerable interest in alternative therapies. In past columns, I've written about the popularity of techniques such as yoga, transcendental meditation, and equine therapy. I've even covered entire organizations such as Boulder Crest Retreat, a civilian, nonprofit group dedicated to these types of therapies. So why are these alternative and nontraditional treatments still considered alternative and nontraditional? It's simple — lack of evidence. New therapies, regardless of how innovative and cutting-edge they are, must be backed by hard data before they're accepted into mainstream health care. This is for good reason. Before introducing a new treatment to the public, we need to be sure that it's safe and effective. Although the need for therapies and programs to be backed by science is important, it prevents effective treatments from reaching those most in need in a timely manner. Scientifically assessing the merits of a new therapy or program can take many years and a substantial financial investment. For example, a randomized clinical trial is considered the "gold standard" when it comes to clinical research. However, this type of study can cost hundreds of thousands or even millions of dollars to complete. The reality is that few organizations outside of universities or the government have the finances to fund such an endeavor. There is a solution. Private and public sector collaboration is the key to bringing safe and effective therapies and programs to the market in a timely manner. We need a marriage between the innovative and entrepreneurial spirit of our private citizens and the funding and accountability of our government. This is our best chance at solving the current mental health crisis our veterans and country faces.
Researchers propose new unifying PTSD theory (PsychCentral)
In a Perspective article published in the journal Neuron, two professors at the University of Michigan (U-M) Medical School present a new theory of post-traumatic stress disorder (PTSD), suggesting that an inability to perceive the true context of the moment may play a major role in the disorder. The researchers believe the new theory helps unify current separate models of PTSD. They also hope to stimulate interest in the theory and invite others in the field to test it. In the article, the experts explain that people with PTSD appear to suffer from disrupted context processing, a core brain function that allows us to recognize that a particular stimulus may require different responses depending on the context in which it is encountered. Knowing the right context allows us to call upon the "right" emotional or physical response to the current encounter. For example, a mountain lion seen in the zoo would not warrant a "fight or flight" response, while the same lion unexpectedly encountered in your backyard most likely would. For a person with PTSD, a stimulus associated with the trauma they previously experienced — such as a loud noise or a particular smell — triggers a fear response even when the context is very safe. So the benign sound of the front door slamming or the smell of food burning on the stove may elicit the same fear response as a previously terrifying situation. Context processing involves a brain region called the hippocampus, and its connections to the prefrontal cortex and the amygdala. Research has shown that activity in these brain areas is disrupted in PTSD patients. The researchers hope their theory can unify wide-ranging evidence by showing how a disruption in this circuit can interfere with context processing and can explain most of the symptoms and much of the biology of PTSD. "We hope to put some order to all the information that's been gathered about PTSD from studies of human patients, and of animal models of the condition," said Israel Liberzon, M.D., a professor of psychiatry at U-M and a researcher at the VA Ann Arbor Healthcare System who also treats veterans with PTSD. "We hope to create a testable hypothesis, which isn't as common in mental health research as it should be. If this hypothesis proves true, maybe we can unravel some of the underlying pathophysiological processes, and offer better treatments." One particular problem, say the researchers, is that none of the current PTSD models can sufficiently explain the various symptoms nor all of the complex neurobiological changes seen in the disorder. For example, the first model of PTSD is based on abnormal fear learning. It is rooted in the amygdala, the brain's "fight or flight" center that focuses on response to threats or safe environments. This model emerged from work on fear conditioning, fear extinction and fear generalization. The second model, exaggerated threat detection, is rooted in the brain regions that figure out what signals from the environment are "salient," or worth paying attention to. This model focuses on vigilance and disproportionate responses to perceived threats. The third model, involving executive function and regulation of emotions, is mostly based in the prefrontal cortex, the brain's center for keeping emotions in check and planning or switching between tasks. By focusing only on the evidence bolstering one of these theories, researchers may be "searching under the streetlight," said Liberzon. "But if we look at all of it in the light of context processing disruption, we can explain why different teams have seen different things. They're not mutually exclusive." The main thing, says Liberzon, is that "context is not only information about your surroundings — it's pulling out the correct emotion and memories for the context you are in." A deficit in context processing would lead PTSD patients to feel "unmoored" from the world around them, unable to shape their responses to fit their current contexts. Instead, their brains would impose an "internalized context" — one that always expects danger — on every situation. The researchers say this type of deficit, developing in the brain as a result of both genetics and life experiences, may create vulnerability to PTSD in the first place. After trauma, a vulnerable person might develop symptoms of hypervigilance, sleeplessness, intrusive thoughts and dreams, and inappropriate emotional and physical outbursts.
Obama signs bill providing housing for homeless veterans (Los Angeles Wave)
A measure authorizing leases at the West Los Angeles Veterans Affairs building that will lead to permanent supportive housing to homeless veterans was signed into law by President Barack Obama Sept. 29. Secretary of Veterans Affairs Robert A. McDonald said "Thanks to the legislation signed today, the West Los Angeles campus of the VA Greater Los Angeles Healthcare System will be able to build permanent supportive housing for our most disadvantaged and vulnerable homeless veterans giving them easier access to state-of-the-art VA services. "This effort, along with increased community partnerships and intense outreach, will allow us to build on our progress in the city where veterans homelessness remains a significant challenge." McDonald also thanked the veterans that "provided valuable input to the framework for the draft master plan, now our agreed upon guiding document for the future of the West Los Angeles VA campus. "You came to town hall meetings, submitted written statements and consistently engaged with VA to create the vision for this campus," he added. The framework draft master plan will assist the VA in determining the most effective use of the campus for veterans, particularly, homeless veterans. The recently passed legislation provides the authority to enter into enhanced use leases, which allows the VA to move forward with the progress that has already been made to return the West L.A. campus to its original intent — to be a place for veterans to call home. With community support and veteran input, the VA is working to expand community partnerships on campus to offer more services. Veterans Affairs recently announced revitalized collaborations with Brentwood School and the city of Los Angeles Department of Recreation and Parks. An agreement with UCLA, VA's academic affiliate at the West L.A. campus was announced last January. Consistent with the Framework Draft Master Plan these agreements secure more robust in-kind services, increased financial compensation, and additional opportunities aimed at benefitting Veterans and their families. The law authored by Reps. Ted Lieu, D-Torrance, and Jeff Miller, R-Florida, would give the Veterans Affairs secretary the ability to enter into leases that allow housing and supportive services at the building. A plan announced earlier this year calls for 1,200 units to be made available to homeless veterans at the facility. "I am extremely grateful that President Obama signed this important legislation for veterans into law," Lieu said. "This is a significant first step and now we must complete the mission by revitalizing the West Los Angeles VA to make it a truly Veteran-centric campus. "With the leasing tools provided in the legislation, our existing coalition can now work to create a thriving campus of respect and healing for our nation's heroes and build 1,200 units of supportive housing for homeless veterans," he said. "We cannot solve the issue of Veterans homelessness in America without solving it in Los Angeles County." Mayor Eric Garcetti said the law "will change the lives of veterans in our city." "The West Los Angeles Veterans Affairs Master Plan is critical to ensuring that people who have worn our nation's uniform get the housing and supportive services they need," Garcetti said. "It breathes new life into the West L.A. VA campus, and will create a supportive space where veterans can receive the care and attention they deserve."
Houston still has challenges to end veterans' homelessness (Houston Public Media)
Houston's veterans face different challenges when they transition from military to civilian life and that can make their access to housing difficult despite the city's progress on homelessness. Former Mayor Annise Parker said in June of last year that Houston had effectively ended veterans' homelessness, but that is not necessarily the case. According to the Coalition for the Homeless of Houston and Harris County, more than 1,200 homeless veterans have been placed into some type of housing since the day Parker made that statement, but Carl Salazar, director of Houston's Veterans Affairs Office, says there are always people coming in or falling between the cracks. Salazar says Harris County has the second largest veteran population in the United States, just behind Los Angeles County, with approximately 250,000 veterans. Some of them are in Houston because it is their hometown, but others come because they hear it is an affordable city that also offers many job opportunities. That means Houston regularly receives an influx of veterans and some of them don't have a place to stay. In some cases the mere process of applying for housing becomes a challenge. That is happening to Calvin Mansell, a 60 year old homeless veteran who is living on the streets, north of downtown Houston. He says he applied for housing about a month ago and hasn't heard back yet. Mansell also notes the difficulty of the application process. "Sometimes we as homeless people don't have the access to communications as far as cell phones, computers, applying online, all these type of situations where some of us don't really know about these types of things," he said. Mansell says he has two grown daughters, but he doesn't want to become a burden for them and so he prefers to stay homeless until he finally gets the housing he has applied for. Kim Lanier, who works with the group Life Touch Community Ministries, which helps provide housing services for the homeless population, explains that the eligibility criteria for housing are strict. "You have the population who may have gotten a voucher to (an) apartment or housing," says Lanier "but their substance abuse was not addressed, so if you don't get them through the program to address their issues and then reward them with a voucher, then they're going to lose it because you haven't changed behavior." Salazar says although the system isn't perfect, there are more beds for veterans than there were before.
Air Force veteran's five-month wait for VA wheelchair ends (The Virginian-Pilot)
An Air Force veteran's more-than-five-month wait for a wheelchair from the Hampton Veterans Affairs Medical Center ended Friday afternoon. A delivery driver dropped a chair off at the Our Lady of Perpetual Help assisted-living center around 3 p.m., Arthur and Elaine DeAngelis said. "I've been in it for 10 minutes now," Arthur DeAngelis said. "So far, so good." Arthur DeAngelis, 80, has lived at the facility since December after breaking his back last summer. He served in the Air Force for nearly four years, receiving an honorable discharge in 1961. DeAngelis was fitted at the Hampton VA on April 22. At the time, the couple expected to wait six to eight weeks. They said multiple calls to inquire about the delay were not returned. Several people, including Sen. Mark Warner and state Sen. Bill DeSteph, reached out to assist the couple – including offers by some to donate a wheelchair – after a story detailing their wait appeared in The Virginian-Pilot earlier this week. Someone even dropped off a chair at the assisted-living facility, Elaine DeAngelis said. "It's very kind of them, you know," Elaine DeAngelis said. The new chair is smaller and more fitted to Arthur DeAngelis' needs. The Hampton VA declined to discuss the couple's case but called the delay an isolated incident.