April 22 Veterans News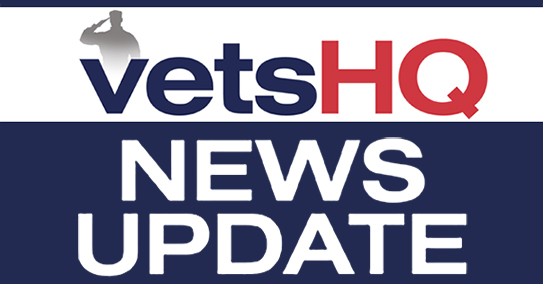 DEA approves PTSD marijuana study (MilitaryTimes)
The Drug Enforcement Agency has given its blessing to a study on the effect of medical marijuana on post-traumatic stress disorder, the first randomized, controlled research in the U.S. for PTSD that will use the actual plant instead of oils or synthesized cannabis. According to the research's nonprofit sponsor, Multidisciplinary Association for Psychedelic Studies, or MAPS, the DEA's approval gives researchers the go-ahead to buy the marijuana for the study from the National Institute of Drug Abuse. Once the marijuana has been secured, the group will begin recruiting and enrolling participants, perhaps as early as June, MAPS spokesman Brad Burge said. "The contract with the state of Colorado was signed on April 20 — an unofficial national holiday in some circles — meaning the funds are en route to MAPS. We are now preparing to place the order for the marijuana for the study," Burge said in an email to Military Times. Colorado in 2014 awarded a $2 million grant to MAPS for the research and at the same time gave an additional $5.6 million to several other organizations to support medical marijuana studies. The research first received approval in March 2014 from the Health and Human Services Department and was set to get underway at the University of Arizona and other locations within a year. But the program was delayed after the Tucson, Arizona, school terminated the contract of Dr. Sue Sisley, who was then the primary researcher on the program. Marcel Bonn-Miller with the University of Pennsylvania Perelman School of Medicine is now overseeing the project, with Sisley running half the study in Arizona and Ryan Vandrey overseeing the other half at Johns Hopkins University in Baltimore, Maryland. Work also will be conducted at the University of Colorado School of Medicine. Participants will include 76 veterans who have treatment-resistant PTSD. The study will use marijuana of various strains and potency for comparison purposes. The use of medical marijuana to treat PTSD remains controversial because while some veterans say the plant eases their symptoms and has allowed them to stop using prescription medications, very little scientific research supports these claims. Advocates say the research will fill a much-needed gap in medical literature. "This is a critical step in moving our botanical drug development program forward at the federal level to gather information on the dosing, risks, and benefits of smoked marijuana for PTSD symptoms," said Amy Emerson, director of clinical research for the MAPS Public Benefit Corporation.
A cutting-edge device could soon transform the lives of veteran amputees (Task & Purpose)
On Dec. 7, 2015, Ed Salau, who lost his leg to an injury sustained in combat, underwent surgery to implant a titanium rod into the base of his femur. It was the first time the procedure had been performed in the United States. But it was worth the risk. If everything went according to plan, Salau would be able to walk pain-free for the first time since 2004, when two rocket-propelled grenades badly mangled his left leg in Iraq. On Feb. 8, 2016, during phase two of the procedure, surgeons attached a docking mechanism for a prosthetic leg to the titanium rod. In April, Salau attached his new prosthetic leg and stood up. "I can feel the ground again," Salau was quoted saying in Department of Veterans Affairs press release. "I haven't had that sensation in eleven years." Salau is one of two veterans participating in a lengthy VA-funded clinical trial that could eventually transform the lives of thousands of amputees. The device, called a percutaneous osseointegrated prosthesis, or POP, allows for a prosthetic leg to be securely attached without a socket, which often cause pain and discomfort. The moment Salau stood up on his new leg was the culmination of more than a decade of research. "I can't believe this day is here," Dr. Sarina Sinclair, a key researcher on the team, was quoted saying in the press release. "It's so surreal." There is still much work to be done, however. It could be five years before the POP is widely available. But Salau's progress so far is promising. Over time, the muscles in his legs will grow stronger as the titanium rod fuses with bone, making it possible for him to move with relative ease. Each day is another opportunity to walk a little further. His goal: To climb Mt. Kilimanjaro.
Iowa veterans fight to stop government from defunding Agent Orange research (WHOTV)
The Vietnam War ended more than 40 years ago, but a chemical used by the military has had a lasting effect, not just on the country itself, but also on those who fought. Research shows the number of health complications linked to the use of Agent Orange continues to grow. Veterans' advocates say the funding to continue that research is at risk of drying up. They say the government has a responsibility to discover all there is to know about the impact on veterans and their families — even if it takes generations. Agent Orange got its name from the orange stripe on a 55-gallon drum. But for Vietnam War veterans and their families, it represents the unknown, even decades after the war ended. "Seems like it gets worse all the time to find out more diseases that are related to Agent Orange. Today, we have 14 presumptive illness or diseases that are related to Agent Orange," said Vietnam veteran Dan Gannon. The military sprayed millions of gallons of the herbicide across Vietnam to kill trees and vegetation that gave the enemy cover. The chemical contains a toxic dioxin that is linked to diseases that are still surfacing in veterans and their offspring. "We're finding out that this is a generational issue now. That the kids are coming up with health issues. The grandkids are coming up with health issues," Gannon said. Gannon is also a member of the Iowa Commission on Veterans Affairs. "I lost my daughter in 2010 from juvenile diabetes. And she was diagnosed the youngest ever in Polk County at that time at the age of 14 months. And that's a signal. Why? Because normally juvenile diabetes occurs age 5-12," Gannon said. "My feeling is, her diabetes came from my exposure to Agent Orange, but right now, they don't consider that." He said they don't consider that because he's her father. The VA only recognizes diabetes as a presumptive disease if a child's mother served in Vietnam. The government's theory is that Agent Orange can affect the egg, but not the sperm. Gannon is pushing Congress to prove it. Two bills are currently on the table to provide research funding that is at risk of drying up. "Ask the government to continue the research, continue the funding. Because we know we have a bigger issue than they really want to admit. And if they cut the funding off, they'll stop looking at it," Gannon said. Marcia Dayton, of Webster City, and her family are also proof of Agent Orange's hazardous effects. Her husband is a Vietnam veteran who died of health complications related to Agent Orange. "The government needs to acknowledge this. They need to help these people, especially people that don't have any money," Dayton said. She said her children and grandchildren all suffer from health issues. "They say it creates autoimmune problems. And my grandson, my youngest, has been diagnosed with diabetes since he was 4. My two granddaughters have a thyroid problem, and my oldest grandson had epilepsy," she said. With more questions than answers about Agent Orange, they say the government has a responsibility to continue the research. The war may have ended decades ago, but the physical wounds of that war could be with us for generations to come. Both bills being considered by Congress have Iowa ties. Sen. Chuck Grassley is a co-sponsor of the Senate version and Congressman David Young is a co-sponsor of the House version. Sen. Joni Ernst says she has concerns about the bill and is not committing to it. Iowa's other House representatives did not respond to Channel 13 about their support of the bill. This weekend, Vietnam Veterans of America will hold a symposium to address the issue. There are sessions scheduled at 9 a.m. and 1 p.m. Saturday at Hy-Vee Hall in downtown Des Moines. The public and veterans are urged to attend, including veterans from the wars in Iraq and Afghanistan. Gannon said those veterans were also exposed to toxic substances, and the health issues related to them are just beginning to surface.
Trump adviser is unsure where millions in veterans charity funds went (AOL News)
"We raised, in one hour, $6 million," Trump said. Millions of dollars Trump says he raised for veterans charities are unaccounted for, and Trump's adviser for veterans issues doesn't seem to know where that money is. Al Baldasaro, a New Hampshire state representative, has been stumping for Trump in his state and on the campaign trail. He's kind of Trump's man on veterans affairs. He told The Daily Beast the fact a lot of charities haven't gotten money is "not high on [his] priority list." And he deflected a little, saying he's not necessarily the lead adviser on veterans issues. He did call himself the "only one [who] talks about veterans for Trump," though. The Daily Beast reports about half of that $6 million is missing. Reporters have been asking about the money since early March. Some veterans groups, like Texas-based 22Kill, do say they got funds from Trump's January fundraiser. As for when others will get theirs is a roughly $3 million question.
Overcrowding forces Tennessee VA clinic to stop accepting new patients (NPR)
It's been nearly two years since the Department of Veterans Affairs came under fire for the amount of time veterans had to wait to see a doctor. The agency scrambled to find a fix, including allowing vets the option of seeing a private doctor via a program they call Veterans Choice. But the fix isn't working, so some VA clinics are coming up with other ideas to reduce wait times. In the city of Clarksville, Tenn., the VA clinic decided it simply couldn't take any new patients. The facility is so overcrowded that unused wheelchairs are being stored in the hall, and nurses are stationed in what used to be a corridor. There's even a computer set up in what used to be a bathroom. … There are also more patients than eight years ago, because the veteran population here has been growing. It's right next door to Fort Campbell, one of the largest military bases in the country. So in 2014, wait times at the Clarksville clinic were rising — at a time when Congress and the VA were clamoring for clinics to see patients faster. "Patients were calling in and we're saying, 'Well, you can't get in for 90 days, 120 days,'" says Michael West, the chief medical officer at Clarksville. "It was just logistically impossible for us to take care of the patients we had, so we had to draw a line and say, 'Look, we've got to do something.'" So last March, they did. The clinic in Clarksville decided to only see veterans who already went there. If someone new wanted an appointment, clerks were instructed to say that the site had temporarily stopped taking new patients. Instead, veterans could go to the VA hospital in Nashville, about an hour's drive away. They could go 35 miles north to a small clinic in Hopkinsville, Ky., or 35 miles west to an even smaller clinic in Dover, Tenn. They could also apply for the Veterans Choice Program, which is when the VA pays for a private doctor — although that's had many problems too. And it's been like this for more than a year. The clinic used to take about 50 new patients each week – about 2,500 a year – but now it's down to just a few emergency walk-ins. … NPR found nearly a dozen VA health facilities around the country that have done something similar in the last couple of years. For example, a few clinics in Washington state are having trouble hiring enough doctors for all the patients trying to get in. It's hard to know for sure how common this is around the country. The national VA keeps a tally of wait times, but it doesn't track which sites are seeing new patients and which are not. Mike Davies, who oversees clinic access for the VA, says it's "very common" for clinics to refer at least some patients elsewhere. But he believes this problem is inevitable in a big health care system.
Ohio offers license plates for woman veterans (WFMJ)
Beginning Monday, the Ohio Bureau of Motor Vehicles will offer specialty license plates dedicated to woman veterans. The plates will be available for purchase to any woman currently serving or retired who has served in any branch of the military: Marines, Navy, Army, Air Force and Coast Guard. "We are proud of these brave women who have served our country, and are pleased that Ohioans can now honor them by displaying the new special plate on their vehicle," said Don Petit, Ohio BMV Registrar. The plate was officially unveiled during a special ceremony Friday at the Ohio Statehouse. During the event, five women veterans were honored with special, commemorative license plates. "Ohio's women veterans are groundbreakers," said Chip Tansill, Ohio Department of Veterans Services Director. "They have served with distinction in every war, and we thank them for their role in preserving and protecting our freedom." According to a news release from the BMV, women make up more than 15 percent of America's military. More than 67,542 women veterans of all eras reside in Ohio. The BMV offers nearly 40 other military-related specialty license plates.