May 6 Veterans News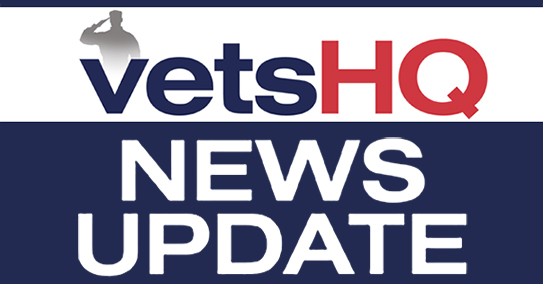 Companies 'join forces' to hire or train 100,000-plus more vets, spouses (MilitaryTimes)
First lady Michelle Obama and Dr. Jill Biden announced Thursday that since Joining Forces was created in 2011, companies have hired or trained more than 1.2 million veterans and military spouses. The White House's Joining Forces initiative focuses on helping veterans find jobs and helping military spouses keep meaningful employment if they have to move. "They always have our backs, and they need to know that all of us have theirs," Biden told representatives from companies that make it a priority to hire and train veterans. Along with the announcement from Obama and Biden, 40 companies pledged to hire more than 110,000 veterans and military spouses over the next five years, and more committed to training them. Jeff Bezos, founder and CEO of Amazon, vowed to hire 25,000 veterans and military spouses in the next five years. "We're constantly looking for leaders who can invent, think big, have a bias for action, and who want to deliver for customers," he said. "Those principles look very familiar to the men and women who served our country in the armed forces. And also their spouses." Bezos said Amazon is fortunate to already have veterans in leadership roles across the company. "Because of their amazing work, we've more than doubled the number of veterans at Amazon since 2013," he said. Amazon also committed to training 10,000 veterans and spouses in cloud computing. This would offer a path to Amazon Web Services certification and provide entry into "a high-demand, good-paying field," he said. The aerospace-defense sector pledged to hire a combined total of 30,000 veterans, and the telecommunications sector committed to hiring a combined total of 25,000. Obama said companies didn't make these commitments because she and Biden asked them to or because it's the patriotic thing to do. "They made these commitments because time and again they saw for themselves that our veterans and military spouses are simply the best employees around," she said. "And they realized that training and hiring these folks isn't just the right thing to do — it's the smart thing to do for their bottom lines." This is especially true for tech jobs, said Obama, who commented that the United States has the most technologically advanced armed forces in history. "If they can set up wireless networks in Baghdad or do satellite reconnaissance in the mountains of Afghanistan, I'm pretty confident that they can handle whatever's happening in Silicon Valley," she quipped. Biden said people want to know how they can salute service members and veterans and how to thank them for their service. "This is it," she said. "We believe all Americans should step up to show their support for service members, veterans and their families." Obama stressed the continuation of the Joining Forces message. "So we need to keep up this momentum," she said. "And I will say this again and again and again: No matter who is in the White House next, this should absolutely continue to be a national priority with national leadership coming from this building."
Veterans without honorable discharges may soon get health care (Calaveras Enterprise)
If nonprofit veteran advocacy group Swords to Plowshares has its way, veterans with "bad paper" or other-than-honorable discharges may finally receive the care they deserve and that the organization claims they have a right to, through the Veterans Affairs health care system. In late December 2015, Swords to Plowshares submitted a petition to VA Secretary Robert McDonald requesting the VA amend regulations restricting benefit eligibility based on conduct in service. The petition suggests that the "VA can and should change those regulations to better align VA practice with its ethical mandate and its statutory obligations." As World War II came to an end in 1944, Congress developed a plan to welcome home the millions of Americans who served in uniform by penning the Servicemen's Readjustment Act, more commonly referred to as the G.I. Bill of Rights. The act simplified and expanded eligibility for veteran benefits so that returning service members would be supported in their rehabilitation and reintegration into civilian society. At that time, Congress explicitly chose to grant eligibility for basic VA services even to veterans discharged for some misconduct, provided the misconduct was not so severe that it should have led to a trial by court martial and dishonorable discharge. "It is of the opinion of the committee that such (discharge less than honorable) should not bar entitlement to benefits otherwise bestowed unless such offense was such … as to constitute dishonorable conditions," said the Senate report on the 1944 G.I. Bill. While the 1944 bill seems to stand on its own, portions of the bill changed over time and a more restrictive bill passed through Congress in 2011 and became law on Jan. 3, 2012. That new law tied the VA's hands with regard to whom it could serve. That new law states, in part, "No benefits under laws administered by the secretary shall be provided … applicable to all persons administratively discharged or released from active military, naval or air service under other than honorable conditions." In stark contrast to the 2012 law, according to the United States Department of Veteran Affairs website, a veteran may qualify for VA health care benefits "If you served in the active military service and were separated under any condition other than dishonorable." There are two categories for discharge: administrative and punitive. Honorable, general or under honorable conditions, other than honorable or undesirable, all fall under the administrative discharge category, while only bad conduct and dishonorable fall under the punitive discharge category. Swords to Plowshares claims the current VA practice is to not provide services to those who hold discharge papers listing their discharge as other-than-honorable or undesirable. Yet if the assumption is made that there are thousands of potentially incorrect discharges made by the Department of Defense, the blame for lack of care may lie in its camp. While some question why a veteran with an other-than-honorable discharge should receive any care from the VA at all, it might be of interest to read some statistics gathered by Swords to Plowshares on this issue. The organization reported, "Currently the VA excludes veterans at a higher rate than any prior era, three times that of Vietnam veterans and four times that of World War II veterans." Since 2001, almost 30,000 veterans who deployed to a contingency operation are considered "nonveterans" by the VA, with Marines being 10 times more likely to be excluded from VA services than airmen and three times more likely than soldiers with equivalent performance and discipline histories. Over 125,000 post-2001 veterans cannot access basic veteran services due to the fact that the VA never completed an evaluation of their service (eligibility review) and are therefore are not eligible by default. What may be more troubling is that three out of four veterans with bad paper discharges who served in combat and who have post-traumatic stress disorder are denied eligibility by the Board of Veteran's Appeals. And in 2013, VA regional offices labeled 90 percent of veterans with bad paper discharges as "dishonorable," even though the military chose not to dishonorably discharge them. "The key question is, why did they receive the discharge?" said Calaveras County Veteran Service Officer Chele Beretz regarding the veterans' discharge status. "If the reason for the discharge is not valid then we would challenge it with supporting documentation." Beretz warns veterans that even though he or she may challenge the discharge status and complete the requests, "There is no guarantee that their request will be granted." There are a few more things to consider when questioning whether the VA should follow the guidelines handed down by Congress in 1944 or those more restrictive ones that came into effect on Jan. 3, 2012. Statistics show that veterans excluded under current regulations are twice as likely to die by suicide, twice as likely to be homeless and three times as likely to be involved in the criminal justice system.
AT&T plans to hire 20,000 veterans by 2020 (Inside Business)
AT&T on Thursday announced that it plans to hire an additional 10,000 veterans for a total of 20,000 hired by 2020. In 2013, AT&T announced it would hire 10,000 veterans within the next 5 years. That goal was met at the end of 2015. In a news release, AT&T said it announced the latest initiative at the White House at an event with more than 50 other companies that are dedicated to hiring and training military veterans and spouses. Collectively, the companies have pledged to hire 100,000 veterans over the next five years. "Military experience is great preparation for a successful career at AT&T," said Randall Stephenson, chairman and chief executive officer of AT&T. "Veterans' leadership, integrity and commitment to service make them outstanding employees. We're proud to have added 10,000 of these men and women to our team since 2013, and we look forward to hiring another 10,000 by 2020." Once veterans are hired, AT&T said it helps ensure they have the skills and resources needed to grow their career and succeed as an employee in the evolving technology landscape. The resources include AT&T veterans' employee resource group, which serves more than 9,000 members through mentoring and helping other veterans in their transition process.
These veterans deployed to Houston to rebuild after the flood (Task & Purpose)
When a major storm devastated Houston, Texas, the veteran-run emergency response team, Team Rubicon, deployed to provide immediate relief. The April 17 storm led to severe flooding and impacted thousands of residents. As of late April, first responders performed more than 1,200 flood rescues, according to CNN. The team's effort, called "Operation Moonshot," is made up of 50 active-duty service members and veterans who have logged 1,272 relief hours across Houston so far. "I actually went down there at the beginning," Army veteran and team member Cristina Cline told Task & Purpose. "The first day, we drove all over Houston looking through the neighborhoods that were the worst hit." She, along with the other members of Team Rubicon, spent time going door to door talking to homeowners and assessing damage. After the initial phase, the team then began helping the community rebuild. The residents are resilient, taking the process in stride, Cline said. "A lot of areas are starting to come on the up," Cline added. "But [the residents] are all really overwhelmed and tired. Most of their homes got flooded, and they were still feeling very overwhelmed and very emotional." Veterans like Cline say that many of the people they help are surprised that veterans, who they feel have given so much, are still willing to sacrifice their time to serve the community. "It's kind of ridiculous to us because if we felt like we had given enough, we wouldn't be here doing what we're doing," she added. Still, they are happy to have Team Rubicon on their side. The organization, which was founded in 2010 following the devastating earthquake in Haiti, provides disaster relief to areas affected by natural disasters, both domestic and international. "There's always somebody that needs help," Cline said. "People are appreciative of help any way they can get it." While some parts of Houston are well on their way to recovery, others face more flooding as Cypress Creek, in the northwest region of Houston, continues to rise. In order to provide continued relief, Team Rubicon plans to stay in Houston until mid-May.
Combat veteran speaks out on alleged sexual abuse at VA hospital (The Kansas City Star)
Joshua Hutchison served his country well in Pakistan and Afghanistan. But when he came home and sought help for the physical and psychological damage that combat left him suffering, he says his country let him down. Like dozens of other combat veterans, he became a patient of Mark E. Wisner, a physician assistant at the Veterans Affairs Medical Center in Leavenworth. And like many of those men, he was subjected to alleged sexual exploitation and abuse at the hands of Wisner, according to a growing number of lawsuits filed in recent months. … His lawsuit, filed this week in U.S. District Court in Kansas City, is at least the fifth filed this spring, saying VA officials were negligent in their employment and supervision of Wisner, who has since surrendered his license to practice. Wisner is also facing criminal prosecution in Leavenworth County District Court. In a statement, the VA said officials could not comment on the pending legal cases but said, "We take very seriously the safety and well-being of every single veteran patient." … According to the VA, when officials were made aware of possible inappropriate behavior by Wisner, they removed him from patient care and began an investigation. "Before the investigation was complete, Mr. Wisner left the VA and also surrendered his medical license to the Kansas Board of Healing Arts," according to the written statement from the VA. "Following the full investigation, criminal charges were officially filed against former employee, Mr. Wisner." The facility also sent letters to all of Wisner's former patients that included a hot-line number they could call. "This process was established to ensure open communication with veteran patients and their family members, to answer their questions, and to offer clinical and administrative support and resources from our VA Medical Center," according to the statement. Hutchison got one of those letters in late 2014, according to his lawsuit. He thought it was "odd" but did not understand it and did not respond. Early last year, Wisner contacted the Kansas Board of Healing Arts and surrendered his license to practice as a physician assistant. The board found that Wisner had used his position to "commit sexual battery crimes against veteran patients," and that he performed unnecessary genital exams that served "no legitimate medical purpose." On Thursday, Hutchison said he has talked to about 20 other veterans who were alleged victims of Wisner. Many are embarrassed about what happened, and some who have filed suit have done so as "John Doe." But Hutchison said he is speaking out publicly to encourage other veterans to come forward and seek help. Many like him were already suffering the effects of post-traumatic stress disorder from combat and are now dealing with their experiences with Wisner. "They were supposed to be getting care, and instead they have to deal with new trauma," he said. "It's pretty rough."
Noted Phoenix VA whistleblower finally reaches settlement over retaliation (Daily Caller)
Noted Phoenix VA whistleblower Brandon Coleman has come to a resolution with the Department of Veterans Affairs regarding his claims of serious retaliation, which the Office of Special Counsel (OSC) took up and thoroughly investigated. Coleman, who worked as an addiction therapist at Phoenix, filed a complaint with the OSC alleging the VA was violating its policy of assigning one employee to every suicidal veteran. Additionally, Coleman said the VA wasn't properly monitoring suicidal veterans in the emergency department. Due to his disclosures, Coleman says he was retaliated against by hospital management, which turned him into a heated critic of the department. He appeared on news networks and in Congress to raise awareness about accountability issues. After countless months of struggle and hardship, Coleman is now rejoining the hospital as an addiction therapist at a Phoenix outpatient clinic. His new job started on May 1 and does not fall under the former chain of command that led to retaliation in the first place. During his time at Phoenix, before all the disclosures and blowback from management, Coleman came up with the department's most successful suicide prevention program, known as Motivation for Change (M4C). Following his disclosures, the agency extinguished the M4C program.
Helping veterans go fishing: Chicago event to help struggling vets (Skyline Newspaper)
In Chicago, a recent donation event was hosted encouraging local fishermen and fishing companies to donate their gear to give to veterans for "fishing therapy." Joseph Lomalie, 34, from Oak Lawn, was injured in Afghanistan in 2008. Like so many other veterans, he currently suffers from post-traumatic stress disorder, anxiety, and depression. The Chicago Tribune reports that in 2014, Lomalie founded Helping Veterans Go Fishing after realizing it was fishing that helped him deal with his trauma. There are more than 38 million Americans who hunt and fish, and there are many reasons as to why these activities are so popular. But for Lomalie, the therapeutic benefits are what drive him to go fishing. "I realized when I was fishing, it helped me keep my mind off my pain — and brought peace to it — and got me motivated to get out of my house and be active," Lomalie said. According to VeteransAndPTSD.com, more than 20% of Iraq and Afghanistan veterans have PTSD and/or depression. The event, held at VFW Post 5220 in Oak Lawn, held a raffle to win even more fishing equipment, a guided fishing tour from Army Major and professional bass fisherman Mike Rasco, and a $1,500 boat. It is the Helping Veterans Go Fishing foundation's second annual event, and this year more than two dozen veterans attended. All proceeds from the event will go to a free fishing outing and barbecue in September for veterans and their families. "We go out fishing to relax," said Ed Sturtevant, a 48-year-old veteran from Wauconda. He served 17 years in the Army before being discharged in May of 2001. He, too, suffers from depression and believes fishing helps him take his mind off the trauma. "When we're out fishing," Sturtevant said, "we're not thinking about anything except for the fish."
New Iowa memorial For Vietnam Veterans (Iowa Public Radio)
A new plaque will be dedicated this morning to honor Iowa's secondary casualties stemming from the Vietnam War: victims of PTSD, Agent Orange and suicide. "We've got 867 names on the wall, but what about these other people? That's the purpose of this plaque is to remember and honor those other veterans that served but weren't killed, but they've certainly suffered a lot of issues in their life since they've came home," says Col. Robert King, Director of the Iowa Department of Veterans Affairs. The plaque's inscription reads, "In memory of the men and women who served in the Vietnam War and later died as a result of their service. We honor and remember their sacrifice."