July 7 Veterans News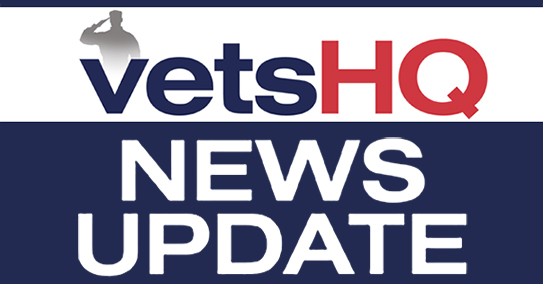 New VA study finds 20 veterans commit suicide each day (MilitaryTimes)
Roughly 20 veterans a day commit suicide nationwide, according to new data from the Department of Veterans Affairs — a figure that dispels the often quoted, but problematic, "22 a day" estimate yet solidifies the disturbing mental health crisis the number implied. In 2014, the latest year available, more than 7,400 veterans took their own lives, accounting for 18 percent of all suicides in America. Veterans make up less than 9 percent of the U.S. population. About 70 percent of veterans who took their own lives were not regular users of VA services. The new data, being released publicly today, is the most comprehensive suicide study ever conducted by the department. For years, the department has estimated the veterans suicide toll nationwide at around 22 individuals a day, but veterans groups noted numerous gaps in how that estimate was constructed. Most notably, the numbers were based on information from only about 20 states and did not contain full military records from the Defense Department. The new study includes more than 50 million veterans' records from 1979 to 2014, including every state. The data, compiled over the last four years, also comes from the Centers for Disease Control. VA officials said in a statement that the information will allow them to "inform our suicide prevention programs and policies, especially for groups at elevated risk for suicide, including older and female veterans." Together, the numbers point to a significant mental health risk for individuals who served in the military, though the specific reasons remain unclear. Researchers found that the risk of suicide for veterans is 21 percent higher when compared to civilian adults. From 2001 to 2014, as the civilian suicide rate rose about 23.3 percent, the rate of suicide among veterans jumped more than 32 percent. The problem is particularly worrisome among female veterans, who saw their suicide rates rise more than 85 percent over that time, compared to about 40 percent for civilian women. And roughly 65 percent of all veteran suicides in 2014 were for individuals 50 years or older, many of whom spent little or no time fighting in the most recent wars. Providing support and assistance to suicidal veterans has proven difficult, in part because of the lack of data on the scope of the problem. In recent years, VA has hired 5,300 mental health providers and support personnel and upgraded its Veterans Crisis Line in response to the problem. It has also elevated the profile of its suicide prevention office within the department and launched new partnerships with community health providers to offer counseling to veterans. Officials hope to use the data to further expand those offerings, targeting specific regions and populations within the veterans community to more effectively deliver care. Veterans groups hailed the new research as a critical step ahead in addressing the problem. "Of course, this is still 20 [deaths] too many," said Joe Chenelly, executive director at AMVETS. "But we are grateful for the deeper, more accurate data analysis. Much still needs to be done, and this gives us a better idea where to focus." Full year-by-year and demographic breakdowns of the data are expected to be released by the department by the end of July.
Report on VA calls for network of public-private care providers (Military.com)
A long-awaited report released Wednesday on the nation's troubled veterans' health care system recommends 18 "bold" changes, including creating a new network of public-private care providers, to address the crippling wait times and other problems at Department of Veterans Affairs. The Commission on Care called its report a "foundation for far-reaching organizational transformation," yet two members of the task force issued their own scathing dissent, saying the recommendations don't go nearly far enough to fix a failed system that needs a sweeping overhaul. Debate over reform at the VA has been growing in the two years since the discovery of long appointment wait times revealed a pattern of data manipulation and poor access for veterans at VA medical centers across the country. Since then, promised reform has sparked volatile discussion. Controversial calls to close the VA and offer veterans privatized care, supported by the two dissenting commissioners, prompted unified opposition from major veterans organizations and sparked street protests by unionized VA workers. The report submitted to VA Secretary Bob McDonald and President Barack Obama did not go that far, but it did identify a troubled system. The 15-member commission, created by Congress in the wake of the wait times scandal, found that despite billions of dollars spent to improve the sprawling health care system, the VA is still failing to provide adequate access to high-quality care. It suffers from flawed leadership, inadequate staffing, procurement problems and an antiquated IT system. In their recommendations, the majority of commissioners endorsed a public-private network of community-based care that would replace the flawed Choice Program meant to give veterans access to private care when needed. They also called for creating a governing board to oversee reforms and operations at the Veterans Health Administration. Under the Choice Program, also set up in the wake of the scandal, veterans were supposed to be able to get medical attention outside the VA if their doctor wait was more than 30 days or they had to travel more than 40 miles. But veterans had trouble getting those visits approved and getting reimbursed for out of pocket expenses. Under the proposed plan, those requirements would be scrapped and veterans would have a choice of medical providers from a network in their community that includes VA, federal and private doctors and specialists. "The commissioners … agree that America's veterans deserve much better, that many profound deficiencies in VHA require urgent reform and that America's veterans deserve a better organized, high-performing health care system," they wrote. "These recommendations are not small-scale fixes to finite problems. Instead they constitute a bold transformation of a complex system that will take years to fully realize." Other reforms include cultural and leadership changes from creating an 11-member board of directors — a move Congress would have to legislate — to developing a leadership promotion pipeline. One recommendation suggests revising regulations to allow care for veterans with other than honorable discharges who are deemed eligible because of mitigating factors like combat trauma or injuries. "While the Commission on Care's nearly 300-page report will take time to completely review and digest, the document makes it abundantly clear that the problems plaguing Department of Veterans Affairs medical care are severe," said Congressman Jeff Miller, R-Florida, who chairs the House Committee on Veterans' Affairs. He said the committee would review the report in detail in September when Congress reconvenes. Many of the recommendations could be implemented directly by Obama, though some reforms, like a governing board, would still require congressional action. In a six-page dissent, commissioners Stewart Hickey and Darin Selnick charged that the commission had missed an opportunity for true reform of a system suffering from "bureaucratic paralysis." Selnick is a former VA employee and a senior adviser on veterans affairs for the conservative group Concerned Veterans for America, which has advocated for turning the VA into a non-profit government corporation that would give veterans a wide choice of care. Hickey is a retired Marine major and was executive director of the service organization American Veterans. They welcomed some of the proposals, including a plan for the VA to repurpose or divest itself of underused facilities, but said other proposals would "only superficially and temporarily move the VHA out of its current state of dysfunction." Carlos Fuentes, deputy legislative director at the Veterans of Foreign Wars (VFW), said Wednesday the veterans organization agrees with the commission's proposal for integrated care, but cautioned that the VA must remain the coordinator. "We agree with the model, but how veterans navigate it and what role the VA plays, that is something we have to iron out," he said. The VFW's National Commander John Biedrzycki shared similar concerns about the integrated care network, saying that the VA must develop a process for veterans to make informed choices. "What we can't support is veterans being given a list of primary care providers and told to go find someone willing to see them," Biedrzycki said in a statement. "That's not a choice, that's shirking inherent responsibility to care for our nation's wounded ill and injured veterans." Along with Selnick and Hickey, a third commission member also refused to sign the report. Michael Blecker, executive director of the nonprofit Swords to Plowshares, drafted a letter saying he believed the recommended community care plan was a "dangerous idea" that would "threaten the survival of our nation's veteran-centered health care system as a choice for millions of veterans who rely on it." Blecker said many sick or elderly veterans rely on VA coordination and want more of it, not less. McDonald said he will examine the report in the coming weeks, but was pleased to see that many of the recommendations are in line with his own vision for the VA.
Employer survey: Veterans viewed as heroes, but not necessarily a good hire (USA Today)
The vast majority of Americans and employers see veterans as "heroes," but don't see them as "assets" within the community, a viewpoint that can keep them from the jobs they want, according to a survey and analysis by the Edelman marketing firm released Thursday. "The stereotyping of veterans as 'heroes' may create emotional distance between veterans and civilians making it difficult for community members to connect with veterans and see them as potential colleagues," the report said. The online survey of more than 2,000 veterans and non-veterans conducted Oct. 12 to Nov. 12 found that 84% of employers and 75% of civilians see veterans as heroes. But only 26% of employers and 22% of civilians think veterans are "strategic assets" in their communities. The survey of civilians had a margin of error of +/-3.95%, for veterans +/- 4.53% and employers +/- 5.26%. Brian Duffy, incoming national commander of the 1.7-million-member Veterans of Foreign Wars service group, said such views are not surprising and unhelpful. "There is a disconnect between the civilian population and those that serve," Duffy said. … Jobless rates for veterans who served during the Iraq and Afghanistan wars have come down in recent years, but sponsors of the surveys said concerns remain about the quality of employment. "The issue is about long-term job fit, advancement, retention. Is the veteran given the same look as others?" said  Barbara Van Dahlen, founder and president of Give an Hour. Survey results were released as part of a joint effort by Edelman; Give an Hour, a non-profit organization that provides counseling to troops and veterans, and the George W. Bush Institute. The goal was to examine the "well-being" of veterans and what was described as an ongoing schism between civilians and those who serve in the military, according to Van Dahlen. Van Dahlen said the contrasting view that veterans are heroes, but not assets, is a product of an American culture in need of heroes, but lacking understanding of its military. "These folks come home from war, they've seen and done things that would make many of us feel uneasy, uncomfortable, intimidated. And so by seeing them in this way, as heroes, it does keep us distant from them." Concerns about a divide separating the public from America's all-volunteer military date back to 2010, when then-defense secretary Bob Gates complained that wars in Iraq and Afghanistan were little more than a "distraction" for most Americans. A few months later, Adm. Mike Mullen, then-chairman of the Joint Chiefs of Staff, said, "America doesn't know its military and the United States military doesn't know America." The findings show that schism is unchanged. Partial survey results commissioned by the Bush Institute found that about 70% of the American public say they don't understand the problems faced by military members. Eighty percent of veterans who served after Sept. 11, 2001, agreed with this lack of understanding by the public. The numbers were almost identical to findings by Pew Research in 2011, when the same questions were asked. A Bush Institute survey also found that the public overestimates the rate of mental illness among post-9/11 veterans — 40% believe more than half of the 2.6 million former servicemembers suffer from emotional issues. In reality, an illness like post-traumatic stress disorder strikes about 10% to 20% of those who were deployed to war. The Edelman survey found that employees most commonly think about mental health problems when they think about veterans. When asked what are the most important support programs veterans need, 92% of employers picked mental health services, compared with 88% who chose employment services and 65% who chose education services.
Opinion: On federal hiring, let's not make things even harder for veterans (MilitaryTimes)
Rep. Ruben Gallego and Rep. Ann Kirkpatrick: Veterans who served our nation in uniform deserve the chance to serve our nation in the federal government. Most Americans agree, and for decades, policies that encourage federal agencies to hire veterans have enjoyed strong bipartisan support in Congress. The so-called veterans preference in federal hiring is an expression of our nation's appreciation for their service as well as a reflection of the fact that the valuable skills veterans bring to the workforce don't always show up on paper. Unfortunately, a provision slipped into the Senate version of the annual defense authorization bill would severely undermine these policies and could undercut the Obama administration's successful efforts to combat veteran unemployment. The American people recognize that we owe an immense debt of gratitude to the brave men and women who fought for our freedom, many of whom left their civilian lives behind for months or even years to risk their lives in defense of our nation. They also understand that the transition back to civilian life after service is often difficult and rife with challenges — not the least of which is finding a good job. That's why our country has a long history of advantaging honorably discharged veterans when they apply for federal employment. The veterans preference system helps create a fair playing field for veterans by compensating them for the time they spent fighting for our country overseas instead of working in government or the private sector. These policies are also an acknowledgement of the reality that the discipline, poise, perseverance and leadership skills that veterans have honed in the armed forces may not be as visible on their résumés or to civilian hiring managers. To be clear, veterans preference isn't a handout. It doesn't guarantee veterans a job, and it doesn't give them a leg up in promotion, transfer or reassignment after they are hired. It simply ensures that our nation's war heroes are afforded an honest look when they compete for federal positions. Veterans must clear the same high bar as other federal job seekers, demonstrating throughout the rigorous federal hiring process that their experience, education, skills and judgment are equal — or superior — to those of other applicants. Unfortunately, this long-standing system has come under attack in recent months. The Senate Armed Services Committee included a largely overlooked provision in its version of the 1,700-page annual defense authorization that would prevent veterans from benefiting from the preference system if they are already employed by the federal government. While this change might seem innocuous, it could have serious, negative implications for veterans. Under the Senate proposal, if a particular federal job isn't a good fit or if a veteran wants to move up the ladder at a different agency, he or she would be deprived of this benefit and would likely lose out to candidates who have spent years in the civilian job market. More importantly, the Senate provision would set a dangerous precedent. After years of painful progress in combating economic distress and homelessness among former service members, now is not the time to dilute a program that has proven itself to be among the most successful means of promoting veteran employment in our nation's history. With the vocal support of many of America's most prominent veterans organizations, including the American Legion and the Vietnam Veterans of America, we're fighting back. Along with our democratic colleagues from California, Reps. Mark Takano and Pete Aguilar, we are offering an amendment to an upcoming spending bill that will prevent the changes to veterans preference included in the Senate defense authorization from being implemented. While the Senate provision was buried in a massive bill and was never the subject of a public debate or recorded vote, we want to put members of the House of Representatives on record in support of America's veterans. Veterans preference in federal hiring is one of the most important ways our government strives to meet its obligations to the men and women who fought courageously for our country. At a time when the critical connection between civilian society and our military has become strained, we must preserve a system that respects and rewards service in uniform.
House Veterans Affairs chairman files new VA accountability act (Military.com)
House Veterans Affairs Committee Chairman Rep. Jeff Miller, R-Florida, has filed new legislation that he says will bring "real accountability" to all employees at the Department of Veterans Affairs. If enacted, the bill would radically reduce the time between firing or demoting an employee and getting a resolution if the action is appealed to no more than 77 days from more than a year. It would also entirely pull VA senior executive service officials out of the Merit Systems Protection Board. "The biggest obstacle standing in the way of VA reform is the department's pervasive lack of accountability among employees at all levels," Miller said in a statement on Wednesday. "Until this problem is fixed once and for all, long-term efforts to reform VA are doomed to fail." Miller's bill comes on the heels of decisions by the Justice Department and the VA to disregard the expedited firing process that Miller and other lawmakers made sure was included in the Veterans Accountability Act of 2014. Though many lawmakers believed the 2014 act would enable VA Secretary Bob McDonald to quickly clean out non-performing, poorly performing or corrupt VA managers, the law turned out to be legally flawed. The Department of Justice in early June said it would not defend the expedited firing provision of the accountability act — which in part rolled back from months to just weeks the fired employee's right to appeal. With DoJ bailing on its support, McDonald announced June 17 that the VA would not fire officials using the law. Miller said at the time that McDonald's decision called into question whether the VA is even interested in disciplining employees, and was evidence that civil service reform is needed across the federal government. Miller's newest accountability bill also includes a provision providing whistleblowers a system to solve problems at the lowest level possible while still offering them protection from reprisals and mandating strict accountability for those who act against them. Additionally, it would give the VA secretary the authority to recoup bonuses and relocation expenses from "misbehaving employees," as well as reduce pensions of senior executives convicted of felonies that influenced their job performance. Miller blames "union bosses, administration officials and their enablers" for the lack of accountability at the VA, saying they use "every trick in the book" to help department bureaucrats keep their jobs even though they cannot or will not do them. He said his bill will get rid of loopholes that have allowed "deadwood employees" to stay in jobs for years. "Union bosses and defenders of the broken status quo will oppose this bill, and that is exactly why it must become law," Miller said.
Fight for VA-funded service dogs takes next step (Free Beacon)
The Senate's version of the PAWS Act was introduced in a bipartisan effort to extend Veterans Affairs treatments to cover service dogs on Wednesday. Senators Deb Fischer (R., Neb.) and Cory Booker (D., N.J.) introduced the bill, known as the Puppies Assisting Wounded Service members (PAWS) Act. It would create a pilot program at the VA to provide veterans suffering from post traumatic stress disorder with trained service dogs and veterinarian care. The veteran would also be required to make quarterly mental ouseealth check ups at their local VA facility to remain eligible for the program. The bill authorizes $10 million per year to fund the pilot program, which will run from fiscal year 2017 to 2022. It's House counterpart, introduced in March, has already accumulated 97 co-sponsors from both sides of the aisle and is currently awaiting hearings in the Veterans Affairs Committee. Cole Lyle, a six-year veteran of the Marine Corps who has been a major proponent of the legislation, said his service dog, Kaya, helps him deal with PTSD on a daily basis. He said he's encouraged by the introduction of the PAWS Act in the Senate and expects it to gain strong support. "I couldn't be more thrilled," Lyle told the Washington Free Beacon. "I've met with many senators personally, including Thom Tillis, Bill Nelson, John Boozman, Thad Cochran, Jerry Moran, Joni Ernst, and Jack Reed, all of whom have expressed their willingness to get behind PAWS." "I'm set to meet with several more senators in the coming weeks before the August recess, and PAWS has the support of many prominent national veterans organizations like the American Legion, the VFW, and IAVA, just to name a few." The senators who introduced the bill said it was an effort to help provide America's wounded veterans with more treatment options. "Our wounded warriors have made tremendous sacrifices for their country," Sen. Fisher said in a statement. "Many bear invisible wounds and struggle each day to make it to the next. I'm proud to join Senator Booker to introduce the PAWS Act. Our bill would bring the joys and love of man's best friend to help our veterans cope with the scars of war." "We are forever in debt to our brave wounded warriors for their sacrifice to preserve our freedoms," Sen. Booker said in a statement. "I am proud to join Senator Fischer to introduce bipartisan legislation that will enable the VA to provide service dogs to increase the quality of life and provide therapeutic comfort for our heroes as they readapt to civilian life." Lyle vowed that he and Kaya would continue to lobby for the PAWS Act and expects to have it on the president's desk soon. "Kaya and I will continue to be an active part of the process as it moves forward in the Senate, and I have every confidence we can get this through both chambers and on the president's desk before the end of the year," he said.