October 20 Veterans News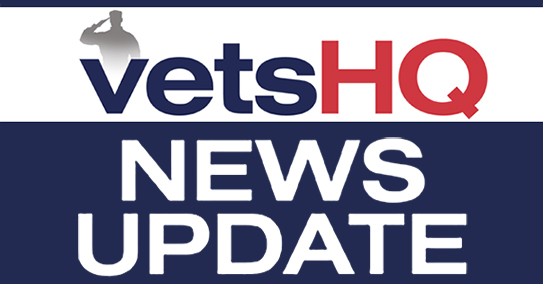 VA extends deadline for seeking Gulf War illness benefits to 2021 (Stars and Stripes)
For the next five years, veterans will have an easier time seeking benefits for illnesses linked to service in the Gulf War because of an extension issued Monday by the Department of Veterans Affairs. Since 1994, the VA has automatically presumed a connection from Gulf War service, which included a toxic environment of oil fires and chemical weapons, to an increased risk for several illnesses. The connection enables veterans to receive a disability rating and benefits more quickly. But the presumed connection and the ability to seek benefits was set to expire at the end of this year, after being extended four times previously. Effective Monday, the VA extended it a fifth time, to Dec. 31, 2021. "This end date creates such an anxiety among the Gulf War veterans that gets so high as that deadline approaches," said James Bunker, the executive director of the National Gulf War Resource Center in Topeka, Kansas. "[Secretary Bob] McDonald promised us the beginning of this year that this extension would happen." As justification for the extension, the VA cited a report from the National Academies of Sciences, Engineering, and Medicine in February that found veterans deployed to the Gulf War have an increased risk for chronic fatigue syndrome, functional gastrointestinal conditions and mental health disorders, as well as a myriad of symptoms including headaches, joint pain, insomnia and respiratory issues that make up Gulf War illness. In the extension filed with the Federal Register on Monday, the VA wrote symptoms could manifest in Gulf War veterans at any point, and there was "no medical or scientific basis" for stopping veterans from seeking benefits at the end of year. The rule applies to veterans who served in Southwest Asia from 1990 to now, including ones from Operation Iraqi Freedom and Operation New Dawn. "Currently, military operations in the Southwest Asia theater continue," the extension read. "No end date for the Gulf War has been established by Congress or the President. If extension of the current presumptive period is not implemented, servicemembers whose conditions manifest after Dec. 31, 2016 would be substantially disadvantaged." The VA is accepting comments about the extension through Dec. 16. Bunker has a 100 percent service-connected disability rating from his time in the Gulf War, he said. He deployed with the First Infantry Division out of Fort Riley in Kansas and was medically evacuated in 1991 after struggling with respiratory and muscle problems. The VA granted Bunker service connection in 1992 for symptoms included in Gulf War illness. Through the National Gulf War Resource Center, Bunker has appealed to Congress to eliminate the deadline permanently. The VA secretary is the only one with the authority to extend it. … Of the 700,000 servicemembers deployed to the Gulf War in 1990 and 1991, 36.5 percent were experiencing some symptoms of Gulf War illness in 2005, according to a previous NAS study. The federal government spent more than $500 million on research related to Gulf War veterans from 1994 to 2014, but there's been few findings about Gulf War illness and specific chemical agents that could be causing it, according to the NAS study from February. Besides fighting to allow veterans to continue to seek benefits for Gulf War illness, advocates are tackling high rejection rates for Gulf War claims. In March, the group Veterans for Common Sense issued a report stating the VA denied about 80 percent of claims filed by Gulf War veterans in the first half of 2015. At a hearing before the House Committee on Veterans' Affairs that month, the Veterans of Foreign Wars charged the VA was denying claims to try to rule out Gulf War illness intentionally, Stars and Stripes reported. VA officials at the hearing said its accuracy rate on Gulf War claims was about 90 percent. "VA still has a hard time properly rating these claims," Bunker said. "They seem to be in a constant form of denial when they do make mistakes on the benefits side."
Vets, retirees will see a 0.3% COLA hike in 2017 (MilitaryTimes)
Military retirees and individuals receiving veterans benefits will see only a 0.3 percent cost-of-living increase in their federal benefits next year, a nominal increase matching 2016's hike. On Tuesday, officials from the Social Security Administration announced the small raise, the third consecutive year the benefits adjustment will be under 0.5 percent. Since 2009, the cost-of-living hike has been more than 2 percent only once, when it reached 3.6 percent in 2011. Veterans benefits are not automatically tied to the Social Security increase, but in July lawmakers passed legislation linking the two benefits for 2017. In the last few decades, veterans have seen their annual adjustment differ from the Social Security COLA only one time, and then only due to minor rounding differences. The Social Security COLA is calculated by the Bureau of Labor Statistics' periodic Consumer Price Index, a statistical estimate of the anticipated price of a variety household goods and services. This year, officials are estimating only small increases in those costs, identical to the rise seen in expenses heading into 2016. The Social Security, military retiree and veterans benefits changes affect more than 70 million Americans, about 22 percent of the country's population. According to the Associated Press, the 0.3 percent adjustment will mean less than $4 more a month for a Social Security recipient who sees the average payout of $1,238. The adjustment will go into effect for beneficiaries starting Dec. 30. Veterans using Medicare for health coverage may not see anything at all once those medical costs come into play. The Associated Press reports that Medicare Part B premiums, which are usually deducted from Social Security payments, are expected to increase next year, effectively wiping out the COLA hike.
VA investigators looking at claims of secret waitlists in Colorado (The Denver Post)
The top watchdog at the U.S. Department of Veterans Affairs confirmed Wednesday that his staff is investigating allegations of forgery and off-the-books recordkeeping at VA medical facilities in Colorado. In a letter to U.S. Sen. Cory Gardner — who requested the inquiry last month with Ron Johnson of Wisconsin — VA Inspector General Michael Missal acknowledged that his team is trying to determine whether agency personnel kept unofficial waitlists for patient care at VA offices in Denver, Golden and Colorado Springs. The VA Office of Inspector General also said it is investigating whether Colorado officials falsified records following the suicide of a veteran who did not receive timely care for post-traumatic stress disorder. Both accusations stem from a whistleblower who came forward earlier this year and since has claimed the VA has tried to retaliate. The letter from Missal did not mention any inquiry into that specific accusation. "The circumstances regarding the alleged document falsification as well as the alleged use of unofficial wait lists are now under review by OIG staff," Missal wrote. "Upon completion of our review, we will make every effort to share whatever information we can in accordance with applicable law." Gardner said he welcomes the investigation. "These allegations are serious and therefore must be met with a thorough, comprehensive investigation. I remain committed to fighting for transparency and accountability from the VA, and I look forward to reviewing the Inspector General's findings," he said in a statement.
Contractors sickened by military burn pits left to fend for themselves (Miliatry.com)
It's known as "the new Agent Orange." Thousands of soldiers have fallen gravely ill or even died from exposure to burn pits in Afghanistan and Iraq, but they are not the only ones who have gotten sick. Civilian workers and private contractors are also suffering maladies including cancer, respiratory problems and blood disorders and, like military victims, they say they are being ignored. But private employees often don't even have the Veterans Administration to lean on. "Who's responsible for us? Who's going to start taking care of us?" asked Bobby Elesky, 52, a vet-turned-private contractor who worked out of Kandahar during the war in Afghanistan. Elesky, who served in the military in the 1980s, said many vets like him were recruited as private contractors to assist in Afghanistan. "We were all rounded up as vets from the [Department of Defense] because we were the best soldiers," he said. "They asked us if we wanted to go, and shipped us to Afghanistan." Elesky worked on vehicle maintenance and the military base where he was stationed contained a burn pit he says was the length of "two to three football fields." He adds that it was filled with various sorts of waste until it was level enough to walk across and the fumes from the burn pit combined with the base's sewage pit, created a noxious environment to work in. "There were times when the air quality was so bad that you would just drop to your knees and throw up," he said. "We made jokes at the time because we had no idea how serious it was.' But Elesky says he found out when he returned home in 2005 and was told during a checkup that he had nearly 20 parasites in his body. More than a decade after his return, Elskey has suffered from myriad health issues, including plasmacytoma — a condition where rare tumors attack soft tissue in the nasal cavity or bone marrow. He is grateful for the treatment he has received from the VA, but said the bureaucracy was difficult to deal with. Elesky said he was initially denied enrollment into the U.S. Department of Veteran Affairs' Burn Pit Registry — which was created to research and examine the potential threats from burn pit exposure. "I'm a vet, but I'm not, according to them," he said. "Because I was there as a contractor, I wasn't allowed to sign up for the registry, which is b.s. to me. They already have all the data they need." … During the wars in both Iraq and Afghanistan, the burn pit method was adopted originally as a temporary measure to get rid of waste and garbage generated on bases. Everything was incinerated in the pits, say soldiers, including plastics, batteries, appliances, medicine, dead animals and even human waste. The items were often set ablaze with jet fuel as the accelerant. Nearly 64,000 active service members and retirees have put their names on the Burn Pit Registry, but documenting their plight doesn't guarantee coverage. … Last Thursday, 700 veterans sent a letter to President Obama through advocacy group Burn Pits 360, urging government and the public to address their health issues caused by burn pit exposure. … The Department of Veterans Affairs claims on its website for the registry that there is not enough proof of burn pits permanently affecting the health of those exposed. "At this time, research does not show evidence of long-term health problems from exposure to burn pits. VA continues to study the health of deployed veterans," reads a line from the site. "Veterans who were closer to burn pit smoke or exposed for longer periods may be at greater risk. Health effects depend on a number of other factors, such as the kind of waste being burned and wind direction. Most of the irritation is temporary and resolves once the exposure is gone." But for many soldiers and civilians alike, the issues were not temporary. Contractors — many of whom are also veterans like Elesky — are not afforded the luxury of registering with the VA due to a technicality and, for some, insurance companies for the private organizations that hired them, are not assisting with medical bills. "The VA will never be obligated to provide me with benefits and that's OK," Veronica Landry, 44, a veteran and former contractor from Colorado Springs who worked for Kellogg Brown & Root in Iraq, said to FoxNews.com. "My concern is that the insurance company for KBR pays for the claims." … Landry was sent to Iraq in 2004 by KBR and worked as a recreational and morale specialist at Mosul Air Force Base. "It's ironic that I worked for the company that poisoned us." Officials for Kellogg, Brown and Root said in a statement provided to FoxNews.com that the burn pits the company operated were safe. … Landry was sent home early for PTSD after the base was attacked. Making matters worse, she also developed problems with her lungs and other ailments, like migraines, chills, and dangerously low blood pressure, leading her to be in and out of hospitals over the past 10 years. … This single mother of three says it's hard, but she has kept her health in check with a low-inflammation diet to help stave off flare-ups, but she wishes that more would be done to help the civilians who were exposed to burn pits. "There needs to be another registry for contractors and civilian workers who got sick," Landry said. "It should be handled by the Department of Labor."
Foundation to cover fertility-related expenses for some veterans (MilitaryTimes)
Veterans whose injuries have caused infertility can now apply for reduced-cost fertility services and grants to cover related expenses under a new program administered by the Bob Woodruff Foundation. The foundation has established a financial assistance fund that will help cover the unreimbursed costs of fertility services, while members of the American Society for Reproductive Medicine and the Society for Assisted Reproductive Technologies provide discounted services to eligible veterans. The programs could help as many as 2,000 veterans who sustained injuries in Iraq and Afghanistan that caused infertility or diminished their ability to parent children naturally. While Congress passed a bill last month that allows the Veterans Affairs Department to provide fertility services to these former troops, the legislation contained no money to fund the program and the VA is not required to provide the services under the legislation's wording. Bob Woodruff Foundation officials said they established the fund to serve as a "bridge" for veterans who can't wait for VA to establish a fertility program. "We have an opportunity to provide renewed hope as our service members look toward the next chapter in their lives," co-founder Lee Woodruff said. The fertility services associations ASRM and SART established their "Service to Veterans program" in 2015, offering deeply discounted in vitro fertilization services to affected former service members. The amount of discount is determined by each clinic, with most facilities offering at least a 50 percent discount on treatments, according to the organizations. The Bob Woodruff Foundation's fund is designed to cover any unreimbursed costs for these services. Companies that contributed to the fund include Merck & Co., Ferring Pharmaceuticals, and EMD Serono, officials said. "Such collaboration between a medical specialty, the pharmaceutical industry and a well-established nonprofit like the Bob Woodruff Foundation is unprecedented," said Dr. Gilbert Mottla, a reproductive endocrinologist at Shady Grove Fertility, Annapolis, Maryland. "The effort will go a long way toward helping wounded veterans build their families." The Defense Department covers fertility services for injured troops while they are on active duty. But until the most recent legislation was passed, the VA was restricted by law from paying for or providing fertility services to their patients. The VA has not announced whether it plans to begin offering the services.
Veteran gets 2 years for defrauding VA (The Herald-Dispatch)
A Kentucky man accused of misrepresenting to doctors his ability to see was sentenced to two years in federal prison Monday in Huntington for defrauding the Veterans Health Administration of more than $750,000. Phillip M. Henderson, 51, of Olive Hill, Kentucky, must also pay $789,472 in full restitution after a jury convicted him on the charge in April, U.S. Attorney Carol Casto said in a release. His scam was tripped up when authorities learned that Henderson had a Kentucky driver's license and was an active driver, which he never revealed to the VA. During his trial, witnesses testified that from 1996 to 2015, Henderson received the maximum disability and health care benefits for himself and his family, which totaled approximately $697,000 in compensation, not including additional grants received by the defendant for such things as a car and a swimming pool. Henderson served in the U.S. Army from 1983 to 1986. After he was discharged, Henderson filed multiple claims for benefits with the U.S. Department of Veterans Affairs. In 1995, he was diagnosed by the VA with retinitis pigmentosa, an inherited and degenerative eye disease which can lead to total blindness. Henderson continued VA eye examinations through 2013, during which time VA medical staff tested to determine the extent of his vision loss. The tests relied significantly on Henderson's reporting of his vision levels. Witnesses for the government, including four medical doctors, testified that Henderson falsely responded to the testing and misrepresented his vision loss significantly. Witnesses further testified that Henderson pretended he could barely read letters on eye charts and pretended his peripheral vision was severely reduced. Henderson benefited from more than $75,000 in other health care benefits to which he was not entitled, ranging from free medical and dental services to free prescriptions. He was also given reimbursement for travel from his home in Kentucky to the VA Medical Center in Huntington. He also received free training for the blind in Connecticut and Alabama for extended periods of time, and free equipment designed to assist the blind, such as canes, computers, talking telephones and night vision goggles. In addition to this monthly monetary compensation, Henderson received an $11,000 grant to purchase an automobile in 2006, which was intended for another person to drive Henderson. He also received a $10,000 grant toward an in-ground swimming pool meant for his exercise and to maintain his well-being as a blind veteran.