October 3 Veterans News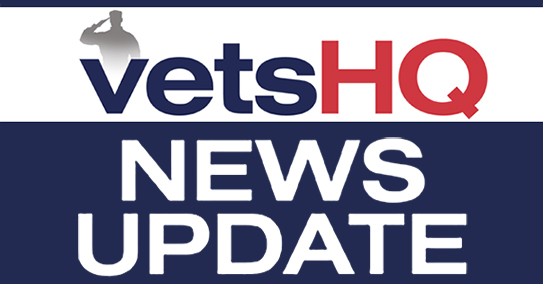 Donald Trump under fire for comments on veterans with PTSD (ABC News)
Republican presidential candidate Donald Trump is getting flak today for an answer he gave on what he would do to address issues around post-traumatic stress disorder and suicides by military veterans. "When people come back from war and combat, and they see things that maybe a lot of the folks in this room have seen many times over, and you're strong and you can handle it, but a lot of people can't handle it," Trump said, speaking Monday morning at a panel for the Retired American Warriors PAC in Virginia. Trump also said that mental health care for veterans needs to be improved. "We need mental health and medical, and it's one of the things that is least addressed and one of the things — one of the things that I hear most about when I go around and talk to the veterans," he said. "So, we are going to have a very robust, very, very robust level of performance having to do with mental health." "We are losing so many great people that can be taken care of if they have proper care," Trump said. Reaction was quick on Twitter to the nominee's remarks, with many users saying a diagnosis of PTSD is no reflection on a person's strength. The CEO of Iraq and Afghanistan Veterans of America, Paul Rieckhoff, tweeted that Trump's remark "perpetuates stigma." Trump also said it "should never be" that 22 veterans per day commit suicide, referring to a 2013 analysis by the U.S. Department of Veterans Affairs showing 22 veterans dying by suicide each day. A report released Aug. 3 showed that number to be down slightly to 20 veterans committing suicide per day, accounting for 18 percent of all suicides among U.S. adults. Trump has gotten into hot water with some in the military community before, first after he said in July 2015 that Arizona Sen. John McCain, who spent over five years as a prisoner during the Vietnam War, was "not a war hero." "I like people that weren't captured," Trump said at the time. Recently, he criticized Khizr and Ghazala Khan, the Gold Star parents of U.S. Army Captain Humayun Khan who was killed during the Iraq War in 2004. Trump took aim at Khizr Khan after he criticized the Republican nominee during a speech at July's Democratic National Convention.
VA improperly withheld millions of dollars in benefits (Task & Purpose)
Roughly $110 million in payments to thousands of housebound veterans was withheld from them by the Department of Veterans Affairs, according to a new report from VA inspector general's office. The IG report found approximately 186,000 veterans as of March 2015 were designated as housebound because of illness or injury with errors in payments to about 33,400 of them. Others did receive payments, but they were delayed anywhere from five days to six years. The report also found some veterans who were not designated as housebound received $44.3 million in money meant for housebound veterans. "Staff did not accurately address housebound benefits," the report concluded. "As a result, some veterans did not receive benefits to which they were entitled, while taxpayer funds were wasted paying other veterans who did not meet the eligibility criteria." The IG report blamed the errors on a faulty electronic system, poor training and management allowing VA staff to "arbitrarily decide these claims." This is not the first time that VA's technology has been criticized. In its final report released in the summer, the Commission on Care – a board established to propose recommendations for VA reform – called the VA's technology "antiquated" and "disjointed." The commission called for a new system that would, in part, better allow the health care side of VA to communicate with staffers making benefits decisions. In response to the IG report, the VA's office of the undersecretary for benefits said it was working on technology changes. The office also said it would start an annual review of benefits going to housebound veterans. The first review is scheduled for October. Meanwhile, Michael Missal, the VA's new inspector general, told a House committee earlier this week that he's working to expand inspections into the VA's benefits programs. The committee met about another IG report that found veterans in prison had received $104 million in overpayments between 2008 and 2015. The IG now has three teams dedicated to reviewing the Veterans Benefits Administration, Missal told the committee. In this latest report, the IG cited one example of a veteran who had one illness or injury rated as 100 percent disabling, plus other disabilities. As of February 2015, the veteran was being underpaid by about $350 per month. During nine years, the VA had not paid $36,100 to the veteran. The error was fixed in October 2015. In another case, a veteran who was temporarily housebound continued receiving extra payments even after he had recovered. He had been overpaid approximately $154,000 during four and a half years, the report stated. The VA corrected the payments in May. Besides updating some of its technology and starting an annual review of housebound benefits, the VA said it would require more training. The changes will be put into effect in the remainder of 2016, according to the VA's response.
Commentary: The VA's faltering battle against veteran suicide (The Wall Street Journal)
Robert Morgenthau, former District Attorney of New York County: The popular imagination has often pictured the war veteran as a gregarious hero, eager to repeat a trove of cherished war stories. As a veteran of combat in World War II, I can only say that has not been my experience. When my destroyer, the USS Lansdale, was nearly cut in two by a German torpedo, 49 of my shipmates were lost in that attack. But that was only the beginning of the toll. In the decades following, I witnessed the impact of combat trauma on the human psyche. Back then we called it battle fatigue. Today, psychiatrists call it post-traumatic stress disorder, or PTSD. The most dramatic manifestation of PTSD among veterans now is a suicide rate approximately twice that of the general population. Anyone watching the recent presidential-campaign "commander in chief" forum heard the candidates cite repeatedly the estimate that each day, 22 military veterans take their own lives—and that far more of our servicemen and women will die at their own hand than at the hand of an enemy. In 2012, the Department of Veterans Affairs announced an initiative to hire an additional 1,600 mental health professionals. Two years later, it announced another initiative to expand further the ranks. Last year, Congress passed, and the president signed, the Clay Hunt Suicide Prevention for American Veterans Act, named after a decorated Marine who killed himself in 2011 after struggling with PTSD. But the bottom line is that despite these initiatives, the VA has not been able to expand its services to meet the need—and the tragic loss of life continues. In April, for instance, an assistant inspector general for Veterans Affairs, Larry Reinkemeyer, testified before Congress that the VA "struggles to attain and retain a sufficient mental health workforce capacity, establish a competency-based practice, and have adequate systems to support improving care nationwide." Even more troubling, Mr. Reinkemeyer said, even where the VA was able to expand the ranks of mental-health professionals, veterans were not experiencing a corresponding improvement in access to treatment. He also reported that the VA dropped the ball in its efforts to ensure that facilities used effective clinic management practices. The VA is a tempting political target. It is expedient to paint the agency as a bloated and ineffective federal bureaucracy that has outlived its usefulness. I am decidedly not of that view. The truth is that in many regions, and for many medical specialties, the VA is doing a commendable job, often providing more effective care than veterans could obtain elsewhere. Even with respect to mental health and PTSD, the VA is helping many veterans, and experimenting with private/public partnerships to provide innovative treatment. But the time is long overdue to face an essential fact: Suicides by veterans have continued unabated, and the VA has not been able to meet the needs of those it serves. It is time for Congress and the administration to take ownership of this issue. During the time that I was district attorney of New York County, a constantly rising homicide rate pivoted to a constantly declining homicide rate. It did so in no small part because we in law enforcement took as our goal not just expanding our efforts, but decreasing violence itself. Similarly, we need to face frankly that current efforts to combat PTSD and suicide have been inadequate. To supply crucially needed mental health services, Congress and the administration need to act immediately to provide veterans access to civilian mental-health services, and need to improve treatment by dramatically expanding public/private partnerships. This must be a priority. In 2014, when Barack Obama signed the Suicide Prevention for American Veterans Act, the president noted that, "[T]o every person in uniform, every veteran who has ever served, we thank you for your service. We honor your sacrifice. But sometimes, you know, talk is cheap." It is tempting to say that some things never change, but this is something that must change, and change now. We must expand mental-health options for our veterans and increase services. And we must not rest until the scourge of PTSD is defeated as soundly as any enemy we have ever faced on the field of battle.
Tom Hanks: 'Military caregivers are hidden heroes and they need your support' (Task & Purpose)
On. Sept. 27, Tom Hanks and former Sen. Elizabeth Dole officially announced the launch of Hidden Heroes, a national campaign to raise awareness and garner support for the nation's 5.5 million military and veteran caregivers. At the event, Hanks addressed the crowded auditorium at the U.S. Capitol in Washington, D.C., and posed a simple question: "What part are you going to play in this movement?" asked Hanks, the national chair of Hidden Heroes. "I trust that the stories of honor and sacrifice we will now share and those you will learn about in the weeks and months ahead will bring you to your answer." Hanks, along with guest speakers, journalist and former NBC Nightly News anchor Tom Brokaw, Secretary of Veteran Affairs Robert McDonald, Democratic Minority Leader Nancy Pelosi, and others weighed in on the critical challenges facing military caregivers, and the importance of supporting them. "And by military caregivers, we're not talking about health care professionals, we're not talking about educated experts, we're talking about wives, and family members, and girlfriends, and kids, and parents," explained Hanks. "Those are the military caregivers. The people giving care to their military loved ones." Hidden Heroes was launched by the Elizabeth Dole Foundation, an organization founded by Dole in 2012. It seeks to strengthen and empower military caregivers and their families through research, raising awareness, and policy change. "Bringing our country's hidden heroes, and that's what they are, heroes who are hidden out of sight, bringing them out of the shadows to honor their service is a companion piece, I think, to welcoming home those who have served," said Hanks. According to the Elizabeth Dole Foundation's findings, the challenges facing military caregivers include: depression, isolation, unemployment, and debt due to a severe lack of awareness and support. These strains have been exacerbated by the constant state of war since Sept. 11, 2001, with many younger caregivers facing daily challenges that last years, if not a lifetime.
Effort to recognize World War II spies hung up in Congress (Military.com)
Spies don't work for fame or acclaim. But after 75 years, the men and women who served behind the enemy lines in Nazi Germany and the Pacific theater during World War II wouldn't mind some recognition. Legislation to award the spies the Congressional Gold Medal has passed the Senate and has more than 300 sponsors in the House, yet the bill is being held up by House Republicans, who recently enacted rules that require a special waiver to grant the medal to groups of people. "I would be extremely proud to get a gold medal for what we did for our country," said Frank Gleason, 96, one of the few remaining veterans of the Office of Strategic Services, the World War II-era forerunner to the CIA. "What we did was a little exciting." The holdup frustrates a group of veterans whose numbers continue to dwindle as time marches on. "We're all in our mid 90s," said Irv Refkin, 95, who was recruited by OSS because of his German language abilities, which he used to gather intelligence. "We're not going to be here that long." Refkin, of Hillcrest, Calif., said he called the office of House Majority Leader Kevin McCarthy, R-Calif., to lobby for the bill, and talked to "some kid intern." "I asked him, did he know what OSS was? He didn't know. People haven't heard of us," Refkin said. Of course, the nature of spy craft is secretive, so for many years the stories of the OSS were classified. It was formed in 1942 and at one point employed almost 13,000 men and women, recruited from all branches of the military. Famous members include actor Sterling Hayden and director John Ford, baseball player Mo Berg, chef Julia Child, future CIA director William Casey. Estimates of how many OSS members are still alive range from a few dozen to 100. Refkin recalled a mission to Germany where he had to gain intelligence on the Nazis' plans for defending against what ultimately became the D-Day invasion. Refkin, dressed as a German corporal, rode the train behind enemy lines with forged documents. He posed as an office cleaner at German headquarters in Hamburg. "Nobody looked at a corporal. You carry a garbage bag, put some smelly stuff in it, and they waive you right through," Refkin said. "Nobody pays any attention to the guy emptying the ashtrays." Gleason's group was tasked with halting the Japanese advance into China. Gleason, who grew up in Pennsylvania coal country and knew about explosives, helped detonate bridges, railroad tracks and anything else. "We just blew stuff up left and right," he said. Patrick O'Donnell, a military historian who has written several books on OSS missions, said he has interviewed hundreds of members. They tell stories that sound almost implausible, and when he verifies them in old mission reports, "You find out that it's completely understated." O'Donnell said the CIA traces its beginnings to the OSS, and the Navy Seals have their roots in the OSS' Maritime Unit. "They changed the face of World War II," he said. "You'd be very hard pressed to find a smaller group of individuals who made such a profound difference in the history of modern American warfare." The recognition being sought, the Congressional Gold Medal, has been awarded to several World War II-era units in recent years, including the Native American Code Talkers, the Doolittle Tokyo Raiders and World War II members of the Civil Air Patrol. Perhaps in response, the House Republican Conference enacted a rule that prevents awarding the Gold Medal to groups of people, unless House leadership grants a waiver. A spokeswoman for the House Republican Conference did not return a call and email seeking comment on the rule. McCarthy and House Speaker Paul Ryan's office also declined comment. Since the new rule, a waiver has been granted at least once, to the civil rights marchers in Selma, Alabama, in 1965. Sen. Mark Warner, a Virginia Democrat, helped sponsor legislation in the Senate. He said he never anticipated that there would be any resistance. "It just shouldn't be this hard," Warner said. The House sponsor, Rep. Robert Latta, R-Ohio, is working on a rule change that will allow the bill to be brought to the full House this session, said his spokesman, Drew Griffin. The House recessed this week without passing the bill. Hopes for passage now rest on pushing the bill through during the lame-duck session after the election. If that doesn't happen, the whole process has to start again in the next Congress. Charles Pinck, president of the Falls Church-based OSS Society, can't believe the House has balked at the recognition. "The OSS had to fight for its creation. It had to fight for its existence. It fought the Nazis and the Imperial Japanese Army," he said. "Now it has to fight to be recognized. If there's one thing the OSS knows how to do, it's fight."
VA whistleblowers get new protections in budget deal (MilitaryTimes)
Tucked into the last-minute budget deal passed by Congress this week are new protections for whistleblowers in the Department of Veterans Affairs in response to a series of high-profile retaliation cases that lawmakers insist show a cultural problem in the bureaucracy. The provisions — based on legislation co-authored by Sens. Mark Kirk, R-Ill., and Richard Blumenthal, D-Conn. — require a 12-day minimum suspension for the first time supervisors retaliate against a whistleblower and immediate dismissal if the same offense happens again. It also includes in supervisors' performance ratings how they respond to employee complaints and concerns, and expands other existing whistleblower protections to VA doctors and nurses, a group previously left out of some of the federal regulations. Kirk praised the move as a critical step forward in fixing the department's problems. "This bill is a positive step in ending the VA's culture of corruption and making sure our veterans are never again mistreated or neglected," he said. "Too often we have seen incidents of whistleblowers being intimidated or fired when they bring abuse and failure to light. These systemic problems need to be addressed so that whistleblowers are not afraid to come forward." Earlier this month, House lawmakers grilled VA officials over their use of employee settlement policies after allegations surfaced the program is often used to dismiss problem staffers instead of punishing them and to get rid of whistleblowers rather than address their allegations. Lawmakers have pointed to the case of a Puerto Rico VA hospital employee offered $300,000 to quit after she filed complaints about a supervisor's criminal record. Committee officials said nearly $5 million in employee settlements have been negotiated since July 2014, but VA officials insist the program is being used properly. VA Secretary Bob McDonald over the last two years has repeatedly stated that supervisors found retaliating against whistleblowers will be punished, but leaders in both the House and Senate have said they routinely field complaints from employees who are punished for pointing out waste, fraud and abuse in their offices. In recent months, Kirk has highlighted reports from several whistleblowers working at Edward Hines Jr. Veterans Administration Hospital in his state, including allegations of cockroaches in food there. "We need to protect the protectors of our veterans," he said. The budget bill, which extended federal spending at fiscal 2016 levels until Dec. 9 and set nearly $177 billion in VA funding for all of fiscal 2017, was signed into law by the president on Thursday.
Music helps heal veterans through free guitar lessons (The Post and Courier)
Marta O'Conner used to be pretty angry. The Beaufort woman constantly grappled with the resentment she would feel at the sight of people who were happy. She wondered how so many people could live in such absolute ignorance. "You come back from a war zone, you know what's happening out there, then you come here and everyone is partying, eating good food, taking good showers, wearing nice clothes and you get a sour taste for society," she said. "You wonder, 'How can you be so happy right now?' Someone just got killed over there." The 30-year-old Marine Corps veteran, who served more than a year in Iraq, has spent the past four years coping with those feelings, as well as bouts of anxiety, panic attacks and other post-traumatic stress disorder symptoms that crept through her mind. Lately, however, she's found some solace. While being treated for PTSD at the Ralph H. Johnson Veterans Affairs Center in downtown Charleston, O'Conner was referred to a program that was teaching veterans to play guitar. The Lowcountry chapter of Guitars for Vets was born about four years ago and does more than provide free guitar lessons to area veterans. At the end of the 12-week course, veterans are provided a guitar of their own. Beyond the lessons and free instrument, veterans are getting so much more out of the program, according to the chapter's coordinator, Gary Harvey, an Army veteran. "What this program has done, it gives them a social outlook. It gets them out here in this group and I've seen the change in people," said Harvey of West Ashley. "Most of us are veterans, from Vietnam era all the way through. We can relate. We're passing on our knowledge." Many of the 10 local instructors are veterans who volunteer to teach lessons at the VA in downtown Charleston and the Vet Center in North Charleston weekly throughout the year. "These are fellow veterans taking the time to keep us in tune. Pun intended," said O'Conner. … The program has more than 50 chapters nationwide in 25 states. In 2007, Guitars for Vets was born in Milwaukee, Wisconsin, after Dan Van Buskirk, a Vietnam-era Marine who suffered from PTSD, took guitar lessons from Patrick Nettesheim, a guitar instructor. "After only a few months, the men realized that guitar lessons were both opportunities for self-expression and positive human interaction," according to the organization's website. Since the founding of the organization, more than 20,000 lessons have been taught and about 2,000 guitars have been given to veterans around the country. A clinical trial performed by the VA's Office of Research and Development on a small group of veterans in Milwaukee showed the program was successful in reducing PTSD and depression symptoms.