Veterans News – December 15, 2016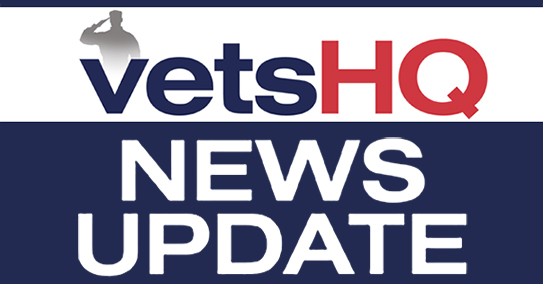 Congress passes gutted veterans reform bill (Stars and Stripes)
In the last hours of the 114th Congress, lawmakers settled on a veterans reform bill that includes only pieces of what the Department of Veterans Affairs and several veterans groups were hoping to accomplish by the end of the year. "[It] doesn't accomplish enough for America's veterans," Sherman Gillums Jr., director of Paralyzed Veterans of America, said of the bill titled the Jeff Miller and Richard Blumenthal Veterans Health Care and Benefits Improvement Act of 2016. Rene Campos, a leader within Military Officers Association of America, said it "scratches the surface." The legislation named for the leaders of the Senate and House veterans affairs committees — Sen. Richard Blumenthal, D-Conn., and retiring Rep. Jeff Miller, R-Fla. — was sent to President Barack Obama after the Senate approved it on Saturday morning. Pieces of the 57-page bill were taken from the 400-page Veterans First Act, which the Department of Veterans Affairs and veterans groups collaborated to create. The Veterans First Act passed the Senate Veterans' Affairs Committee unanimously in June, and then stalled. "While we are pleased to see the 11th-hour movement, we are disappointed to see the most critical elements of the Veterans First Act stripped away," Gillums said in an emailed statement. One noted omission from the bill is a revamped appeal process for veterans' disability claims. VA Secretary Bob McDonald, some lawmakers and veterans groups have called the current appeals process outdated, complicated and broken. Appeals take an average of five years to resolve, according to VA data. During a public discussion at the Center for New American Security on Tuesday, McDonald said Congress was acting as a "barrier" to reform the process. "We need that legislation in order to ultimately have the ability to continue the transformation," he said. "I've been told by some members of Congress that my wish to get this legislation passed wasn't going to happen so they could wait for the new Congress to come, so they could take credit." The Miller-Blumenthal bill does include a temporary increase from seven to nine judges on the U.S. Court of Appeals for Veterans Claims. But Campos said it wasn't enough. "The whole system needs modernization, needs reformed," she said. Campos and Gillums said they had also advocated for an expansion of services for family caregivers, which was included in the Veterans First Act but not in the bill that is now awaiting the president's signature. "We will advocate for its resurrection in the next Congress," Gillums said. The bill does contain a measure allowing VA health care providers to work flexible hours, which McDonald has said would help the VA in hiring qualified staff. Vietnam Veterans of America also praised lawmakers for including a mandate for the VA to work with the National Academy of Medicine in researching the descendants of veterans who were exposed to a toxic environment during their service. "It will lay the groundwork for the research we need on the health of our children and grandchildren, who we believe have been impacted by exposures during our military service," said VVA president John Rowan.
Veterans groups: 'We cannot afford to start over' with new VA leadership (MilitaryTimes)
A coalition of 20 veterans groups on Wednesday upped their efforts to keep Veterans Affairs Secretary Bob McDonald on into the next administration, warning President-elect Donald Trump that "we cannot afford to start over" given department reform progress in recent years. "These efforts to transform and modernize the VA are showing early signs of success in the form of a better veteran experience and, if continued, we believe they have the potential to eventually make VA a model agency," group members said in a letter to the incoming commander in chief. "It is therefore of the utmost importance that you select someone willing and able to continue prioritization of this work. We believe that person is Sec. McDonald." The push, lead by officials at Got Your 6, includes signatures from the leaders at AMVETS, the Marine Corps Reserve Association, the National Military Family Association, Wounded Warrior Project and others. Last week, members of the six largest veterans groups met with Trump's VA transition team and also pushed for serious consideration of McDonald to stay on in the role. Bill Rausch, executive director of Got Your 6, said the latest letter is designed not to signal any dissatisfaction with the incoming administration, but to let Trump know that they see recent improvements as connected to his promises to clean up the department. "We're not sure (Trump) knows the current secretary shares many of the same goals," he said. "Based on the criteria he put forward in his campaign, we're trying to highlight to him that Bob McDonald is the right man." The letter states that transforming VA "will take a continuous commitment from leadership over the course of many years. As you make your selection for VA Secretary, then, we advocate for an approach that recognizes and builds upon current progress." Keeping a cabinet secretary from a previous administration — even from a different political party — is infrequent but not unusual. When President Barack Obama took office in 2009, he kept Defense Secretary Bob Gates on in that role from President George W. Bush's administration. One group that has actively pushed back against the idea of retaining McDonald is Concerned Veterans for America, which has repeatedly attacked the 63-year-old Army veteran as took slow to implement health care reforms and unwilling to discipline misbehaving VA employees. Other candidates being considered for the post in Trump's administration are Pete Hegseth, a Fox News commentator and former president of CVA, and former Massachusetts Sen. Scott Brown. Both visited Trump in New York in recent weeks to talk about the job. Current House Veterans' Affairs Committee Chairman Jeff Miller, R-Fla., is also on the list, although neither he nor McDonald have met with Trump. McDonald has hinted he would be open to staying on the job, but has said he has not been contacted by president-elect thus far.
Nurse practitioners to treat vets without doctor supervision (Military.com)
The Veterans Affairs Department beginning next month will allow certain nurse practitioners to treat veterans without the supervision of doctors across the agency for the first time. The move is designed in part to shorten wait times for patients who are seeking treatment in underserved areas with physician shortages, according to a rule published Wednesday in the Federal Register. The regulatory change permits three types of nurse practitioners — certified nurse practitioner (CNP), clinical nurse specialist (CNS), and certified nurse-midwife (CNM) — "to practice to the full extent of their education, training and certification, without the clinical supervision or mandatory collaboration of physicians," it states. While 21 states and the District of Columbia already grant nurse practitioners so-called "full practice authority," the rule marks the first time the VA established a nationwide framework for such specialists to provide direct care to vets throughout its system. More than 5,000 nurse practitioners already provide clinical assessments, order and interpret diagnostic tests, make diagnoses and provide other treatments at VA facilities, according to the American Association of Nurse Practitioners. As it stands now, though, many states require NPs to work under a "collaborative agreement" with a physician, meaning nurses working at VA facilities without "full practice authority" don't enjoy direct access to patients. The rule, slated to take effect Jan. 13, "permits VA to use its health care resources more effectively and in a manner that is consistent with the role of APRNs in the non-VA health care sector, while maintaining the patient-centered, safe, high-quality health care that veterans receive from VA," it states. Organizations representing nurses and veterans welcomed the decision, while a group representing doctors opposed it. "This is a great day for veterans and an important step forward for VA health care," Mark A. Stevenson, chief operating officer of the Air Force Sergeants Association, told Military.com. "This rule will ensure veterans high quality access to the health care they need and deserve." Dr. Cindy Cooke, president of the American Association of Nurse Practitioners, and a proponent of the regulatory change, celebrated it as a win for both nurses and veterans. "We are pleased the VA will move forward with allowing veterans throughout the country to have direct access to nurse practitioner provided health care," Cooke said in a statement. "We trust that in the near future, the VA will propose a plan to include Certified Registered Nurse Anesthetists in this provision." The new provision doesn't cover certified registered nurse anesthetists because the VA doesn't currently face a shortage of anesthesiologists, according to the rule. But the department is requesting comment "on whether there are access issues or other unconsidered circumstances that might warrant their inclusion in a future rulemaking," it states. The American Medical Association, the nation's largest association of physicians, opposed the amendment in its entirety, including the exclusion of certified registered nurse anesthetists. Dr. Andrew Gurman told Forbes on Tuesday the provision sets the clock back on physician-centric care. "We are disappointed by the VA's decision today to allow most advanced practice nurses within the VA to practice independently of a physician's clinical oversight, regardless of individual state law," he said, according to the article. The regulatory change will take effect after a month of public commenting.
Senate Veterans Chairman: Trump already focusing on vets' health care (One America News Network)
Veterans health care is high on president-elect Trump's agenda, and he's already started reaching out to the to Veterans Affairs Committees in Congress, says Senate Veterans Affairs Committee Chairman Johnny Isakson (R-Georgia). "President-elect Trump has put his actions exactly where his speeches were. He's got his transition staff working with us now understanding where we are with veterans' improvements where he would like where we'd want to go together. He's very interested in making sure we fulfill our promise to our veterans that we gave to them when they were recruited or decided to volunteer for the military. I think it's one of his top priorities, and I think you'll see that early in the Presidency," Isakson explained. And part of that promise may involve offering health care to veterans more often in private health care facilities, says Isakson. "Giving Veterans some access to private health care when they couldn't get the health care they needed from the VA…I think that has to be expanded and improved. I think the more money we stop putting into bricks and mortar in the VA, and we start putting into benefits to the veterans for health care services that are available at other places, the better we can maximize the investment in veterans health care for the veteran and the US government. We're gonna work very closely with President-elect Trump on that issue," Isakson remarked. Expanding and improving veterans health care is the goal, of course, but how President Trump plans to do that may depend on his choice for VA secretary–and there are three front runners, says John O'Shea who tracks health policy at the Heritage Foundation. "The serious ones, I think, are Jeff Miller, who has had a lot of experience, at least in terms of policy on VA issues in the House. Sen. Scott Brown, who has also had, at least committee experience, in terms of VA issues. And then I think the other person would be Pete Hegseth who was former CEO with Concerned Veterans for America," O'Shea observes. O'Shea adds that whomever Trump chooses, the President-elect is likely to continue to place a high priority on veterans health care issues.
Advocates: Fairness for Veterans Act is only one step in fight against 'bad paper' discharges (Stars and Stripes)
While a measure protecting veterans with service-related conditions from receiving other-than-honorable discharges has made its way to President Barack Obama, advocates who led the effort to get it there want more to be done for the thousands of veterans they say were unjustly released. With the backing of veterans organizations and a bipartisan group of lawmakers, the Fairness for Veterans Act was included in the 2017 National Defense Authorization Act, which is awaiting the president's signature. If signed into law as expected, the measure would require Defense Department panels that review discharges to consider medical evidence from a veteran's health care provider. Panels would have to review each case presuming that post-traumatic stress disorder, traumatic brain injury, sexual assault trauma or another service-related condition led to the discharge. The measure expands and codifies a memo issued by former Defense Secretary Chuck Hagel in 2014. The memo called on the Department of Defense to give the benefit of the doubt to Vietnam veterans who sought to correct their military records, contending PTSD could have contributed to their other-than-honorable discharges. Discharges that are other-than-honorable, including a "general" discharge, are known as "bad paper" and can prevent veterans from receiving federal benefits, such as health care, disability payments, education and housing assistance. Fighting wrongful "bad paper" discharges has been a longtime goal of Vietnam Veterans of America. The group's president, John Rowan, said the passage of the Fairness for Veterans Act "is a reason for every American to celebrate." "But we must keep the pressure on," he said. Veterans advocates and lawmakers estimate that 22,000 veterans with mental illnesses have received other-than-honorable discharges since 2009. Vietnam Veterans of America have appealed to Obama to pardon all post-9/11 veterans who were administratively separated from the military and did not face a court-martial In a letter to Obama, VVA compared it to President Jimmy Carter issuing an executive order in 1977 to pardon Americans who avoided the draft. The group also called on President-elect Donald Trump to continue a pardon program. "It would allow veterans to access health care and the GI Bill, so they can move forward with their lives," said Kristofer Goldsmith, an Iraq War veteran who has advocated on behalf veterans with "bad paper" discharges for nearly a decade. "Denying these benefits does nothing to save money; it does nothing to help the United States military or civilian population. All it does is hamstring someone's life." The Fairness for Veterans Act doesn't automatically upgrade bad paper discharges. And many veterans may not hear of the change or seek to have their discharges upgraded, Goldsmith said. The process takes time and — in some cases — requires hiring a lawyer. … Besides appealing to Obama and Trump, Goldsmith and the rest of Vietnam Veterans of America are asking lawmakers to hold hearings on the issue of bad paper discharges when they return for the 115th Congress in January. Ideally, Goldsmith said, they would be joint hearings between the House and Senate committees on Veterans Affairs and Armed Services. "We want Congress to face not just the veterans service organizations who have been educated about this issue, but the victims of the failed system and the lawyers who are working so hard to help them," he said.
Opinion: Bill rights a wrong done to combat-injured veterans (MilitaryTimes)
Sen. John Boozman: Our nation's veterans have served and sacrificed to defend our rights and freedoms and to keep us safe. They have faced incredible challenges, long periods of separation from family and friends, as well as physical and psychological injuries that can last a lifetime. Brandon Davis of Greenwood, Arkansas, is one such American hero who was injured in service to his country. Brandon was deployed to Iraq with the 39th Infantry Brigade of the Arkansas National Guard when his Humvee was hit by a roadside bomb. Brandon was separated from the service as a result of injuries he sustained during that event. He, like many others who were injured during the course of their service, was paid a lump-sum disability payment to help him as he moved into the next stage of his life. Congress had intended that these payments be tax-free so as to not penalize these veterans for their years of dedicated service. However, we learned that the Defense Department had improperly taxed some severance payments to these combat-injured veterans due to the limitations of the department's automated payment system. This was an unjust error that needed to be corrected so these wounded warriors could receive the benefits the fully earned. I introduced the Combat-Injured Veterans Tax Fairness Act of 2016, which directs DOD to identify veterans who have been separated from service for combat-related injuries and received a severance payment that was improperly taxed by the federal government. It instructs DOD to determine how much the combat-wounded veterans are owed and allow veterans who have been improperly taxed to recover the withheld amounts. As Congress neared the final days of the second session of the 114th Congress earlier this month, my colleagues and I were able to pass the Combat-Injured Veterans Tax Fairness Act. I am incredibly proud that Congress came together in a bipartisan way to recognize the importance of this issue and to help right a wrong inflicted on some of our combat-injured veterans. This legislation will directly impact thousands of veterans who found themselves in a situation where they were denied their full benefits through no fault of their own. Now, Brandon Davis and thousands of other veterans whose severance payments were improperly taxed have the opportunity to file amended tax returns that will help them recoup any payments that were withheld. This bill also places the onus on DOD to identify those veterans whose payments were wrongly taxed and to notify them of the error and the opportunity to recover that money. We must live up to the promises our country has made to those who have taken the oath to defend it. They have earned these benefits and I am committed to making sure that Brandon and all of our veterans receive what is owed to them, along with our undying gratitude and appreciation.
Report: Florida VA hospital left deceased veteran in shower room for 9 hours (CBS News)
Staff at a Veterans Affairs hospital in Florida left the body of a veteran in a shower for nine hours after the veteran died and proper pickup procedures to the morgue weren't followed. The Tampa Bay Times on Sunday reported that an internal investigation concluded that staff at the Bay Pines VA Healthcare System failed to provide appropriate post-mortem care to the veteran's body. The investigative report said that leaving the body unattended for so long increased the chance of decomposition. The unnamed veteran died in February after spending time in hospice care. The hospital's Administrative Investigation Board ordered retraining for staff. Hospital spokesman Jason Dangel said hospital officials view what happened as unacceptable but have implemented changes to make sure it doesn't happen again. "We feel that we have taken strong, appropriate and expeditious steps to strengthen and improve our existing systems and processes within the unit," Dangel said. "It is our expectation that each veteran is transported to their final resting place in the timely, respectful and honorable manner. America's heroes deserve nothing less." The investigation found that once the veteran died, hospice staff members requested a staffer known as a "transporter" to get the body moved to the morgue. The transporter told them to follow proper procedures and notify dispatchers, but that request was never made, so nobody showed up to take the body away. Instead, it was moved to a hallway in the hospice and then to the shower room where it was unattended for more than nine hours. Some hospice staff "demonstrated a lack of concern, attention and respect" for the veteran, according to the investigative report. The investigation also found that staff failed to check a 24-hour nursing report that would indicate whether the death was reported properly, and staff failed to update a nursing organizational chart that hampered efforts to determine who was in charge.
Helping veterans turn their 'intense overload of experiences' into theater (PBS Newshour)
The Telling Project uses the stories of veterans and their family members to deepen people's understanding of military life by creating a theatrical production based on those real experiences. The national performing arts organization is based in Austin, Texas, but its writers and directors travel all over the country to interview service members. After choosing six participants in a location, The Telling Project works with them to write a script that reflects their lives. The vets rehearse for several days before performing for a civilian audience. The goal is to bridge those two very different communities. Recently, The Telling Project worked with veterans in the St. Paul/Minneapolis area. Racheal Robinson is a wife, mother and staff sergeant who is currently serving in the Minnesota Air National Guard. She and five other veterans told their stories at the Guthrie Theater. "There's a stereotype of what a veteran should look like. And I think having a very diverse cast helps break that stereotype. That veterans come in all shapes and sizes and all different age groups," says Robinson. Since 2008, The Telling Project has produced more than 40 original performances, put more than 180 veterans and their family members on stage and performed in 16 states across the nation.